Commentary
Hagan spoils Hight's shot at 4 straight
Robert Hight missed out by 0.034 of a second on becoming the first driver in a decade to win four consecutive NHRA drag racing events. But the 40-year-old pilot from John Force Racing left the Route 66 Nationals with the Funny Car points lead and continued his recent domination of the NHRA Full Throttle Series.
Hight barely scraped into the NHRA's 2009 Countdown to the Championship playoff format, but once installed, the Yorba Linda, Calif., native quickly took the points lead with a pair of wins and held it down the stretch.

Hight
In 2010, JFR's Ford Mustangs were quick out of the box, but team owner John Force was the prime beneficiary with three early event wins. But Hight stormed back, claiming overall victory at Madison, Ill., Atlanta and Topeka, Kan., before finally falling to Don Schumacher Racing's Matt Hagan at Route 66 Raceway in Joliet, Ill.
It was a stellar drag race, as Hagan backed up his national-record time of 4.022 seconds in the semifinals against Ashley Force-Hood with a 4.035 in the final that bested Hight's 4.069. Hight, known as "Top Gun," went down with a fight and was gracious in defeat after 15 consecutive round victories.
"Those guys aren't out there watching us win all these races, and they are not sitting still," Hight said. "We have to keep working because those guys are trying to keep getting better. You want to bring out the best in your opponent. I went over Sunday night to the DieHard pits and personally congratulated Matt, John Medlen, Tommy DeLago and Don [Schumacher]. This is a great rivalry, and I welcome the challenge.
"This is my sixth year driving, and I've only won three races in any year," Hight added. "So to already win three races this year -- three in a row -- it's so far been a good year. But I also know that it can turn around in a hurry. You don't want to think you're invincible or nothing can go wrong right now because that's when you're gonna get bit. We got here by working hard and staying focused, and that's how we're going to continue moving on and doing what we're doing. One run at a time."
Prior to the Joliet weekend, the main talking point in the NHRA was whether Hight could achieve the rare feat of four consecutive event wins. Force was the last driver to notch four straight, back in 2000, when he matched Kenny Bernstein's four straight in 1987.
Force is one of three drivers (the others are Don Prudhomme and Cruz Pedregon) who have won five consecutive NHRA events. Force managed that in 1993 and '94.
Although Hight's hot streak came to an end in Joliet, the way his Auto Club Mustang has been running, it would be no surprise to see him go on similar tears in the second half of the season.
[+] Enlarge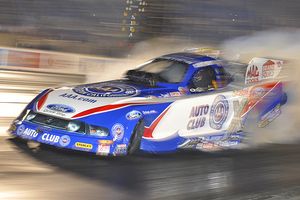 Courtesy of NHRARobert Hight's string of 15 consecutive round wins came to a screeching halt in the Funny Car final Sunday at Route 66 Raceway.
"We are running good and we can just start another streak," he said. "They don't go forever, but I definitely don't feel down headed to Englishtown [site of this weekend's NHRA SuperNationals]. I know we can do the job. We are going to go [to Englishtown] and try and get another first. I want to get on another winning streak, and we can get that started this next weekend."
While he is the hottest driver in the Funny Car category, Hight's profile within John Force Racing pales in comparison to colorful team owner (and 14-time Funny Car champion) Force and his daughter, the popular Force-Hood.
Hight is married to Force's eldest daughter, Adria. He has worked for JFR since 1995, initially as a clutch builder, before transforming into a test driver and finally joining JFR's three-car Funny Car attack.
Although he is more reserved, Hight shares some personality traits with Force, and his candor recently got him into a good-natured clash with the team boss.
Speaking to USA Today prior to Joliet about his three-race win streak, Hight said: "I want to be in the ballgame all year long, win a lot of races and be in a dominant fashion like John Force used to be."
Speaking to reporters during a rain delay at Joliet, Force took up the story.
"I called him in the bus and I said, 'The way I used to be? What exactly are you trying to say? I've won three races. I've won as many as you. And he goes, 'No, that's not what I meant.'
"I said, 'Do you know what? Just like the grandbaby -- his daughter, Autumn -- we may have to put you in timeout.' I'm only joking, but he's looking at me like I'm so serious. He goes, 'What does that mean?' That means in the first session, you may have to sit it out and make sure that I stay in that lead. And he goes, 'You're probably not kidding, are you?'"
All kidding aside, Hight was shaken by the way a seemingly throwaway line in a small story created such a fuss within the JFR team and the NHRA.
"I felt bad about how much attention that quote got," Hight said. "I wasn't saying that [John was] washed up. I would never say that. It is harder to do what John did in the 1990s in Funny Car today. This racing is friggin' close. You better have everything from the driver to the crew to the car together. We have had that the last four weeks. But somebody came along and got us."
"We are one big team, like the Ford One program," he added. "We are all pulling in the same direction, and it shows. John started out strong this season and then I got hot. I know Ashley will be right there with us. We are 1-2-3 in the points and that is because our entire team, top to bottom, is strong. We are all pulling in the same direction, and that is exciting to be a part of that kind of program."
John Oreovicz covers open-wheel racing and other motorsports for ESPN.com.
Autos, Open-Wheel
Motorsports Writer for ESPN.com
Covered Indy car racing for 20 years
Work published in 12 countries
SPONSORED HEADLINES
MORE RACING HEADLINES
MOST SENT STORIES ON ESPN.COM