Commentary
Crew chief's departure a distraction, but Schumacher's car still the one to beat
Will the impending departure of famed crew chief Alan Johnson derail Tony Schumacher's magical season in Top Fuel? We could find out as soon as this weekend's Mac Tools U.S. Nationals, writes John Schwarb.
Updated:
August 31, 2008, 8:06 PM ET
By
John Schwarb
| Special to ESPN.com
CLERMONT, Ind. -- Leaving town this weekend following the 54th U.S. Nationals, Tony Schumacher and the U.S. Army Top Fuel team were about to give up a lot already.When the points are reset in the NHRA's Countdown to 1 format after Monday's eliminations, the four-time defending champions must forfeit a commanding 500-plus points lead. Months of domination with a remarkable 10 wins in 17 races will only amount to a 30-point lead with six races remaining.
[+] Enlarge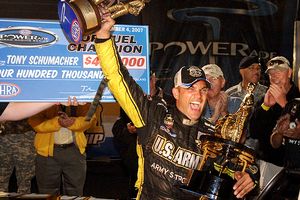 Mark J. Rebilas/US PresswireTony Schumacher wrapped up the 2007 Top Fuel title in Pomona, Calif. Will he do it again in 2008?
Saturday at O'Reilly Raceway Park, it became clear that the team would be giving up much more than points in a title chase. Alan Johnson, the tuning genius behind the championship streak, announced he would be leaving the Army car and Don Schumacher Racing at season's end to start his own two-car organization in conjunction with Al-Anabi Racing, a Qatar-based team.It goes without saying that the world of Top Fuel will be different in 2009 with the Schumacher/Johnson partnership dissolving. But might the rest of 2008 also be affected?"I hope so," said Larry Dixon, a two-time Top Fuel champion who's third in points this season with Don Prudhomme "Snake" Racing. "There hasn't been anything else to distract them."A couple years that we had a good [run] going where we'd have eight wins, nine wins, now I know what it's like being on the receiving end. It's frustrating. Antron [Brown] is the second-winningest car behind Tony's and he's got two wins on the year. Two! And Tony's got 10." It's been a record year for Schumacher already, and more records are within range. The 10 wins match the season mark he set in 2004, and the five consecutive wins he brought into the U.S. Nationals equal a string he had in 2005. Should he win Monday at the Big Go (he qualified sixth), an event he has won five of the past six years and six times overall, he would break those records and tie legend Joe Amato atop the all-time Top Fuel wins list with 52.When Schumacher and Johnson are on, nothing seems out of reach. Dave Schultz's record of eight consecutive wins in a season, set in Pro Stock Motorcycle? Greg Anderson's mark of 15 wins in a year, set in Pro Stock?Don't laugh. They've had a way of making the impossible possible. This is a team that won the 2006 title by beating Doug Kalitta in the final round of the season's final race with an elapsed-time record, when nothing less would have done it. This is a team that hasn't lost a race -- 20 rounds up, 20 down -- since the nitro classes moved to 1,000-foot competition in the wake of Scott Kalitta's death."The basic thing about Alan Johnson and that whole U.S. Army team, they just make really good decisions on race day," said Lee Beard, Brown's tuner at David Powers Motorsports. "We raced them in the final round at Denver [five races ago] in the mile-high atmosphere, and then for them to go from there and on to Seattle at sea level and Sonoma [Calif.], hot one weekend, chilly the next. In all the different conditions to be able to make the right decision every time on race day, it's just really an amazing feat and shows everybody how talented Alan Johnson as a crew chief really is."

It's a distraction for us and our guys, because all of a sudden everything's changed. We don't want to change anything over here, and that could easily happen if they need to fill some holes on the Army car.
-- Cory McClenathan
Yet Johnson will be busy in the coming months with more on his plate than getting Schumacher down the track. If his cell phone hasn't been buzzing already with drivers and crewmen inquiring about his new Top Fuel and Funny Car teams, it will. The organization also has yet to choose a home base and will have to acquire truckloads of equipment.Some disturbance will be impossible to avoid, as his current boss admitted."It certainly has created some undesirable distractions. Alan didn't even want to announce it until after the season," team owner Don Schumacher said. "To keep the distractions from affecting anyone on the team or the goal of winning this race and then going on from there, that was really Alan's desire, but the sponsor wanted to announce it here. It's created some distractions, but I'm sure the team will rise above that and proceed from there."Actually, two of his teams will have to rise above it. Cory McClenathan's team, fourth in Top Fuel points, is also in the DSR stable. "It's a distraction for us and our guys, because all of a sudden everything's changed," McClenathan said. "We don't want to change anything over here, and that could easily happen if they need to fill some holes on the Army car. They could actually work against me on my car. My first question to Don [Schumacher] was, 'Is this going to change anything?' He assures me that won't happen. I'm going with what Don says, but I want to keep my guys just the way they are."Tony Schumacher will at least be down one familiar face next year, but said he's looking forward to the challenge. One name tossed around as a possible new head man is current U.S. Army assistant crew chief Jason McCulloch, son of Ed "Ace" McCulloch, the legendary driver and longtime crew chief of Ron Capps' DSR Funny Car."Alan is a great crew chief, but he's had the opportunity to work with a group of people that won't let him down, and that's unique," Schumacher said. "I'd like to see some of our guys move up. I would sacrifice a few years [of front-running] to watch these guys that deserve it move up."In the meantime, Tony Schumacher staunchly refuses to acknowledge any distraction in his camp on the eve of the biggest race of the season and a Countdown to 1 in which his dragster is again the one to beat."When that car starts up, we're good," Schumacher said. "We have the greatest team that I think has ever been assembled."Its crew chief has one foot out the door, and now we'll see if that makes a difference.
John Schwarb is a motorsports contributor to ESPN.com. He can be reached at johnschwarb@yahoo.com.
SPONSORED HEADLINES
MORE RACING HEADLINES
MOST SENT STORIES ON ESPN.COM