Commentary
NHRA's female stars idled by economy
Updated:
April 9, 2009, 4:37 PM ET
By
John Schwarb
| Special to ESPN.com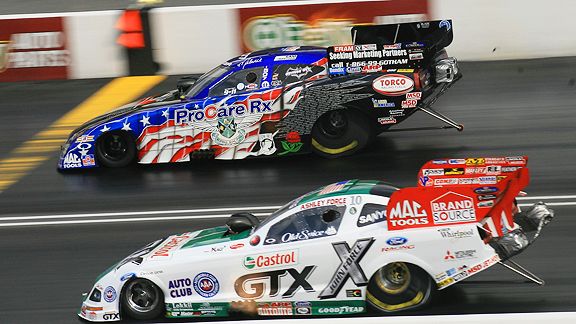 Courtesy of NHRAMissing from the NHRA this season are the side-by-side battles between two women like the one last season at Bristol, where Melanie Troxel, top, beat Ashley Force.
After Ashley Force Hood won at the NHRA Spring Nationals last month in Houston, Hillary Will sent a text message of congratulations.
Force Hood fired back a note with thanks, and a request.
"She said she felt a little more pressure out there because she's the only female out there right now, and that we definitely have got to get back out there and help her out," Will said.
There's nothing Will would like to do more, and she's not the only one.
The shaky economic climate has had an impact on the Full Throttle series as a half-dozen race winners from last year have not competed through the first five events of 2009. Chris Rivas, the runner-up in Pro Stock Motorcycle by five points last year, is inactive. Rod Fuller, Doug Herbert and Dave Grubnic, all Countdown qualifiers a year ago in Top Fuel, haven't made a single 1,000-foot pass this season.
But the female contingent, a strength of the NHRA in recent years compared with other major motorsports, has sustained a more direct hit as sponsorship dollars have dried up. Five women were full-time competitors last year, with a few others making a handful of starts. This season only Force Hood in Funny Car, Karen Stoffer (ninth in PSM points) and Erica Enders (19th in Pro Stock with five DNQs) appear set for full campaigns.
Then there is the list of those sitting out: Will (fourth in Top Fuel last year with a win), Melanie Troxel (the only woman to win in Top Fuel and Funny Car) and Angelle Sampey (three-time PSM champion with 41 wins).
Three big names, all historically significant, now just hoping they're not done making history.
Troxel: A different off-track feeling
Melanie Troxel isn't exactly an unemployed driver. She is under contract and being paid by R2B2 Racing, the team with which she made her Funny Car debut last season and finished 11th in points.
[+] Enlarge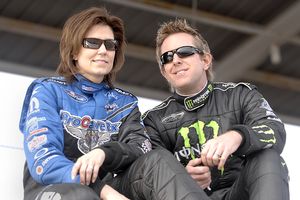 Courtesy NHRAMelanie Troxel, left, and husband Tommy Johnson Jr. are both looking for rides, but at least Troxel is getting paid.
Her team, recently relocated to Atlanta from Brownsburg, Ind., has equipment ready for a two-car operation but not the money. That's a glass-half-full scenario when you've been on the side of no paycheck, no equipment and no sponsors, which Troxel was in 2001 and 2004 when she sat out entire seasons of Top Fuel competition.
If she needs any reminders of those days, she can look across the breakfast table. Husband Tommy Johnson Jr., a nine-time race winner and, like Troxel, triumphant in Top Fuel and Funny Car, drove for Kenny Bernstein last season but was not retained for this year.
"I am still getting a paycheck and I'm under contract to the team, that's a great position to be in," Troxel said. "But at the same time, I'm getting to see the differences between my husband and me, the differences between our two positions. He's looking for the whole deal.
"As bad as it is when you don't have a driving job and you're out there trying to hunt down a new ride, you have a purpose at the races. When I go now, I kind of feel even more lost than I did when I was out there looking for a job. I can catch up with people and you keep your name out there, but I don't have a job to be doing to be out there."
So it's easier to stay home, as she did last week while Johnson worked the pit area at Las Vegas, looking for any leads. Troxel, 36, has also been training for a mini-marathon in her hometown of Indianapolis, looking forward to doing something she never had a chance to do in previous years while either racing or chasing a job. Then again, that race is the first weekend in May -- the same time as the NHRA Midwest Nationals outside St. Louis.
"Hopefully I'll never have the opportunity again," she said.
She's hoping to return to the track later this season, continuing to build momentum in a new nitro class. Troxel was a very capable Top Fuel driver in 2006-07, with two wins per year and top-10 points finishes, but jumped at the opportunity to go to Funny Car. Just four months into her maiden season in the floppers she had a win (at Bristol, Tenn.) and throughout the year earned respect from her new competition.
"She's a very versatile driver and very good," said Ron Capps, the current Funny Car points leader. "It's kind of a shock that she's not out there. I would put her up against anybody in our class as a driver, and when you talk about somebody representing a sponsor, she's as good as they get. She's one of those competitors who needs to be out there."
Will: Like losing a friend
Unlike some drivers, Hillary Will wasn't blindsided over the winter with news of her team's situation. KB Racing team owner Ken Black, whose day-to-day work is in the housing industry, saw trouble looming midway through last season and told Will and her dragster team that without outside funding it would be impossible to race in 2009.
[+] Enlarge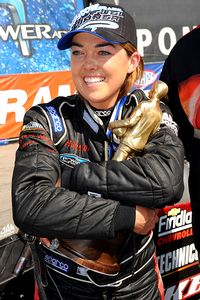 Courtesy of NHRAHillary Will was a winner last season at Topeka, Kan.
If on-track performance were the only factor in landing sponsorship, Will's 2008 season would have cashed a check. The 29-year-old former gymnast became the fastest female in NHRA history with a 334.65 mph pass at the season opener, then won at Topeka, Kan., had two other final-round appearances and was fourth in points.
"As much as we improved and I feel like we could have kept improving, we just don't have the chance now," Will said. "It made it really hard to swallow, it wasn't an easy winter for me at all. I felt like I lost my best friend."
Will still makes daily appearances at the Kalitta Motorsports shop near her home in Ypsilanti, Mich., (KB Racing outsourced the dragster to Kalitta), and like Troxel has avoided attending the races, but she said she'll start going more often to support Kalitta teammates.
"A lot of the same people that made my team so successful last year are still working for Kalitta Motorsports, so I think once we get that funding we can put together a winning race team," Will said.
In the meantime she answers fan mail and takes heed of every tip that might lead to a return to the track.
"Fans say they're calling companies for me. They want to see us all back out there, I appreciate anything that they can do," Will said. "Somebody wrote to me and said, 'I have enough money to sponsor you for a burnout.' I said, 'That's fine, I'll get in a car and do a burnout. I miss the sound of the car, the smell of the car. I'm not giving up."
Sampey: A four-wheeled future?
When Angelle Sampey was at the peak of her dominance in Pro Stock Motorcycle, winning three consecutive championships with Team Winston from 2000 to '02, she had offers to trade two wheels for four and move to a nitro class.
She was flattered but there was no chance of getting her off a motorcycle, not when she was the face of the class and racking up amazing numbers. From 1998 to 2004 the popular Cajun never finished worse than second in points, won at least three races each year and advanced to the final round in an astounding 51 of 100 starts.
Today she's searching for that opportunity to wheel a car, conceding that after 13 years her bike career may be over. Last season she reunited with crew chief George Bryce -- the wrench behind her title seasons -- but the same magic didn't develop with the Rush Racing team. The season was advertised as the "The Strive for Five," with five wins needed to top Dave Schultz on the all-time PSM win chart, but Sampey failed to win any races for the first time.
[+] Enlarge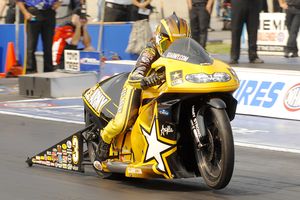 NHRAAngelle Sampey dominated Pro Stock Motorcycle in the past, but is looking for sponsorship now.
This season Rush Racing is out of the sport and Sampey, whose contract with the organization was for just the one year, was left without a ride.
"I'd always thought about racing a car, but as long as I had a ride on a bike, I just didn't see any reason for me to leave. But now that I don't have a ride on a bike, I figured this is an opportunity to look into it," said Sampey, who watched former teammate Antron Brown make the switch and excel.
"I believe that everything happens for a reason. There's a reason I'm not on a bike, I don't exactly know what it is yet, but if it's another door that's about to be open for me, then great."
Back home in New Orleans, Sampey is working on an aquarium supply and maintenance company with her boyfriend. She is also involved in a reality drag racing show that she said is looking for a network home. And, if needed, she has a registered nurse's degree and can get back into that field.
She attended the first PSM race at Gainesville, Fla., thinking she would enjoy it after 13 years of competing and having scripted race weekends. Instead she froze with emotion at the sound of the first motorcycle making a run (she knew it was a Suzuki), broke down again during Sunday's national anthem and left as soon as Brown made his first run.
It tore her up to be there and it hurts not to be there, but she understands the circumstances.
"Fortunately for us, for the people who are sitting on the sidelines, we do know that it's more of an economy thing. Melanie's out, Hillary's out, I'm out, all the people that are out, we can look at it as it's not our fault because of what's going on in the economy," Sampey said. "If everybody was racing instead of me, I would be taking it a lot worse. It's a little bit of a relief to know that I didn't just screw up my whole career and I can't find a sponsor now, at least I hope that's not what it is, but I don't think it is.
"It's just a fork in a road, now I need to decide which way to go."
John Schwarb is a motorsports contributor to ESPN.com. He can be reached at johnschwarb@yahoo.com.