Commentary
End is near for Bud-Bernstein marriage
Updated:
May 14, 2009, 11:21 AM ET
By
John Schwarb
| Special to ESPN.com
Brandon Bernstein can't think about it when he's working. When the job is piloting an 8,000-horsepower Top Fuel dragster, one can only focus on the 1,000 feet of track ahead.
Not about whether that job will exist in six months.
[+] Enlarge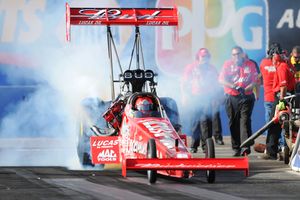 NHRA for ESPN.comWhat sponsor will adorn the Kenny Bernstein Racing Top Fuel dragster in 2010?
So Bernstein is occupied for a few minutes each race weekend. It's the other 98 percent of the time that he and his legendary father, Kenny, wonder about the question that has hung over Kenny Bernstein Racing since March 16.
Will there be life after Budweiser?
The Bernstein family and Bud had been synonymous in NHRA drag racing; in fact, in all of motorsports. No active team/sponsor combination could match the 30 years that KBR had with Anheuser-Busch, from Kenny's championship years in Funny Car and Top Fuel to Brandon's 17-win career of the past seven years.
But when the now-Belgian-owned company announced that it would step away from drag racing both as a team and league sponsor (2009 will be Bud's final year as official NHRA beer sponsor), the team's future was tossed into the air.
Now they're driving for a lot more than championships. They're driving for survival.
"You try not to think of that, but we're definitely in the spotlight," Brandon Bernstein said. "The success on the racetrack is only going to give us more of an edge. Some people are looking at us -- maybe that gets us to the next level."
So far, KBR is faring well in the on-track audition for sponsorship. Bernstein is third in Top Fuel points, 44 behind leader Antron Brown, going into this weekend's NHRA Thunder Valley Nationals at Bristol, Tenn., where Bernstein won as a rookie in 2003 and again in 2007.
All that's missing is a win, as Bernstein, 36, is 0-3 in final rounds this season and 0-7 overall in a 38-race winless streak dating to 2007.
NHRA Thunder Valley Nationals
Where: Bristol Dragway, Bristol, Tenn.
On ESPN2: Qualifying, 6 p.m. ET Saturday; "NHRA Race Day," 11 a.m. ET Sunday; Eliminations, 7 p.m. ET Sunday
On ESPN360.com: Eliminations, 7 p.m. ET Sunday
Defending champions: Tony Schumacher (TF), Melanie Troxel (FC, inactive), Dave Connolly (PS, inactive).
Of note: Top Fueler Larry Dixon remains stuck on 499 career round wins, having bowed out in the first round at the past two events. … Pro Stock points leader Jeg Coughlin Jr. is riding a streak of four consecutive final-round appearances but has just one at Bristol, a win in 2007. … Robert Hight, tied with John Force Racing teammate Mike Neff for 10th in Funny Car points, is mired in a seven-race non-winning streak, the longest of his career. He has three first-round losses in four Bristol starts. … Defending FC champion Cruz Pedregon is 11th in the standings, five points out of Countdown contention, with four first-round losses in seven races.
-- John Schwarb
"We just haven't been able to put together a win yet, but that's coming soon," Bernstein said. "I think we feel that we've got the package to win a championship, to win races. We just keep coming up a little bit short. I think it's there -- it's definitely there. We just need a little bit of luck on the racetrack."
The package has been enhanced by the addition of new tuner Rob Flynn. A number of high-profile Top Fuel teams welcomed new crew chiefs this season -- from Brian Corradi and Mark Oswald on Brown's car to Mike Green on Tony Schumacher's and Jason McCulloch to Larry Dixon's new ride -- but when it's all over, Flynn and KBR might stand as the best new combination.
Flynn worked on Rod Fuller's Caterpillar dragster the past two seasons, winning four races and earning Countdown berths. That team folded at the end of 2008, but as luck would have it for Flynn, Bernstein's Top Fueler was losing its tuner with the retirement of Tim Richards.
"It was one of those strange deals, and I jumped right on it," Kenny Bernstein said.
KBR allowed Flynn and his crew to hit the ground running by spending a considerable amount of money to change chassis and parts to what Fuller ran. If Fuller drove a Hadman dragster, Kenny Bernstein reasoned it only made sense for Flynn to work on those instead of the McKinney model Brandon had piloted.
"It cost us some money, but it was worth it because it wasn't right for me or my team to walk in there and say 'You've got to use what's here.' It's not fair," Bernstein said. "You've got to give them what they're used to using. They've given Brandon tremendous confidence."
The Bernsteins don't lack confidence on race weekends, but navigating the sponsorship maze, especially in a recession, is another challenge. Kenny said they have "one or two sponsors on first base, with another three or four in the dugout," and that it's still early enough in the season to not panic for 2010.
Yet he's also adamant that the team won't return next year in a partially sponsored or shoestring-budgeted car, living from race to race. There isn't another family business to prop up a cash-strapped race team, plus the standards KBR have set are too high to not have a fully endowed team in the NHRA Full Throttle series.
If Brandon, Flynn & Co. keep up the current pace and can mix in wins -- "it's one more piece of the résumé," Kenny said -- one would have to imagine money would follow.
Hopefully there will be life after Budweiser.
John Schwarb is a motorsports contributor to ESPN.com. He can be reached at johnschwarb@yahoo.com.