Commentary
Warren Johnson trying to stay Pro Stock's grand master
Warren Johnson dominated Pro stock for two decades, but hasn't won a title since 2001. You can bet he's working feverishly to rectify that, writes Bill Stephens.
Updated:
August 13, 2008, 9:17 PM ET
By
Bill Stephens
| Special to ESPN.com
"That's racing," shrugged Warren Johnson. It's become a typical response from the winningest driver in NHRA Pro Stock history, whenever he is asked about his most recent quarter-mile defeat. This time, the loss was a particularly disappointing one, on a holeshot, at the hands of V. Gaines -- a driver who has exactly 93 fewer career national event wins than the man who has come to be known as "The Professor." And the loss came Sunday at the 27th Lucas Oil Nationals in Brainerd, Minn., Johnson's home state."That's racing."Johnson celebrated his 65th birthday on July 7. While men his age usually observe such occasions in the company of family and friends with the traditional offering of gifts, ceremonial cutting of the birthday cake after blowing out the candles, and relaxing in an easy chair to conclude the day, Johnson had other birthday plans. With the exhausting Western Swing commencing on July 11 in Denver, Johnson and his son, Kurt, were obsessed with preparing their two Pro Stock machines for the upcoming trek."I grew up in Minnesota," reminds Warren. "When you grow up in that part of the world, you develop a serious work ethic. Nobody comes around and does your work for you and if you hope to succeed, there's a lot of work involved. I enjoy relaxing as much as the next guy, but it can't come at the expense of getting my job done."Better known to most drag racing fans as WJ, Warren has won six Pro Stock championships, second on the all-time list only to Bob Glidden's 10. He is second all-time with 96 national event wins, trailing only the 126 of Funny Car's John Force. But Warren's current production is far below the levels which he rang up in the 1980s and 1990s, when his race victories, No. 1 qualifying positions, and national records -- not to mention track records -- were almost too numerous to count.The last time WJ appeared in a POWERade winner's circle was back in February, 2006, in Phoenix. This season his best weekend to date occurred at the Route 66 Nationals in Chicago in June, where he advanced to the semifinals. With a 7-15 round record after 16 races, he continues to search for the dominance and consistent performance upon which his legendary status was built."We've taken a look at every note, every shred of data, and every other piece of information we've gathered since 2001 [the year of his most recent championship] and searched for any factors which might explain why we haven't run as consistently well," he said. "We switched to the carbon-fiber bodies in 2001 and we've taken a very close look at the setups we used then and what kind of reaction times and 60-foot times we were seeing, hoping to adjust the setups we're using now. "We're always moving things around in these cars, and we've been taking a look at exactly how it might have affected the performance, seeing if there was a negative effect we hadn't thought of. As we dissected the data, there were a couple things that came up, and we hope to go out and see if we can rectify them."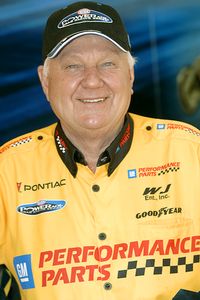 Courtesy of NHRAWarren Johnson hasn't won a national event since 2006, but the 65-year-old is working on it.
That's another familiar mantra with Warren. Keep working, keep testing, keep looking for a chain of evidence that was perhaps overlooked during the incalculable number of previous investigations.Much of the father's success rests on the 45-year-old shoulders of the son, Kurt Johnson, or KJ. As the team's designated engine builder, Kurt is responsible for the mechanical magic that churns out the necessary horsepower he and his dad rely on for success. During WJ's heyday, Warren could calmly watch his opponents get the jump on him by as much as 4/100ths of a second at the starting line, knowing that with the horsepower Kurt had put under the hood, he could routinely make up the distance in the first eighth of a mile and cruise past for the win. Times have changed.Today, there are enormously talented engine builders and lavishly budgeted engine shops throughout the category which have provided such drivers as Greg Anderson (WJ's former crew chief), Jeg Coughlin Jr., Dave Connolly, and a host of other Pro Stock regulars with more than enough power to fend off all comers -- even the Johnson team."It's definitely more competitive today," admitted Kurt, who picked up the event title in Brainerd last Sunday. "When Dad was winning all his championships, there were only one or two other drivers who could bring enough horsepower to the line to be a serious threat. But now, the best teams along with everyone else are a lot closer together power-wise than they've ever been, and that makes it tougher on race day."With young guns running rampant throughout the class and engine technology no longer a cryptic science possessed only by a very select group, Warren Johnson remains determined to turn back the clock and regain the winning edge he brandished for over 20 years. He announced his retirement prior to the 2005 season, but reconsidered, got back to work, and hasn't brought that topic up since. "When I decide to climb out of the driver's seat," he said, "I'll probably put someone else in there, but it would have to be someone who shares the same work ethic we do. Until then, I'll keep doing my job and having as much fun as I can."Because that's racing.
Bill Stephens covers the NHRA for ESPN.com.
SPONSORED HEADLINES
MORE RACING HEADLINES
MOST SENT STORIES ON ESPN.COM