Williamson rebuilds career after Mesi loss
DaVarryl Williamson had reasons to retire at 36. Tim Graham reports on the heavyweight's improbable rise from the canvas.
Updated:
May 9, 2005, 3:40 PM ET
By
Tim Graham
| Special to ESPN.com
Technically, he was about four feet off the ground.
But he might as well have been subterranean.
DaVarryl Williamson was laid out in the center of the ring, staring blankly at the underside of HSBC Arena's Jumbotron for about four minutes while medical personnel worked around him.
In a noteworthy fight between heavyweight prospects – the main event of a September 2003 HBO show – Williamson appeared scared stiff when he entered the ring and soon thereafter Joe Mesi rendered him supine.

Williamson
It started with a devastating right hand, then a triple left hook to the head. One final left hook snapped Williamson's skull backward, dropping him flat on his back with a colossal thud. The first round was only halfway over.
Nearly 14,000 fans in the Buffalo arena went berserk, reveling in Williamson's demise as he lay at their hometown hero's feet.
"I had one friend tell me he choked like Mama Cass on a ham sandwich," said Williamson's trainer, George Durbin.
Mesi was anointed a future star. Williamson, at 35 years old, immediately ceased to be a prospect and was earmarked for the heavyweight scrap heap. But the stretcher needed to be summoned first.
On the biggest stage Williamson had known, never before had he been lower. Many observers surmised his career had been snuffed. His handlers shoveled more dirt on him soon thereafter. His promoter dropped him. So did his manager.
There were so many other things Williamson could do. He has a master's degree in administrative services to go along with a bachelor's in recreation. He played college football and basketball. He has been a standup comic. He once worked in children's theater. He's a soccer dad. He might run for mayor of Denver someday.
"He asked me if I believed him," Durbin said of those soul-searching days after that humiliating defeat. "I answered by asking him, 'Do you believe in yourself?' "
Williamson obviously did.
He will continue his pursuit of a heavyweight title shot Saturday night against Derrick Jefferson for a minor-league belt in Madison Square Garden. The bout is on the undercard of the pay-per-view show headlined by WBA heavyweight champ John Ruiz against James Toney.
Not only did Williamson resume his career after the Mesi loss, but also the avant-garde, self-managed prizefighter did a marvelous job of lifting himself from the wreckage. He would have been a worthy candidate as the comeback fighter of 2004 if not for the wonderful year turned in by Glen Johnson.
"He's a beautiful dude," Durbin said. "He pulled himself up from everything around him. If there were more people like DaVarryl it would be a better world. If I was more like him, I'd be a better guy."
Williamson returned to the ring four months after losing to Mesi and stopped Kendrick Releford inside nine rounds. That April he scored a majority decision over NABF champ Eliecer Castillo. In October, Williamson suffered a controversial loss to Wladimir Klitschko after five rounds because of a cut. One month later, Williamson rebounded again by recording a 10-round unanimous decision over former champ Oliver McCall.
"I know deep inside I have the goods," said Williamson, 21-3 with 17 knockouts. "I have the heart, the intestinal fortitude. I can do it."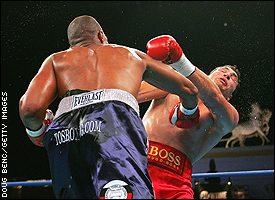 Photo by Doug Benc/Getty ImagesWilliamson (left) clocked Klitschko but lost in a split decision.
Williamson, however, is running out of time. He will turn 37 in July. He didn't start boxing until the grandfatherly amateur age of 25 because he had several other athletic options to pursue, eventually garnering a tryout at quarterback for the Indianapolis Colts.
Iowa and West Virginia recruited the slender, 6-foot-4 project out of Theodore Roosevelt High in Washington D.C., but insufficient grades forced him to enroll at Rochester Community College in Minnesota. He eventually landed at Div. II Wayne State in Nebraska.
Williamson knew a doctor acquainted with the Irsay family, owners of the Colts. The doctor put in a kind word and got Williamson invited to a minicamp in 1994.
"I wasn't no superstar or anything like that, but I had a lot of potential," Williamson said. "I was just dying to make the developmental squad. I was hoping to go along for the ride."
The ride didn't last, but Williamson merely changed sports. He learned of the U.S. Olympic Education Center boxing program at Northern Michigan University, where he could train under Al Mitchell and earn his master's degree.
"I've always loved boxing," Williamson said, "but I just didn't want to stop pursuing my dream of being a football star to get my head banged in."
Williamson turned out to be a better boxer than he was a quarterback. He compiled an amateur record of 120-17-1 with 103 knockouts. He was a 1996 Olympic alternate, a three-time U.S. champ and two-time national Golden Gloves champ.
His devastating right hand, which he credits to a natural motion developed from throwing footballs, earned him the nickname "Touch of Sleep."
But one of his 17 amateur losses came against his opponent Saturday, Jefferson.
"He was just aggressive, and I didn't have any experience," Williamson said of his prior meeting with Jefferson. "I didn't know how to handle the pressure."
Williamson, who now lives in suburban Denver with his wife and two children, didn't turn pro until a month before his 32nd birthday. He sustained his first setback in his fourth fight, stopped inside four rounds by the unheralded Willie Chapman.
Williamson still climbed the heavyweight ladder because of his power and accelerated schedule. He fought nine times in 2001 and five times in 2002, winning all but one by knockout. In that span he defeated upcoming Tyson foe Kevin McBride, Dale Crowe and Corey Sanders (the fat one). Not bad for a fast-track prospect.
But 2003 proved to be difficult. In the first of his two bouts under manager Gary Gittlesohn that year, Williamson showed tremendous character in going the distance to beat Robert Wiggins despite a broken jaw. Williamson dropped Wiggins twice along the way.
Then there was the Mesi debacle in front of a national audience. Williamson was overwhelmed in so many ways.
"Somewhere between the locker room and the corridor to the ring, something made me dizzy,"Williamson said. "Call it a deer in the headlights, but it wasn't me. I wasn't myself."
A victory that night, and Williamson would have been on the verge of a world title shot.
"I was hearing whispers: 'You're going to be this,' or 'You're going to so that,' " Williamson said. "Maybe I looked past Joe Mesi."
Said Durbin: "His manager was talking about putting him on a sitcom and this and that. It was making me sick to my stomach. I said 'This guy's going to try take your head off, and I don't know how to get you prepared for 16,000 fans going crazy for you to lose.' "
Both Gittlesohn and promoter Lou DiBella dropped Williamson as a client.
"I was spooked," DiBella said. "I released him because of the broken jaw, which is a bad injury, and then the knockout against Mesi worried me because he was knocked cold. The fact that he has an education, a nice family and could make money outside of boxing I thought he should get out of the sport.
"I still support him. He has proven to me he still has the ability. I just hope if he has another serious injury that he gets out."
Looking back on that night, Durbin is even prouder of what Williamson has accomplished since then.
| | | |
| --- | --- | --- |
| | " | Against Mesi, I choked up and didn't do the things I know I can do. You say to yourself, 'Damn, I can't believe this.' " |
| | | — DaVarryl Williamson |
"It's just amazing to me what kind of man he is," Durbin said. "I admire a guy that can get up. He showed his [butt] to the world and said 'I'm not afraid to try it again.'"
Williamson's return bout against Releford wasn't viewed as substantial. Releford was 8-3-1 at the time, but the youngster has subsequently won four straight, including unanimous decisions over Ramon Garbey and Castillo.
But Releford didn't ring up Castillo until after Williamson did, for the NABF belt. Castillo floored Williamson in the eighth round, but Williamson finished ahead by four points on two judges' cards.
Then came Klitschko at Caesars Palace.
"Against Mesi, I choked up and didn't do the things I know I can do," Williamson said. "You say to yourself, 'Damn, I can't believe this. After the Klitschko fight?' "
Williamson emitted a scream into the phone.
He was tentative in the first three rounds but sent Klitschko crashing to the canvas with a straight right 40 seconds into the fourth round. But a head butt in the fifth opened a deep cut over Klitschko's right eye, and the bout went to the scorecards. One judge had Williamson ahead, but the other two gave Klitschko a 49-46 edge, meaning a shutout aside from the knockdown.
"He used his 'Get Out of Jail Free' card," Williamson said. "It was getting uglier and uglier. Talk to people who watched and some will say maybe he was ahead. Others will say maybe I was ahead. But everybody tells me, 'It was certain you were going to win the fight.' The tide had turned."
Williamson also seemed to turn the corner in that fight.
"I belong here," he said. "I had this guy. He squeaked it out, but there was no doubt in my mind the future was bright."
Now Williamson is with promoter Don King, who certainly knows a commodity when he sees one. King signed him after the McCall triumph.
"I have to win Saturday night and we'll see what Don King does after he rubs his crystal ball," Williamson said. "I'd like the opportunity to fight for the heavyweight championship by the end of the year.
"I'm really happy with the choices I made years ago. They're coming to fruition today. Things are starting to happen."
Tim Graham covers boxing for The Buffalo News and is a contributor to ESPN.com.
EDITORS' PICKS
Tyson Fury stops Christian Hammer in eight rounds.
ESPN UK »

The WBA ordered a rematch between Ward and Froch.
Dan Rafael »

Seldin shows punching power in win over Garcia.
ESPN3 replay
MOST SENT STORIES ON ESPN.COM