The unlevel playing field
Updated:
May 12, 2005, 1:20 PM ET
By
Mark Kreidler
| Special to ESPN.com
It was upon the occasion of the premiere of "Ring of Fire," a boxing documentary that at points addressed the sexual orientation of former welterweight champion Emile Griffith, that the Human Rights Campaign this week debuted a television ad supporting "a level playing field" for gay, lesbian, bisexual and transgender athletes "who have played to the highest level."
Concurrent with that advertisement came a press release that touted the HRC's pro-acceptance stance. And along with that came the results of a recent poll, which found that 86 percent of the respondents felt openly gay athletes should not be excluded from team sports -- but 68 percent believe an athlete's career can be harmed by that acknowledgement.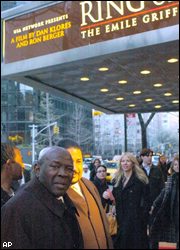 Benny Paret questioned Emile Griffith's sexuality before his fatal match in 1962. Forty-three years later, the subject of homosexuality in sports ignites controversy.
It's an interesting number, 68 percent. It is also genuinely irrelevant if the point of the conversation is gay and lesbian athletes performing on the national stage at the elite professional level.
The number you want? It's the one that no one will ever actually post. It's the one that likely shows -- and I'm tossing a figure out here based strictly on my own lifetime of experience covering professional athletes -- that more than 99 percent of the people in professional sports believe, and believe strongly, that being openly gay would harm their careers, if not outright threaten them.
That notion has been reinforced time and time again, year after year after year, in closed locker rooms, in clubhouses, in casual conversations. It was reinforced movingly by former NFL player Esera Tuaolo, who once recounted for ESPN The Magazine the horrible, soul-sapping lengths to which he went to protect his sexual identity from his teammates.
And it is a mindset that is alive and well -- or unwell, depending upon your perspective. The surprising thing here is the apparent difference in perception between those actually playing the games and the ones at home doing the watching.
You don't need Garrison Hearst or some other jock to stand up and say something caustic about gay players to understand that the culture of sports is one of exclusion almost by definition. It's an elite club to begin with. It is a collection of people who, from an early age, are given to believe (and believe freely) that they are a special group, different in a "good" way -- capable of doing things on the basketball court or the soccer field that no one else in the world can do.
Tuaolo, and other gay athletes who struggled to keep their secrets, understood that clubby mentality all too well. And while society at large may be undergoing opinion shifts on the subjects of what is sexually taboo, the locker rooms and clubhouses are very likely to be the last places where that shift is observed and honored.
Sports has been at the forefront of one very significant social movement, the breaking of the color barrier with Jackie Robinson's signing with the Brooklyn Dodgers in 1947. But I would suggest that any serious survey of the history of sports in America would show that to be an anomaly.
More often, sports has been openly resistant to sweeping social change, even hostile to it. Title IX has been on the books for more than three decades, and many of the nation's top colleges and universities spent at least 25 of those years either ignoring or trying to eradicate its edict for equal athletic opportunities for men and women.
Now, precise comparisons are not only futile but mostly stupid. Opposition to racial integration and opposition to the tenets of a civil mandate like Title IX don't necessarily carry many common components. The question of sexual orientation, for so long a hot-button issue throughout American society, is more difficult still.
But if you want to know about those numbers, those percentages, consider the HRC's own television ad. According to the press release, the ad features the images of "openly gay professional athletes Billy Bean of MLB, Rosie Jones of the LPGA and Esera Tuaolo of the NFL." In fact, both Bean and Tuaolo came out only after their retirements from their chosen professional sports. (Jones wrote about her sexual orientation last year in a first-person account for The New York Times. Her coming out coincided with her signing an endorsement deal with Olivia, a lesbian and gay travel and lifestyle company.)
One difference? Bean and Tuaolo competed within a team dynamic, where camaraderie and mutual support are often paramount concerns. It's no great surprise that each man dealt with his personal life so discreetly.
In "Ring of Fire," the story is told of Emile Griffith's life and his pummeling of Benny "The Kid" Paret in 1962, a beating that left Paret in a coma. He died 10 days later.
It's a heartbreaking tale made moreso by the fact that Paret was said to have uttered a Spanish homosexual slur to Griffith before the match, perhaps enraging Griffith to the point of dealing deadly blows in the ring.
But it is also instructive that Griffith, interviewed now about those fateful dealings of more than 40 years ago, would not openly divulge his sexual orientation. The percentages inside the locker room, the clubhouse, arguably no longer apply. But some things cannot be reduced to mere numbers.
Mark Kreidler is a columnist for the Sacramento Bee and a regular contributor to ESPN.com. Reach him at mkreidler@sacbee.com.
Page 2
Regular contributor to ESPN.com
Author of "The Voodoo Wave" and "Six Good Innings"
Radio co-host, "The Rise Guys Show" San Francisco
SPONSORED HEADLINES
MORE BOXING HEADLINES
MOST SENT STORIES ON ESPN.COM
EDITORS' PICKS
Cruiserweight titlist Marco Huck's stock is on the rise.
Scorecard »

Jean Pascal continues to chase Adonis Stevenson.
Dan Rafael »

Andre Berto is ready to jump back into the ring Sept. 6.
Dan Rafael »