Bruise brothers hope friendship remains after fight
Unlike Ali and Frazier, Diego Corrales and Jose Luis Castillo have been able to separate what goes on in the ring from their personal feelings.
Originally Published:
October 7, 2005
By
Dan Rafael
| ESPN.com
LAS VEGAS -- Three bruising battles left Muhammad Ali and Joe Frazier bitter enemies outside the ring, and those hard feelings still have not subsided 30 years after their trilogy ended.
But on the flip side, Arturo Gatti and Micky Ward became close friends following three bloody fights.
They play golf together, and Ward, who retired after their third fight, became a regular visitor to Gatti's training camps. He even walked Gatti into the ring when he fought for a world title. Such is the bond they developed.
As Ward once said: "We know each other like no one else does because of our fights. It's a bond you don't understand until you go through it. After fights like ours, you can become enemies or become really close. We became really close."
Lightweight champion Diego Corrales (40-2, 33 KOs) and former two-time champion Jose Luis Castillo (52-7-1, 46 KOs), who meet Saturday night (Showtime PPV, 9 ET) at the Thomas & Mack Center in a rematch, appear headed more down the Gatti-Ward road than the Ali-Frazier one.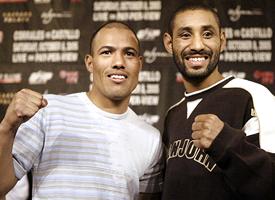 AP Photo/Jae C. HongCastillo (left) and Corrales envision sharing a few brews even after giving eachother more bruises.
"I like him," Castillo said of Corrales. "We respect each other. It's possible one day we will be talking about our fights, having some beers and getting drunk."
That's hard to imagine after the punishment they doled out to one another last May in one of the most hellacious fights in boxing history. It ended with Corrales mounting an amazing 10th-round comeback after suffering two knockdowns earlier in the round.
Corrales and Castillo, however, have been able to separate what goes on in the ring from their personal feelings.
They showed immense respect for each other immediately following the first fight -- Corrales calling it "an honor" to fight Castillo -- and it has carried over to the rematch promotion.
CORRALES-CASTILLO II FIGHT CARD
Showtime PPV Saturday 9 p.m. ET
Thomas & Mack Center
Las Vegas, Nev.


• Lightweights: Diego Corrales (40-2, 33 KOs) vs. Jose Luis Castillo (52-7-1, 46 KOs), 12-round non-title bout, rematch.
• Showtime PPV: Tale O' Tape | Vote!
• Flyweights: Jorge Arce (40-3-1, 30 KOs) vs. Hussein Hussein (28-2, 21 KOs), 12 rounds, rematch, for Arce's interim title.
• Junior lightweights: Carlos Hernandez (41-5-1, 24 KOs) vs. Bobby Pacquiao (25-11-3, 11 KOs), 10 rounds.
• Junior welterweights: Julio Cesar Chavez Jr. (22-0, 17 KOs) vs. Jeremy Stiers (9-4, 6 KOs), 6 rounds.

Instead of trash-talking each other this week, they happily posed for photos at the final press conference on Wednesday. And rather than scowling at each other, they broke up laughing several times while patting each other on the back.
They each know what is coming Saturday night, but when it's over they said the respect for each other will remain.
"I wouldn't say he is my friend because we haven't spent a lot of time together, but I respect him a lot and he seems like a really nice guy," Castillo said. "Whoever wins or loses, I would like to be his friend."
Said Corrales: "I respect him a lot. I think we could even be friends. Honest truth, when it's all said and done, I'll be in Mexicali somewhere sitting with Castillo having a beer."
Dan Rafael is the boxing writer for ESPN.com.
Boxing
2013 BWAA Nat Fleischer Award winner for excellence in boxing journalism
ESPN.com boxing writer since 2005
Five years at USA Today
CORRALES-CASTILLO II PACKAGE
• Rafael: Castillo stuns Corrales |Undercard
• Rosenthal: Round-by-round main event
• MaxBoxing: "Bull" Castillo stampedes Corrales
• Rafael: Corrales' 10th-round take | Castillo's
• Santoliquito: Experts predict sequel's outcome
• Rafael: Oddcast review | Preview
• Rafael: Weigh in | Foes are friends | Wife
• MaxTV: Watch the Corrales-Castillo weigh ins
• Rafael: Too soon? | Chat | SportsNation: Vote!
• Boxrec.com: Corrales' record | Castillo
• McCullough: Strategies for Corrales, Castillo
• MaxBoxing: Repeat the script?
• MaxBoxing: Inside Castillo's camp | Corrales
• Fight I photo gallery | Showtime PPV
• ESPN Motion: See Fight I highlights
MOST SENT STORIES ON ESPN.COM