Julio's aggressive attitude earns top prospect honors
Updated:
December 31, 2005, 3:32 PM ET
By
Dan Rafael
| ESPN.com
On the first punch that he landed, welterweight Joel Julio ripped open a cut on Arthur Medina and the blood went flying. Julio would go on to devour him in less than one round, exactly the kind of performance he expects from himself.
"I got into boxing to knock people out," said Julio, an aggressive, two-fisted puncher. "I am not in there playing cat and mouse. I am a dog and I am going to attack."
It's a style that has opened the eyes of many important people in boxing.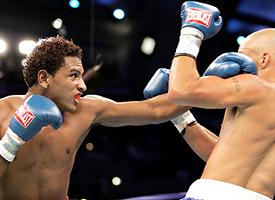 Ed Mulholland/Boxing-Pics.com"I got into boxing to knock people out," Julio says of his aggressive style.
The fight with Medina was buried on the undercard of Floyd Mayweather's dominant victory against Arturo Gatti in June in Atlantic City, N.J., but HBO broadcast partners Jim Lampley and Larry Merchant were seated at ringside watching the dynamic Julio, whom they had been hearing so much about.
When it was over, they walked back toward the press area, impressed with what they had just witnessed from the Colombian flame thrower.
Lampley pushed open his tuxedo jacket, revealing to a reporter a spatter of Medina's blood, which he said landed on him as a result of the very first punch Julio landed.
Merchant said that Julio was the finest prospect he had seen since Miguel Cotto came out of the 2000 Olympics.
Steve Farhood, the prospect maven who serves as analyst on Showtime's "ShoBox: The New Generation" series that focuses on young talent, has also been impressed.
"Julio is arguably the hottest prospect around," Farhood said. "He is very fast and has natural knockout power. When he demolished Carlos Vilches [in April on ESPN2], a solid fringe contender who had been in with some of the best, Julio sent a message that he could be dominant."
Gordon Hall, who oversees "ShoBox," has been impressed enough to tab Julio (25-0, 22 KOs) for the main event of the series' 2006 debut, when Julio, one day after turning 21, meets Robert Kamya in a 10-rounder Jan. 6 (11 p.m. ET/PT) in suburban Chicago.
It could be the start of a huge year for Julio, who wraps up 2005 as the ESPN.com Prospect of the Year.
Although Julio has had little exposure to American fans, fighting here just five times and on TV only twice, Carl Moretti, the vice president and matchmaker for Main Events, thinks he has a future star on his hands.
"I think he can go a long, long way," Moretti said. "Right now, he's not ready to fight Floyd Mayweather, Zab Judah and Antonio Margarito. But give him a year and a half of the development that he should be allowed to have, and it's a different story."
Moretti said he can tell that Julio was well-schooled as an amateur. He said Julio doesn't need much work on his defense. On offense, Moretti likes how he goes to the body, which is unusual for young fighters.
"This kid has extremely fast hands and is extremely accurate with his punches, and he starts with the body," Moretti said. "He goes to the body aggressively. That's a great thing. He breaks down the body and gets these spectacular knockouts to the head because their hands are coming down. Couple his hand speed and tremendous one-shot power with his smile and a presence in the ring, and people who have never see him before stop and take an interest."
Julio, who is co-promoted by Main Events and Tuto Zabala Jr.'s All-Star Boxing, comes from a boxing family. His father and brother boxed, and Julio started at age 9.
He went 85-0 as an amateur in Colombia and then ran off 18 consecutive wins there as a pro before Zabala, who works with many Colombian fighters, brought him to the United States to fight on one of his shows in Las Vegas in November 2004.
Julio destroyed Antonio Soriano with crushing left hooks in the third round of that fight. Moretti read a report about the fight in the well-respected British newspaper Boxing Weekly, which ultimately led to Main Events becoming Julio's co-promoter.
"In the U.S. section in the back of the paper, Jim Brady wrote a report on Tuto's show where he fought Soriano," Moretti said. "And the way he wrote about it caught my eye. So I called my guy that I get tapes from and ordered the show. I watched the fight and I watched him beat this kid impressively. It wasn't who he beat but more how he beat him. It looked so impressive and the [Telemundo] announcers were so excited.
"I thought, I would love to get involved with this kid, and I've known Tuto since 1985, when I got into the business. I called him and asked him, 'Who is this kid?' Tuto said the kid was great and that he thought he had something special. I said to Tuto, 'Let's do something together with him.' Tuto was all for it because he said he could only take him so far, so we agreed to work together. The plan was to start putting him on our [Main Events] shows and get him some exposure on some of our bigger shows and let's see what we have."
What Main Events and Zabala have is a powerful fighter blessed with raw talent that needs to be refined. To that end, Main Events has moved Julio into a Miami apartment and arranged for him and his Colombian trainer to work with highly regarded American trainer Buddy McGirt at his Vero Beach, Fla., gym.
| | |
| --- | --- |
| Year | Fighter |
| 2005 | Joel Julio |
| 2004 | Samuel Peter |
| 2003 | Jermain Taylor |
| 2002 | Miguel Cotto |
| 2001 | Francisco Bojado |
| 2000 | Julio Diaz |
Moretti said that although Julio has 25 pro fights, he is not very experienced because the quality of matches in Colombia is less than had he been fighting in the U.S.
"It's strictly development for the next year even though he's 25-0," Moretti said. "He's a nice kid, a funny kid and easy to get along with. He's not out drinking or carousing. He's just in the gym working very hard."
Moretti said the key to Julio's success will be to keep it that way, and for everyone around him to resist the pressures that will mount as the hype for Julio increases. That's bound to happen with the "ShoBox" date followed by a fight on the high-profile Fernando Vargas-Shane Mosley card Feb. 25.
Moretti does not want a repeat of what happened with Main Events' last "next big thing," teenage junior welterweight sensation Francisco Bojado, who rocketed to stardom inside his first dozen fights, only to flame out just as quickly.
"I don't want to get caught up in the Bojado fanfare," Moretti said. "It's nothing against Bojado because he was a creation of what he did in the ring. But there was also the constant craving of the networks, media and fans to have the next big thing. I think that's what hurt Bojado. Everyone put this on him to be the next Fernando Vargas or Oscar De La Hoya. It was unfair. I don't want that scenario to happen with Joel.
"But I do think he on his way to superstardom."
Other future stars (in alphabetical order with age, weight class and record):
Rock Allen (24, junior welterweight, 4-0, 4 KOs)
The 2004 U.S. Olympian is a physical specimen with the best body in boxing. He's had gloves in his hand since childhood, growing around the Philadelphia gyms. He's close to Bernard Hopkins and his father, trainer Naazim Richardson, has been with Hopkins for a decade.
Mike Arnaoutis (26, junior welterweight, 15-0-2, 7 KOs)
"Mighty" Mike, a southpaw who can box or brawl, has looked good in his several "ShoBox" appearances and continues to show promise.
Andre Berto (22, junior middleweight, 9-0, 7 KOs)
Berto fought for Haiti in the 2004 Olympics after failing to make the U.S. team, but he always had a style better suited for the pros. So far, he's been impressive, albeit -- like most prospects -- against very limited opposition. But Berto is an aggressive puncher with fast hands who lives and breathes the sport.
Chad Dawson (23, super middleweight, 20-0, 14 KOs)
The 6-foot-3 southpaw with tremendous technical skills and developing power is maybe one or two solid wins away from cracking the top 10 rankings. He looks like a future world champion.
Andre Dirrell (23, super middleweight, 5-0, 4 KOs)
The 6-foot-3 southpaw won an Olympic bronze medal in Athens, one of only two U.S. fighters to medal in the tournament. He's been a little too wild as a pro and needs to find a style that suits him, but he has all the raw skills and talent to be a champion. However, he needs take his career more seriously, which means trimming down the entourage and getting a strong professional trainer and promoter to give his career some direction.
John Duddy (26, middleweight, 14-0, 13 KOs)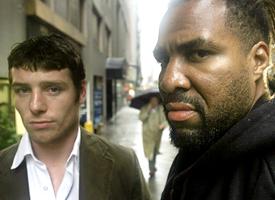 AP Photo/Bebeto MatthewsMiddleweight Duddy, left, with Shannon Briggs, draws big crowds in the Northeast.

The Ireland native has proven to be a big ticket seller in the Northeast's Irish community, one of the reasons several major promoters have tried to sign him. He's a dynamic puncher but needs serious work on his defense. He would be best served by choosing a promoter who can map out a direction for his career, instead of fighting here or there with no particular plan.
Vicente Escobedo (24, junior lightweight, 7-0, 7 KOs)
The 2004 U.S. Olympian is one of the most exciting prospects around. He's huge for his division and is a pure puncher. Promoter Oscar De La Hoya has big plans for him.
Allan Green (26, super middleweight, 18-0, 12 KOs)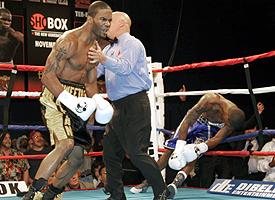 J.D. Crenshaw/For SHOWTIMEGreen (left) KO'd Jaidon Codrington in just 18 seconds earlier this year.

The Tulsa, Okla., product has always been an excellent prospect, but fought in relative obscurity. That all changed after his brutal 18-second knockout of the year against fellow prospect Jaidon Codrington in November on Showtime's "ShoBox: The New Generation" series.
Demetrius Hopkins (25, junior welterweight, 22-0-1, 9 KOs)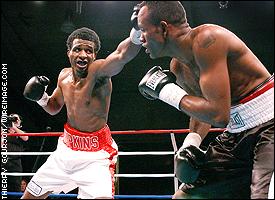 Demetrius (left) is the nephew of Bernard Hopkins and went 6-0 in 2005.

Bernard Hopkins' nephew had been winning but hadn't really been impressive until 2005, when he was 6-0 against solid opposition, including his last three wins via knockout. He's on the doorstep of a meaningful fight.
Amir Khan (19, lightweight, 4-0, 3 KOs)
Britain's 2004 Olympic silver medalist is already a major star in Great Britain. His potential is unlimited. He has terrific hand and foot speed to go with excellent power. All he needs are rounds and experience. All we need is patience.
Jason Litzau (22, featherweight, 16-0, 14 KOs)

Litzau (above) is excited to be fighting on the same card as Gatti.

He's definitely a work in progress, but he has the backing of powerful promoter Main Events and a crowd pleasing style that fans love, win or eventually lose.
Abner Mares (20, junior featherweight, 7-0, 5 KOs)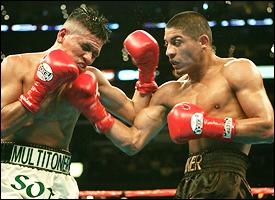 Getty Images/Nick LahamMares (right), is only 20, but has a bright future ahead of him.

The 2004 Mexican Olympian, who is based in California, is the brightest prospect in Golden Boy's stable. He's a stylish boxer who can also punch, and he's improving with every fight. Although he's only 20, he figures to move quickly.
Raul Martinez (23, bantamweight, 12-0, 9 KOs)
"The Cobra" is a San Antonio native who had a distinguished amateur career -- two-time national champion -- and has done nothing but impress in the pros.
Vanes Martirosyan (19, junior middleweight, 6-0, 3 KOs)
A 2004 U.S. Olympian, Martirosyan is being moved slowly, but there is no hurry. He has an all-star team behind him that includes promoter Top Rank, manager Shelly Finkel and trainer Freddie Roach. They don't mess with fighters unless they have serious potential.
Anthony Peterson (20, lightweight, 14-0, 10 KOs)
The 2004 U.S. Olympic alternate is not as smooth or skilled as his older brother, Lamont Peterson, but he has a little more pop and is a fine prospect in his own right, otherwise manager Shelly Finkel would not have signed both of them.
Lamont Peterson (21, junior welterweight, 15-0, 7 KOs)
The 2004 U.S. Olympic alternate's boxing idol is Winky Wright, and that's exactly the style he fights with and the sort of potential he has. He and his brother overcame a stint of homelessness as children, so you know they are hungry to make it big.
Sechew Powell (26, junior middleweight, 18-0, 11 KOs)
A southpaw from Brooklyn, Powell is on target to break into the world rankings by the end of 2006. He has a strong amateur background and has been very solid as a professional. Promoter Lou DiBella has steadily stepped up his level of opposition. He doesn't do anything spectacularly, but he does everything well.
Delvin Rodriguez (25, welterweight, 17-1-1, 10 KOs)
The blemishes on his record are a one-round technical draw due to an accidental head butt in 1999 and a split-decision loss to Andre Eason in 2002. Since then, Rodriguez has been terrific, and he still has a chance to make his mark.
Elio Rojas (23, featherweight, 14-0, 10 KOs)
The best of promoter Don King's young fighters, Rojas has a good blend of speed and power and a reputation as a diligent worker in the gym. He's one of the reasons it's worth it to show up to one of King's marathon cards early, because that's where you will see Rojas gaining experience.
Juan Urango (25, junior welterweight, 16-0-1, 13 KOs)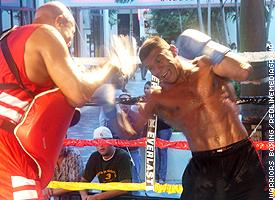 Urango has only one draw -- against Arnaoutis -- in 17 career professional bouts.

Born in Colombia, living in Spain and fighting in the United States, Urango is a crowd pleaser with heavy hands and an aggressive style. The draw on his record is forgivable: an all-action "ShoBox" fight with Arnaoutis.
Edwin Valero (24, lightweight, 17-0, 17 KOs)

Valero

In addition to a perfect knockout record, all of Valero's knockouts have come in the first round. He has serious power and an exciting style. However, in his rush for first-round knockouts he has forgotten the finer points of boxing. Also, he is medically suspended in the United States since 2004 because of a past head injury (unrelated to boxing) and now fights only overseas.
Andre Ward (21, middleweight, 7-0, 4 KOs)
The United States' only Olympic boxing gold medalist at the 2004 Athens Games has incredible speed, a flashy style and decent power. In many ways, he reminds us of a young Roy Jones Jr., who happens to be his co-promoter along with Dan Goossen. But although Ward has been fed a steady diet of stiffs, he has twice been nearly knocked out, including one hard knockdown. He obviously needs to improve his defense. He also needs the addition of a more experienced pro trainer to his corner. The talent is there for him to be a champion. We're just not sure if the chin is there, too.
Coming Friday: Fighter of the year.
Dan Rafael is the boxing writer for ESPN.com.
Boxing
2013 BWAA Nat Fleischer Award winner for excellence in boxing journalism
ESPN.com boxing writer since 2005
Five years at USA Today
SPONSORED HEADLINES
MORE BOXING HEADLINES
MOST SENT STORIES ON ESPN.COM
EDITORS' PICKS
A thrilling trilogy takes more from its fighters than it gives.
Nigel Collins »

Mayweather, Pacquiao meet at a game, in private.
Dan Rafael »

Chavez ready for Fonfara, wants Froch.
Watch