Brock's KO of Lawrence is best of the year
Originally Published:
December 27, 2006
By
Dan Rafael
| ESPN.com
Heavyweight contender Calvin Brock was steaming toward a title shot when he met journeyman Zuri Lawrence, stay-busy fodder for the 2000 U.S. Olympian, on Feb. 25 at Mandalay Bay in Las Vegas.
For five-plus rounds there was little action. Although Brock was winning handily, he was hardly distinguishing himself in the tedious fight. With each passing round, the restless crowd grew more and more anxious for the night's main event between Shane Mosley and Fernando Vargas.
But then it happened -- the reason heavyweights, as dull as they can be at times, still are the most popular division in boxing. "It" is the always possible, electrifying, out-of-nowhere, quintessential one-punch knockout.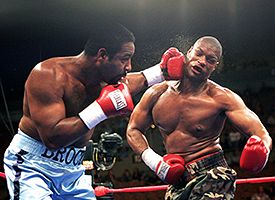 AP Photo/Eric JamisonBrock landed this sixth-round punch against Lawrence -- and it landed him the KO of the year.
Brock delivered it, obliterating Lawrence (20-11-4) with a single left hook to move to 28-0 with 22 KOs.
"I was breaking him down," Brock said in the immediate aftermath. "I saw he had his hands down and I knocked him out. I knew he was out as soon as I caught him with that left hook. I can't ask for a better performance than that."
None of Brock's previous knockouts was nearly as dynamic.
Lawrence never saw the blow coming as Brock connected flush with the side of his face. Lawrence's entire body twisted slightly and went limp upon impact. He fell almost in movie-like slow motion flat on his back in the center of the canvas as though the knockout had been choreographed.
It wasn't, and Lawrence was out cold before he hit the canvas.
| | |
| --- | --- |
| Year | Fight |
| 2006 | Calvin Brock KO6 Zuri Lawrence |
| 2005 | Allan Green KO1 Jaidon Codrington |
| 2004 | Antonio Tarver KO2 Roy Jones Jr. |
| 2003 | Rocky Juarez KO10 Antonio "Chelo" Diaz |
| 2002 | Roy Jones KO7 Glenn Kelly |
| 2001 | Lennox Lewis KO4 Hasim Rahman |
| 2000 | Lennox Lewis TKO2 Frans Botha |
"Great one-punch knockout," HBO analyst Emanuel Steward said in calling the fight.
"It was almost like the lights went out virtually instantly," HBO's Larry Merchant added.
Before Lawrence had even come to rest on the mat, referee Jay Nady began waiving his arms frantically to call off the fight with two seconds left in the sixth round while urging ringside medical personnel to hurry into the ring.
"Immediately, referee Jay Nady calls in the medical people. He saw that the eyes in Lawrence's head rolled back with one explosive left hook," Merchant said. "Let's hope Lawrence is OK."
Lawrence was unconscious for a few minutes while doctors administered oxygen in a frightening scene, but he eventually came around and got to his feet.
"That kind of dramatic power gets people to say, 'I want to see that again,'" Merchant said.
Lawrence hasn't fought since. Brock, meanwhile, fought for a heavyweight championship two fights later and suffered his own destructive one-punch knockout loss to Wladimir Klitschko.
Apparently, what goes around, comes around.
Other sweet shots:
Daniel Ponce De Leon KO1 Sod Looknongyangtoy II (July 15 at Las Vegas)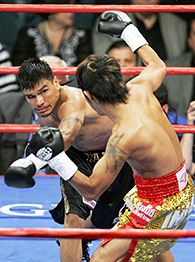 Ethan Miller/Getty ImagesPonce De Leon (L) got in his share of shots against Sod Looknongyangtoy in July.
If Brock's knockout of Lawrence is No. 1, this is No. 1A, because De Leon's awesome knockout was every bit as sensational. When they met in October 2005 for a vacant junior featherweight title, De Leon, known as a fierce puncher, won a hard-fought 12-round fight against Looknongyangtoy, but was never close to scoring a knockout.
That's what made this so shocking. Just 52 seconds into De Leon's second defense, they both threw left hands. With full leverage, De Leon's massive left cross got to its target first, smashing the point of Looknongyangtoy's chin. The blow sent the Thai challenger sprawling face-first to the center of the canvas in a heap, where he lay spread-eagle with his face against the mat before the medical team rushed to his side to give him an oxygen mask.
"Oh, what a perfect left-hand shot by De Leon, and I don't think that Sod is going to get up," bellowed HBO's Jim Lampley. "In fact, I think Sod is unconscious. He is absolutely gone on a perfect shot by De Leon, and that's going to be a knockout in 52 seconds, and Sod is totally unconscious!" Then HBO's Larry Merchant chimed in with what many had to be thinking: "It's a long way to come to fight for less than a minute."
Demetrius Hopkins KO9 Michael Warrick (June 7 at Atlantic City, N.J.)
Junior welterweight contender Hopkins is similar to his uncle Bernard Hopkins in at least one way -- neither is known as a big puncher. But don't tell that to Warrick, who suffered the full wrath of probably the best punch Demetrius Hopkins has ever thrown. Headlining "Wednesday Night Fights," Hopkins authored the best knockout of the year on ESPN2, blinding Warrick with a pair of left jabs and then starching him with a wicked right hand to the chin. Warrick was out as soon as the punch landed and hit the canvas face first like a tree that had just been chopped down. His face slammed the mat and he was motionless as the fight was stopped without a count. "There's Hopkins with a big, big right hand. Holy cow," shrieked ESPN2's Joe Tessitore at his excited best. "This fight is over and they need medical attention in there right away!" It was the third loss in a row for Warrick, who hasn't fought since, and a spectacular knockout for the up-and-coming Hopkins, who is looking to carry on the family name. "That's the shot I wanted to get him with, and when I finally got him, look what happened," Hopkins said.
Jamie Moore KO10 Matthew Macklin (Sept. 29 at Manchester, England)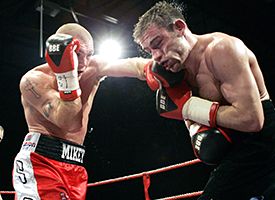 Action Images/WireImage.comMoore's KO rendered Macklin unconscious, but he would later be OK.
For nine-plus rounds, Moore and Macklin engaged in the British fight of the year until it came to a violent and sudden conclusion.
Moore slammed Macklin with a right jab followed by a mammoth left to the chin that just destroyed him. Macklin fell unconscious face first and Moore, who retained his British junior middleweight title, added insult to injury by accidentally tripping over his head as he went to a neutral corner.
"He won't get up from that! Tenth round! Macklin's out! Fight's over!" exclaimed British Sky broadcaster Adam Smith. The crowd quickly fell silent as doctors rushed to Macklin's side and ultimately had to take him out of the ring on a stretcher, although he would be OK.
Hozumi Hasegawa TKO9 Veerapol Sahaprom II (March 25 at Kobe, Japan)
When they first met in April 2005, the light-hitting Hasegawa boxed his way to a close decision victory to take a bantamweight title from Sahaprom, who had held his belt since 1998. In the rematch, Hasegawa -- who had just six knockouts in 19 previous bouts -- stopped Sahaprom in explosive fashion just moments into the ninth round with a tremendous right hook. Sahaprom pitched forward, fell to a knee and then landed face-first on the mat. After struggling to a squatting position, Sahaprom wobbled to the side and fell over as the referee stopped the fight. "A right floors Sahaprom and he is all over the place at the start of this ninth round, and it is over," hailed Adam Smith on the British broadcast. Added broadcast partner Glenn McCrory, "Hasegawa closed the show with a one-punch knockout. Terrific punch. Just as it looked as if he was starting to tire, he found the punch from nowhere, and he couldn't have done it any better."
Shannon Briggs TKO12 Sergei Liakhovich (Nov. 4 at Phoenix)
A heavyweight title changed hands on this odd knockout. The fight had been one of the worst, most boring heavyweight title bouts in history until the final minute, when Briggs knocked Liakhovich down in a corner. He was able to get to his feet, but Briggs continued to pound him, and an exhausted Liakhovich went down again, slipped between the ropes and rolled onto an officials' table with just a few seconds left in the fight. By the time Liakhovich had righted himself and was sitting on the table with his feet dangling between the table and ring apron, referee Bobby Ferrara had appropriately called the fight off with one second left. Briggs' victory brought a heavyweight title back to the United States, breaking the grip on the four belts by fighters from the former Soviet Union.
Mikkel Kessler KO3 Markus Beyer (Oct. 14 at Copenhagen)
Kessler unified super middleweight titles in front of his home crowd with a spectacular one-punch knockout. Kessler ended the significant fight with a wrecking ball straight right hand that caught Beyer on the sweet spot of the chin and put him on his back. Beyer struggled to a sitting position, but he was gone and unable to get to his feet.
Oscar De La Hoya TKO6 Mayorga (May 6 at Las Vegas)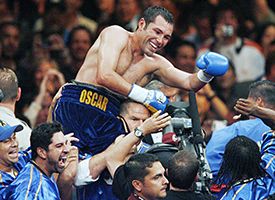 AP Photo/Isaac BrekkenDe La Hoya celebrated his sixth-round TKO of Mayorga following their WBC junior welterweight title match.
Out of the ring for 20 months, "The Golden Boy" returned to record an electrifying stoppage of Mayorga to win a junior middleweight belt.
De La Hoya, who had already dropped Mayorga in the first round and earlier in the sixth, fired more than 20 unanswered punches as Mayorga wilted along the ropes. As referee Jay Nady jumped in to stop the fight, Mayorga fell to a knee, and De La Hoya had a triumphant return, and an overwhelming TKO.
"I was one of the many who didn't think a knockout for De La Hoya was possible here," HBO's Jim Lampley shouted over the boisterous crowd, "but it's over right now. He's got the knockout!"
Shannon Briggs KO4 Dicky Ryan (March 18 at Fort Smith, Ark.)
Three bouts before Briggs won a heavyweight belt, he ravaged club fighter Ryan with a thunderous overhand right. Briggs pushed Ryan -- who had his hands at his side -- into a corner, jabbed him a few times and then unleashed his best right hand, cracking Ryan flush on the cheek and violently snapping his head. Ryan slithered down the ring post to his backside, his head hanging over the bottom ring rope and flopping out of the ring. Ryan, who hasn't fought since, was motionless for several minutes as doctors attended to him.
Daniel Ponce De Leon KO2 Gerson Guerrero (May 27 at Carson, Calif.)
De Leon's power is unmatched in the small weight classes. Just ask Guerrero. De Leon was making his first junior featherweight title defense and had already dropped Guerrero once. Then, midway through the second round, De Leon unloaded a powerful eight-punch flurry. A right uppercut staggered Guerrero before De Leon finished him with a left uppercut, a right uppercut and a left hand. Referee Pat Russell didn't bother to count as Guerrero lay flat on his back with blood from a cut on his lip pouring down the side of his face and collecting in a pool on the canvas.
Michael Moorer KO1 Cliff Couser (Dec. 9 at Hollywood, Fla.)
The 39-year-old former two-time heavyweight champ came out of a two-year retirement and, in his comeback fight, showed that he can still punch as he annihilated Couser in 96 seconds. He drilled Couser with a three-punch combination: right to the body followed by two flush right hooks to the head. Good night. Upon hitting the mat, Couser involuntarily raised his legs off the canvas and threw a phantom punch, a sure sign that he was in la-la land. The referee didn't bother to count and immediately called for oxygen.
Jason Litzau KO1 Nicky Bentz (July 14 at Valley Center, Calif.)
Featherweight prospect Litzau was facing faded veteran Bentz and did what he was supposed in the "Friday Night Fights" main event: Destroy him. He blasted Bentz with a right hand to the chin just moments before the end of the round. Bentz's head swiveled and he went down so hard that his momentum nearly rolled him over to his front before he rolled back the other way onto his back with one knee folded. Referee Pat Russell didn't even bother to count as Litzau leaped onto a ring post to celebrate.
Jose Hernandez KO8 Litzau (Dec. 16 at Miami)
Five months removed from his sensational KO win against Nicky Bentz, Litzau was on the receiving end. He was winning easily when he decided to continue brawling against the advice of his corner. It cost him dearly as Hernandez landed a miracle overhand right that separated Litzau from his senses. He went down on his back, rolled over to his knees and fell forward on his face as he was counted out.
Humberto Soto TKO4 Ivan Valle (Aug. 12 at Las Vegas)
Soto had already knocked his crosstown Los Mochis, Mexico, rival down three times in their junior lightweight elimination bout before drilling him in the fourth. Soto connected with a right to the head followed by a picturesque right uppercut that took Valle's legs away from him, and he collapsed onto his back. As he fell, his right leg folded up under him in disgusting fashion as referee Joe Cortez stopped the fight with no count.
Vadim Tokarev KO2 Shane Swartz (Nov. 25 at Warsaw)
In the midst of an exchange with Swartz, Tokarev showed his brute strength, landing a murderous right hand to the side of Swartz's head. Swartz fell like he had been shot and slammed his head on the canvas as his body came to rest half in the ring and half on the ring apron under the bottom rope. "Oh! Big right hand and he might have done it right there," exclaimed broadcaster Jeff DeForrest. "Swartz is hurt and badly, and the fight is gonna be stopped. … A huge right hand from Vadim Tokarev. What a vicious shot that was to end this thing in the second round!"
Manny Pacquiao KO3 Erik Morales III (Nov. 18 at Las Vegas)
In the rubber match of their epic junior lightweight trilogy, Pacquiao had already dropped Morales twice before landing yet another hard left hand to Morales' chin with about 15 seconds left in the round. The impact drove Morales into the ropes and down his backside, where he sat with a defeated look on his face. He took the count, even shaking his head "no" to his corner, indicating that after all the wars and punishment he had taken in his glorious career, his run at the top was indeed over.
Alejandro Berrio TKO6 Yusaf Mack (May 19 at Pompano Beach, Fla.)
Berrio gave new meaning to giving someone a kiss goodbye. Fighting chest to chest and in command, the confident Berrio smooched Mack on the forehead. Moments later he dropped Mack -- who had a date with super middleweight champ Joe Calzaghe if he could win -- to his butt with a right hand and then floored him again with a pair of uppercuts to end the fight. He had literally kissed Mack good night.
Miguel Cotto TKO5 Carlos Quintana (Dec. 2 at Atlantic City, N.J.)
Cotto was in complete command when he landed a thunderous left hand to Quintana's flank with less than a minute remaining in the round for one of the most crunching body blows we have seen in years. Quintana collapsed to his side as he gasped for air. He barely made it to his feet and then survived another knockdown from an flurry of punches before the round ended. The fight was halted between rounds with Quintana on the stool telling his corner, "I can't do it. I'm dead. I'm dead." That body shot had finished him in brutal fashion.
Jorge Barrios KO1 Janos Nagy (May 20 at Los Angeles)
Ouch, babe. Barrios, defending his junior lightweight belt against his mandatory challenger, landed just two punches in the fight, but one was a debilitating left hook to the liver. Nagy, of Hungary, went down to a knee immediately. He stood halfway up, but went back down to a knee grimacing in severe pain as he was virtually paralyzed by the shot. It hurts just thinking about it. "Boom! This trip to the United States lasts 50 seconds for Janos Nagy," exclaimed HBO's Jim Lampley. "A knockout in less than a minute on a body shot."
Still to come: Prospect, round and fight of the year
Dan Rafael is the boxing writer for ESPN.com.
Boxing
2013 BWAA Nat Fleischer Award winner for excellence in boxing journalism
ESPN.com boxing writer since 2005
Five years at USA Today
EDITORS' PICKS
Salido survives three knockdowns to win interim title.
Story »

Donaire is back in the ring to face Walters on Oct. 18.
Dan Rafael »

Martinez awaits recommendation from orthopedic surgeon.
Story »