A real fight in France; 9th brought out the best
Originally Published:
December 29, 2006
By
Dan Rafael
| ESPN.com
Round after round, junior featherweight titleholder Mahyar Monshipour, a French citizen born in Iran, and challenger Somsak Sithchatchawal of Thailand fought their hearts out.
Squaring off for a 122-pound world championship on March 18 in the Levallois-Perret section of suburban Paris, they waged a truly awe-inspiring fight, even if only the hardest of hardcore fans in America know who they are.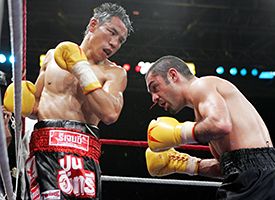 AP Photo/Remy de la MauviniereChallenger Somsak Sithchatchawal of Thailand, left, hits title holder Mayar Monchipour of France during their WBA junior featherweight world title fight in Levallois, north of Paris, Saturday March 18, 2006.
The first eight rounds were thoroughly hellacious and fought at a breakneck pace. Rounds 1, 3 and 5, in particular, were extraordinary -- a word we don't just throw around.
The 10th round, too, in which Monshipour finally wilted and Sithchatchawal scored a TKO to lift the title in dramatic fashion, was another gem for those aroused by raw brutality.
But, for our money, it is the ninth round of this all-time action classic that stands out even more than the other glorious three-minute segments of this wickedly violent fight.
For its nonstop, pulse-pounding action, dramatic shifts in momentum and jaw-dropping savagery, Round 9 is the 2006 ESPN.com Round of the Year.
If someone insists that the honor go to another round of this brawl, that would be OK, too, because virtually every round has merit. Virtually every round was fantastic.
But we'll take the ninth, and trust us, we've watched them all countless times.
The first half of the round was all Sithchatchawal, who relentlessly battered the outgunned Monshipour. Despite the incoming thunder, however, Monshipour never stopped returning fire, even if he was often off the mark.
Although Sithchatchawal was strafing him with powerful uppercuts and right hands, Monshipour was able to somehow stay on his feet.
When Sithchatchawal finished a six-punch combination with a head-snapping right hook that landed flush 45 seconds into the round, the French broadcasters on Canal+ and the crowd couldn't contain themselves, simultaneously shrieking "Ohhhhhhhhhhhh!"
You don't need to understand French to understand excitement.
It was that kind of round.
The ferocious action -- and accompanying "Oooohhhs! and "Ahhhhhhs!" -- never let up.
Sithchatchawal unloaded another 10-punch flurry and connected with most of the blows. Monshipour looked like he was in trouble, but continued to march forward pumping his arms in rhythmic fashion, willing to take five shots just to get in one.
With about 80 seconds remaining, the momentum swung to Monshipour, whose title reign had been marked by dramatic slugfests. He pinned Sithchatchawal against the ropes and landed numerous hard blows, including a nasty left hook to the side of the face that made Sithchatchawal bend over. Finally, Sithchatchawal spun away only to be caught seconds later with two flush right hands and a left.
| | |
| --- | --- |
| Year | Fight |
| 2006 | Somsak Sithchatchawal-Mahyar Monshipour (9th) |
| 2005 | Diego Corrales-Jose Luis Castillo I (10th) |
| 2004 | Marco Antonio Barrera-Erik Morales III (11th) |
| 2003 | Acelino "Popo" Freitas-Jorge Barrios (11th) |
| 2002 | Micky Ward-Arturo Gatti I (9th) |
| 2001 | Micky Ward-Emanuel Burton (9th) |
| 2000 | Erik Morales-Marco Antonio Barrera I (5th) |
After all the punishment Monshipour had taken in the first half of the round, it was shocking to see him on the verge of stopping Sithchatchawal with 45 seconds to go.
But again, the momentum shifted when Sithchatchawal clobbered Monshipour with a right hook that stopped him in his tracks.
Both men were tired and hurt, but in it to win it. They had given too much of themselves at this point of the battle to back off. This was will over skill.
They finished the movie-like round trading toe-to-toe for the last 15 seconds, rocking each other with simultaneous hooks at the final bell of a phenomenal and unforgettable round that ranks with the best we've ever seen.
Other scorchers:
Sithchatchawal-Monshipour (5th)
We could easily round out the list of honorable mentions with one round after another from this fight. But we'll include just one more, the fifth, which certainly could have taken top honors. The fight had already been a bruising encounter through the first four rounds, and you knew you were watching a terrific bout. But then came the fifth round, a frame so filled with unrelenting, two-way action that it sent the fight into the "special" category.

The combatants spent most of the round standing virtually in the center of the ring drilling each other with vicious shots, every single punch seemingly thrown with knockout intent. The taller Sithchatchawal tucked his chin and hammered Monshipour's body while Monshipour used both fists to attack his head. Both landed their share of uppercuts. This was gladiator stuff as they matched each other flush shot for flush shot.

Sithchatchawal finally forced Monshipour to take a step backwards after cracking him with a left hook with 90 seconds left. Monshipour collected himself and ripped off 17 unanswered blows, including two smashing overhand lefts that finally forced Sithchatchawal to take a step back.

We didn't understand what the French announcers on Canal+ were saying most of the time, but we got it when one of them continually barked, "Oooooh la la! Oooooh la la!"

When the bell sounded to end another mesmerizing round, Sithchatchawal and Monshipour smacked gloves, having surely earned each other's respect.
Vadim Tokarev-Felix Cora Jr. (4th)
Hard-hitting Russian cruiserweight Tokarev made quite an impression in his American debut as he stopped Cora in the fourth round, one of the year's most wild, action frames. Midway through the round Tokarev dropped Cora with a furious assault capped by a right hand. But Cora survived and came roaring back to stagger Tokarev.

"Both men going for it here in Round 4 with big shots," broadcaster Al Bernstein said. "Big punches by both men!" And just when it looked as though Cora might knock Tokarev down, the Russian responded with another brutal assault, stiffening Cora against the ropes and forcing referee James Warring to jump in with eight seconds left in a tumultuous round.

In calling the end of the bout, Bernstein summed it up beautifully: "We had three or four twists and turns. What a fourth round! One of the best I have seen in the last several years."
Jamie Moore-Matthew Macklin (9th)
The battle for Moore's British junior middleweight championship was Great Britain's best fight, and this was the best round from the all-out slugfest. The warriors opened it fighting chest-to-chest, winging murderous shots with both hands at an unbelievably fast pace.

They took turns hurting each other but neither gave an inch. "Toe-to-toe exchanging with each other in a dramatic fight," said British Sky broadcaster Adam Smith. As the round wore on, Macklin looked completely out of gas and was taking a pounding until finding a burst of energy deep from within.

He came back as the epic round came to an end and Smith screamed, "One of the rounds of the year anywhere!" Indeed.
Sergei Liakhovich-Lamon Brewster (6th)

Liakhovich

There's nothing like a couple of strong heavyweights throwing bricks at each other in an exciting title fight, which is what Brewster and Liakhovich did all night, especially in this frenetic, momentum-shifting round. They set a incredibly fast pace and refused to back off. "Furious pace for big men," Showtime broadcaster Steve Albert said. "Nonstop action since the fifth round!"

Liakhovich had Brewster in trouble, but Brewster battled his way out of the corner and was teeing off on his opponent as the best heavyweight round of the year ended with a bang.
Manny Pacquiao-Erik Morales III (3rd)

Pacquiao

The 24 previous rounds of their epic trilogy produced gobs of scintillating action. This one did too. What turned out to be the last stanza of their rivalry had all the ingredients you want: knockdowns, clean punching and drama.

Pacquiao had already knocked Morales down earlier in the fight and was in control. It looked like it would be more of the same as he attacked Morales and stunned him midway through the round before knocking him down with a long left hand. But Morales wasn't done yet. He battled back until Pacquiao unleashed another torrent of punches, including a sick left hand that momentarily lifted Morales off the canvas.

Although on unsteady legs, Morales had one more stand left and unleashed a hail of punches, landing a hard left-right combination. The Pac Man shook it off and backed Morales up, who went down again on the end of another left hand. This time, Morales had taken enough, and sat dazed with his back against the ropes. He was counted out, bringing a dramatic conclusion to a great round in an all-time great trilogy.
O'Neil Bell-Jean-Marc Mormeck (7th)
Bell had a huge first half of the round, blasting a tiring Mormeck with a heavy two-fisted attack. Mormeck looked like he was on the verge of going down until he rocked Bell with a left-right combination. But Bell recovered quickly and unloaded three rights, a left and an uppercut to take command again in an exhausting round just to watch.

"Amazing give and take," Albert said.

Bell continued to pound an exhausted Mormeck for more than a minute until Mormeck burst to life in the final 10 seconds, landing a hard left and two rights out of nowhere.

Albert hit the nail on the head as the tremendous round ended: "Oh, what an ebb and flow! Tremendous round! Round 7 an early candidate for round of the year!"
Edwin Valero-Vicente Mosquera (1st)
Challenging for a junior lightweight title in Mosquera's native Panama City, Valero entered the ring having knocked out 18 of his previous 19 opponents in the first round.

Needless to say, Valero likes to start fast, which is just what happened in this exciting round. Mosquera, however, got off to the quicker start, rocking Valero with a right hand on the chin in the opening moments.

Seconds later, Valero scored the first of his two knockdowns in the round. But Mosquera shook them off and landed clubbing right hands and uppercuts in an explosive round that set the stage for a long, grueling fight.
Tomasz Adamek-Paul Briggs II (9th)

Briggs

Adamek and Briggs have fought 24 brutal rounds in two action-packed fight against each other in the past two years. This round of their light heavyweight title rematch might be the best, continuing the pure excitement and heavy hitting of the eighth round.

Adamek opened it by landing an accidental, but debilitating low blow, and then quickly had Briggs in all sorts of trouble from a hard right hand as he went for the knockout. But Briggs connected with his own right-hand bomb as they traded at a fast pace. "This is what makes great fights: guys who refuse to lose," HBO analyst Emanuel Steward said. "Once the momentum changes they try to turn it around again."

Adamek landed a borderline low blow, but this time was penalized a point with 40 seconds left. Desperate to make up for the deduction, Adamek stormed after Briggs and they traded hard shots for the rest of the round. "What a round! Two rounds of mayhem between Briggs and Adamek," said HBO's Jim Lampley.
Manny Pacquiao-Erik Morales II (2nd)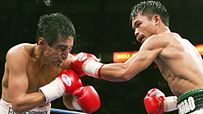 AP/Eric JamisonManny Pacquiao, right, connects with a left to Erik Morales, during their bout on Jan. 21, 2006, in Las Vegas.

Full steam ahead is the style with which Pacquiao and Morales both fight, one of the reasons why their trilogy is so beloved. This round encapsulates everything people love about them -- hard, clean punching, a fast pace and all-out aggression no matter what is being thrown at them.

Pacquiao had the edge early, backing Morales up with a hard left hand and then roughing him up with a combination. But Morales paid him back, plowing into Pacquiao with shots from all angles and brawling with him for the final minute. "So much for the boxing," said HBO's Emanuel Steward. Countered colleague Jim Lampley, "The war is on!"
Allan Green-Donnie McCrary (3rd)
Top super middleweight contender Green was supposed to have a walk in the park. His original opponent had pulled out of the "Wednesday Night Fights" card with a cut 10 days before the match, and McCrary -- Green's former sparring partner -- was the late substitute. Green was winning easily and dropped McCrary with a left to the body with 1:46 to go in the third, which had not been anything special so far.

However, McCrary survived and the overconfident Green dropped his hands, at which point he got hammered with a left, a right and another left, all three on the button. Green was suddenly in huge trouble. McCrary nailed him six more times and Green toppled the canvas, seemingly out. "Can you believe this? This would be the biggest upset in years," ESPN's Joe Tessitore said.

Green avoided the monumental upset by pulling himself together with a minute left. Even though McCrary landed a few more big shots, Green was able to stay on his feet, survive the frenzied round and finally win in the sixth. But it is the third round that people will remember.
Valdemir Pereira-Erik Aiken (5th)
Although Aiken would go on to claim a featherweight trinket via an unsatisfying eighth-round disqualification when Pereira was penalized for borderline low blows, the fifth round was thrilling and satisfying. They spent the first minute mixing it up, but then Aiken knocked Pereira down with a left to the body. Pereira rose slowly and took more punishment before storming back and teeing off on Aiken with a flurry of 10 punches.

Pereira connected with several flush blows during the onslaught, including a left uppercut and flush overhand right as the crowd went wild. "This was a round of feast and famine," broadcaster Dave Bontempo said. "Both had great moments and tough moments."
Willie Gibbs-Lenord Pierre (11th)
Jabs? Who needs a stinkin' jab? This round of the middleweight collision was all about big power shots. Both men dished out as much pain and punishment as they took, landing an assortment of wild shots. Both swung from their heels with no notion of defense.

Pierre sent Gibbs reeling backward with a shot to the belly and followed with a wild right. Gibbs responded by drilling him with clean shots and staggering him with a right to the side of the face. And as the final 10 seconds wound down, they stood along the ropes with their heads leaning on each other, pounding away to the delight of the crowd that had seen a punishing fight and a particularly grueling round.
Miguel Cotto-Carlos Quintana (1st)

Cotto

Cotto is typically a slow starter, but not in this welterweight title bout against his Puerto Rican countryman. Quintana was all too happy to fight at a fast pace as they rumbled from the opening bell, each connecting with accurate blows throughout the terrific round. "An action-packed opening round here in Atlantic City between Cotto and Quintana," Albert said. "They are going at it!"
Antonio Escalante-Jose Hernandez (7th)
In the best round of Telefutura's best fight, the rising prospects went after each other with fury in a very close, but outstanding round. Hernandez hurt Escalante with a left hook, but Escalante rallied to rock Hernandez with an overhand right that bent him over. It was anyone's round as they fired power punches at each other at close range, including several rib-cracking body shots.
Carlos Baldomir-Arturo Gatti (5th)
It wouldn't be a roundup of rounds of the year without an appearance by action star Gatti, who has provided us with so many memorable moments. Although the fight turned out to be a wipeout in Baldomir's favor, as he eventually knocked Gatti out in the ninth round to retain the welterweight title, the fifth round was classic Gatti.

Even when Baldomir smacked him around with hard right hands, the Atlantic City legend excited the crowd when he fought through the obvious pain to crack the unmovable Baldomir numerous times in this power punch festival. "Gatti is landing power shots flush, but Baldomir is walking through them," HBO's Jim Lampley exclaimed as the round came to an end. "The crowd loves the action, but Arturo is getting busted up."
Kermit Cintron-David Estrada (6th)
The tough welterweights exchanged hard shots throughout their "Wednesday Night Fights" main event, but they both did damage in the sixth. Estrada cracked Cintron to the head in the opening moments, but Cintron rallied.

He measured Estrada for a series of flush rights and lefts while Estrada motioned to him for more. There were no lulls in the action, and Estrada was spitting blood before Cintron mashed his wide-open opponent with a clean right hand that turned Estrada's legs to jelly with 15 seconds to go.
Raul Martinez-Ilido Julio (1st)
Bantamweight prospect Martinez and tough veteran Julio produced fireworks in the opening round as they exchanged knockdowns. Not much happened in the first 90 seconds, but then it turned wild. Martinez landed a straight left to the pit of the stomach and Julio went down. He popped right up and seconds later dropped Martinez with a left hand to the head. "Well, now we've got a little fight going here," Versus commentator Wally Matthews said.
Up next: Fight of the year
Dan Rafael is the boxing writer for ESPN.com.
Boxing
2013 BWAA Nat Fleischer Award winner for excellence in boxing journalism
ESPN.com boxing writer since 2005
Five years at USA Today
MOST SENT STORIES ON ESPN.COM