Sithchatchawal-Monshipour fight best of year
Originally Published:
December 29, 2006
By
Dan Rafael
| ESPN.com
No, the fight was not on American television.
No, you've probably never heard of either guy.
And, no, it ain't easy to pronounce their names.
However, it is easy to declare that on March 18 in the Levallois-Perret section of suburban Paris, Thailand's Somsak Sithchatchawal and Iranian-born, French citizen Mahyar Monshipour fought a sublime and exceptional fight, one of the greatest in recent boxing history.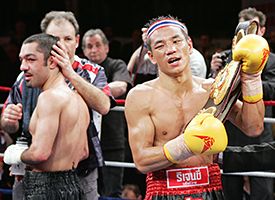 AP Photo/Remy de la MauviniereSomsak Sithchatchawal of Thailand, right, scored a 10th-round TKO to take Mahyar Monshipour's 122-pound belt in France on March 18.
Fortunately, we obtained a gorgeous DVD of the Canal+ telecast. But you too can watch this mesmerizing battle thanks to that anonymous and wonderful soul who uploaded it to www.youtube.com in four parts.
Do yourself a favor and watch it.
You won't ever forget it.
Besides, as a boxing fan, it's your duty. When you're done, you'll know exactly why it was the no-brainer choice as the 2006 ESPN.com Fight of the Year.
For nine-plus incredible rounds, Sithchatchawal, who won a junior featherweight world title, and Monshipour, making his fifth defense, relentlessly pounded each other like their lives depended on winning.
There was an inkling of what was to come in their prefight quotes to the media.
"For him to beat me he will have to come and get me," Monshipour had said. "If he manages to catch me he has a chance. We'll know within the first 30 or 40 seconds."
Said Sithchatchawal, "Monshipour is very strong, but I am here for his belt."
They each landed dozens of clean, searing shots. There were more head-snapping uppercuts landed than in all six "Rocky" movies put together.
Numerous times during the rocking, two-way action, the French announcers had trouble containing themselves. "Oooooooooooh la la la la la! Oooooooooooh la la la la la," they would cry on a regular basis.
This was raw, unvarnished, jaw-dropping brutality.
Perhaps this might sound blasphemous to some, but we'll take the heat: While the fight doesn't quite reach the threshold of greatness achieved by the 2005 first battle between lightweights Diego Corrales and Jose Luis Castillo, it's pretty close. And we rate it ahead of the first Erik Morales-Marco Antonio Barrera war and the first Micky Ward-Arturo Gatti slugfest.
Sithchatchawal-Monshipour was that good, that exhilarating.
Every single round was action packed, from the opening frame in which Sithchatchawal scored a knockdown all the way to the 10th round, when British referee John Coyle stopped the violence with Monshipour out on his feet against the ropes.
Other than counting for the first-round knockdown, stopping the fight was about the only thing Coyle needed to do since there was almost no clinching.
| | |
| --- | --- |
| Year | Fight |
| 2006 | Somsak Sithchatchawal TKO10 Mahyar Monshipour |
| 2005 | Diego Corrales TKO10 Jose Luis Castillo (I) |
| 2004 | Marco Antonio Barrera W12 Erik Morales (III) |
| 2003 | Arturo Gatti W10 Micky Ward (III) |
| 2002 | Micky Ward W10 Arturo Gatti (I) |
| 2001 | Micky Ward W10 Emanuel Burton |
| 2000 | Felix Trinidad TKO12 Fernando Vargas |
How the fight lasted as long as it did is a testament to their warrior hearts because it wasn't like these guys were pit-a-pat punchers. In their 73 combined wins entering the fight, 55 had ended in a knockout. These guys had steam behind their shots.
Rounds 1, 3, 5, 9 and 10 were phenomenal with the ninth getting props as ESPN.com's Round of the Year. Rounds 2, 4, 6, 7 and 8 were merely outstanding.
Through the first four rounds, it was clear this was a doozy. The nonstop punchfest of the fifth round sent it up a notch. The sick ninth round put the fight into the "special" category. The dramatic 10th-round stoppage sealed the deal.
Monshipour was getting ravaged by southpaw Sithchatchawal's right hooks before he turned the tables and appeared close to a stoppage victory with 80 seconds to go in the 10th.
But Sithchatchawal staged his own rally and finally forced Monshipour to retreat when he landed four huge overhand lefts before momentarily slipping to the canvas.
He immediately bounced up. Coyle didn't dare interrupt the intense action, instead letting it go without wiping off the gloves. Sithchatchawal then landed five crunching uppercuts followed by a left and a right to drive a sagging Monshipour into the ropes before Coyle jumped in to stop the epic war with 20 seconds left in the round.
The postscript: Monshipour, having been in several brutal fights, announced his retirement at age 30. Sithchatchawal, 29, went home to Thailand and was knocked out by Celestino Caballero in the third round of his first defense on Oct. 4.
Monshipour and Sithchatchawal are both gone from the championship scene, but their awesome display will never be forgotten.
Other unforgettables:
Sergei Liakhovich W12 Lamon Brewster (April 1 at Cleveland)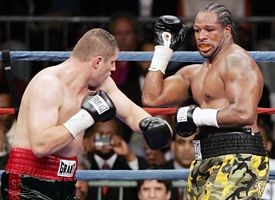 AP Photo/Mark DuncanLiakhovich dominated then-champ Lamon Brewster en route to a unanimous decision for the WBO title on April 1.

The best heavyweight fight of the year, in which Liakhovich claimed a world title, was an action-packed thriller and as good a fight as you can expect from big men. They had mean intentions from the opening bell, ripping each other with power punches all night in a punishing slugfest. Although we didn't know it at the time, Brewster suffered a detached retina in the opening round, making his performance even more impressive.

The fight's pace went into another gear with the frantic sixth round -- one of the best of the year -- after which Showtime's Steve Albert proclaimed, "We've got an exciting, competitive heavyweight championship fight!"

He was right, and there was still half a fight to go. Brewster knocked Liakhovich to a knee in the seventh. The remainder of the fight was an intense, all-out brawl and Liakhovich was on the verge of scoring a late knockout several times in this stirring fight.
Jamie Moore KO10 Matthew Macklin (Sept. 29 at Manchester, England)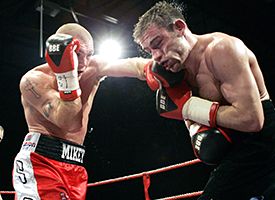 Action Images/WireImage.comMoore's KO rendered Macklin unconscious, but he would later be OK.

Every year, Great Britain seems to produce at least one special fight. When British junior middleweight champ Moore signed on to defend his title against Macklin, they figured to make a very good fight. Instead, they produced a great one. Toe-to-toe they went, rocking each other throughout the high-energy fight in front of a deliriously excited crowd.

Both of them left it all in the ring, answering every punch with something in return. "Power from Macklin! On comes Moore again! Ohhh, this is thrilling! And so brutal," said British Sky broadcaster Adam Smith during a crunching exchange in the seventh round.

By the end of the frame, it was apparent we were seeing something for the time capsule. Said British Sky analyst Jim Watt, "This is probably the hottest domestic match in the country at the moment, probably of the year, and it's shaping up to be fight of the year." The ninth round had fantastic two-way action, which set the stage for Moore's sensational and dramatic one-punch knockout that left Macklin face-first on the canvas and unconscious, forced to leave the ring on a stretcher.
John Duddy W12 Yory Boy Campas (Sept. 29 at New York)
Hot middleweight Duddy, the big ticket seller, was supposed to buzz through faded former junior middleweight titlist Campas on his way to bigger and better things. Instead we got a most unexpected bloody war loaded with spectacular action. Duddy cruised through the first round, and then the ferocious battle was on. Campas opened the first of several cuts on Duddy's face in the second round and nearly knocked the popular Irish prospect out.

Duddy was cut again in the fifth, as the fighters continued to trade accurate shots with abandon, whipping the heavily Irish crowd into a frenzy. Both men showed enormous heart, and Campas nearly scored a knockout in the 12th round. Duddy might never develop into a top fighter, and Campas certainly won't ever recapture his championship form, but who cares when they can make this kind of memorable fight?
Tomasz Adamek W12 Paul Briggs II (Oct. 7 at Rosemont, Ill.)
In May 2005, Adamek and Briggs waged one of the fights of the year, a bloody slugfest that Adamek won via majority decision to claim a vacant light heavyweight belt. The rematch was a virtual carbon copy of their first spectacle, all the way down to Adamek again winning via majority decision. But this time, instead of being hidden off American TV, it was seen by an HBO audience.

Once again, it was a seesaw affair in which both men landed an inordinate number of clean, bone-jarring blows. Briggs scored a first-round knockdown, and the eighth and ninth rounds were even more blazing than the other high-contact rounds.

As the outstanding ninth round came to a close, HBO's Jim Lampley was on the money: "They fought one of the top five fights of last year by acclamation. This is a candidate for fight of the year already!" Then sidekick Larry Merchant chimed in, "It almost hurts my eyeballs to watch these guys fight."
Willie Gibbs TKO12 Lenord Pierre (March 10 at Mashantucket, Conn.)
Many fans have only heard about this rock 'em, sock 'em middleweight barn burner. When it took place back in March, matchmaker Ron Katz and ESPN2 broadcaster Joe Tessitore (who, if you can believe it, went to a fight on a rare Friday night off because, well, where else would he go?) both phoned from ringside, and neither could contain his excitement. They were ecstatic with what they had seen.

We would have taken their word for it, but now we can join them in their praise, having finally obtained a DVD of a bout that has become urban legend to hard-core fans and will surely become a cult classic when the DVD begins to circulate. It lived up to the hype as Gibbs and Pierre crushed each other for 11-plus barbaric rounds. Forget defense. Forget jabbing. This was pure power punching at its best. The man who could absorb more punishment was going to win.

Through 11 rounds, Pierre, cut over both eyes, was ahead on two of the three scorecards despite white trunks that had turned pink from bloodshed. In the 12th, however, Gibbs rallied, landing a huge left hook that crumpled Pierre, who got up on Gumby legs. Moments later, Gibbs landed another monster left to score a second knockdown, and referee Michael Ortega stopped the thriller with seven seconds remaining. It is a shame this was not a televised fight. It belongs on ESPN Classic.
Israel Vazquez TKO10 Jhonny Gonzalez (Sept. 16 at Las Vegas)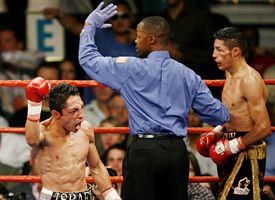 AP Photo/Isaac BrekkenIsrael Vazquez, left, defeated Jhonny Gonzalez of Mexico, in their junior featherweight championship bout in Las Vegas.

Top fighters in their prime. Multiple knockdowns. Give-and-take action. Blood. A big comeback. Drama. A big-time Las Vegas casino atmosphere. Vazquez's victory to retain the junior featherweight world championship against Gonzalez, a bantamweight titleholder moving up in weight, had all of those ingredients.

It was a terrific battle as Vazquez rallied from two knockdowns to win the action-packed fight in surprise fashion. Gonzalez dropped Vazquez in the third and sixth rounds, but Vazquez rallied for a seventh-round knockdown and another one in the 10th, after which Gonzalez's corner threw in the towel to end the wild fight even though Gonzalez was ahead on the scorecards.

Afterward, Vazquez, elated to retain his title in exciting fashion, said, "That was a war out there and I was proud to come out on top." We were proud to witness it.
Jose Armando Santa Cruz W12 Edner Cherry (Feb. 4 at El Paso, Texas)
When the rubber match between then-lightweight champ Diego Corrales and former champ Jose Luis Castillo was called off because of a rib injury to Corrales, Castillo instead faced late replacement Rolando Reyes in what turned out to be a snoozer.

Thankfully, in an effort to beef up the show, Showtime agreed to televise this outstanding lightweight undercard fight that Top Rank's master matchmaker Brad Goodman pulled out of his hat at the last minute. Both men, happy to have the national spotlight, really put on a show. Cherry, aptly nicknamed "Cherry Bomb," dropped Santa Cruz in the third. Santa Cruz staggered Cherry in the seventh. Then they traded bombs in the sizzling eighth round, during which Cherry appeared close to a stoppage.

As that brilliant round came to an end, Showtime's Steve Albert was on top of things: "We said it could steal the show and it has been explosive! Talk about two-way action!" Both fighters showed immense heart and deserved the loud round of applause they received when the remarkable fight was over.
O'Neil Bell KO10 Jean-Marc Mormeck (Jan. 7 at New York)
This cruiserweight unification match was both historically significant and wildly exciting. You've got to love it when you can get a fight to meet both standards. Bell entered the match with one belt and won both of Mormeck's to join Evander Holyfield as only the second undisputed cruiserweight champion in history. But Bell earned it the hard way in a punishing brawl between heavy punchers.

Although Mormeck had some huge moments, including in the standout seventh round, Bell survived until finally pounding Mormeck to the canvas for a 10-count to end a riveting battle. Along with James Toney vs. Vassiliy Jirov and Holyfield vs. Dwight Muhammad Qawi I, this is one of the top three cruiserweight fights ever.
Marco Antonio Barrera W12 Rocky Juarez I (May 20 at Los Angeles)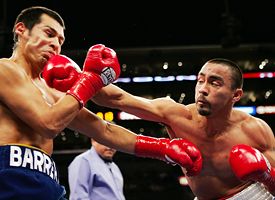 AP/Mark J. TerrillRocky Juarez, right, gave Marco Antonio Barrera's all he could handle in their first meeting in Los Angeles.

Barrera has a long history of being in great fights. Juarez had made a terrific fight with Humberto Soto in August 2005. So when Barrera elected to defend the junior lightweight title against Juarez, boxing fans expected it to be slugfest. It sure was. Juarez pushed the aging warrior to the brink of defeat in an old-fashioned trench war that had as much action as you could ask for.

Barrera dominated the early rounds, while Juarez came on strong down the stretch. When it was over, Barrera was bleeding and the result was in doubt. Then it was announced as a draw, which seemed fair. But 15 minutes later, after HBO's coverage had ended and the Staples Center had emptied, an error in the transcription of the master scorecard had been discovered, and Barrera was awarded a split decision.

The controversy over the result and the tremendous action led to a rematch four months later. Surprisingly, Barrera won easily in a snoozer. We would have rather watched a replay of this excellent fight.
Edwin Valero TKO10 Vicente Mosquera (Aug. 5 at Panama City, Panama)
Valero, the power-punching prodigy, entered the fight having knocked out all 19 of his opponents, including 18 in the first round and one in the second round. Mosquera, an exciting junior lightweight champion defending the title in his hometown, figured to be in the first real test of his brief career. That's exactly how it turned out as they waged a fierce battle. Valero dropped Mosquera twice in the first round and it looked like he might have another fast KO, but Mosquera survived and rallied to drop Valero hard in the third round. Back and forth it went until Valero, by far the deepest into a fight that he had ever been, finally staggered Mosquera so badly with a series of hard shots that the referee had no choice but to stop the tremendous battle.
Antonio Escalante W10 Jose Hernandez (Jan. 27 at Cicero, Ill.)
These two exciting prospects squared off in a nonstop action brawl in the best fight of the year on Spanish-language network Telefutura. Although Escalante emerged from this little gem of a fight with a close decision, both fighters covered themselves in glory. It was an awesome scrap featuring two willing combatants with a sheer will to win. The seventh round, with its ebb and flow, was one of the rounds of the year. And the fight featured knockdowns, too.

Escalante hit the deck once. Hernandez tasted the canvas twice, including in the terrific eighth round. The best part is that both guys were able to move on to bigger and better things, in part because of their wonderful TV-friendly style. Escalante has emerged as a potential world champion and Hernandez got an opportunity to fight on HBO against touted prospect Jason Litzau on Dec. 16 and scored an upset knockout.
Manny Pacquiao TKO10 Erik Morales II (Jan. 21 at Las Vegas)
No matter who these junior lightweight stars fight, they always make it exciting. When they fight each other, it's special. Their March 2005 first fight, won by Morales, was exceptional. The rematch wasn't far off. After Morales dominated the first five action-packed rounds, Pacquiao overcame the rocky start to turn the tide as he peppered Morales with a two-fisted attack, including a nasty right hook that he had abandoned in the first fight. Morales, ever the warrior, gave everything he had, but in the end, Pacquiao dropped him twice and stopped him in the 10th round to set up a rubber match.
Manny Pacquiao KO3 Erik Morales III (Nov. 18 at Las Vegas)
Although Pacquiao dominated the rubber match, it was one hell of an exciting fight while it lasted, and the overflow crowd of 18,276 at the Thomas & Mack Center created one of the most electric atmospheres in recent boxing history. From the opening bell until Morales finally caved in against Pacquiao's vicious onslaught, this fight was reminiscent of the legendary Marvin Hagler-Thomas Hearns classic.

Both fighters were trying to end it with every punch. Pacquiao dropped Morales in the second round, and, after another knockdown in the third, Morales made one more valiant stand. He cracked Pacquiao with his best shots, but Pacquiao walked through the hail of punches and dropped Morales again to end the fight … and their unforgettable trilogy.
Martin Castillo W12 Alexander Munoz II (Jan. 21 at Las Vegas)
Although the night's main event -- the Manny Pacquiao-Erik Morales rematch -- stole the show, this cofeatured bout was a true dandy that shouldn't be forgotten as Castillo retained his junior bantamweight championship with a bloody split decision.

When they first met in 2004, Castillo had a pretty easy time in winning the title from Munoz. It was a different story in the grueling rematch that took its toll on both men. Munoz knocked Castillo down in the first round to get things started with a bang. Castillo showed courage by fighting through bad cuts to both eyes from accidental head butts. He was also nearly knocked out in the eighth, only his heart keeping him upright.

Amazingly, Castillo rallied to bust up Munoz's right eye and have enough energy left to go toe-to-toe in the ninth round while the crowd stood and cheered. By the 11th, Munoz was bleeding from his nose and mouth and taking incredible punishment. It was all for our considerable entertainment.
Eagle Kyowa W12 Rodel Mayol (May 6 at Tokyo)
They are little men, but they fought big in the best title fight of the year in Asia. Besides the pair of epic 1998 battles between Ricardo Lopez and Rosendo Alvarez, this is probably the greatest strawweight fight in history as Kyowa, a Thai based in Japan, outlasted the Philippines' Mayol to retain his 105-pound title in a hard-fought, physical showdown.

Kyowa was cut by an accidental head butt in the fifth round and in trouble, but he staged a comeback. He opened a cut on Mayol's cheek in the sixth, staggered him in the 10th and dropped him in the 12th. If you like little guys, go get the tape.
Shane Mosley TKO10 Fernando Vargas I (Feb. 25 at Las Vegas)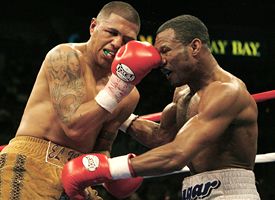 AP Photo/Jae C. HongJunior middleweights Fernando Vargas, left, and Shane Mosley engaged in a spirited exchange in the 10th round, but Mosley would prevail by TKO.

Two former champions. Two big stars. Both were in dire need of a big win, and that's the way they fought, making boxing fans the real winners. Mosley displayed his skills and speed along with fluid combination punching. Vargas displayed punching power and a big heart. It made for a terrific fight.

Ultimately, however, it was Mosley who landed enough big shots to slam Vargas' left eye closed, which swelled up like a small melon. Even with the grotesque injury severely hampering his vision, Vargas never stopped trying to win. This one was so good, they did it again five months later, but that turned into a Mosley wipeout.
Kermit Cintron TKO10 David Estrada (April 19 at Palm Beach, Fla.)
Facing each other on "Wednesday Night Fights" in a welterweight eliminator, Cintron and Estrada brawled round after round. Cintron, the heavier hitter and more accurate puncher, was in control most of the way, but Estrada had no dog in him. He wasn't going to go down without a fight. He gave Cintron all he could handle in a fierce scrap until finally succumbing to Cintron's power shots.

After the fight, they both went to the hospital for observation, where they ran into each other and wound up talking about their classic battle. How good was it? ESPN Classic dubbed it an "instant classic" -- the first boxing match ever given that label by the network -- and replayed it a few days later.
Dan Rafael is the boxing writer for ESPN.com.
Boxing
2013 BWAA Nat Fleischer Award winner for excellence in boxing journalism
ESPN.com boxing writer since 2005
Five years at USA Today
EDITORS' PICKS
Mayweather outclasses Maidana in their rematch.
Scorecard »

Things we learned from Mayweather-Maidana II.
Rafael »

Floyd Mayweather Jr. defeats Marcos Maidana again.
Dan Rafael »