Hatton's at the weight where he feels great
Updated:
January 18, 2007, 3:43 PM ET
By
Dan Rafael
| ESPN.com
With a relentless fighting style, an everyman attitude and a stoppage victory against a great champion, British star Ricky Hatton ascended to the top of boxing in 2005.
He won the recognized junior welterweight world championship by forcing fearsome Kostya Tszyu to quit on his stool after 11 grueling rounds.
He followed that masterpiece with a highlight-reel knockout of Carlos Maussa to unify 140-pound belts, and when the year ended, Hatton swept all the major fighter of the year awards.
The Undercard
Having failed to make weight in his previous bout, former lightweight champ Jose Luis Castillo has extra motivation for Saturday's fight, writes Dan Rafael.
•
Story
Eventually, he signed a fat three-fight contract with HBO, and the kid from Manchester, England, was primed to take America by storm in 2006.
The storm, however, quickly passed.
In May, Hatton arrived in Boston for his heralded debut as a headline attraction in the United States, but a week of torrential rain and a forgettable performance against Luis Collazo dampened the enthusiasm for him among American fans and media. The Beatles' invasion of America this wasn't.
Although he had moved up to 147 pounds and won a welterweight belt, Hatton struggled to a controversial decision victory against Collazo. He was nearly knocked out late in the fight and looked nothing like the dynamic fighter who had smashed Tszyu 11 months earlier.
After just one Hatton fight here, HBO executives admitted privately that their multifight contract with Hatton looked like a mistake.
It was as though Hatton had won the Super Bowl one year and failed to make the playoffs the next.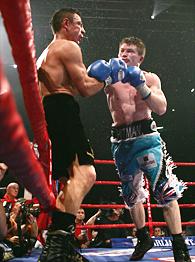 John Gichigi/Getty ImagesHatton, right, established himself as king of the junior welterweights by beating Kostya Tszyu.
It was as though he had won the Grammy for best newcomer and his follow-up CD tanked.
But after taking the rest of 2006 off, a re-energized Hatton is back on the big American stage and ready for a second chance in the country he still hopes to conquer.
Hatton's return comes at the Paris Las Vegas resort Saturday (HBO, 9:45 p.m. ET), when he returns to the junior welterweight division to challenge titlist Juan Urango, a native of Colombia who lives in Florida, for one of his old sanctioning organization belts. (Hatton still holds the Ring magazine title at 140 pounds.)
Hatton (41-0, 30 KOs) vacated his alphabet titles when he moved up in weight, and Urango (17-0-1, 13 KOs) picked up one of the vacant straps via a controversial decision against Naoufel Ben Rabah in June. This will be Urango's first defense.
Although some in boxing still consider Hatton the junior welterweight champion, he said he isn't one of them.
"I'm looking at it as I am going in to regain my title," said Hatton, who expects more than 3,000 Brits to make the trip to Las Vegas for the fight. "Obviously, with Urango achieving a lifelong dream of becoming the world light welterweight champion, it would be very disrespectful for me to turn around and say that I consider myself the champion. I consider myself one of the best pound for pound, and I think I'm really putting that mantle on the line rather than saying that I am the light welterweight champion of the world.
"Although I've never lost it in the ring, I vacated it. I think I've got to show Juan Urango the respect that he deserves. He's the world champion, and I'm going in there as a challenger. It would be nice to hopefully win this title. It would be nice to defend a title in my next fight rather than challenge for one."
Hatton said he appreciates Ring magazine keeping him in his position as junior welterweight champion even though he left the weight class almost a year ago.
"I think the Ring is the one that everybody respects and everybody acknowledges as the No. 1 title of the division, but at the end of the day, you know my last fight was at welterweight," Hatton said. "I haven't fought at junior welterweight for a while, so I've got to really look at this as challenging for a title. I still do have the Ring belt, but I will only feel that I'm the Ring champion when I've beaten Urango."
If Hatton does win, he has a June 2 HBO date with former two-time lightweight champ Jose Luis Castillo in one of the marquee fights in boxing.
Castillo (54-7-1, 47 KOs), returning from his suspension for failing to make weight against Diego Corrales this past summer, needs to do his part to set up the fight. That means winning his co-featured match against Herman Ngoudjo (15-0, 9 KOs) of Canada.
Hatton, 28, is trying not to look too far ahead, especially with dangerous brawler Urango in his path.
"I've really only got one person on my mind at the moment," Hatton said. "I don't want to look past Juan Urango, though I do look forward to the fight with Castillo. That's a super fight, a dream fight, and knowing that it is in the distance gives me incentive to get past Urango. He's a real handful. He's very, very strong. He's a big puncher. He has a good amateur pedigree. He's got good boxing skills as well. If you're not on your game, you'll get beat. So I'm 100 percent focused on my opponent."
| | |
| --- | --- |
| | |
| | Urango |
Urango isn't much of a talker, nor was he particularly moved by the fact that Hatton's team already is planning ahead for his next fight.
"I'm here for business," said Urango, who is 26 and has six children to support. "The only thing on my mind is defending my title and beating Ricky Hatton. I've trained to fight hard for 12 rounds, and I don't think Ricky Hatton or any fighter in the world can keep up with my pace. I worked very hard to win the world title, and I've prepared twice as hard to keep it."
If that's the case, Hatton is going to have to be better prepared than he was for the near-disastrous Collazo fight.
"We're not ashamed to admit that we cut a few corners during the Collazo fight," said Ray Hatton, Ricky's father and manager. "Ricky wasn't doing the little things that we feel make him a bit special, in terms of footwork and movement. Instead of being on his toes and using his boxing abilities, he just stood there and battled it out.
"I think that after many fights in an unbeaten career, Ricky got a bit stale. But the extra-long layoff we've had has been a good thing because he's got his hunger back. You can tell by his demeanor in the gym."
Hatton did a 13-week training camp to get ready for Urango. Besides making sure he was sharp in the ring, he also used the time to take off weight slowly. Hatton balloons between fights and can get as heavy as 180 pounds.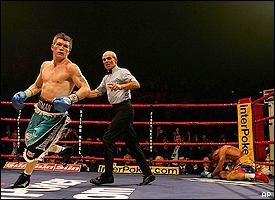 AP Photo/PA, Nick PottsRicky Hatton dumped Carlos Maussa in November 2005 to unify junior welterweight belts.
Still, he said he is best-suited to fight at junior welterweight, which is why he vacated his welterweight title after the Collazo fight.
He never intended to move up in the first place, but a hand injury to original opponent Juan Lazcano less than two months before the fight changed things.
"I was due to fight at junior welterweight," he said. "There was a fight with Juan Lazcano, but Juan hurt his hand seven or eight weeks before the fight, and we went searching around for a suitable opponent, and Luis Collazo's name comes to the forefront, and he was a world champion. I never really had any intention of moving up to welterweight.
"It was only the position we got put in when we were looking around for suitable opponents, and then when Luis Collazo was mentioned, I quite liked the idea of becoming a two-division world champion."
Hatton altered elements of his training camp and diet to get ready for the new weight, and although it was a rough fight, he accomplished his goal of winning a title in a second division.
Despite the criticism levied against him after the shaky performance, Hatton said he wouldn't have changed anything.
"It was a very entertaining fight, which I'm sure my fans loved," he said. "Normally, you have maybe two or three fights to adjust to a new weight division. I had seven or eight weeks to bulk up to the welterweight limit and fought the world champion straightaway. He was a speedy southpaw. Collazo was a lot better fighter than what people gave him credit for. I think my preparation was a little on the rough side because I wasn't used to fighting at welterweight and never wanted to fight at it in the first place. I wouldn't change it for the world, but it's great that I'm back in the weight division that I always wanted to be in."
Back to reclaim his 2005 form. Back to reclaim his title.
Dan Rafael is the boxing writer for ESPN.com.
Boxing
2013 BWAA Nat Fleischer Award winner for excellence in boxing journalism
ESPN.com boxing writer since 2005
Five years at USA Today
SPONSORED HEADLINES
MORE BOXING HEADLINES
MOST SENT STORIES ON ESPN.COM
EDITORS' PICKS
Groves was shaky against Douglin, and he knows it.
Dan Rafael »

Manny Pacquiao-Floyd Mayweather time is now.
Rankings »

Pacquiao-Algieri part of boxing's Far East invasion.
Brett Forrest »