Commentary
De La Hoya, Leonard compete outside the ring
The fight between Oscar De La Hoya and Sugar Ray Leonard never happened, but that doesn't mean they can't compete outside the ring. De La Hoya guest stars on "The Contender" this season to engage in a little fun, promotion and a friendly wager, writes Dan Rafael.
Updated:
August 29, 2007, 1:27 PM ET
By
Dan Rafael
| ESPN.com
After Gatti, Gomez returns
First-season "Contender" star Alfonso Gomez (17-3-2, 8 KOs) will return from his July 14 knockout of Arturo Gatti, which sent Gatti into retirement, to face welterweight Ben Tackie (29-7-1, 17 KOs) on Oct. 16 (ESPN) at the Home Depot Center in Carson, Calif. The card, which will also include season one participant Freddy Curiel in the co-feature, will be a special live edition of the seventh episode of the new season of "The Contender," promoter and co-executive producer Jeff Wald told ESPN.com.
"Tackie comes at you and there is no quit in him, but, of course, I think Gomez wins," Wald said. "But the main thing is that these guys always make fan-friendly fights. Gomez is doing nothing but getting better and better and he has more confidence after the Gatti fight. But you can't take a veteran like Tackie for granted. He always comes to fight." The date was originally earmarked for first-season runner-up Peter Manfredo Jr., but Manfredo had surgery this week to clean up bone chips in his elbow and will be out until December, Wald said. "Contender" brass also went with Gomez in order to capitalize on his big win against Gatti. If Gomez defeats Tackie, there is talk of a showdown with Julio Cesar Chavez Jr. early next year.
Johnson ready and willing
Former light heavyweight champ Glen Johnson (46-11-2, 31 KOs) has a glittering résumé that includes wins against Roy Jones, Antonio Tarver and Montell Griffin in the past few years, but none of the top light heavyweights is willing to face the 2004 fighter of the year. Johnson has won both of his fights in '07, knockouts of Griffin and Fred Moore, yet can't get a bigger fight.
"I guess I should wear this as a badge of honor, but truthfully, it disgusts me that fighters who call themselves world champions won't give me a shot," Johnson said. "I've earned my way here. I always put on exciting fights, and I give the fans their money's worth. Shouldn't that be worth anything?" Johnson said he willing to challenge titlist Chad Dawson or belt holder Clinton Woods (against whom he is 1-1-1) or even old rivals Tarver (they're 1-1) and Jones. Apparently, not one of them is interested. "They all have amnesia when it comes to my name, and it's a disgrace," Johnson said. "Each one of them could have accepted a fight with me but either refused or ignored me. They give their titles a bad name."
Caballero calling for unification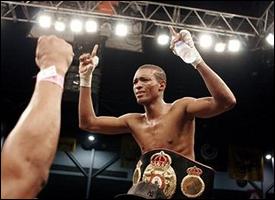 AP Photo/Arnulfo FrancoCelestino Caballero is ready to unify titles.
Junior featherweight titlist Celestino Caballero (27-2, 18 KOs), who successfully defended his belt Aug. 4 with a decision win against Jorge Lacierva, wants to unify titles. "For boxing to get back to where it used to be, we need one world champion in each weight class," Caballero said, not recognizing Israel Vazquez's status as Ring magazine champion. "The only way to do that is for all the titleholders to fight each other, but unfortunately, it seems like I'm the only champion who feels this way." Vazquez, the recognized world champion, is headed toward a rubber match with rival Rafael Marquez early next year and titlist Daniel Ponce De Leon, whose only loss came to Caballero in a 2005 nontitle fight, has shown no interest in avenging the defeat. That leaves Caballero without a marquee opponent. "Vazquez just wants to fight Rafael Marquez over and over, and Ponce De Leon knows what I did to him the last time we fought, so he's content to avoid me as well," Caballero said. "I have to take my case to the people and have them demand a unification fight."
QUICK HITS
| | |
| --- | --- |
| | |
| | King |
• Promoter Don King and HBO are negotiating a pay-per-view deal for the Roy Jones Jr.-Felix Trinidad bout, according to a source involved in the talks. The working date for the fight, which would be televised on HBO PPV, is Jan. 19.
| | |
| --- | --- |
| | |
| | Ibragimov |
• Although Seminole Warriors Boxing, promoter of heavyweight titlist Sultan Ibragimov, was close to making a deal with ESPN Classic to televise live his Oct. 13 defense against Evander Holyfield, it fell apart because Main Events, Holyfield's promoter, balked at the deal. Main Events, a 50-50 partner in the domestic television rights, was not happy with the terms of the ESPN deal and insisted that the fight go on pay-per-view, according to two sources involved in the talks. Unless something dramatic happens, the fight will wind up as a live afternoon pay-per-view instead of on cable.
| | |
| --- | --- |
| | |
| | Cintron |
• Showtime's Dec. 1 card has not been set yet, but there have been discussions about welterweight titlist Kermit Cintron headlining if he successfully defends his title Sept. 8 against Jesse Feliciano. According to Top Rank, it has been contacted about the availability of two of its boxers as possible opponents for Cintron: ex-titlist Antonio Margarito (who handed Cintron his only defeat) and top contender Joshua Clottey. Junior welterweight titlist Paulie Malignaggi could appear in the co-feature, promoter Lou DiBella told ESPN.com. DiBella said Showtime has backed off its suggestion that Malignaggi face a Gary Shaw-promoted boxer and is open to Malignaggi facing mandatory challenger Herman Ngoudjo or Francisco "Panchito" Bojado (if he defeats Steve Forbes on Sept. 15).
| | |
| --- | --- |
| | |
| | Juan Diaz |
• The Oct. 13 (HBO) lightweight unification bout between Juan Diaz and Julio Diaz is set for the Sears Centre in the Chicago suburb of Hoffman Estates. A news conference has been scheduled for Wednesday in Chicago to make the fight official, according to Allan Hopper, spokesman for promoter Don King. Juan Diaz, a student at the University of Houston, will have to miss class for the announcement.
| | |
| --- | --- |
| | |
| | Cotto |
• Welterweight titlist Miguel Cotto and Shane Mosley, who meet in one of the year's most anticipated matches on Nov. 10 (HBO PPV) at New York's Madison Square Garden, will kick off their press tour Sept. 5 in Puerto Rico. Then it's off to the Garden for a news conference Sept. 6, when tickets will go on sale. On Sept. 7, both fighters will be in-studio guests on the season finale of ESPN2's "Friday Night Fights." The tour wraps up Sept. 10 in Los Angeles.
| | |
| --- | --- |
| | |
| | Dawson |
• Light heavyweight Chad Dawson's second title defense against mandatory challenger Adrian Diaconu of Canada will take place Sept. 29 (Showtime) at the Arco Arena in Sacramento, Calif., but it will be promoted by Don King, not Dawson's promoter, Gary Shaw. The reason: King won a purse bid with an offer of $1.385 million. Shaw was second ($1.3 million), Gankor Promotions third ($1.1 million) and Diaconu promoter InterBox fourth ($454,000). Showtime is considering adding a second fight to the card, which takes place on the network's free preview weekend. Bantamweight titlist Luis Perez is being considered. Junior middleweight titlist Cory Spinks was also in the running, but he is getting married and won't be available for that date, manager Kevin Cunningham told ESPN.com.
| | |
| --- | --- |
| | |
| | Luevano |
• Steven Luevano (33-1, 15 KOs), who went to Nicky Cook's home turf in England and knocked him out in the 11th round on July 14 to win a vacant featherweight belt, will make his first defense against Antonio Davis Oct. 6 in Las Vegas. The bout will be on the HBO PPV card headlined by the Manny Pacquiao-Marco Antonio Barrera rematch. Davis (24-3, 12 KOs) lost his only previous world title bout, a lopsided decision to junior lightweight belt holder Joan Guzman in December. But Davis, who has come down to featherweight, has won two in a row, including an impressive fifth-round knockout of prospect Leon Bobo Aug. 1 on ESPN2.
| | |
| --- | --- |
| | |
| | Julio |
• Junior middleweight Joel "Love Child" Julio, the 2005 ESPN.com prospect of the year, is off the Sept. 8 Fernando Vargas-Ricardo Mayorga undercard. Julio's co-promoters Main Events and Tuto Zabala Jr. told ESPN.com that they will instead look to step Julio up into a meaningful fight at 154 pounds. "We are looking for a world title shot, possibly with WBA champ [Joachim] Alcine," Zabala said. Julio (32-1, 30 KOs) has won five in a row (four by knockout) since his decision loss to Carlos Quintana in a welterweight eliminator in June 2006.
| | |
| --- | --- |
| | |
| | Tua |
• Fresh from his monster first-round knockout of Saul Montana last Saturday night, heavyweight David Tua (48-3-1, 41 KOs) will return to action quickly. He'll face an opponent to be named Sept. 7 in Mt. Pleasant, Mich., on the same card as one of his rivals, ex-heavyweight champ Hasim Rahman, against whom Tua is 1-0-1. Rahman faces journeyman Dicky Ryan.
| | |
| --- | --- |
| | |
| | Vargas |
• Showtime debuts "Vargas vs. Mayorga: Countdown To The Brawl," a 30-minute preview of the Sept. 8 pay-per-view main event on Saturday night (1 a.m. ET/PT). It will be replayed regularly on the network and will also be available on Showtime On Demand until the fight. Both fighters are interviewed on the special, which covers both training camps and their infamous July 11 kickoff news conference, which resulted in the fighters coming to blows.
| | |
| --- | --- |
| | |
| | Miranda |
• Edison Miranda, the exciting puncher from Colombia with a penchant for trash talk, says he's excited about his return to the ring in mid-October, when he will move up from middleweight to super middleweight in the wake of his knockout loss to Kelly Pavlik in May. "I've been working out for hours every day and I feel great," said Miranda, who has begun training in San Juan. "At 168 my punches are sharper and harder, my speed is still there, and I feel like I can jump in the ring right now."
| | |
| --- | --- |
| | |
| | Naito |
• Japan's Daisuke Naito (31-2-2, 21 KOs), who won a flyweight title with a massive upset of Thailand's Pongsaklek Wongjongkam last month, will make his first defense on Oct. 11 in Tokyo against countryman Daiki Kameda (10-0, 8 KOs), the 18-year-old brother of former junior flyweight titlist Koki Kameda, an undefeated flyweight contender and one of his country's most popular athletes. Daiki, who has been fighting on his brother's undercards, has gained his own fan base in Japan, particularly among women, with his unusual routine of singing a song to the crowd after his victories. If Daiki beats Naito, he would become Japan's youngest-ever world titleholder. The record is held by former strawweight belt holder Hiroki Ioka, who won his title at 18 years, 9 months and 10 days. Kameda would break the record by five days if he unseats Naito.
QUOTABLE
"It's all the same to me. Anyone who wants my title will be punished by me."
-- Middleweight titlist Arthur Abraham, speaking to the media last Saturday in Germany after scoring a massive 11th-round knockout of Khoren Gevor, who needed two brain scans and an MRI on his neck during his overnight stay at the hospital following the fight.