Commentary
Scorecard: Povetkin shoots down Byrd in 11
In a division hungry for a star, heavyweight Alexander Povetkin may be a sure-fire bet. The hard-hitting Russian forced Chris Byrd's corner to throw in the towel after 11 fast-paced rounds.
Originally Published:
October 29, 2007
By
Dan Rafael
| ESPN.com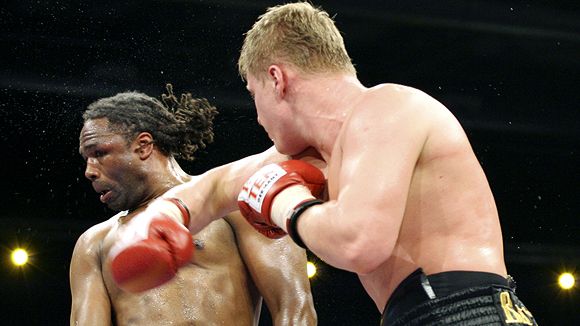 AP Photo/Matthias RietschelAt 37, undersized heavyweight Chris Byrd, left, can't avoid punches the way he once could.

A roundup of last week's notable boxing results from around the world:

Saturday at Erfurt, Germany
Heavyweight
Alexander Povetkin TKO11 Chris Byrd
Title eliminator semifinal
Records: Povetkin, 14-0, 11 KOs; Byrd, 40-4-1, 21 KOs

Rafael's remark: If you can get a good price, buy all the stock you can in Povetkin, the 2004 Russian Olympic super heavyweight gold medalist and former world amateur champion who is on the fast track to stardom. And if you're still holding any in Byrd, the former titleholder, sell it as quickly as possible. Povetkin, 28, is the one here with a bright future. Byrd, 37, isn't. Byrd has had an excellent career. He's the ultimate overachiever for such a small heavyweight, but his time on the big stage is over now after suffering his second knockout loss in his past three fights. He was also destroyed by Wladimir Klitschko, losing his title in April 2006. Byrd just doesn't have the great reflexes he once had and he never did pack much of a punch. That's a bad combination for an aging heavyweight. Although Byrd did OK boxing in stretches, he just didn't have enough to keep the Russian off of him. Povetkin was simply too strong, too young and too determined in the fast-paced, entertaining fight. Finally, in the 11th round, Byrd's dad and trainer, Joe Byrd, did the smart thing and threw in the towel at 1:52 rather than see his son take any more unnecessary punishment with the outcome of the fight obvious. Povetkin has now beaten Byrd and longtime fringe contender Larry Donald with ease in his past two fights, not to mention some other solid wins for a pro with only 14 fights. The win sets Povetkin up to fight the winner of Friday night's other semifinal elimination match between Calvin Brock and Eddie Chambers on Showtime's "ShoBox: The New Generation." The winner of the eventual match between Povetkin and Brock or Chambers will earn a mandatory shot at Klitschko, most likely next summer. Povetkin has to be the favorite to beat either Brock or Chambers. Byrd said after the fight he had no intention of retiring yet, which is too bad. He has nothing more to prove. He represented the United States in the 1992 Olympics and won a silver medal -- as a middleweight. He twice won versions of the heavyweight title and was one of the very few fighters you could believe when he said he would fight anyone, anytime, anywhere. Byrd backed that up, four times going to Germany: once to face Vitali Klitschko, twice against Wladimir Klitschko and most recently against Povetkin. He also fought a prime Ike Ibeabuchi. Although Byrd was routinely outweighed by as much as 40 pounds, he owns wins against Vitali Klitschko, Evander Holyfield (one of the few men his size), Jameel McCline, David Tua and Fres Oquendo. Few heavyweights have accomplished more at such a drastic size and power disadvantage.
Middleweight
Sebastian Sylvester W12 Simone Rotolo
Retains European middleweight title
Scores: 115-112, 115-114 Sylvester, 116-112 Rotolo
Records: Sylvester, 27-2, 13 KOs; Rotolo, 27-3, 13 KOs

Rafael's remark: Germany's Sylvester, 27, made the first defense of his second reign as European champion with a split decision against Italy's Rotolo, 32, who was facing the best opponent of his career. Sylvester had lost the title to Finland's Amin Asikainen via eighth-round TKO in June 2006. Since then he won six in a row, including an 11th-round TKO of Asikainen to regain the title this past June. Sylvester had his jab working well in the early going, although he suffered a cut under his right eye, which originated in training before the fight, in the second round. He knocked Rotolo down in the fourth round, but the challenger survived and made it a closer fight in the late going. Sylvester would like to eventually face world titleholder Felix Sturm, which would be a massive fight in Germany. So, too, would be a fight with Arthur Abraham, who also holds a belt. Come to think of it, the biggest fight in Germany would be Abraham-Sturm. Let's see that happen and Sylvester get the winner.
Saturday at Orillia, Ontario
Junior featherweight
Steve Molitor W12 Fahsan 3K Battery
Retains a junior featherweight title
Scores: 120-108, 119-109 (twice)
Records: Molitor, 25-0, 10 KOs; 3K Battery, 58-9-1, 35 KOs

Rafael's remark: Molitor, the 27-year-old southpaw from Ontario known as "The Canadian Kid," made the second defense of the alphabet title that had been stripped from Israel Vazquez. Molitor looked impressive winning the vacant strap via fifth-round knockout on Michael Hunter's English turf in October 2006 and he also looked strong stopping Takalani Ndlovu in the ninth round in July. Facing 3K Battery of Thailand, Molitor didn't get the knockout, but he won a lopsided decision in front of his hometown crowd. Molitor was in command every round except the seventh, when he got clipped by a left hand and fell into the ropes. The referee did not rule a knockdown, however, even though the ropes helped him up. Molitor shook off the blow and continued to win rounds. 3K Battery's 14-fight winning streak came to an end. The last time he lost? When Manny Pacquiao knocked him out in the fourth round in December 2004, the only time he has ever been stopped. Molitor is one of the better kept secrets in boxing. It would be nice to see him get a little attention from American television. He sure fits into the picture in an underrated 122-pound division that also boasts Vazquez, Rafael Marquez, Daniel Ponce De Leon and Celestino Caballero.
Saturday at Mexicali, Mexico
Welterweight
Jose Luis Castillo TKO6 Adan Casillas
Records: Castillo, 56-8-1, 48 KOs; Casillas, 20-7, 15 KOs

Rafael's remark: Castillo, the star-crossed former two-time lightweight champion, returned in his hometown to score a knockout of Mexican countryman Casillas. It was Castillo's first fight since he was destroyed by Ricky Hatton in the fourth round in June; a fight that ended his run in meaningful matches. But Castillo, 33, who supports a large family, fights on because he needs the money, especially after the fines, legal bills and missed seven-figure purse stemming from the fallout from his canceled third fight with Diego "Chico" Corrales, which was canceled because Castillo didn't make weight (again). Castillo will fight on and probably do so on smaller shows in Mexico. At least now Castillo doesn't have to kill himself to make 135, or even 140 pounds (like he did for Hatton). He weighed 146 for the fight with Casillas. Figure on Castillo's future fights being at welterweight and maybe even heavier.
Friday at Cicero, Ill.
Bantamweight
Martin Castillo W10 Jonathan Perez
Scores: 99-90 (twice), 98-91
Records: Castillo, 33-2, 17 KOs; Perez, 13-3, 10 KOs

Rafael's remark: Castillo remained on course for a March showdown with exciting Mexican countryman Jorge Arce with a hard-fought win (albeit lopsided on the scorecards) against Perez in the Telefutura main event. It was the third win in a row for Castillo since losing his slice of the 115-pound title in Japan to Nobuo Nashiro via a cut-induced 10th-round TKO in July 2006. After 10-month layoff to rest and have surgery to remove excessive scar tissue, Castillo, 30, has worked his way back. He outboxed the far-lesser experienced Perez, a native of Colombia who dropped his third fight in his past four. A Castillo-Arce bout is no guarantee. Arce must win a fight Dec. 1 on a Top Rank pay-per-view show. But if he does, Castillo and Arce are expected to meet in a junior bantamweight bout on the same card on which the proposed main event would pit "Contender" star Alfonso Gomez against Julio Cesar Jr., who also has to win on Dec. 1. Castillo-Arce is a can't miss action fight between two veterans who have been in several exciting fights. Kudos to HBO for showing interest in the fan-friendly fight.
Flyweight
Giovanni Segura KO1 Wilfrido Valdez
Records: Segura, 19-0-1, 15 KOs; Valdez, 23-3-3, 16 KOs

Rafael's remark: What's not to love about Segura? Every time he fights, it's exciting. He scored his second consecutive first-round knockout with a devastating left hook to the ribs against Valdez, who fell to the mat like he had been shot. Segura, a 25-year-old who was born in Mexico but lives in Southern California, also scored a first-round knockout in June when he stopped former strawweight titlist Daniel Reyes. However, Segura has still not gotten his rightful title shot against belt holder Juan Carlos Reveco. For some reason Segura's promoter, Top Rank, simply hasn't pushed the issue while generally ignoring Segura. It's a shame because Segura, despite technical weaknesses, is as exciting as they come. He can certainly win a title against Reveco because he's such a good puncher and so aggressive. Valdez, of Colombia, was knocked out early for the second consecutive fight. In May, he made it into the second round before being drilled by then-junior flyweight champ Hugo Cazares.
Junior welterweight
Jorge Paez Jr. W6 Aaron Drake
Scores: 60-54 (three times)
Records: Paez Jr., 18-1, 10 KOs; Drake, 12-6, 9 KOs

Rafael's remark: Paez Jr., the son of former featherweight titlist and showman Jorge Paez Sr., won his fifth consecutive fight since suffering a stunning fourth-round TKO loss to Ramon Guevara in March. Paez, 19, outclassed Drake in every way possible as he cruised to a shutout victory.
Dan Rafael covers boxing for ESPN.com.
Boxing
2013 BWAA Nat Fleischer Award winner for excellence in boxing journalism
ESPN.com boxing writer since 2005
Five years at USA Today
MOST SENT STORIES ON ESPN.COM