Commentary
Scorecard: Calzaghe's legacy secured with dominant victory over Kessler
It's hard to argue with Joe Calzaghe's resume: Undefeated in over 15 years -- 10 of which he spent as a world champion -- and a solid win over Mikkel Kessler secure the Welshman's legacy.
Originally Published:
November 4, 2007
By
Dan Rafael
| ESPN.com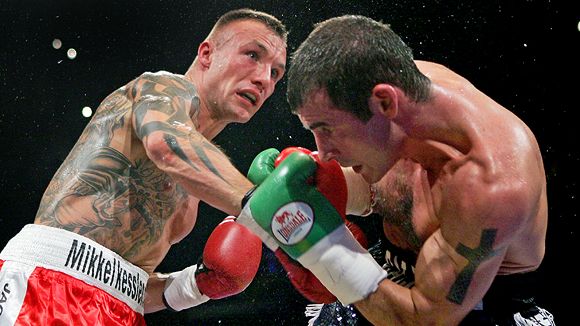 John Gichigi/Getty ImagesJoe Calzaghe, right, frustrated Mikkel Kessler with his mobility and craftiness.

A roundup of last week's notable boxing results from around the world:

Sunday at Saitama, Japan
Flyweight
Takefumi Sakata D12 Denkaosan Kaowichit
Retains a flyweight title
Scores: 114-112 Sakata, 115-112 Kaowichit, 113-113
Records: Sakata, 31-4-2, 15 KOs; Kaowichit, 40-1-1, 16 KOs

Rafael's remark: Japan's Sakata barely retained his title in his second defense with a split draw against longtime Thai contender Kaowichit. Kaowichit, 31, lost a point for repeated holding in the 12th round. Had American referee Mark Nelson not taken the point, which he did after several warnings, Kaowichit would have won a split decision. Sakata, 27, survived a first-round knockdown and overcame the deficit with a strong performance over the last five rounds. Kaowichit said afterward that he hurt his left hand in the fourth round. Kaowichit is now 0-1-1 in world title fights, having dropped a decision to then-flyweight titlist Eric Morel in 2002.
Saturday at Cardiff, Wales
Super middleweight
Joe Calzaghe W12 Mikkel Kessler
Retains super middleweight title
Scores: 117-111, 116-112 (twice)
Records: Calzaghe, 44-0, 32 KOs; Kessler, 39-1, 29 KOs

Rafael's remark: What else can you call Calzaghe's performance other than pure brilliance? In front of a monster crowd of 50,150 fans in his home country, Calzaghe, 35, punched his Hall of Fame ticket with a dominant victory in an exciting fight against an outstanding opponent. It's not that Kessler, the 28-year-old "Viking Warrior" from Denmark, fought poorly. It's that Calzaghe was that good. The fight was even through four rounds, but then Calzaghe took over and won virtually the rest of the bout with an assortment of hard punches, underrated defense, a strong chin and more energy than Kessler, who was simply at a loss as to what to do in the second half of the fight. When it was over, it was obvious that Calzaghe, the longest-reigning active champion in boxing (more than 10 years), had his 21st defense under his belt. He kept the Ring magazine title and his own sanctioning organization's belt while picking up the two alphabet belts Kessler had. The fourth alphabet belt used to belong to Calzaghe but was stripped from him. There can be no question that Calzaghe is the supreme commander of the 168-pound division in all the world and it is not a reach to call him the greatest fighter in the 23-year history of the division. It's either Calzaghe or Roy Jones Jr., but Jones' stay at 168 was brief -- just two years and five defenses. Calzaghe's win was even more impressive than his March 2006 coming out party against Jeff Lacy. The win against Lacy made the rest of the world finally take notice of Wales' favorite son, but this win against formidable Kessler -- a much stronger fighter than Lacy -- cemented his place among the top two or three fighters in the world pound-for-pound. Kessler probably would have beaten any other super middleweight in the world on this night. He'll be back and probably win more titles. He's young, exciting, talented and still hungry. HBO certainly likes him enough to bring him back off this defeat. As for Calzaghe, the time has come for him to step up to light heavyweight. There's nothing left to achieve at 168. There's talk of an eventual fight with the winner of the Kelly Pavlik-Jermain Taylor II fight, but Calzaghe wants light heavyweight champ Bernard Hopkins, who has no obvious big-fight opponent. Hopefully, sanity will prevail when it comes to negotiating money and they can make the fight, which could bring Calzaghe to America for the first time before he retires.
Cruiserweight
Enzo Maccarinelli KO4 Mohamed Azzaoui
Retains a cruiserweight title
Records: Maccarinelli, 28-0, 21 KOs; Azzaoui, 22-1-2, 8 KOs

Rafael's remark: Maccarinelli, of Wales, made his fourth title defense an easy night at the office, stopping Saenz with a left hand to the body. It wasn't much of a fight, and that shouldn't be much of a surprise. Promoter Frank Warren originally lined up over-the-hill Ezra Sellers for Maccarinelli to smash, but the British boxing regulators refused to approve the fight, so Azzaoui, a New Zealand-based Algerian, was brought in on short notice. He was coming off an Oct. 13 victory in a horribly boring bout on the Sultan Ibragimov-Evander Holyfield undercard. It was a good night for trainer Enzo Calzaghe. Besides son Joe Calzaghe winning in style in the main event, he also trains Maccarinelli.
Saturday at Tucson, Ariz.
Junior lightweight
Juan Manuel Marquez W12 Rocky Juarez
Retains a junior lightweight title
Scores: 120-108, 118-110, 117-111
Records: Marquez, 48-3-1, 35 KOs; Juarez, 27-4, 19 KOs

Rafael's remark: Marquez's first defense since winning the title from Marco Antonio Barrera in March was easy work for the Mexican star. Marquez outclassed Juarez, who had previously dropped two title fights to Barrera. A terrible accidental head butt in the first round put Juarez in jeopardy almost immediately; it opened a bad cut above his left eye that bled for the rest of the one-sided fight. Round by round, Marquez's dominance became more obvious, and the blood certainly didn't help Juarez, who has lost three junior lightweight title bouts and one interim featherweight title bout against Humberto Soto. The 2000 U.S. Olympic silver medalist just hasn't been able to rise to the occasion in his biggest frights, whether at 126 pounds or 130. Frankly, this fight could have been stopped any time from the 10th round on. Marquez showed no ill effects from the cut knuckle that forced the fight to be postponed from Sept. 15. With Manny Pacquiao beating Barrera in lopsided fashion on Oct. 6 and Marquez steaming past Juarez, everything is set up for a Marquez-Pacquiao rematch. Pacquiao scored three first-round knockdowns of Marquez, but Marquez dominated the second half of the fight for a draw in their dramatic 2004 brawl. Pacquiao has a March 15 HBO PPV date and Marquez is the logical opponent, although he is considering a move to lightweight, which would be a shame when there is business to take care of at 130 pounds. Marquez wants the fight. Oscar De La, his promoter who also has a small promotional interest in Pacquiao, wants to make the fight. Boxing fans want to see it. It's up to Pacquiao and promoter Bob Arum of Top Rank.
Featherweight
Robert Guerrero KO1 Martin Honorio
Retains a featherweight title
Records: Guerrero, 21-1-1, 14 KOs; Honorio, 24-4-1, 12 KOs

Rafael's remark: A tip of the hat to Guerrero, who acted like a true professional under severely trying personal circumstances and blew away Honorio in just 56 seconds. Guerrero, 24, didn't even arrive in Tucson until Friday because he was home in California at the side of his wife, Casey, 23, who was diagnosed with leukemia last week and undergoing her first chemotherapy treatment. Then he was a pound overweight, but took it off while his handlers were suggesting he withdraw from the match, which would have been understandable. Guerrero was having none of that. Instead, he showed up in the ring without complaint and smoked Honorio -- behind a supremely placed straight left hand that wiped Honorio out. It was Guerrero's first defense of his second reign, and it was spectacular. Honorio, a legitimate top 10 contender, handed titlist Steven Luevano his only loss; Luevano went on to win a belt. Now, how about Luevano and Guerrero in a unification fight? It's a great matchup in a division with some exciting young fighters.
Friday at Tacoma, Wash.
Heavyweight
Eddie Chambers W12 Calvin Brock
Title eliminator semifinal
Scores: 115-113 (twice) Chambers, 115-113 Brock
Records: Chambers, 30-0, 16 KOs; Brock, 31-2, 23 KOs

Rafael's remark: In the 100th telecast of Showtime's "ShoBox: The New Generation" series, Chambers, 25, moved a step closer to a heavyweight title shot with a solid performance against the 32-year-old Brock. Although the judges had it as a split decision, Showtime's Steve Farhood was on the money with his 117-111 scorecard for Philadelphia's Chambers, who was busier, faster, came forward and was more accurate with his jabs and body shots. Brock, at a career-heavy 241 pounds, didn't look in the best shape and his face was quite swollen after the fight from eating so many Chambers punches. The victory advanced Chambers to a final elimination bout against Russia's 2004 Olympic gold medalist Alexander Povetkin, who stopped former titlist Chris Byrd in the 11th round last week in the other semifinal. The winner of Povetkin-Chambers, should both sides elect to go through with the fight, will become the mandatory challenger for No. 1 heavyweight titleholder Wladimir Klitschko, who knocked out Brock in a title fight in his only other loss.
Lightweight
Josesito Lopez W8 Tyrone Harris
Scores: 79-72, 77-74 (twice)
Records: Lopez, 22-2, 13 KOs; Harris, 21-4, 14 KOs

Rafael's remark: Lopez, 23, cruised to his sixth consecutive victory in the "ShoBox" opener. It wasn't nearly as competitive as two of the scorecards indicate. Considering Lopez was fighting a southpaw for the first time, he did very well. Harris was docked a point in the seventh round for a low blow, but by that time, Lopez already had clinched the fight on the cards.
Friday at Cabazon, Calif.
Junior middleweight
Saul Roman W10 Kassim Ouma
Scores: 96-93, 95-94 Roman, 95-94 Ouma
Records: Roman, 28-4, 24 KOs; Ouma, 25-4-1, 15 KOs

Rafael's remark: Major upset! Coming off back-to-back fourth-round knockout losses, Roman was supposed to be tune-up/stay busy fodder for Ouma, a former titleholder returning to junior middleweight after dropping a decision in his last fight to then-middleweight champion Jermain Taylor in December. But Ouma, the rust showing from a 110-month layoff, had a terrible performance, and Roman gave the fight of his life; he outhustled the sleepwalking Ouma to win a close but deserved split decision in the Telefutura main event. Even with the benefit of a knockdown in the eighth round, Ouma couldn't pull it out. (And the knockdown was bogus anyway.) Ouma nailed Roman with a left hand that was clearly below the belt, but referee James Jen Kin missed it. Ouma is just 28, but after a lifetime of heartache stemming from his child soldier days in Uganda, not to mention a recent arrest for a traffic violation, his mind just didn't seem to be on the fight. Ouma, who took this fight after a Sept. 15 match with Sergio Mora had been canceled, was not nearly as aggressive as he usually is and that cost him the fight.
Junior lightweight
Miguel Munguia W10 Jose Diaz
Scores: 97-92, 96-93, 95-94
Records: Munguia, 16-7-1, 13 KOs; Diaz, 14-1, 4 KOs

Rafael's remark: Munguia, who had lost seven fights in a row and nine of his last 10, pulled off a big upset against the 21-year-year old younger brother of unified lightweight titleholder Juan Diaz. Munguia, 25, of Mexico, just outworked Houston's Diaz, who was in his first fight scheduled for 10 rounds.
Wednesday at San Juan, Puerto Rico
Junior featherweight
Juan Manuel Lopez TKO2 Omar Adorno
Records: Lopez, 20-0, 18 KOs; Adorno, 16-9, 10 KOs

Rafael's remark: Lopez stopped Adorno in a showcase fight in the main event of a card that was part of the Puerto Rico-based WBO's annual convention. The 24-year-old southpaw was a 2004 Puerto Rican Olympian and is the island's brightest prospect.
Heavyweight
Michael Moorer W10 Roderick Willis
Scores: 97-93, 96-94 Moorer, 96-93 Willis
Records: Moorer, 51-4-1, 39 KOs; Willis, 14-2-1, 8 KOs

Rafael's remark: Moorer, a two-time heavyweight champion, eked out a split decision against Willis, an inexperienced opponent, on a card that was part of the WBO's annual convention. The 39-year-old Moorer picked up his third win of the year and second in three months as he tries to keep alive the remote chance of landing a meaningful fight. Some guys just don't know when to quit. Willis, coming off a third-round knockout in March, dropped his second in a row.
Tuesday at Hollywood, Fla.
Super middleweight
Edison Miranda TKO5 Henry Porras
Records: Miranda, 29-2, 25 KOs; Porras, 33-7-1, 25 KOs

Rafael's remark: Last time out, Miranda was humbled in a seventh-round knockout loss to Kelly Pavlik in their fantastic brawl in a May middleweight elimination fight. Now, Miranda is back and at super middleweight, where he broke down battle-tested Porras. Referee Frank Santore stopped the fight with Miranda unloading a barrage of blows on Porras, who was trapped in a corner. Miranda and his handlers have been talking to the promoter of rugged Canadian contender Jean Pascal about fighting on a doubleheader to be followed by a possible summer showdown in June in Montreal. That would be great fun. Miranda is also in the mix to fight 2004 U.S. Olympian Andre Ward. The division is pretty deep right now and Miranda figures in the mix for any notable opponent.
Junior lightweight
Yuriorkis Gamboa TKO6 Adailton DeJesus
Records: Gamboa, 7-0, 6 KOs; DeJesus, 19-3, 17 KOs

Rafael's remark: Of the three 2004 Cuban Olympic gold medalists who defected to Germany and turned pro in April, Gamboa is moving the fastest and closest to fighting for a world title. He is not being babied. Brazil's DeJesus would be a very solid opponent for a fighter with double Gamboa's pro experience. Yet, Gamboa, 25, making his American debut, stopped him 35 seconds into the final round. Gamboa dropped DeJesus in the first round and suffered the first knockdown of his career in the fourth -- many believed it was nothing more than a slip the referee missed. With many Cuban fans in the crowd of 3,500, Gamboa forced the late stoppage with a series of unanswered punches. Gamboa will keep up his busy schedule by fighting again in December. Gamboa's handlers at Arena-Box Promotions believe he will fight for a world title in 2008.
Flyweight
Yan Barthelemy W4 Kevin Hudgins
Scores: 40-36 (three times)
Records: Barthelemy, 3-0, 0 KOs; Hudgins, 5-12, 2 KOs

Rafael's remark: Barthelemy, one of three 2004 Cuban Olympic gold medalists to defect to Germany and turn pro in April, won every round against his journeyman opponent in his American debut. He'll return to action in December.
Super middleweight
James McGirt Jr. W8 Jason Naughler
Scores: 79-73 (three times)
Records: McGirt Jr., 17-0, 9 KOs; Naughler, 17-7-1, 11 KOs

Rafael's remark: If it's McGirt Jr. in the ring, it must be a workmanlike eight-round decision win. The son of former champ and top trainer Buddy McGirt cruised to his fifth eight-round decision victory in his past seven fights, scoring a near-shutout of Canada's Naughler.
Featherweight
Gary Stark W8 Robert Da Luz
Scores: 79-72 (three times)
Records: Stark, 19-2, 8 KOs; Da Luz, 10-10-2, 9 KOs

Rafael's remark: New Yorker Stark was a rising prospect when he ran into hard times earlier this year. First he lost a controversial decision on national TV to Mike Oliver and then he was knocked out in five rounds by Andres Ledesma in an upset. But Stark, who scored an eighth-round knockdown, has now won two in row in an effort to get back on track, including this virtual shutout of Da Luz.
Dan Rafael covers boxing for ESPN.com.
Boxing
2013 BWAA Nat Fleischer Award winner for excellence in boxing journalism
ESPN.com boxing writer since 2005
Five years at USA Today
SPONSORED HEADLINES
MORE BOXING HEADLINES
MOST SENT STORIES ON ESPN.COM