Commentary
Scorecard: Mayorga-Vargas lives up to its billing
What do you get when a pair of hard-hitting, past-their-prime veterans clash? An all-action slugfest, writes Dan Rafael.
Originally Published:
November 26, 2007
By
Dan Rafael
| ESPN.com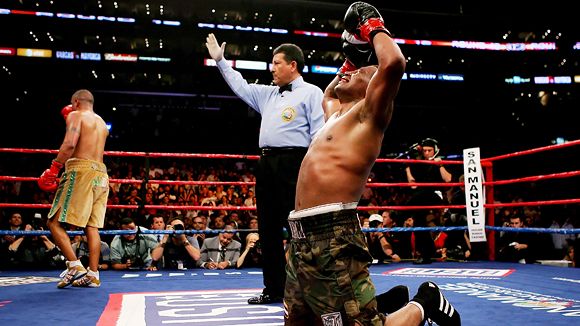 Robert Laberge/Getty ImagesPrior to defeating Fernando Vargas, Ricardo Mayorga, right, was 2-3 in his last five bouts.

A roundup of last week's notable boxing results from around the world:

Saturday at Dresden, Germany
Cruiserweight
Firat Arslan W12 Virgil Hill
Wins a cruiserweight title
Scores: 118-110, 117-111, 116-113
Records: Arslan, 28-3-1, 18 KOs; Hill, 50-7, 23 KOs

Rafael's remark: The long nightmare is over. Now, (sarcasm coming) the WBA has only two titleholders in the cruiserweight division. At long last, the ridiculous situation of having three beltholders in the division has been resolved, thanks to Arslan (previously the "interim regular" titleholder) defeating the ancient Hill (the "regular titleholder"). Of course, the real division champion is "super champion" David Haye, but having two titleholders in one division is sure a whole lot better than having three. Arslan, a 37-year-old German southpaw, now has strung together three good victories in a row against Hill, Valery Brudov and Grigory Drozd. The quicker Arslan was the aggressor and landed heavier blows than Hill, 43, staggering him in the ninth and 10th rounds. With this loss, Hill needs to give serious consideration to ending his borderline Hall of Fame career. Afterward, he said he was "going to look at" retirement. But he also mentioned possible rematches with Dariusz Michalczewski and Graciano Rocchigiani, both of whom would have to come out of retirement. When is enough enough? Hill won a silver medal in the 1984 Olympics and fought professionally with distinction for 23 years, winning five world title belts between light heavyweight and cruiserweight. Now, he has lost three of four, including a March nontitle fight to Henry Maske, who came out of a decade of retirement to avenge his only loss by beating Hill. In the 11 years since beating Maske in their first fight, Hill's defining victory, he is just 7-6. This should be the end for Hill. It's been one heck of a career.
Light heavyweight
Zsolt Erdei W12 Tito Mendoza
Retains a light heavyweight title
Scores: 117-111, 116-112 Erdei, 117-111 Mendoza
Records: Erdei, 28-0, 17 KOs; Mendoza, 36-8, 28 KOs

Rafael's remark: Erdei made the ninth successful defense of his title and did it against a better cut of opponent than he usually has faced during his four-year reign. Not that Panama's Mendoza, 31, is spectacular, but he's about a million times better than the likes of Danny Santiago and George Blades, Erdei's previous two opponents. To little surprise, the 33-year-old Hungarian used his superior boxing skills to keep the heavier-hitting Mendoza off balance, even though one judge surprisingly gave the fight to Mendoza, who did manage to hurt Erdei with a right hand in the third round.
Saturday at Veracruz, Mexico
Junior flyweight
Edgar Sosa TKO4 Roberto Leyva
Retains a junior flyweight title
Records: Sosa, 30-5, 16 KOs; Leyva, 24-7-1, 20 KOs

Rafael's remark: Sosa has been busy. After winning his 108-pound belt by beating Brian Viloria in April, Sosa notched his third defense Saturday, stopping former strawweight titlist and Mexican countryman Leyva with a fourth-round body punch. Sosa lost two nontitle bouts to Ulises Solis earlier in his career (a 12-round majority decision and a four-round split decision), but now that they both own world titles, they ought to put together a unification fight. That shouldn't be too hard, since they both are with Mexican promoter Fernando Beltran and have ties to Top Rank. Leyva's career has been in a tailspin for years. Including his title loss to Miguel Barrera in 2002, he's just 3-7, including four knockout losses.
Friday at Los Angeles
Super middleweight
Ricardo Mayorga W12 Fernando Vargas
Scores: 115-111, 114-112, 113-113
Records: Mayorga, 28-6-1, 22 KOs; Vargas, 26-5, 22 KOs

Rafael's remark: After all the ridiculous, cliché-ridden trash talk leading up to this fight (which was postponed from Sept. 8 because of Vargas' anemia), it actually lived up to the promise of great action. Although there was no knockout -- both fighters predicted there would be -- it was a thoroughly entertaining brawl that capped off a solid pay-per-view card and thrilled the crowd of 10,365 at Staples Center. For those who missed the pay-per-view, Mayorga-Vargas is worth checking out when ESPN Classic replays it at 8 p.m. ET Saturday. You won't be disappointed. Vargas announced before the fight that he was retiring, win or lose. He reiterated that afterward. It's a smart idea. Vargas always gave everything of himself, but he's got very little left, even though he's only 29. It's an old, old 29. His legs were shaky the entire fight, and he was rocked many times. That Vargas said he had to lose about 100 pounds over the past several months to get down to the 164-pound contract weight (originally 162, until Vargas asked for it to be changed) sure didn't help him. He finishes his career with three consecutive losses to Mayorga and two knockouts to Shane Mosley. Interestingly, the Mayorga fight is the only decision loss in Vargas' career. He will be missed. He was an all-action fighter, was great at talking up his fights and filling reporters' notebooks, and had passionate fans. He was a 1996 U.S. Olympian, won a pair of junior middleweight titles and was the youngest 154-pound champion in history. His unification fight with Felix Trinidad in 2000 was the greatest junior middleweight title bout ever. Vargas suffered five knockdowns, knocked Trinidad down once and was stopped in the 12th round. No one will ever forget it. Vargas' knockout loss to Oscar De La Hoya in their 2002 unification fight also was memorable. Against Mayorga, Vargas gave up the early rounds and was dominated late. He was most effective in the middle of the bout, but it was not enough. Mayorga was busier and landed heavier punches. He dropped Vargas in the first round with a flurry and again in the 11th with a clean overhand right to win a close but clear decision. Judge David Mendoza's 113-113 card was a joke. Mendoza is quickly establishing himself as one of California's least reliable judges. Keep in mind that he turned in another atrocious card last month when he had Sergio Mora defeating Elvin Ayala 99-91 in a very close, competitive fight that was ruled a split draw. Mayorga, 34, a former welterweight and junior middleweight titleholder, hadn't fought since being crushed by De La Hoya in May 2006. But because Mayorga is entertaining as hell and is the perfect foil, he'll surely get another big payday off his performance against Vargas. Mayorga is better suited to fight at junior middleweight and said he plans to go back down in weight. A perfect bout would be a third match with junior middleweight titlist Vernon Forrest, who lost twice to Mayorga. If Forrest retains his title Saturday against Michele Piccirillo, we'd love to see him face Mayorga again. It's a fight Forrest said he would like.
Welterweight
Kermit Cintron TKO10 Jesse Feliciano
Retains a welterweight title
Records: Cintron, 29-1, 27 KOs; Feliciano, 15-6-3, 9 KOs

Rafael's remark: Well, that wasn't as easy as it was supposed to be, was it? Feliciano, who has sprung a few upsets, is as tough and gritty as any fighter you will ever find. Combine his gigantic heart with Cintron suffering a badly bruised right hand on a first-round punch, and it meant Cintron was in for a long night. Although Cintron retained his title for the second time, finally stopping Feliciano with an unanswered assault of more than a dozen punches in the 10th round, Feliciano never went down. Instead, it was Cintron who was writhing on the floor after the stoppage because of the pain in his hand. Cintron, who led 89-82 and 88-83 (twice) on the scorecards at the time of the TKO, went into the fight with a deal in place for a Feb. 2 unification match against Paul Williams, so the injury has everyone involved with the significant HBO fight concerned. Fortunately, Cintron has just a deep bruise, not a break, trainer/manager Emanuel Steward told ESPN.com. Steward said Cintron, who had an X-ray after the fight, will see a doctor again this week and hopefully be ready to train for Williams in about three weeks. Cintron shouldn't go into a fight of that magnitude unless he's healthy. He landed a ton of hard punches on Feliciano, but Feliciano, the self-proclaimed "real-life Rocky," never wavered. If Feliciano, a natural junior welterweight, had any serious punching power, he might have had Cintron in some trouble, because he also landed a lot of punches in the very entertaining, hard-fought bout.
Junior middleweight
Roman Karmazin KO3 Alejandro "Terra" Garcia
Records: Karmazin, 36-2-1, 23 KOs; Garcia, 25-3, 23 KOs

Rafael's remark: In the fight between the former junior middleweight titleholders, Russia's Karmazin looked fantastic as he easily disposed of Mexico's Garcia, who lost his second in a row and was fighting for the first time since being manhandled by Jose Antonio Rivera in a title bout 18 months ago. Karmazin, who has won two in a row since losing his belt to Cory Spinks in a tight decision in July 2006, dropped Garcia with a body blow in the first round and crumpled him for good with a barrage punctuated by another body shot in the third. Karmazin looked sharp despite fighting for the first time since a quick blowout in January. He'd like to be more active (what Don King-promoted fighter wouldn't?), but what top fighter is going to fight Karmazin unless he is forced to? Karmazin is the classic example of a very good fighter stuck in neutral because he's dangerous and doesn't bring much economic muscle to the table. Still, he deserves another title opportunity.
Junior lightweight
Jason Litzau W10 Edel Ruiz
Scores: 98-92 (twice), 97-93
Records: Litzau, 23-1, 19 KOs; Ruiz, 28-18-5, 17 KOs

Rafael's remark: Although Litzau, 24, the exciting brawler, won by comfortable scores, it was a back-and-forth contest with Ruiz, an extremely experienced fighter who had his moments. Some at ringside thought Ruiz should have gotten the decision. Litzau won his third in a row since suffering an upset eighth-round knockout to Jose Hernandez in his HBO debut. Ruiz fell to 1-4 in his past five and 2-6-1 in his past nine against mostly solid opposition.
Welterweight
Henry Crawford W8 Jose Bermejo
Scores: 80-72 (three times)
Records: Crawford, 17-0-1, 8 KOs; Bermejo, 10-6-2, 7 KOs

Rafael's remark: Promising prospect Crawford, 26, of Paterson, N.J., won every round on all three scorecards for the lopsided decision. Crawford initially had been pulled off the card after suffering a hip injury earlier this month while sparring in Puerto Rico with Miguel Cotto, who was preparing for his Nov. 10 fight with Shane Mosley. Crawford was Cotto's main sparring partner, going about 50 rounds with him during five weeks in his training camp. If he could stand up to Cotto for that long during an intense camp, fighting a journeyman such as Bermejo must have been a walk in the park.
Lightweight
Fernando Angulo W10 Damian Fuller
Scores: 99-91, 97-93, 96-94
Records: Angulo, 20-4, 12 KOs; Fuller, 30-5-1, 14 KOs

Rafael's remark: Last November, Angulo, of Ecuador, lost a decision to lightweight titlist Juan Diaz in an exciting fight. Although Angulo, 26, lost, he performed much better against Diaz than most expected. Now, he's won two in a row since that defeat, including this mild upset of Fuller, an experienced southpaw with good speed and boxing skills. Fuller had been on a great run, going 9-0-1 in his previous 10 bouts. He hadn't lost since being knocked out by the late Diego "Chico" Corrales in June 2003.
Welterweight
Nelson Linares W8 Jorge Padilla
Scores: 80-71 (twice), 79-72
Records: Linares, 15-0-1, 8 KOs; Padilla, 7-5-3, 1 KO

Rafael's remark: Linares, 25, of Venezuela, scored a sixth-round knockdown and won easily as Padilla, 28, of Mexico, dropped his second straight and fell to 0-2-3 in his past five. The fight was a tune-up for Linares, who, according to Don King Productions, is expected to face former welterweight titlist Luis Collazo in a welterweight elimination bout on the Jan. 19 Roy Jones-Felix Trinidad undercard.
Friday at Cabazon, Calif.
Junior middleweight
Carlos Baldomir W10 Luciano Perez
Scores: 97-93, 96-94, 95-95
Records: Baldomir, 44-11-6, 13 KOs; Perez, 15-7-1, 13 KOs

Rafael's remark: So much for Baldomir's retirement, right? The former undisputed welterweight champion (and feather duster salesman from Argentina) said he was going to retire after losing a lopsided decision to Vernon Forrest for a junior middleweight belt in July, but Baldomir, 36, is no different than most fighters and decided to fight on. He looked terrible against Perez. Baldomir, who shocked the world in 2006 with back-to-back upset wins against Zab Judah and Arturo Gatti before losing the welterweight title via shutout to Floyd Mayweather Jr., looked out of shape and disinterested as he escaped with a questionable majority decision in a Telefutura main event that certainly could have gone the other way. Perez, who has dropped four of his past six, had many good moments. In the third round, a left hook from Perez rocked Baldomir, who was knocked into the ropes. Baldomir probably will get himself another good payday, but the feel-good story of 2006 now is a distant memory.
Junior lightweight
Bobby Pacquiao TKO4 Fernando Trejo
Records: Pacquiao, 28-13-3, 13 KOs; Trejo, 29-12-4, 17 KOs

Rafael's remark: Pacquiao, the younger brother of superstar Manny Pacquiao, knocked Trejo down in the fourth round, but as Trejo fell, he clutched his right shoulder. When he bounced up, he was unable to continue because of the freak injury. It was too bad, because it had been a good little scrap up to that point, with both guys giving and taking a lot of shots. Pacquiao, who was coming off a seventh-round knockout loss to Humberto Soto in June and an 11th-round disqualification loss to Hector Velazquez in November 2006, ended his two-fight losing streak.
Friday at San Sebastian, Spain
Middleweight
Kofi Jantuah D12 Ruben Diaz


Scores: 115-113 Diaz, 114-114 (twice)
Records: Jantuah, 31-3-1, 20 KOs; Diaz, 12-1-2, 7 KOs

Rafael's remark: In his first bout since signing with upstart German promoter Arena Box-Promotion a few months ago, Jantuah, 33, of Ghana, surprisingly was held to a draw by Diaz, of Spain. Jantuah has been a fringe contender for many years and lost both of his world title shots, a junior middleweight fight to Kassim Ouma in 2005 and a middleweight clash with Arthur Abraham in 2006. Arena CEO Ahmet Oner said a rematch in Germany is possible.
Wednesday at Miami
Cruiserweight
Richard Hall TKO4 Byron Mitchell
Records: Hall, 28-7, 26 KOs; Mitchell, 25-4-1, 18 KOs

Rafael's remark: Hall, best known for being hammered by Roy Jones in a 2000 light heavyweight title challenge, ended a three-fight losing streak by stopping Mitchell, a former two-time super middleweight beltholder. Hall, a 36-year-old southpaw from Jamaica, hurt Mitchell in the first round and almost finished him in the second round. He finally did in the fourth when he scored a knockdown and the referee stopped it. Mitchell, 34, has lost three in a row. He was trying to launch a comeback after being out of action since June 28, 2003, when he was stopped in the second round by super middleweight champion Joe Calzaghe (although he did knock Calzaghe down for the first time in his career in the second round). Looks like the comeback is over.
Dan Rafael covers boxing for ESPN.com.
Boxing
2013 BWAA Nat Fleischer Award winner for excellence in boxing journalism
ESPN.com boxing writer since 2005
Five years at USA Today
EDITORS' PICKS
Oscar De La Hoya talks Floyd, Manny, his heritage, more.
Watch

Unbeaten Harrison looks to move closer to title shot.
Preview »

Jones focused entering Friday's return to the ring.
Brian Campbell »
MOST SENT STORIES ON ESPN.COM