Commentary
Scorecard: Linares knocks out Diaz in devastating fashion
All eyes may have been on Edwin Valero on Saturday, but by knocking out normally rugged Gamaliel Diaz, did Jorge Linares steal the show?
Originally Published:
December 17, 2007
By
Dan Rafael
| ESPN.com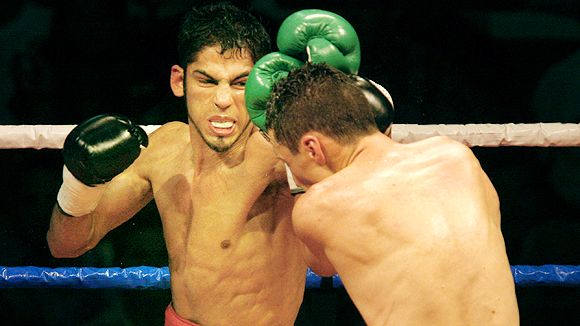 AP Photo/Israel LealJorge Linares, left, took his time picking apart Mexican veteran Gamaliel Diaz.

A roundup of recent notable boxing results from around the world:

Sunday at Perth, Australia
Light heavyweight
Danny Green W12 Stipe Drews
Wins a light heavyweight title
Scores: 120-108, 118-111, 118-110
Records: Green, 25-4, 22 KOs; Drews, 32-2, 13 KOs

Rafael's remark: Green gave the hometown fans something to cheer as he easily outpointed Croatia's Drews to take his light heavyweight belt. Green, a far more physical fighter than the technical Drews, took it to Drews, 34, who never mounted any kind of offense in his first title defense. Although Drews, at 6-foot-4, possessed a 3-inch height advantage and a reach advantage, he never used them. From the outset, it was all Green, 34, who rocked Drews with shots in the first round. Green ended Drews' six-fight winning streak. His only other loss? A decision in 2004 to Paul Briggs, also in Australia. Guess he won't be coming Down Under any time soon again. Green got the fight at the last minute, and the result sure made his decision to end negotiations with Antonio Tarver for a Dec. 1 fight when the Tarver camp got cute with his contract look smart.
Saturday at Cancun, Mexico
Junior lightweight
Edwin Valero TKO3 Zaid Zavaleta
Retains a junior lightweight title
Records: Valero, 23-0, 23 KOs; Zavaleta, 15-3-3, 11 KOs

Rafael's remark: In his American television debut, power-hitting Valero kept his perfect knockout record intact with an overwhelming assault on Zavaleta, 28, an uninspiring title challenger from Mexico in the main event of a highly entertaining pay-per-view card. Valero -- a Venezuelan based in Japan because he fights for Teiken Promotions, Japan's top promoter -- dominated from the outset, which came as little surprise. Valero, 26, had knocked out 19 opponents in the first round, so Zavaleta's making it to the third can be viewed as something of a moral victory. Valero almost knocked Zavaleta out in the opening round. He knocked him down at the end of the round, but Zavaleta survived. Valero appeared to rock him with every punch until referee Luis Pabon ended the massacre in the third. Valero is banned from fighting in the United States because of a suspension in New York, where he failed an MRI exam before a fight in January 2004 because of a head injury he suffered in a motorcycle accident. However, Teiken and Golden Boy Promotions are working on getting him relicensed in the United States, where Valero could figure into megafights with the likes of Manny Pacquiao, Juan Manuel Marquez or Juan Diaz.
Featherweight
Jorge Linares KO8 Gamaliel Diaz
Retains a featherweight title
Records: Linares, 25-0, 16 KOs; Diaz, 22-7-2, 9 KOs

Rafael's remark: Forget about dominating the featherweight division. Linares could wind up atop the pound-for-pound list someday. That's how supremely talented the 22-year-old from Venezuela is. In his first defense since winning a vacant belt with a dominant knockout performance against former junior featherweight champ Oscar Larios in July, Linares looked spectacular in taking apart experienced Diaz, 26, his mandatory challenger. Diaz landed a strong right hand in the opening round that Linares certainly felt, but it was all Linares after that. He dropped Diaz with a savage uppercut in the fourth round and knocked him out cold with a massive right hand that will be permanently etched in his highlight reel. Linares' future is unlimited. He eventually could go down as a great fighter. Here's hoping somebody from HBO or Showtime was watching this performance. If any such people were, they ought to be on the phone right now trying to get this special kid on their network ASAP.
Featherweight
Naoki Matsuda TKO8 Rodolfo Lopez
Title eliminator
Records: Matsuda, 29-7-3, 12 KOs; Lopez, 20-5-1, 14 KOs

Rafael's remark: When Lopez first faced Japan's Matsuda in March, it was supposed to be an easy win for the former featherweight titleholder. Instead, Matsuda knocked him out in the fifth round in Cancun, Lopez's hometown. Returning to Cancun for the inevitable rematch, Matsuda, 31, had a more difficult time but again stopped Lopez, 24, this time to become the mandatory challenger for Jorge Linares, who defended his title on the same card. Lopez started fast, but Matsuda responded and opened a bad cut over Lopez's left eye with a sharp right hand in the fifth round. Eventually, referee Laurence Cole stopped the fight on the advice of the ringside doctor. Lopez, who has lost three of his past four, showed little class in defeat, sucker punching a celebrating Matsuda after the fight. There was some controversy because WBC president Jose Sulaiman, who was ringside, insisted that the bout go to the scorecards because the cut was caused by an accidental head butt. Cole didn't see it that way and, according to co-promoter Lou DiBella, told Sulaiman so in colorful language. Don't be surprised to see the banditos at the WBC overturn the result and make it a no contest to rob Matsuda in favor of the Mexican fighter.
Featherweight
Wilfredo Vazquez Jr. D8 Jorge Cardenas
Scores: 76-76 (twice), 77-75 Vazquez
Records: Vazquez, 9-0-1, 8 KOs; Cardenas, 9-4-4, 6 KOs

Rafael's remark: In the pay-per-view opener, Vazquez, the 23-year-old son of the former three-division titleholder Wilfredo Vazquez Sr. (who also happens to be the kid's trainer) looked a little sluggish as Cardenas, 25, gave him much more than anyone thought he would. It was a good, action-packed fight and could have gone either way. The question after this one, however, is this: Has Vazquez been exposed by a journeyman opponent, or was it just an off night?
Saturday at Guadalajara, Mexico
Junior flyweight
Ulises Solis TKO9 Bert Batawang
Retains a junior flyweight title
Records: Solis, 26-1-2, 20 KOs; Batawang, 50-7, 34 KOs

Rafael's remark: Solis finally made his long-overdue mandatory defense in his hometown against the Philippines' Batawang and dominated. He was winning via shutout on all three scorecards before stopping the 36-year-old. It was the sixth defense for Solis and his fourth in a busy year. It was also the 26-year-old's second consecutive knockout of a Filipino foe; he scored a sensational knockout of Rodel Mayol in August. Batawang rocked Solis in the fourth, but Solis recovered and hurt him with a fifth-round body shot, later cut him on his right eyebrow and finally stopped him with combinations in the ninth. The 108-pound division looks pretty good now with recognized champion Ivan "Iron Boy" Calderon, former champ Hugo Cazares, Solis and titlist Edgar Sosa at the top of the heap. A showdown between Calderon and Solis or between Solis and Sosa would be just what the doctor ordered.
Junior featherweight
Fernando Beltran Jr. TKO10 Jose Arboleda
Title eliminator
Records: Beltran, 30-2-1, 18 KOs; Arboleda, 22-3-1, 8 KOs

Rafael's remark: Beltran, 25, no relation to countryman and top Mexican promoter Fernando Beltran, stopped Panama's Arboleda, 25, to move a step close rto a mandatory shot at Canadian titleholder Steve Molitor. It was the biggest win of Beltran's career. He lost a decision to Joan Guzman in an April 2005 junior featherweight title bout and was upset in October 2005 by Hugo Dianzo on a decision. But he won three fights in a row since the Dianzo bout (plus a no contest) to set up the eliminator with Arboleda.
Saturday at Edinburgh, Scotland
Junior lightweight
Alex Arthur W12 Stephen Foster Jr.
Retains an interim junior lightweight title
114-111 (twice), 113-111
Records: Arthur, 25-1, 19 KOs; Foster, 23-2-1, 16 KOs

Rafael's remark: Arthur dropped Foster with a body blow in the ninth round but had to survive a knockdown in the 11th round to claim the decision in his hometown. Arthur was making the first defense of an interim belt that has no reason to exist. For whatever reason, the WBO allowed him to have that title even though full titleholder Joan Guzman is active. In any case, Arthur looms as Guzman's mandatory. Wouldn't that make for a good co-feature if Bernard Hopkins and Joe Calzaghe finally meet? It makes sense because Guzman is co-promoted by Golden Boy, Hopkins' promoter, and Arthur is with Frank Warren, Calzaghe's promoter.
Saturday at Dublin, Ireland
Super middleweight
Andy Lee TKO6 Jason McKay
Wins vacant Irish super middleweight title
Records: Lee, 14-0, 11 KOs; McKay, 18-2, 5 KOs

Rafael's remark: Lee, the dynamic 23-year-old 2004 Irish Olympian, looked tremendous in a hard-hitting fight he dominated. Thankfully, it was available live (and for free) on the Internet. McKay, 30, had won seven in a row since his lone loss back in 2004, but Lee was too much for him. Lee, a 6-2 southpaw, fired precise shots with both hands. McKay suffered a nasty cut on his forehead in the second round as the result of an accidental head butt, and Lee dropped him with a right hook in the second. McKay was hurt and wobbly when he got up, but survived. He cut Lee on the left eyelid in the third round, but Lee kept chopping away. He had a huge sixth round, knocking McKay's mouthpiece out and blasting him with both hands until McKay retired on his stool at the end of the round. Emanuel Steward, Lee's trainer and manager, believes Lee will be ready to fight middleweight champ Kelly Pavlik by the end of next year. He said Lee is ready for Irish countryman John Duddy right now. It's hard to argue. Lee is a special prospect.
Saturday at Rzeszow, Poland
Cruiserweight
Krzysztof Wlodarczyk TKO5 Aloryi Moyoyo Mensah
Records: Wlodarczyk, 39-2, 29 KOs; Mensah, 14-5-1, 8 KOs

Rafael's remark: Fighting at home, Wlodarczyk won his second in a row since losing his title to Steve Cunningham via majority decision in their May 26 rematch. Wlodarczyk had defeated Cunningham via split decision to win a vacant title in November 2006.
Friday at Cicero, Ill.
Featherweight
Orlando Salido TKO6 Hector Avila
Title eliminator
Records: Salido, 29-9-2, 19 KOs; Avila, 40-4, 36 KOs

Rafael's remark: In November 2006, Salido outpointed Robert Guerrero to win a title, but he flunked a drug test afterward because of steroids. He was stripped of the belt, and the result was changed to a no contest. Now, Salido has won his second fight since and became the mandatory challenger for Guerrero. Avila hurt Salido early, but he rebounded to drop Avila in the fourth round. In the sixth, he used a textbook right-left-right combination to knock Avila down again and the referee called it off without a count. Avila jumped right back up, but the fight was already over and he was wobbling.
Lightweights
Miguel Angel Huerta TKO3 Daniel Alicea
Records: Huerta, 26-8-1, 18 KOs; Alicea, 30-7-2, 22 KOs

Rafael's remark: Huerta, 29, looked very good taking former featherweight title challenger Alicea apart. He dominated the fight and battered him relentlessly in the third round, including a sustained body attack, until referee Geno Rodriguez took mercy on Alicea, 35, and stopped the fight. It was the second win in a row since Huerta was robbed of a decision against "Kid Diamond" Almazbek Raiymkulov on June 14. Huerta has looked good in recent fights and would be a tough out for some of the top lightweights. Alicea, coming off a 12th-round TKO loss to Edner Cherry in August, dropped his second in a row.
Thursday at New York
Middleweight
Joe Greene W8 Patrick Thompson
Scores: 80-71, 79-73, 78-74
Records: Greene, 17-0, 12 KOs; Thompson, 12-12-1, 5 KOs

Rafael's remark: It's hard to look good against Thompson, the ultimate survivor. The journeyman has been stopped only once, by Alfonso Gomez, and Greene could not get him out of there, either. Instead, Greene, a 21-year-old southpaw prospect from New York, boxed his way to the victory despite Thompson's holding tactics. Greene is a work in progress but, because of his youth and skill, remains a prospect to watch. The 2004 National Golden Gloves champion will return on the Feb. 23 Wladimir Klitschko-Sultan Ibragimov undercard at Madison Square Garden. Thompson, 34, is a steppingstone, having lost to a who's who of prospects, including John Duddy, Vanes Martirosyan and Sechew Powell.
Super middleweight
Peter "Kid Chocolate" Quillin TKO2 Troy Lowry
Records: Quillin, 16-0, 13 KOs; Lowry, 27-8, 16 KOs

Rafael's remark: Quillin, one of New York's top prospects, closed out a busy 2007 with his eighth victory as he scored two knockdowns against Lowry before ending it early in the second round. Although Lowry lost his third consecutive fight, he was the best opponent so far in Quillin's 2½-year pro career.
Lightweight
Jorge Teron TKO8 Adrian Navarrete
Records: Teron, 19-0-1, 12 KOs; Navarette, 16-5-1, 13 KOs

Rafael's remark: In his first scheduled 10-round fight, Teron, a 22-year-old lightweight prospect from the Bronx, N.Y., handed Mexico's Navarrete his second loss in a row. Although Teron was cut over his left eye from a head butt in the fifth round, he dominated the fight before knocking Navarrete down in the eighth, then finished him with a follow-up attack.
Dan Rafael covers boxing for ESPN.com.
Boxing
2013 BWAA Nat Fleischer Award winner for excellence in boxing journalism
ESPN.com boxing writer since 2005
Five years at USA Today
EDITORS' PICKS
Molina has a plan for Saturday: Test Broner's chin.
Brian Campbell »

Fury took a big step toward a crack at the heavyweight title.
Scorecard »

Carl Frampton dominates, stops Chris Avalos.
Dan Rafael »
MOST SENT STORIES ON ESPN.COM