Commentary
Mexicans Vazquez, Marquez went to war in Round 3
Round 3 of Israel Vazquez's rematch with Rafael Marquez packed more action into one stanza than most fights do into 12, writes Dan Rafael.
Originally Published:
December 30, 2007
By
Dan Rafael
| ESPN.com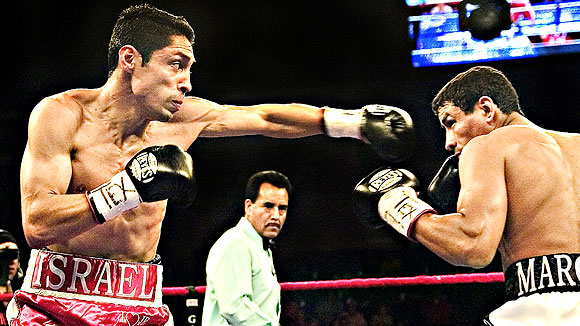 JC Diaz/Fightwireimages.comIsrael Vazquez, left, and Rafael Marquez produced the most explosive round of 2007.
Through two hellacious junior featherweight championship fights in 2007, Israel Vazquez and Rafael Marquez traded TKO victories and engaged in 13 rounds of pure combat. Virtually every round of their action-packed brawls -- sort of a mini version of the lightweight battles between the late Diego "Chico" Corrales and Jose Luis Castillo -- was exciting. However, standing above all of the bakers' dozen of violent rounds they fought was Round 3 of their rematch on Aug. 4 in Hidalgo, Texas. For three minutes of fury, Vazquez, who would regain the title via sixth-round TKO, and Marquez traded bombs as if there was no tomorrow in a classic frame of ebb and flow that made the third round the 2007 ESPN.com Round of the Year. The first two rounds of Vazquez-Marquez II picked up where the first fight left off, with the Mexican warriors pounding away. They had fought on even terms through those first two rounds until the third, when Vazquez finally broke though. He rocked Marquez with a big left hook that sent him reeling. Although Marquez was in trouble, he didn't go down. Instead, he stood his ground and traded fierce punches with a charging Vazquez as they both went for the knockout.
| | |
| --- | --- |
| Year | Fight |
| 2007 | Israel Vazquez-Rafael Marquez II (third) |
| 2006 | Somsak Sithchatchawal-Mahyar Monshipour (ninth) |
| 2005 | Diego Corrales-Jose Luis Castillo I (10th) |
| 2004 | Marco Antonio Barrera-Erik Morales III (11th) |
| 2003 | Acelino "Popo" Freitas-Jorge Barrios (11th) |
| 2002 | Micky Ward-Arturo Gatti I (ninth) |
| 2001 | Micky Ward-Emanuel Burton (ninth) |
| 2000 | Erik Morales-Marco Antonio Barrera I (fifth) |
As they were showering each other with blows, Showtime's Al Bernstein invoked the legendary lightweights: "Can you say Corrales-Castillo? This is an amazing round of boxing!"
Just then, an uppercut rocked Marquez again, who shook it off and responded with a right hand. The kind of action we were seeing was absolutely reminiscent of the first Corrales-Castillo fight, and it continued throughout the final 80 seconds of the round. Somewhere during the tumultuous action, Vazquez sustained a cut around his right eye, and as they battered each other, blood was pouring down Vazquez's cheek. His left eye was also cut. "Marquez has gotten himself back into this round in a major way. Amazing," Bernstein exclaimed. And Marquez wasn't done yet. He landed a series of lefts and rights to rock Vazquez. "And this is after Marquez was in trouble," Showtime's Steve Albert bellowed. "Marquez wailing away at the head of Vazquez as the blood continues to flow from the eyes of Vazquez." Marquez emerged from a late exchange with blood under his right eye and back and forth they continued to hammer each other for the remainder of the round in an insanely violent scene. Even after the bell rang, they continued to punch for a few moments. Cried Albert, "No letup whatsoever!"
Other scorchers:
Sakio Bika-Jaidon Codrington (first)
[+] Enlarge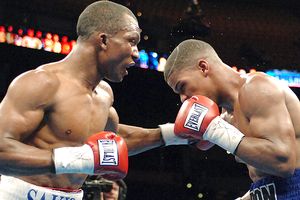 Emily Harney PhotographySakio Bika, left, and Jaidon Codrington traded knockdowns and fight-ending blows in Round 1.

From the opening bell, this fight was special. There was absolutely no feeling-out process between Bika and Codrington, who were facing off in the Season 3 finale of ESPN's "The Contender" reality series with the $750,000 grand prize on the line. They went at each other with reckless abandon, setting the tone for the rest of the incredible fight. Just 30 seconds into the fight, Bika decked Codrington with a hammering right hand that sent him crashing to the canvas sideways, and he followed up by hitting Codrington while he was down, a foul that referee Dick Flaherty ignored. It was only the beginning of the utter mayhem that followed. With Boston's TD Banknorth Garden crowd already on its feet, Bika remained on the attack and 30 seconds later was smothering Codrington on the ropes. He was teeing off on him with hard shots, looking at a possible stoppage, when Codrington unleashed a left hand that knocked Bika down. He was visibly shaken and wobbly when he made it to his feet as ESPN's Joe Tessitore exclaimed, "Oh my! What a first round! Codrington scores a knockdown of his own! Can you believe this?" What was hard to believe was that there was still 1:45 to go in the round. Each doled out more punishment as they expended massive amounts of energy. Both fighters were hurt again as the round, fought at an unrelenting pace, wore on. Finally, it came to an end just as Bika got in the final blow, a flush left hand at the bell, leading Tessitore to bark what everyone must have been thinking: "What a round! What a round!" After the fight, Bika, the winner, looked back on the time-capsule round with this understatement: "When I got him down, he got up and knocked me down, too. The first round was really hard."
Michael Katsidis-Graham Earl (second)
[+] Enlarge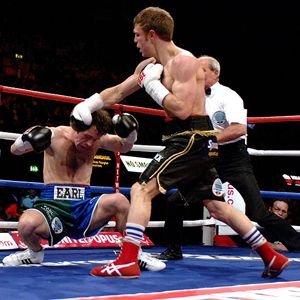 AP Photo /Sean Dempsey/PAMichael Katsidis had Graham Earl down -- and nearly out -- before Earl fought back in a wild Round 2.

The best round from this classic slugfest had plenty of excitement, including numerous flush blows, multiple knockdowns and something ridiculously rare: A corner throwing in the towel but the referee ignoring the plea to stop the fight. You could watch 10,000 fights and never again see what happened in this amazing round. Earl had already been down twice in a punishing first round and went down again early in the second round after catching a big right hand. Moments after the action resumed, Earl ate another rocking right hand, prompting the white towel to come flying in from his corner in a sign of surrender. But experienced British referee Mickey Vann simply picked it up and tossed it aside as the action continued. And you know what happened then? The unthinkable. Seconds later, Earl smashed Katsidis with a right hand and he went down in a stunning reversal with about a minute left. Katsidis was badly shaken and his legs were jelly, but Earl was also still hurt from the earlier blows he had taken. Katsidis got himself together and was again pounding Earl as the memorable round came to a close.
James Kirkland-Allen Conyers (first)
You want wild? Here you go. This "ShoBox" bout featuring junior middleweight prospect Kirkland and step-up opponent Conyers delivered everything you could want in under three minutes: two-way action, multiple knockdowns, drama, and ultimately, a knockout. Kirkland, who had never faced even remote adversity, started fast but suddenly found himself on the floor courtesy of two booming right hands. But he survived and dropped Conyers twice in a display of heart and brutal punching power. After Allen decked Conyers for the first time with a left hand, Showtime's Nick Charles already knew we were seeing something special. "Both fighters down in a tremendous first round," he cried. Kirkland continued his assault on Conyers, who was on jelly legs and barely able to stay upright until eating a combination that resulted in Conyers going down again. He tried to get up but fell down again, a la Trevor Berbick when he was knocked out by Mike Tyson, and the fight -- and one of the most intense rounds you will ever see -- was over.
Kelly Pavlik-Edison Miranda (second)
With a world title shot on the line for the winner, Pavlik and Miranda came out gunning in the first round and picked it up in the second round, which featured nonstop big shots. Miranda landed the first big punch of the hard-hitting round, a thudding right hand that landed flush. Pavlik responded with an onslaught that had Miranda reeling until he came to rest with his rear end on one of the ring ropes, which could have been called a knockdown since he was held up by the ropes. They continued to wail away at a brisk pace. "Well, this is old-fashioned middleweight punching," HBO's Larry Merchant observed, as they continued to trade with abandon. Said broadcast partner Jim Lampley, "Some major league bombs have landed!" They fought that way even after the bell ended the round, prompting Lampley to bark, "They keep fighting past the second-round bell and they get a well-deserved standing ovation!"
Jean-Marc Mormeck-O'Neil Bell II (third)
Pretty much anything from the first eight rounds of this epic battle could qualify for a round of the year candidate, but we'll take the third round. The slugfest in France -- and thankfully televised in America on MSG Network -- was on from the opening bell, but the third round was notable for even more ebb and flow than the rest. It was all Bell early in the round as he smashed Mormeck with uppercuts and body blows. One went south of the border as Mormeck fell to the ground after taking a vicious low blow. After a brief respite to recover, Mormeck immediately went on the attack and hurt Bell with a right hand. Then came a stretch of toe-to-toe slugging. Bell was warned for another low blow that Mormeck shook off by clipping Bell with a big uppercut in the see-saw round. "This is everything that the first fight was," broadcaster Bob Sheridan cried. "We got ourselves a pier-six brawl. Mormeck and O'Neil Bell battling for the cruiserweight championship of the world!" Mormeck had Bell in trouble in the final 30 seconds before the bell finally rang and we could all catch our breath. Barked Sheridan: "And the bell ends an unbelievable third round!"
Samuel Peter-Jameel McCline (third)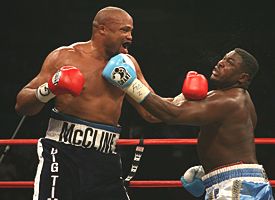 Nick Laham/Getty ImagesJameel McCline, left, had Samuel Peter in a world of trouble in Round 3.

This round was exhausting just to watch, so imagine what it must have been like for Peter in defense of his interim heavyweight title. He'd already been knocked down at the end of the second round and had to weather an enormous McCline storm throughout the third. Twice more Peter went down, and several other times his legs buckled when McCline hit him. But every now and again, Peter would land his own shots to keep McCline off of him just long enough for him to regain his senses. Meanwhile, McCline was desperate to finish Peter but just could not land the one big punch he needed in a drama-packed round, one in which Peter showed great heart while McCline let slip away what would have been a gargantuan upset. As the best heavyweight round of the year came to a close, Showtime's Steve Albert summed it up beautifully: "They continue to go back and forth! Unbelievable sustained action for heavyweights. Big, big heavyweights."
Daisuke Naito-Pongsaklek Wonjongkam III (ninth)
[+] Enlarge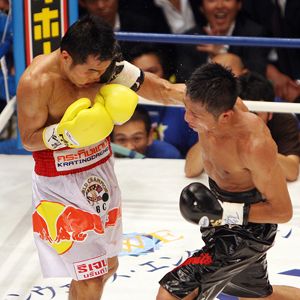 Toshifumi Kitamura/AFP/Getty ImagesDaisuke Naito, right, threw style and skill out the window in an effort to take Pongsaklek Wonjongkam out in Round 9.

Who needs heavyweights when you have flyweights who can slug like these guys? They had met twice before, with Wonjongkam retaining his title each time in easy fashion. But their third fight was different. It was far more competitive, and Wonjongkam, the Thai hero, seemed like he could sense his division-record-setting title reign slipping away by the time the fight moved into the late rounds. Forget about jabbing: This round was all about little guys throwing big haymakers and hurting each other. Wonjongkam had the edge in the early part of the round, but Naito, blood from a cut over his eye pouring down his face, did the most damage in the late going of a sensational round.
Juan Manuel Marquez-Marco Antonio Barrera (seventh)
The best -- and most controversial -- round of this mini-classic between Mexican stars came in the seventh. It began with Marquez seizing command of the fight with an onslaught of power shots, including a right hand that staggered Barrera in the middle of the ring. An uppercut and another right hand also hurt Barrera, who was absorbing tremendous punishment and appeared on the verge of being stopped. Then suddenly, in the final seconds of the round, Barrera crashed a right hand onto Marquez's chin and he went down, catching himself with his hands before his body went all the way down. But while he was hunched over touching the canvas with both hands, Barrera stepped to him and knocked him all the way to the mat with a right hand while he was already down. Referee Jay Nady, however, called it a slip and not the obvious knockdown that it was. He further penalized Barrera by deducting a point for the illegal blow in a wild ending to a thrilling round.
Kelly Pavlik-Jose Luis Zertuche (third)
Pavlik and Zertuche rarely take a backward step, which is why there were expectations that this would be an action fight. It was exactly that, and for the first three rounds, it was competitive, until Pavlik took over and eventually scored a thunderous knockout in the eighth round. The third round stands out; they traded big punches for almost the entire frame, and each succeeded in hurting his opponent. Pavlik got hurt from a pair of uppercuts but later landed a booming straight right that snapped Zertuche's head back. All along, they were looking for the kill. "Both these guys [are] trying to knock each other out in the third round, standing toe to toe," HBO's Fran Charles exclaimed.
David Diaz-Erik Morales (first)
[+] Enlarge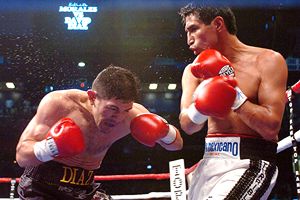 John Booz/Fightwireimages.comDavid Diaz, left, was having his way with Erik Morales until Morales unleashed a salvo of punches that nearly put Diaz on the canvas.

Fighting in what he would announce was his final fight after losing a tight decision to Diaz in a bid for a lightweight belt, future Hall of Famer Morales fought with a raging spirit many thought he no longer had after back-to-back knockout losses to Manny Pacquiao. The first round epitomized that spirit as he and Diaz went at each other from the opening bell. Diaz was taking it to Morales and landing hard, clean shots. In the final 30 seconds, he staggered Morales with a clean right hand and Morales went reeling into the ropes. Diaz chased after him to try and finish him. But even though he was under extreme pressure, Morales responded with a right hand off the ropes that floored Diaz in a surprising turnaround. Morales would land two more right hands just before the bell ended just the sort of exciting round that was a hallmark of Morales' great career.
Alex Arthur-Stephen Foster Jr. (11th)
It had already been a terrific action fight by the time they reached the 11th round in Arthur's interim junior lightweight title defense in his hometown of Edinburgh, Scotland. Arthur had begun to slowly pull away when he dropped Foster with a body punch in the ninth round. And in the 11th, he continued working Foster's tender ribs and had him on the verge of going down again and perhaps ending the fight. But Foster suddenly rallied, cracking Arthur with an out-of-nowhere overhand right that badly staggered him. Foster caught Arthur with two more shots, a left and a right, as he was falling. He nearly fell out of the ring when he crashed to the canvas. "What a turnaround! Extraordinary. … This has got to be the most extraordinary turnaround," Setanta Sports broadcaster John Rawling exclaimed. "Extraordinary scene here in the 11th round." Foster survived, but was on shaky legs as Foster tried in vain for the knockout up to the final bell of the topsy-turvy round. "What a round! What a round that was," Rawling cried as it ended. Sure was.
Takefumi Sakata-Roberto Vasquez II (12th)
Sakata, defending his flyweight title at home in Japan, had punished a tiring Vasquez in the 11th round, but Vasquez never stopped swinging in the tremendous final frame of one of Asia's most exciting fights. Neither did Sakata. For most of the pulsating three minutes, they fought forehead to forehead trying to knock each other out. They traded all kinds of punches -- hard body shots, uppercuts, winging right hands and whatever else they could muster. With a minute to go, Sakata hurt Vasquez along the ropes, but Vasquez was not going down. The former junior flyweight titleholder spun away, took a breath and waded back into battle, where the two continued trading for the final minute to the delight of the crowd.
Luis Hernandez-Jesus Pabon (second)
The undefeated lightweight prospects were both looking to keep their perfect records intact when they hooked up in an opening bout on "Friday Night Fights." After an undistinguished first round, things turned wild and wooly in the second round. Not much happened for the first 45 seconds, but then all hell broke loose. Hernandez staggered Pabon, sending him into the ropes. He unleashed a massive barrage over the next 20 seconds, finally dropping him with a right hand to the body. When the fight resumed, Hernandez went right at Pabon, looking to finish, when he was caught by a counter right hand and sent down to his knees, although referee Frank Santore ruled that it was from a punch behind the head. When the fight resumed, Pabon dropped Hernandez again. Next it was Hernandez doing the damage, hurting Pabon with a right hand that knocked him into the ropes. During a follow-up flurry, Hernandez caught him with a body shot that dropped him, and when he rose he was wobbly. Santore called off the fight with 22 seconds left in the wildly entertaining frame, prompting ESPN's Joe Tessitore to exclaim, "Amazing round, round No. 2!"
Miguel Cotto-Shane Mosley (fourth)
[+] Enlarge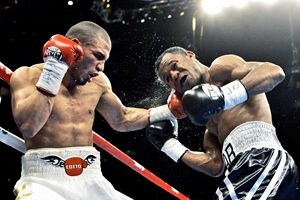 (AP Photo/Frank Franklin IICotto, left, and Shane Mosley took turns teeing off on each other -- and Cotto never seemed hurt during the exchanges.

Two exciting fighters made for an exciting fight with the fourth round a classic case of give-and-take combat. With the Madison Square Garden crowd ooohhhing and ahhhing, they unleashed numerous hard shots on each other in a round that amounted to Cotto's awesome left hand against Mosley's powerful right. And don't forget about those digging body blows from both guys. "These are vicious exchanges, some of the most vicious exchanges we've seen in years," HBO's Jim Lampley said, adding later, "Sledgehammer shots they're matching against each other!"
Darrell Woods-Samuel Miller (third)
The best rounds have an ebb and flow -- big moments for one man followed by big ones for the other guy. This round between Woods, the journeyman middleweight, and Miller, a prospect who suffered his first defeat via eight-round decision, had exactly that. Miller hurt Woods in the opening round, but Woods scored a knockdown in the second round as they each had won a round so far. But in the third, they each dished out punishment and absorbed some. Woods went first, dropping Miller at the start of the round. Miller responded by immediately hurting Woods with a right hand that drove him backwards. Back and forth they went for the rest of the round. Great stuff.
Up next: Fight of the year
Dan Rafael is the boxing writer for ESPN.com.
Boxing
2013 BWAA Nat Fleischer Award winner for excellence in boxing journalism
ESPN.com boxing writer since 2005
Five years at USA Today