Commentary
Scorecard: Khan manhandles St. Claire, ready for bigger challenges
Congratulations, Mr. Khan. In shutting out former world titleholder Gairy St. Claire, Amir Khan announced his arrival on the world scene -- and made clear his intent to become Britain's youngest-ever world champion.ced his arrival on the world scene -- and made clear his intent to become Britain's youngest-ever world champion.
Originally Published:
February 3, 2008
By
Dan Rafael
| ESPN.com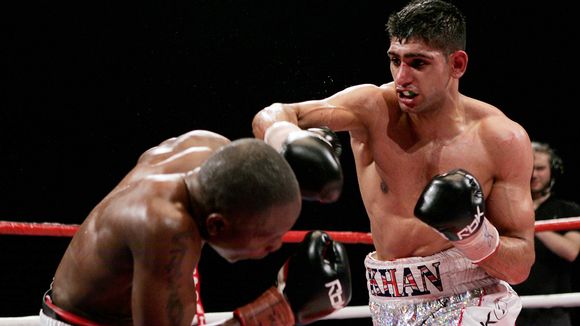 John Gichigi/Getty ImagesKhan, right, proved he can fight, but is ready for a shot at a world title?

A roundup of last week's notable boxing results from around the world:

Saturday at London
Lightweight
Amir Khan W12 Gairy St. Clair
Retains Commonwealth lightweight title
Scores: 120-108 (three times)
Records: Khan, 16-0, 12 KOs; St. Clair, 39-6-2, 17 KOs

Rafael's remark: This was a big win for Khan, the 2004 Olympic silver medalist for England and the 2007 ESPN.com prospect of the year. Facing his first former world titleholder, Khan, 21, won every round on all three scorecards to pitch a surprising shutout in going 12 rounds for the first time. It surely wasn't the way St. Clair envisioned celebrating his 33rd birthday, but he still has never been stopped despite facing several quality opponents, including the late Diego Corrales, Vivian Harris, Leonard Dorin, Cassius Baloyi and now Khan. Khan was originally supposed to face Denmark's Martin Kristjansen, but he withdrew several weeks ago and was replaced by Australia's St. Clair. Many believed St. Clair would be an even tougher assignment for Khan, who obviously handled the switch with no issues. St. Clair, who has lost three of four but had won a junior lightweight title in 2006 before losing it in his first defense, landed some decent right hands against Khan. But he didn't land nearly enough to win rounds or to do much damage. All the while, the speedier Khan was outboxing him, landing his jab and beating him to the punch. Khan's goal for this year is to become Britain's youngest-ever world champion. He's a step closer now. Next he could fight for the European title or perhaps face British champ John Thaxton, who has been calling him out for months. Promoter Frank Warren might also bring Khan to America, possibly to appear on the April 19 Bernard Hopkins-Joe Calzaghe undercard in Las Vegas.
Junior lightweight
Nicky Cook TKO2 Kirkor Kirkorov
Scores: 120-108, 119-108, 118-109

Records: Cook, 28-1, 16 KOs; Kirkorov, 28-15, 6 KOs

Rafael's remark: England's Cook scored three knockdowns in the second round to halt Bulgaria's Kirkorov, who dropped his third in a row and fourth of five. For Cook, it was a welcome return to the win column. In his previous fight last July, Cook was knocked out in the 11th round in London by Steven Luevano in a fight for a vacant featherweight title.
Saturday at Cebu, Philippines
Junior bantamweight
Vic Darchinyan D12 Z Gorres
Title eliminator
Scores: 114-112 Darchinyan, 113-112 Gorres, 113-113
Records: Darchinyan, 29-1-1, 23 KOs; Gorres, 27-2-2, 15 KOs

Rafael's remark: An exciting and close fight was marred by poor officiating and an unruly crowd that tossed water bottles and debris into the ring multiple times. In the end, southpaws Darchinyan and Gorres both thought they won but neither earned the mandatory shot at titleholder Dimitri Kirilov. You can't even say a hometown decision saved the Philippines' Gorres, 25, from a loss to Australia's Darchinyan, 31. The judges were split with the Philippines' Jonathan Davis scoring for Darchinyan, Australian judge Cec Perkins scoring it even and the neutral Thai judge, Montol Suriyachand, voting for Gorres. This one demands a rematch. Hopefully, if one happens it will be with a referee other than Lance Revill, who had a bad night. He credited former flyweight titlist Darchinyan with a knockdown in the first round, although it looked as though Gorres simply lost his balance. That led the crowd to start pelting the ring with debris for the first time. Gorres rebounded to score a knockdown in the second. Darchinyan was robbed of a knockdown in the fifth when he landed a left to the head and Gorres went down, but Revill ruled it a slip. And in the sixth, what appeared to be an accidental head butt opened a bad cut on Gorres' forehead that Revill ruled was from a punch. Darchinyan did score a knockdown that Revill called correctly in the ninth round, flooring Gorres with a straight left. Darchinyan promoter Gary Shaw told the media he would protest to the IBF, which sanctioned the bout. The fight probably took a lot out of both men, who each fell to 1-1-1 in their last three bouts. Darchinyan was two fights removed from losing his flyweight title on a spectacular fifth-round knockout to Nonito Donaire last July. Two fights ago, Gorres dropped a split decision to junior bantamweight titleholder Fernando Montiel last February despite the fight taking place in the Philippines.
Saturday at Limerick, Ireland
Middleweight
Andy Lee TKO5 Alejandro Gustavo Falliga
Records: Lee, 15-0, 12 KOs; Falliga, 14-4-2, 4 KOs

Rafael's remark: Simply put, Lee looked awesome in his first fight as a pro in his hometown (and just his third in Ireland). Granted, the 2004 Olympian wasn't fighting King Kong, but Argentina's Falliga had never been stopped until Lee got to him in bout that could be seen for free on Irish network RTE's Web site. Lee ravaged Falliga. He dropped Falliga, 25, late in the second round and staggered him almost every time he landed anything solid. Falliga tried to run and make it a stinker, but Lee, 23, wouldn't let him. In the fifth round, Lee hurt him with a beautiful straight left hand for a knockdown. Two more quick knockdowns followed and the referee called it off at 1:49 as the packed arena roared with delight. Next up for Lee is a main event on ESPN2's "Friday Night Fights" on March 21 against third-season "Contender" participant Brian Vera. Lee's trainer and manager, Emanuel Steward, predicts that Lee will be middleweight world champion by the end of 2008. If that is to become reality, he'll need to step Lee up significantly after the Vera bout. Lee is a tremendous prospect and probably can handle it.
Saturday at Kempton Park, South Africa
Bantamweight
Silence Mabuza TKO8 Eden Sonsona
Records: Mabuza, 21-2, 17 KOs; Sonsona, 14-3, 3 KOs

Rafael's remark: Mabuza, one of South Africa's best contenders, knocked Sonsona down with a body blow in the fifth round and with another body shot just as the bell ended the eighth round. At that point, Sonsona, 19, of the Philippines, signaled to the referee that he didn't want to continue. It was the second win in a row for Mabuza, 30, whose only defeats were TKOs in world title fights against Rafael Marquez in 2005 and 2006.
Heavyweight
Osborne Machimana KO1 Corrie Sanders
Records: Machimana, 15-5-1, 11 KOs; Sanders, 42-4, 31 KOs

Rafael's remark: Yup, Sanders is still around, although maybe not any longer after this crushing loss. The 42-year-old South African, who owns a 2003 second-round upset knockout win against Wladimir Klitschko, hasn't been a factor since 2004. That's when Vitali Klitschko beat the snot out of him over eight rounds to win the heavyweight title belt that Lennox Lewis vacated upon his retirement. Since that loss, Sanders has been in semi-retirement. He had won three fights and was gunning for No. 4 against South African heavyweight champ Machimana. But, with Mike Tyson at ringside doing commentary for the television broadcast, Sanders, according to South African media reports, was badly out of shape. He lasted a mere 2:41 before being knocked out by a left hook to the ribs.
Saturday at Scottsdale, Ariz.
Heavyweight
Monte Barrett KO2 Damon Reed
Records: Barrett, 33-6, 19 KOs; Reed, 43-13, 30 KOs

Rafael's remark: Former title challenger Barrett, 36, of New York, knocked Kansas journeyman Reed down late in the first round and then knocked him down for the count late in the second round. It was Barrett's second win in a row, which followed a three-fight losing streak that seriously derailed his career. Barrett was a late substitute for Shannon Briggs, who was originally supposed to headline the card.
Light heavyweight
Hector Camacho Jr. W6 Luis Lopez
Scores: 60-54 (twice), 59-55
Records: Camacho Jr., 44-3-1, 25 KOs; Lopez, 13-12-1, 5 KOs

Rafael's remark: Incredibly, Camacho Jr. weighed 173 pounds for this lopsided victory against Lopez, who fell to 0-5-1 in his last six. This is the same undedicated Camacho, 29, whose best days came at 140 pounds. But he has steadily put on weight to reach this all-time career high. We'll always wonder what could have been with Camacho, who possessed a lot of talent like his famous father but wasted it.
Friday at Monroeville, Pa.
Junior lightweight
Monte Meza-Clay TKO7 Erik Aiken
Records: Meza-Clay, 27-1, 18 KOs; Aiken, 16-7-1, 12 KOs

Rafael's remark: Don't you just love Meza-Clay? He's just 5-foot-2, but what he lacks in size he more than makes up for with his non-stop punching and his ability to get inside and work the body. From the outset of the "Friday Night Fights" main event, Meza-Clay, 26, took it to Aiken, 27, who won a featherweight belt in May 2006 and has not won since, dropping to 0-3-1 with each defeat coming via stoppage. Although Meza-Clay was in control from the start, this was an entertaining scrap as both men threw and landed a lot of punches. But Aiken, with a big size advantage, had no idea how to take advantage of it. Instead of using his five-inch edge by boxing and jabbing Meza-Clay from the outside, he let him sit on the inside and pound away. It took its toll. By the seventh round, Aiken had almost nothing left and Meza-Clay bullied him into the ropes and was teeing off with a flurry of 25-plus unanswered shots when the referee properly intervened. Meza-Clay, fighting in front of his hometown fans, won his seventh in a row since suffering his only defeat, an 11th-round ESPN2-televised TKO to Edner Cherry.
Friday at Hinckley, Minn.
Junior middleweight
Alfredo Angulo KO1 Ricardo Cortes
Records: Angulo, 12-0, 9 KOs; Cortes, 22-2-1, 15 KOs

Rafael's remark: Apparently, Angulo doesn't like to stay in the ring long. He scored his second consecutive first-round knockout on Showtime's "ShoBox," and it was impressive. The 2004 Mexican Olympian is a crowd-pleasing, aggressive fighter with obvious firepower, which he unleashed. Angulo, 25, scored two knockdowns in the quickie, first dumping Cortes, 28, with a fierce right hand during a flurry. He had Cortes in big trouble during a brutal follow-up assault before knocking him down again with a right hand on the chin. Cortes got up quickly, but then took a knee during referee Mark Nelson's count and didn't get up until after Nelson reached 10. Angulo, who prepared for the fight by sparring with ex-titlist Roman Karmazin, had predicted the fight wouldn't go more than five rounds. Next up for Angulo could be the opening television bout on HBO's May "Boxing After Dark" card that is supposed to be headlined by another junior middleweight fight between power punchers Joel "Love Child" Julio and James Kirkland.
Junior lightweight
Mickey Bey Jr. W8 Roberto Acevedo
Scores: 80-72, 79-73, 77-76
Records: Bey Jr., 10-0, 6 KOs; Acevedo, 5-4-3, 1 KO

Rafael's remark: Pwewwwww, this fight stunk. It's up there with the worst fights in Showtime's "ShoBox" history. Bey, a 2004 U.S. Olympian who didn't get to fight in Athens because he didn't win a necessary qualifier, easily routed Puerto Rico's Acevedo in the awful fight. But you probably can't blame Bey, 24. Acevedo, who took the fight on two days' notice after two other opponents fell out at the last minute, was there to hold, run and do anything to survive. Bey, who had prepared for a right-handed fighter, was fighting a southpaw for the first time as a pro and that sure didn't help matters. Acevedo, 21, is familiar with the Bey family, having lost a split decision to Mickey's younger brother Cortez in September. Now Acevedo is 0-2 against the Beys. Thankfully, there isn't a third brother who boxes.
Friday at Juncos, Puerto Rico
Welterweight
Henry Bruseles TKO4 Robert Frankel
Records: Bruseles, 26-3, 15 KOs; Frankel, 21-8-1, 4 KOs

Rafael's remark: In his first bout in 13 months, Bruseles had no problem with Frankel in the Telefutura main event. Bruseles, best known for getting crushed by Floyd Mayweather in 2005, busted up Frankel's left eye in the third round. The cut was bloody and wide and the fight was stopped a round later with Bruseles in command.
Featherweight
Mario Santiago KO1 Edel Ruiz
Records: Santiago, 19-1, 14 KOs; Ruiz, 28-19-5, 17 KOs

Rafael's remark: Although Santiago is 29, he was regarded as a serious prospect by many until running into veteran Hector Velazquez last July. That was supposed to be Santiago's big test, but he failed, losing a 10-round technical decision in a title eliminator. Returning from that defeat, Puerto Rico's Santiago got back on track with a surprising body-shot knockout of Mexico's Ruiz in just 2:02. Despite all the losses, Ruiz had only been stopped twice previously.
Friday at Helsinki, Finland
Middleweight
Amin Asikainen TKO7 Yory Boy Campas
Records: Asikainen, 24-1, 16 KOs; Campas, 91-11, 73 KOs

Rafael's remark: Asikainen, Finland's No. 1 fighter and the former European champion, stopped Campas, the long-faded former junior middleweight titlist who still can put up a good fight for a few rounds. A right hand from Asikainen started Campas' troubles and the fight was stopped moments later with Campas unable to answer Asikainen's barrage. It was Asikainen's third consecutive victory since losing the European title to Sebastian Sylvester via 11th-round TKO last summer.
Thursday at New York
Light heavyweight
Elvir Muriqi TKO4 Jameel Wilson
Records: Muriqi, 35-4, 22 KOs; Wilson, 13-12-3, 8 KOs

Rafael's remark: Last June, Muriqi, the New York-based "Kosovo Kid," lost a majority decision to ex-champion Antonio Tarver in something of a moral victory. Returning from that defeat, Muriqi, 28, nailed down an authentic win against Wilson, 34, a late substitute from Philadelphia who fell to 0-8-1 in his last nine bouts. Muriqi hammered Wilson until his corner threw in the towel with two ticks left in the fourth round.
Cruiserweight
Lou Del Valle W8 Newton Kidd
Scores: 78-74, 77-75 Del Valle, 78-74 Kidd
Records: Del Valle, 36-5-1, 22 KOs; Kidd, 6-7-1, 4 KOs

Rafael's remark: Del Valle, the 39-year-old faded former light heavyweight titleholder, ended a two-fight skid by getting a split decision against Kidd. That Del Valle would struggle with a virtual novice ought to let him know that his best days are long gone. That best day came 10 years ago, when he scored the first knockdown against then-pound-for-pound king Roy Jones in a lopsided decision loss to him in their 1998 unification fight. Kidd, 32, dropped his third in a row and fourth of five.
Dan Rafael is the senior boxing writer for ESPN.com.
Boxing
2013 BWAA Nat Fleischer Award winner for excellence in boxing journalism
ESPN.com boxing writer since 2005
Five years at USA Today