Commentary
Scorecard: Peter saves the day but Campbell steals the show
Samuel Peter may have breathed new life into the heavyweight division, but Nate Campbell stole the show by upsetting heavy favorite Juan Diaz on Saturday.
Originally Published:
March 10, 2008
By
Dan Rafael
| ESPN.com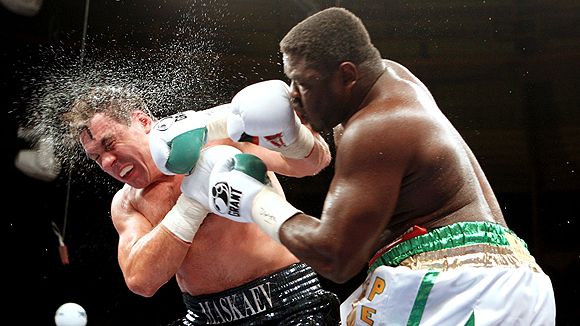 David Martin WarrPeter, right, put his heavy hands to good use by knocking out Maskaev in Cancun.

A roundup of last week's notable boxing results from around the world:

Saturday at Cancun, Mexico
Heavyweight
Samuel Peter TKO6 Oleg Maskaev
Wins a heavyweight title

Records: Peter, 30-1, 23 KOs; Maskaev, 34-6, 26 KOs

Rafael's remark: Peter and Maskaev won't make anyone forget about Joe Louis, Larry Holmes (who was ringside) or even Lennox Lewis, but at least they came to fight as hard as they could and the bout ended with a crowd-pleasing and definitive knockout. That's all we ask of our heavyweights and that's what we got in one of the more pleasing heavyweight fights in a while. It was certainly much more interesting than that mess two weeks ago between Wladimir Klitschko and Sultan Ibragimov. Peter, having waited 16 months for the mandatory shot at Maskaev, used brute force to stop the 39-year-old whose reign ended with one successful defense in a fairly anonymous 18 months beset by injuries and sanctioning organization politics. Peter, Nigeria's first heavyweight titleholder, nearly had Maskaev out in the third round but Maskaev rallied to hurt Peter. It was that kind of fight. Whoever could land the bigger shots was going to win because neither man has a great chin. Ultimately, it was Peter, 27, who put together another big rally in the sixth, catching Maskaev with some clean shots -- nasty right hands! -- until the referee saved Maskaev from serious damage. The exotic setting -- a capacity crowd of about 7,000 inside the Plaza de Toros, the city's main bullfighting ring -- added significantly to the atmosphere, which was terrific. Now comes the messy part. The WBC has ordered Peter to fight former titlist Vitali Klitschko next, even though he hasn't fought in three-plus years because of retirement and injury. The fight that many fans and media want, not to mention HBO, is Peter in a rematch with Vitali's brother, unified titleholder Wladimir Klitschko. But big brother will get the first shot and if he wins, it will be a disaster for heavyweight boxing. We'll all just have to roll with the punches and see what happens. If Peter wins, maybe then it will set up the sequel to his 2005 fight with Wladimir, in which Peter scored three knockdowns but lost every other round of the fight. Whichever fight happens, however, Peter still needs to refine his boxing skills, get in better condition, use his jab more and move his head more or he's in big trouble against either Klitschko.
Lightweight
Nate Campbell W12 Juan Diaz
Wins unified lightweight titles
Scores: 116-111, 115-112 Campbell, 114-113 Diaz

Records: Campbell, 32-5-1, 25 KOs; Diaz, 33-1, 17 KOs

Rafael's remark: Who doesn't love a big upset? That's exactly what this was as Campbell, an inconsistent, 4-1 underdog who turned 36 on Friday, took it to the 24-year-old rising superstar and brutally spanked him over the second half of the fight to take a noncontroversial split decision. Not bad for a guy who used to shadowbox in the grocery store warehouse where he worked and didn't turn pro until he was almost 28. Even Diaz, his left eye severely cut and badly swollen, admitted defeat, albeit in a close fight that was the performance of Campbell's career. Diaz, with his relentless aggression, started very strong and looked like he was going to do what he usually does to opponents -- wear them down with constant punching and outwork them in a rugged fight. He had stopped Acelino "Popo" Freitas and Julio Diaz in that fashion in his previous two fights in which he also unified three of the title belts. But Campbell stood up to everything Diaz could throw at him. A head butt opened a small cut over Diaz's left eye in the first round but a short left hand smashed it open in the sixth. Diaz was never the same after taking that punch. While the eye got worse and worse and Diaz began to slow down, so much to the point that it looked as if manager Willie Savannah was getting ready to throw in the towel early in the 12th round, Campbell kept up a blistering attack to win the fight against all odds. Diaz came into the fight surrounded by all sorts of distractions related to the very public and very acrimonious split with promoter Don King. This was their fourth and last fight together. King and Savannah have been at each other almost from the moment they got together and it came to head during the week with King publicly ripping Savannah and quitting as Diaz's promoter during a lengthy soliloquy at the final news conference. Many expect Diaz to land at Golden Boy Promotions, where Savannah had publicly pledged they would sign before reneging on the deal to go with King. However, Diaz's loss couldn't have come at a worse time. He's unlikely to command the same sort of megabucks deal he would have received before losing. Campbell, meanwhile, is the feel-good story of 2008 so far and the new man to beat in the 135-pound division. He'll be watching with interest the March 22 showdown between Ring magazine champ Joel Casamayor and exciting Michael Katsidis. The winner is Campbell's logical next opponent. If it's Casamayor, it makes for a nice rematch of a disputed Casamayor victory from 2003. If it's Katsidis, it would make for a terrific action fight.
Heavyweight
John Ruiz W12 Jameel McCline
Scores: 119-109, 118-110, 117-111
Records: Ruiz, 43-7-1, 29 KOs; McCline, 38-9-3, 23 KOs

Rafael's remark: Like it or not, Ruiz, a two-time titleholder, is back in the title hunt with this lopsided victory against McCline, a man who last fall was within a whisker of knocking out Samuel Peter. Ruiz, 36, can still fight, even if he's not the prettiest to watch, and his ties to powerful promoter Don King mean he's destined for another opportunity. Ruiz still held, grabbed and fought like an octopus at times, but it really wasn't all that bad. The real culprit in this sometimes ugly fight was McCline, who hung all over Ruiz and looked exhausted after only a few rounds. Ruiz, meanwhile, came to work. He was firing combinations -- yes, it's true -- at McCline late in the fight. His pairing with trainer Manny Siaca Sr. over the past few fights seems to have made some difference in his fighting style. He won his second in a row after dropping two in a row to Nikolai Valuev, who took his title, and Ruslan Chagaev, in an eliminator. McCline, 37, the hard-luck four-time title challenger, was unable to rise to the occasion as he lost his third in a row. At this point, McCline unfortunately has fallen into the role of stepping-stone opponent. He had a nice run for a guy who started boxing in his 20s and had virtually no amateur experience, but the days of important fights are over.
Saturday at London
Cruiserweight
David Haye TKO2 Enzo Maccarinelli
Unifies cruiserweight titles
Records: Haye, 21-1, 20 KOs; Maccarinelli, 28-2, 21 KOs

Rafael's remark: The "Hayemaker" lived up to his nickname as he blew out fellow power puncher Maccarinelli in one of the biggest cruiserweight fights in division history. The Brit crushed his Welsh counterpart inside of five minutes before a capacity crowd of 20,000 at the O2 Arena. That's an impressive crowd for any fight but even more so when you consider that the fight didn't begin until 2 a.m. local time in order to accommodate Showtime's live East Coast coverage in the United States. Haye sure made quite the impression in his American TV debut. He was already the recognized world champion in the division, having knocked out France's Jean-Marc Mormeck in the seventh round in Paris in November. In this fight, Haye added Maccarinelli's alphabet title to his growing collection, and he did it in style. Maccarinelli rocked Haye in the first round and cut him next to his left eye early in the second, but Haye shook it off. He staggered Maccarinelli -- trained by Enzo Calzaghe, super middleweight champ Joe Calzaghe's father -- early in the second round and never let him off the hook. Haye stalked him toward a corner as he fired a flurry of punches. One of his strong right hands connected and sent Maccarinelli down to the canvas. He made it to his feet but was horribly off balance and stumbling around the ring in cartoon-like fashion. Referee John Keane gave him plenty of time to try to recover but Maccarinelli could not get himself together and the fight properly was called off, giving Haye a massive victory. As expected, Haye announced after the fight that he's now done with cruiserweight. He'll abdicate his titles and move up to campaign at heavyweight, hoping to follow the trail blazed by Evander Holyfield 20 years ago, when he moved up to claim the heavyweight championship after dominating the cruiserweights. Haye can make noise in a division desperate for a new star. He has the power and the personality. The question, however, is can he stand up to a heavyweight punch when his chin has been considered a little soft at cruiserweight?
Saturday at Tokyo
Flyweight
Daisuke Naito D12 Pongsaklek Wonjongkam
Retains a flyweight title
scores: 115-113 Naito, 115-114 Wonjongkam, 114-114
Records: Naito, 32-2-3, 20 KOs; Wonjongkam, 67-3-1, 35 KOs

Rafael's remark: What a rivalry these guys have developed over the past seven years. When Japan's Naito, 33, challenged then-titleholder Wonjongkam, of Thailand, in 2002, Naito was blown out in 34 seconds, the fastest knockout in flyweight title history. They met again in 2005 and Wonjongkam won again, this time retaining his title via seventh-round technical decision. Wonjongkam gave Naito another shot at the title in July 2007, but this time Naito pulled the shocking upset, winning the title via unanimous decision. Now, in a rare fourth fight between rivals, they duked it out to a split draw in a very tight fight. Pongsaklek, 30, fought lethargically after struggling to make weight while Naito was far more active, but not very accurate. It added up to an even bout. The WBC's terrible open scoring system was used for the fight, so the fighters knew where they stood after eight rounds -- 76-76 (twice) and 78-74 Naito. Wonjongkam had renewed energy in the ninth after hearing the scores, but he could not sustain it for the rest of the fight. Could there actually be a fifth fight? Guess it's possible. Japanese fans, however, are more likely to call for Naito to face popular and undefeated Koki Kameda, a former junior flyweight titleholder now fighting at flyweight. First, he'll have to defeat Rexon Flores on March 22 before the drumbeat begins for that fight, which would be massive in Japan. Another fight that makes sense, but is more unlikely, would be for Naito to face fellow Japanese titleholder Takefumi Sakata, with whom he battled to a split draw in a 2001 fight for the Japanese national belt.
Saturday at Krefeld, Germany
Cruiserweight
Rudolf Kraj W12 Matt Godfrey
Title eliminator
Scores: 117-111, 116-113, 115-113
Records: Kraj, 14-0, 10 KOs; Godfrey, 16-1, 9 KOs

Rafael's remark: Kraj, 30, won a silver medal for the Czech Republic in the 2000 Sydney Olympics but didn't turn pro until 2005 and has advanced quickly. He defeated Godfrey, 27, of Providence, R.I., in a tactical match that produced little action, but did have a big payoff for Kraj. The win makes him the mandatory for one of David Haye's titles. However, since Haye is headed up to heavyweight, Kraj will presumably get a shot at a vacant belt.
Friday at Mashantucket, Conn.
Featherweight
Cristobal Cruz W12 Thomas Mashaba
Scores: 115-113 (twice), 114-114
Records: Cruz, 36-11-1, 23 KOs; Mashaba, 20-2-4, 12 KOs

Rafael's remark: What was supposed to be a showcase American debut for South Africa's Mashaba turned out to be an upset win for Cruz, who pulled out a majority decision to move to 4-4 in his past eight bouts. The "Friday Night Fights" main event, a very entertaining affair, could have gone either way depending on what you like. If you like tremendous activity, Cruz deserved the nod as he threw a ridiculous 1,580 punches but landed only 549 (35 percent). However, Mashaba, who landed 392 of 960 (41 percent), was the more accurate boxer. ESPN2 analyst Teddy Atlas, for example, completely disagreed with the decision, scoring it 117-112 for Mashaba, whose outstanding five-fight run ended. He had beaten former titleholders Vuyani Bungi and Yorber Ortega, perennial contender Juan Gerardo Cabrera, title challenger Oscar Leon and former titlist Eric Aiken in the past two-and-a-half years. The card was the last that will take place at the Foxwoods resort's Fox Theatre, which has hosted dozens of boxing events over the past 15 years, including such memorable battles as James Toney-Vassiliy Jirov and Scott Pemberton-Omar Sheika I and II. Future Foxwoods cards will take place at the new MGM Grand Theatre, which opens in the spring.
Friday at Philadelphia
Featherweight
Rogers Mtagwa W10 Aldo Valtierra
Scores: 97-92, 96-93 (twice
Records: Mtagwa, 22-12-3, 17 KOs; Valtierra, 24-8-1, 13 KOs

Rafael's remark: Mtagwa, 28, of Tanzania and living in Philadelphia, was facing Valtierra for the second time on Telefutura since last summer. When they met last July, Mtagwa took a 12-round split decision but it was later changed to a no contest when Mtagwa tested positive for ephedrine, a banned substance. This time there was no doubt who had won the fast-paced 10-rounder, a result that will stand assuming Mtagwa's test comes back clean this time. Mtagwa was coming off a lopsided loss to rising contender Billy Dib in November while Valtierra, 37, of Mexico, dropped his third in a row. He had taken the rematch with Mtagwa on less than a week's notice after another opponent dropped out.
Friday at Nottingham, England
Junior featherweight
Rendall Munroe W12 Kiko Martinez
Wins European junior featherweight title
Scores: 115-113 (twice), 114-114
Records: Munroe, 14-1, 6 KOs; Martinez, 17-1, 14 KOs

Rafael's remark: Spain's Martinez, 22, appeared to be on the fast track after his shocking first-round destruction of highly regarded Bernard Dunne last August to win the European title. However, Munroe, fighting in front of a hometown crowd, blunted Martinez's momentum with an upset majority decision victory. Munroe, a 27-year-old southpaw facing the best opponent of his career, was able to outbox the heavy-handed Martinez by sticking and moving and fighting on the outside to stay out of Martinez's power range.
Thursday at New York
Junior welterweight
Mike Arnaoutis W12 Harrison Cuello
Scores: 119-109 (three times)
Records: Arnaoutis, 18-2-2, 9 KOs; Cuello, 15-6-2, 11 KOs

Rafael's remark: Arnaoutis, the Greece native living in Atlantic City, N.J., had been one of the hottest contenders in the sport until suffering back-to-back losses: a controversial split decision defeat to Ricardo Torres in a title bout in November 2006 followed by a conclusive decision loss to Kendall Holt in a title eliminator in April 2007. Making his return to the ring, Arnaoutis, 28, ended the skid with a near-shutout of Cuello, 30, a Bronx, N.Y.-based Dominican. Arnaoutis, with his strong skills, was too much for Cuello, who was unable to handle his pressure and accurate punching.
Dan Rafael is the senior boxing writer for ESPN.com.
Boxing
2013 BWAA Nat Fleischer Award winner for excellence in boxing journalism
ESPN.com boxing writer since 2005
Five years at USA Today
SPONSORED HEADLINES
MORE BOXING HEADLINES
MOST SENT STORIES ON ESPN.COM