Commentary
Marquez hopes to gobble up PacMan
Juan Manuel Marquez's heroics in rising from three knockdowns to outbox Manny Pacquiao will go down as one of the best comebacks in boxing history, but they weren't enough to steal the fight. Marquez will have another chance to do that Saturday.
Originally Published:
March 13, 2008
By
Dan Rafael
| ESPN.com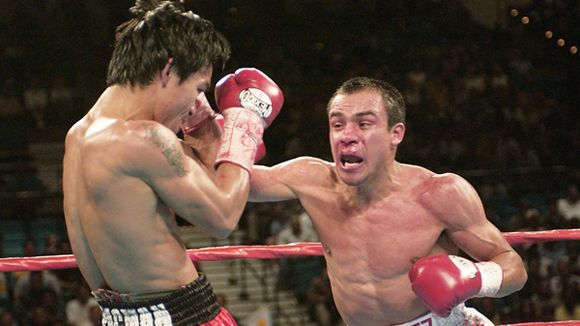 Chris Cozzone/FightWireImages.comPacquiao, left, had Marquez in a world of hurt but couldn't finish him in a memorable Round 1 in 2004.
When Juan Manuel Marquez and Manny Pacquiao met four years ago, the fight looked like it might be over before it really got started. For about 90 seconds in the first round, Marquez had everything under control. He was boxing well and landing punches. Then all hell broke loose as Pacquiao, with tremendous punching power in his left hand, went to work. The Filipino idol repeatedly found a home for his left hand on Marquez's face and knocked him down three times. First, a straight left knocked him to the seat of his pants. Another straight left moments later, and Marquez was on his butt again. Finally, another left sent Marquez crashing into the ropes, where he hung on momentarily before falling down again and taking another shot from Pacquiao for good measure. Referee Joe Cortez didn't panic, allowing the fight to continue when Marquez got up again. Somehow, even with his nose swelling and his senses a bit scrambled, Marquez stayed on his feet for the rest of the round. Then he struggled through the rocky second round. But round by round after that, Marquez fought his way back into the fight despite the deficit. When the brawl was over, many at ringside inside Las Vegas' MGM Grand Garden Arena thought Marquez had done enough to win in what was one of the most stunning comebacks in recent memory.
Unfinished Business
TV Lineup for Saturday's HBO PPV card (9 p.m. ET) from the Mandalay Bay Events Center in Las Vegas: • Junior lightweights: Juan Manuel Marquez (48-3-1, 35 KOs) vs. Manny Pacquiao (45-3-2, 34 KOs), rematch, 12 rounds, for Marquez's title/vacant Ring magazine title • Featherweights: Steven Luevano (34-1, 15 KOs) vs. Terdsak Jandaeng (29-2, 19 KOs), 12 rounds, for Luevano's title • Bantamweights: Abner Mares (15-0, 9 KOs) vs. Diosdado Gabi (30-3-1, 22 KOs), 12 rounds • Junior welterweights: David Diaz (33-1-1, 17 KOs) vs. Ramon Montano (15-4-2, 1 KO), 10 rounds -- Dan Rafael
Others had Pacquiao winning a close fight. Everyone agreed that they had seen a special fight. In the end, the featherweight championship match was ruled a draw -- judge John Stewart had scored it 115-110 for Pacquiao, Guy Jutras went 115-110 for Marquez and Burt Clements had it 113-113 -- with Marquez retaining his pair of alphabet titles and Pacquiao hanging on to his Ring magazine championship. That was May 5, 2004, and the memories of their slugfest are indelible. So too are the images of Marquez surviving what looked like a sure knockout loss in the first round. Neither side was happy with the draw. Both proclaimed victory, and it seemed inevitable there would be an immediate rematch, but it didn't happen. Until now. Marquez (48-3-1, 35 KOs), now a junior lightweight titleholder, will meet Pacquiao (45-3-2, 34 KOs) for the vacant Ring world championship at Las Vegas' Mandalay Bay on Saturday night (HBO PPV, 9 ET) in one of the year's most anticipated fights. Marquez still believes he won the first fight. "It was a robbery as far as I'm concerned, and most people agree I won the fight," said the Mexican brawler. "But looking back does me no good and all I know is on [Saturday], I am going to fight to the end, be victorious and there will be no doubt among everyone as to who is the best. "There isn't another fight I have wanted as much as this one. I won our first fight. He won the first round and I won the next 11 … I'm going to finish the job I started in 2004 and show everyone why I am a champion today." Naturally, the rematch is titled "Unfinished Business," but the only reason it's necessary is because Pacquiao, 29, who rarely lets an opponent off the hook, could not finish Marquez in a memorable first round that so far defines their rivalry.
[+] Enlarge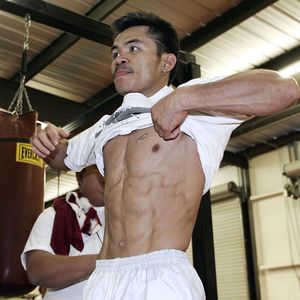 Chris Farina/TopDespite nearly getting him out of there the first time around, Pacquiao isn't underestimating Marquez.
"Well, the first fight is when I dropped him three times and the second time I hurt my left hand," Pacquiao said. "On that third knockdown, I thought that the fight is over. He is a tough fighter and very strong, so I have a lot of respect for him and I won't underestimate [him] in this fight." Freddie Roach, Pacquiao's trainer, said Pacquiao told him about the hand after the round ended, but Roach still felt he would knock out Marquez in the second round. "I told Manny to suck it up. 'You go out there and finish this guy, he's hurt badly, don't let him off the hook.' We let him off the hook and he came back. The rest is history," Roach said. "Manny wants this one badly because we felt we won the first one. He wants revenge. A draw is as good as a loss for a fighter." Nobody was more stunned that Marquez survived that round than Pacquiao. "In [the] first fight I was surprised because I thought the fight was over in the first round," he said. "But he came back and fought me hard the rest of the rounds." Roach was also in shock. "It was unbelievable," he said. "I thought for sure we would get him that round. When Manny knocked him down for the third time, he laid down for a second. I thought it was over. Then all of a sudden, he got this burst of energy and got up and sucked it up. He went back to his corner bleeding and they got him adjusted and kept him calm. It's maybe the greatest comeback of all time. He came back and won all the middle rounds, but I thought Manny won the late rounds. I've rewatched it four or five times and I do think Manny won, but it was still a great comeback." And the 34-year-old Marquez, who had displayed a great chin in his career, was just as surprised to find himself on the mat three times. "I was pretty confident on that fight," he said. "I was connecting well in the first round and I was confident. I thought it was going to be an easy fight. But, whoa, I got a surprise that it wasn't. I mean he got me with three great punches. I went down three times. But I got up. I got up because of the great condition that I was in." Nacho Beristain, Marquez's longtime trainer and manager, said Marquez's overconfidence and carelessness led to the knockdowns. Beristain said he had gone over Pacquiao's wild style with Marquez regularly during training camp, and he was concerned when he saw how nonchalant Marquez was in the opening round. "I was angry that I saw him on the canvas three times and he was so confident," Beristain said. "He was so relaxed in the first round, in the first half of the first round, connecting punches the way he wanted, and I was thinking to myself that this is not the way he's supposed to be fighting because he seemed so relaxed. And knowing Pacquiao, he's like a wildcat. He throws punches from everywhere. … When he came back to the corner, I just told him, 'I told you. I urged you not to do what you were doing. So, please go back to the plan that we had and everything is going to be fine.' And he did it. He did it because he had great preparation." Top Rank's Bob Arum, who promoted Marquez for the first fight before he eventually signed with Golden Boy as a free agent, said Marquez's ability to walk through the fire of the first round was the most amazing thing he has seen in 40 years in boxing. "I was in Marquez's corner then and I remember when the round was ending saying that this is one of the gutsiest performances I have ever seen," Arum said. "You should have seen the smile on [then-Pacquiao promoter] Murad Muhammad's face. He was ready to jump into the ring after the third knockdown. When Marquez made it through, Murad, like all of us, figured he would get him in the next round. I didn't give Marquez any chance after the first round.
[+] Enlarge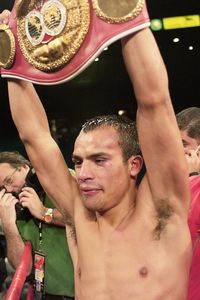 Chris Cozzone/FightWireImages.comAfter working so hard to win his belts, Marquez said there was no way he would allow himself to be stopped in the first round by Pacquiao.
"To see him come back like he did, it is the most miraculous thing I have seen in boxing. I thought, 'This is unbelievable.' And then, after the second round, Marquez won most of the fight." It took Marquez 10 years as a pro before he finally won a world title. He had been ducked and dodged by top fighters. After finally claiming a vacant title against Manuel Medina in 2003, he unified belts later in the year against Derrick Gainer. After working so hard to win those belts, Marquez said there was no way he would allow himself to be stopped in the first round by Pacquiao. "To stay down means to lose the fight, and that's something that never crossed my mind," Marquez said. "I've always said that. It cost me a lot of effort and I put in a lot of time in boxing to conquer two titles. For me to lose in two or three minutes -- it was almost impossible."
The first round was not without a touch of controversy.
Marquez contends that Pacquiao hit him when he was down for the third time. It's a bit of a gray area because Marquez was hanging on to the ropes, but Marquez said that it gave him added fire. "I was angry because Pacquiao punched me when I was down and the referee never said anything to him," Marquez said. "I was mad and I realized that I had to do my best since the referee was not doing his job properly." While Marquez has complained about being hit while he was down, which could have cost Pacquiao a precious point, Pacquiao has grown tired of hearing Marquez claim he lost only a couple of rounds and should have gotten the decision. He points to Clements' scorecard. Despite three knockdowns, Clements scored the first round 10-7, rather than 10-6, the typical score for a three-knockdown round. Had he scored it 10-6, Pacquiao would have won a split decision. Clements claimed afterward that he had made a mistake, not realizing he could go as low as 10-6. But by that time, it was too late to make a change, and the draw was official. "I have a lot of respect for Juan Manuel Marquez and his professional accomplishments," Pacquiao said. "He was a worthy opponent the first time we fought and he showed a true champion's heart to come back and stay in the fight after I knocked him down three times in the first round. He should also remember that it was a judge's scoring error in the first round that allowed him to keep his titles that night." Said Roach: "The judge said he made a mistake, but I was told the call is the call and that's the way it goes. But if you're a judge in a world title fight, you should know the rules. That's how it goes. We won't cry over it. We'll beat Marquez instead. "If we put him down this time, I do believe we will finish him, but I will never count that guy out. I never thought he would come back the first time." He did, and we've got the rematch to finally look forward to.
Dan Rafael is the boxing writer for ESPN.com.
Boxing
2013 BWAA Nat Fleischer Award winner for excellence in boxing journalism
ESPN.com boxing writer since 2005
Five years at USA Today
EDITORS' PICKS
Provodnikov, Matthysse set to settle their differences.
Rankings »

Moonves, Roach and a restaurant waiter play key roles.
Dan Rafael »

Molina has a plan for Saturday: Test Broner's chin.
Brian Campbell »
MOST SENT STORIES ON ESPN.COM