Commentary
Scorecard: Pacquiao-Marquez II featured close rounds, but wasn't controversial
In a bloody and dramatic fight for the ages, Manny Pacquiao's battle with Juan Manuel Marquez had a little bit of everything -- except controversy.
Originally Published:
March 17, 2008
By
Dan Rafael
| ESPN.com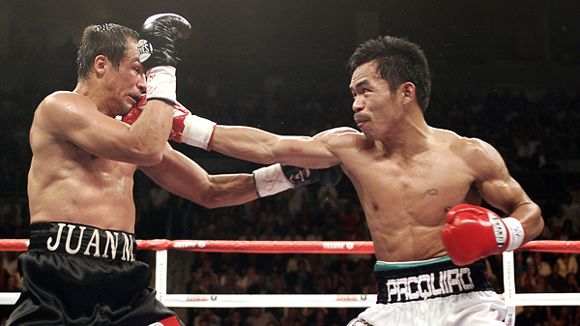 Courtesy Chris Farina, Top RankIn a fight that could have gone either way, Pacquiao, right, and Marquez let it all hang out on Saturday.

A roundup of last week's notable boxing results from around the world:

Saturday at Las Vegas
Junior lightweight
Manny Pacquiao W12 Juan Manuel Marquez
Wins world junior lightweight title
Scores: 115-112, 114-113 Pacquiao, 115-112 Marquez
Records: Pacquiao, 46-3-2, 34 KOs; Marquez, 48-4-1, 35 KOs

Rafael's remark: After the tremendous action fight they waged in their disputed 2004 draw, nobody should be at all surprised that when Pacquiao and Marquez finally met in a rematch, they produced another enthralling, bloody and dramatic fight for the ages. We'll certainly be talking about it at the end of the year when it comes time to pick the fight of the year. It could have gone either way -- they are so perfectly matched that virtually every round was close other than the third round, in which Pacquiao nailed Marquez with a left hand and knocked him down. The 12th round was also a big Marquez round. The disturbing thing was to hear the crybaby Marquez camp whining and complaining endlessly about the decision as though it was scandalous. They should be absolutely ashamed of themselves. It's one thing to proclaim victory and express disappointment in a close decision loss. It's another to imply that some kind of shadowy element had it in for you and that the judging was somehow not on the up and up. The Marquez camp was almost as bad a few weeks ago when Rafael Marquez, Juan's brother, lost a tough decision in his rubber match with Israel Vazquez. There are fights in which certain scores are mind-blowing and you really have to question the competency of the judges. This was not one of them. It was merely a razor-close fight that was awesome to watch because it had many close rounds. Marquez really has only himself to blame for the defeat. If he didn't get knocked down, the fight would have been a draw and he would have kept his title. Sure, many ringside media had it for Marquez, but only by a point or two, and even those who had him winning didn't complain about the official decision. Marquez would like an immediate third fight, and it's hard to blame him. Pacquiao isn't interested in that, however, and promoter Bob Arum made their position clear: Take a break from each other, let them fight interim bouts so that a third fight will be even bigger and worth even more money. It makes sense and it is hard to argue Arum's logic. Pacquiao, if his cut heals properly, is going to move up to 135 pounds and challenge titleholder David Diaz (who won on the undercard) on June 28, also at Mandalay Bay. Don't be surprised to see that get delayed, however. After that, Marquez looms as a great fight for him in the fall, and Marquez said he was willing to go to 135 to make it happen. So enough with the sour grapes. Marquez and his handlers, especially the particularly annoying co-promoter Jaime Quintana, need to realize that Marquez's reputation has not been damaged. It has been enhanced by another sensational fight that the sold-out crowd of 11,061 loved. If you missed it on pay-per-view, too bad. But you should do yourself a favor and catch the HBO replay on Saturday night (10:05 ET/PT). Incidentally, Pacquiao etched himself in the history books with this impressive accomplishment: He became a legitimate four-division champion, having won titles at flyweight, junior featherweight, featherweight and junior lightweight. That is amazing and Hall of Fame stuff.
Featherweight
Steven Luevano W12 Terdsak Jandaeng
Retains a featherweight title
Scores: 119-109 (twice), 118-109

Records: Luevano, 35-1, 15 KOs; Jandaeng, 29-3, 19 KOs

Rafael's remark: Luevano may never be a superstar because he just doesn't have an enthralling style or personality, but the 27-year-old La Puente, Calif., native sure knows how to fight. He's so smooth and disciplined in the ring that he would give just about anyone in the division a difficult fight. Although Jandaeng landed a great short left hand in the fourth round to knock him down, Luevano quickly collected himself and dominated the fight. He relied on his best weapon -- his right jab, which he used effectively with abandon, landing a CompuBox featherweight record 240 of them. The evidence was Jandaeng's swollen left eye. It was a very solid victory for Luevano, in his second title defense.

Jandaeng, 26, of Thailand, had previously lost to only two top fighters: Juan Manuel Marquez in a featherweight title fight and Joan Guzman in an eliminator. Luevano fights in a division that features a pair of other excellent young titleholders in Jorge Linares and Robert Guerrero, and both matches would be welcome. But it's doubtful either will happen in the immediate future because neither is worth all that much money for the significant risk to each fighter. Luevano, more likely, will become a staple of Top Rank's pay-per-view undercards until the time is right to make one of those strong matches.
Bantamweight
Abner Mares TKO2 Diosdado Gabi
Records: Mares, 16-0, 10 KOs; Gabi, 30-4-1, 21 KOs

Rafael's remark: Mares just keeps on impressing. In his two previous fights, he looked very good, dominating former titleholder Isidro Garcia for a seventh-round knockout last September and battering rugged David Marchiano for a decision in November. Stepping up his level of opposition again against the Philippines' Gabi, the 22-year-old 2004 Mexican Olympian looked spectacular. He hurt Gabi -- who failed to make the 118-pound limit and weighed 119 1/2 -- in the first round, then knocked him down twice in the second round to finish him in spectacular fashion. Gabi, 28, had won four in a row since being knocked out in the eighth round by Vic Darchinyan in a flyweight title fight last March. Solid win for Mares. The sky is the limit for the kid.
Junior welterweight
David Diaz W10 Ramon Montano
Scores: 99-91, 97-93 (twice), 95-95
Records: Diaz, 34-1-1, 17 KOs; Montano, 15-5-2, 1 KO

Rafael's remark: In the pay-per-view opener, Diaz had his way with Montano, a 25-year-old journeyman fighter from Mexico known more for the who's who he has sparred with -- Floyd Mayweather Jr., Juan Diaz, Rocky Juarez, Lovemore N'dou and others -- than for any of his real fights. Diaz was shaking off the rust; he hadn't fought since making his first lightweight title defense against Erik Morales last summer and was not as sharp as he could have been. But the most important thing for him in this nontitle bout was getting the win and not getting injured in order to preserve his next fight. He will get an opportunity to make his biggest payday when he defends against main event winner Manny Pacquiao, who is going to leave behind 130 pounds after claiming the title and move up to 135 pounds, where Diaz, 30, will be waiting. The fight is tentatively slated for June 28, but that could be delayed depending on how Pacquiao's cuts heal.
Welterweight
Danny Garcia KO1 Charles Wade
Records: Garcia, 4-0, 4 KOs; Wade, 4-5, 1 KO

Rafael's remark: So far there is nothing not to be impressed by when it comes to young Garcia. At 19, he's just a baby in the sport, but he could move quickly. In fact, he reminds me a little of a young Miguel Cotto, and that's a good thing. Garcia, who made it to the U.S. Olympic trials finals last year, appears to be a gifted offensive fighter, as all of his wins have come inside two rounds, including this 43-second wipeout of Wade. Garcia, of Philadelphia, will keep up his busy schedule with his fifth fight since turning pro in November; manager Shelly Finkel said he will return on the April 19 Bernard Hopkins-Joe Calzaghe undercard.
Friday at Cicero, Ill.
Lightweight
Javier Jauregui W12 Miguel Angel Huerta
Scores: 117-111, 115-112 (twice)
Records: Jauregui, 53-14-2, 36 KOs; Huerta, 26-9-1, 18 KOs

Rafael's remark: In the Telefutura main event, former lightweight titleholder Jauregui, 34, scored the mild upset against his Mexican countryman. Huerta, 30, had been a decent roll with wins over Daniel Alicea, Efren Hinojosa and a loss to "Kid Diamond" Almazbek Raiymkulov that was one of the worst robberies of 2007. But Huerta hit a wall against Jauregui, who survived a 10th-round knockdown and won the hard-fought bout.
Junior Lightweight
Brandon Rios KO2 Alvin Brown
Records: Rios, 16-0, 11 KOs; Brown, 26-11, 12 KOs

Rafael's remark: Rios is one of those under-the-radar Top Rank prospects who continues to get better and better without a lot of hype. And, perhaps like Kelly Pavlik or Steven Luevano, one day he will suddenly win a title. He's only 21, from talent-rich Oxnard, Calif., and has a strong team behind him: Top Rank, manager Cameron Dunkin and trainer Robert Garcia. Rios was no match for Brown, 38, who was knocked out for the third consecutive fight. After Rios knocked him down with a combination, Brown showed no interest in continuing and took the full count while looking at the referee.
Friday at Munich
Super middleweight
Markus Beyer W8 Murat Mahmudov
Scores: 80-72 (three times)
Records: Beyer, 35-3-1, 13 KOs; Mahmudov, 16-4, 8 KOs

Rafael's remark: Beyer, 36, a former three-time super middleweight titleholder from Germany, hadn't fought since Mikkel Kessler blew him out in three rounds in their October 2006 unification fight. In that bout, Beyer, a southpaw, badly injured his hand, needed surgery and was forced into a long layoff. Making his return with new promoter Arena Box-Promotion, Beyer dominated Mahmudov, of Russia, in winning a shutout decision. The interesting part of the fight was that Roy Jones Jr. was ringside at the invitation of Arena. There has been talk that Jones, for a big payday, could face Beyer in Germany. Both fighters made statements to the press declaring their interest in the fight. Jones, of course, has many other options, including a possible Jermain Taylor fight, but that bout wouldn't happen until the fall. So it's not out of the question that a Jones-Beyer bout could happen this summer in Germany.
Heavyweight
Odlanier Solis W8 Cisse Salif
Scores: 80-72 (three times)
Records: Solis, 8-0, 5 KOs; Salif, 22-10-2, 20 KOs

Rafael's remark: Solis, a 2004 Cuban Olympic gold medalist, cruised to the shutout decision against Salif. In Salif, Solis was facing his most experienced opponent yet. He has sparred with a who's who in the heavyweight division and faced such notable opponents as David Tua and Henry Akinwande. Solis will make his American debut on May 17 when he fights on the untelevised portion of an HBO card being promoted by Gary Shaw, who recently entered into a deal with Arena Box-Promotions to become the American promoter for Solis and his Olympic teammate Yuriorkis Gamboa.
Heavyweight
Sinan Samil Sam TKO2 Ratko Draskovic
Records: Sam, 30-4, 16 KOs; Draskovic, 27-7-2, 15 KOs

Rafael's remark: Sam, a fringe contender, won his third in a row since a decision loss to former champion Oliver McCall in an elimination fight last summer. Sam dropped Draskovic three times in the second round, forcing referee Daniel Van de Wiele to stop the fight.
Friday at Los Mochis, Mexico
Lightweight
Humberto Soto TKO6 Carlos Urias
Records: Soto, 44-6-2, 28 KOs; Urias, 35-18, 25 KOs

Rafael's remark: Fighting in his hometown, Soto, 27, got back in the win column by stopping Urias, 33, also of Mexico. It came four months after Soto dropped a decision to Joan Guzman in a junior lightweight title fight in Atlantic City, N.J. Now, Soto is headed for a fight May 17 on the undercard of stablemate Cristian Mijares' junior bantamweight unification fight with Alexander Munoz. Co-promoter Nacho Huizar said Soto will fight in a title eliminator or for an interim title.
Friday at Lincoln, R.I.
Super middleweight
Peter Manfredo Jr. TKO6 Shane Benfield
Records: Manfredo Jr., 29-5, 14 KOs; Benfield, 17-2, 9 KOs

Rafael's remark: Manfredo, the runner-up on the first season of "The Contender," used a strong body attack to hand Benfield his second-consecutive defeat. Manfredo, 27, fighting in front of a hometown crowd, bounced back from a poor performance in a decision loss to former titleholder Jeff Lacy in December. But after losing to Lacy and being blown out in a world title fight by Joe Calzaghe last year, where is Manfredo going at this stage of his career?
Thursday at Las Vegas
Heavyweight
Tye Fields TKO1 Roderick Willis
Records: Fields, 41-1, 37 KOs; Willis, 14-3-1, 8 KOs

Rafael's remark: Willis, who is 6-foot-5 and 254 pounds and took the fight on a couple of days' notice when Josue Blocus withdrew, lasted only 1:37 as the 6-9, 270-pound Fields wiped him out for another meaningless victory on Versus. Fields, who lives in Las Vegas, smashed Willis with thudding left hands until the referee ended the massacre. Fields still has yet to face a quality opponent, but that could change next time out. Promoter Bob Arum wants to match him with his other heavyweight, former world champion Hasim Rahman, who also lives in Las Vegas, and bill the fight as a Las Vegas heavyweight championship bout. If the fight is signed, Arum wants to put it on the undercard of the proposed June 28 David Diaz-Manny Pacquiao HBO PPV fight.
Lightweight
Urbano Antillon KO1 Bobby Pacquiao
Records: Antillon, 22-0, 15 KOs; Pacquiao, 28-14, 13 KOs

Rafael's remark: Maywood, Calif., resident Antillon, 25, continues to shine as a rising prospect who is perhaps on the verge of big things. He simply blew away Pacquiao, who is Manny Pacquiao's brother, in 2:49. Antillon dropped Pacquiao for the full count with a series of punches, including a hurtful uppercut and a hook to the body. It was Antillon's second first-round knockout in a row, and he has ended his last five fights inside three rounds. It wouldn't be unreasonable to see Antillon in a title eliminator or even in a title fight before the end of the year. The kid is good and exciting.
Dan Rafael is the boxing writer for ESPN.com.
Boxing
2013 BWAA Nat Fleischer Award winner for excellence in boxing journalism
ESPN.com boxing writer since 2005
Five years at USA Today
SPONSORED HEADLINES
MORE BOXING HEADLINES
MOST SENT STORIES ON ESPN.COM