Commentary
Scorecard: Mayweather topples Big Show at WrestleMania XXIV
There was money, there was hype and a foreign object was put to good use, so you know that Floyd Mayweather's knockout win over The Big Show at WrestleMania XVI lived up to the billing.
Originally Published:
March 31, 2008
By
Dan Rafael
| ESPN.com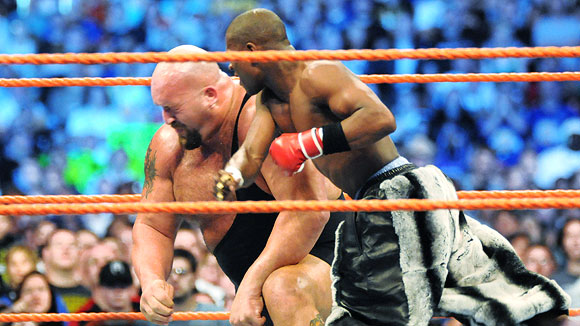 George Napolitano/FilmMagicRest assured: Floyd Mayweather kept his winning streak intact by knocking out The Big Show.

A roundup of last week's notable boxing results -- and a significant one in pro wrestling -- from around the world:

Sunday at Orlando, Fla.

Floyd "Money" Mayweather KO The Big Show
WrestleMania XXIV exhibition
Rafael's remark: For those who were worried that Mayweather was jeopardizing his boxing career by tangling with such a huge opponent, fear not. He took out Big Show in grand pro wrestling style, making quality use of a foreign object. In this case, Mayweather laid Show out by using brass knuckles and clocking him with a right hand to the jaw nearly 12 minutes into their World Wrestling Entertainment "no holds barred" match. It was the culmination of a six-week-long feud and copious amounts of hype in the buildup to a WrestleMania XXIV match advertised as the best fighter in the world (the 5-foot-8, 159-pound Mayweather) against the biggest (the 7-foot, 441-pound Big Show). And you know what? It lived up to its billing. It was a thoroughly entertaining bout on a card that drew a Citrus Bowl-record crowd of 74,635, generated a WWE live gate record of $5.85 million and figures to break the wrestling PPV record set by last year's WrestleMania event with more than 1.2 million buys. Mayweather, who wore mixed martial arts gloves, entered the ring backed by adviser Leonard Ellerbe (looking awfully sharp in his white suit) and a five-man security detail. When the match started, Mayweather employed his speed by avoiding Show before unloading an ineffective volley of body blows and a right to the jaw. He also comically hung from Show's back while trying to put him in a sleeper hold, but it didn't work very well. That's when Show took over. Although Mayweather got in a few shots, including a couple of kicks to the chest, Big Show manhandled him for most of the match, picking him up by the neck, throwing him down, stomping on his left hand, smacking him in the chest to send him to the canvas again, standing on his back, standing on his front, delivering a pulverizing side slam, a head butt and the dreaded elbow drop. How did Mayweather possibly survive this onslaught without being killed? Amazingly, he did. Fortunately, Mayweather's posse dragged him out of the ring to safety and began marching him backstage. But Big Show charged after them, smashed the entire security detail and literally dragged Mayweather back into the ring. Just when Show was about to deliver one of his trademark choke slams, one of Mayweather's handlers interrupted the match and paid for it by getting knocked out by Show. But the interruption gave Mayweather just enough time to grab a metal folding chair, which just happened to find its way into the ring. He attacked Show, hitting him five times with the chair in the back and head. Shockingly, there was no blood. Mayweather then ran over to his downed security guard, pulled off the MMA glove, ripped a necklace that had a pair of brass knuckles dangling from it off his guard's neck, placed them on his right hand and brutally unleashed a shot on Big Show, who never saw it coming. He couldn't beat the count and Mayweather exited the ring with the upset of upsets. Remember -- the brass knuckles were legal because this was no holds barred, baby! Oscar De La Hoya awaits Mayweather for a September rematch. That one won't be scripted (we hope) but if it's as entertaining as WrestleMania, we're all in for a treat.
Saturday at Kiel, Germany
Middleweight
Arthur Abraham KO12 Elvin Ayala
Retains a middleweight title
Records: Abraham, 26-0, 21 KOs; Ayala, 18-3-1, 8 KOs

Rafael's remark: Saying that Abraham scored a spectacular knockout is almost becoming redundant, but he added another one to his growing highlight reel with a beauty in his seventh title defense. Ayala, 27, of New Haven, Conn., came into the fight with no credentials for deserving a title shot, although he did hold first-season "Contender" winner Sergio Mora to a draw in his previous fight in October. But at least Ayala gave a spirited effort. He hung in against Abraham as long as he could despite being totally outgunned. Abraham nailed Ayala with an overhand right in the fifth round and knocked him down, but Ayala popped right back up before the referee could even begin counting. Abraham, 28, was always in command, but then he dropped the hammer in the 12th, a massive left uppercut that caught Ayala flush and dropped him to his knees, then face-first into the canvas for another crowd-pleasing knockout. Abraham now intends to come to the United States to fight this summer. He'd like to eventually face true division champion Kelly Pavlik, but he first plans to take a fight here to introduce himself to the American public. Despite some media reports, there is no definitive date, venue or opponent set, but there are a number of interesting names out there. In a perfect world, he'd face Edison Miranda in a rematch of their controversial 2006 fight. Miranda is available because Mikkel Kessler opted out of their May 24 fight.
Cruiserweight
Wayne Braithwaite TKO3 Yoan Pablo Hernandez
Records: Braithwaite, 23-3, 19 KOs; Hernandez, 14-1, 8 KOs

Rafael's remark: Ex-titlist Braithwaite had lost three of his past four fights, including a lopsided decision loss to then-beltholder Enzo Maccarinelli last summer. On top of that rough stretch, Braithwaite, 32, didn't even arrive in Germany until the day before the fight because of visa issues. He was the clear underdog versus Hernandez, 23, a 2004 Cuban Olympian and hot prospect being matched with Braithwaite to get a good name on his resume. But a funny thing happened on the way to his easy win: Braithwaite beat the snot out of him. Hernandez knocked him down in the first round and it looked like it might be a quick night, but Braithwaite came roaring back, hammering Hernandez to the tune of three knockdowns in the third round to impressively destroy him. Hernandez was never the same after the first knockdown, which was the result of a perfect right hand to the forehead/temple area. And it was like Braithwaite was fighting two opponents given the actions of referee Jose Martinez, who literally helped Hernandez to his feet after the first knockdown. Martinez should be punished severely for his actions, which were unacceptable and unfair.
Saturday at Chiba, Japan
Flyweight
Takefumi Sakata W12 Shingo Yamaguchi
Retains a flyweight title
Scores: 116-112 (twice), 115-113
Records: Sakata, 32-4-2, 15 KOs; Yamaguchi, 22-5-2, 8 KOs

Rafael's remark: Making his third defense, Japan's Sakata, 28, started slow and survived a third-round knockdown to edge his countryman. Yamaguchi, 28, connected with a right hand in the third to knock down Sakata, who was shaky but survived before coming on from the seventh round on. It's been that sort of reign for Sakata. He trailed early in his first defense against Roberto Vasquez and was knocked down by Denkaosen Kaowichit and eked out a draw against him in his second defense. Nothing comes easy for Sakata, who didn't claim a version of the title until his fourth try. Yamaguchi fell short in his second shot. He was stopped in the 10th round by the late Yosam Choi in a 2002 junior flyweight title bout. With Sakata owning a title and countryman Daisuke Naito also holding a belt, a unification fight is logical, especially when you consider that they fought to a draw in a 2001 Japanese flyweight title fight. It seems unlikely to happen, though, especially with a more lucrative fight against the nation's star, top challenger Koki Kameda, probably looming for one of them.
Saturday at Mount Pleasant, Mich.
Middleweight
Raul Marquez W10 Bronco McKart
Score: 97-93, 96-94 (twice) Marquez, 96-95 McKart
Records: Marquez, 41-3, 29 KOs; McKart, 51-9, 31 KOs

Rafael's remark: In a meeting of former titleholders still hanging on, Marquez, 36, pulled out the split decision in McKart's home state. Marquez won his sixth in a row since a 2004 TKO loss to Jermain Taylor and a nearly two-year layoff. Maybe someone will give him one more shot. He's never in a bad fight and his only losses are to Taylor, a prime Fernando Vargas in 1999 and on cuts to Yory Boy Campas in 1997. McKart, 37, is more faded than Marquez. He dropped his second in a row and lost for the fourth time in eight bouts.
Middleweight
Tyrone Brunson TKO1 Francis McKechnai
Scores: 60-54 (twice), 59-55
Records: Brunson, 19-0, 19 KOs; McKechnai, 3-15, 3 KOs

Rafael's remark: By knocking out an obviously unqualified opponent in 72 seconds, Brunson, 23, scored his 19th consecutive first-round stoppage, surpassing the mark of 18 set by Edwin Valero on his way to a junior lightweight world title. But what's the big deal? Brunson has faced utterly woeful competition and is a long way from a title fight. He's still fighting scheduled four-rounders. Most of his opponents had either sub-.500 records or were making their pro debuts when he faced them. How an opponent like McKechnai even got approved is scandalous and Michigan regulators ought to explain this one. It seems as if it he was approved for no other reason than to allow Brunson to reach a meaningless record. McKechnai has been knocked out in all of his losses and lost his eighth fight in a row.
Junior welterweight
Stevie Johnston W10 Dairo Esalas
Scores: 98-90 (twice), 97-91
Records: Johnston, 42-5-1, 18 KOs; Esalas, 30-12, 24 KOs

Rafael's remark: Johnston, 35, the former two-time lightweight champ, is well past his best days but can still outbox a crude slugger such as Esalas. Johnston, who scored a first-round knockdown, bounced back from a TKO loss to Rolando Reyes in October by outpointing Esalas, who took the fight on four days' notice. Esalas has lost seven of eight with the lone victory coming in November when he beat ex-titleholder DeMarcus "Chop Chop" Corley on a split decision.
Friday at Salamanca, N.Y.
Junior middleweight
Cornelius "K9" Bundrage W10 Kassim Ouma
Scores: 96-93 (twice), 95-94
Records: Bundrage, 28-3, 16 KOs; Ouma, 25-5-1, 15 KOs

Rafael's remark: In the first boxing card held at the Seneca Alleghany Casino, fans saw an upset as former "Contender" participant Bundrage outworked former titleholder Ouma, especially over the final few rounds in the crossroads fight. Ouma, 29, the former child soldier who defected from Uganda, has now lost three consecutive fights and his career is fading fast. The rut started with a lopsided loss in a middleweight title fight to Jermain Taylor in December 2006, a defeat that was understandable, especially because Ouma had moved up in weight for the opportunity. But then the wheels came off. There was an unforgivable loss to Raul Roman in November and then this defeat to underdog Bundrage, 34. Ouma opened a gash over Bundrage's left eye with an accidental head butt in the fourth round. Although Bundrage appeared in control of the fight, he was holding way too much and referee Steve Smoger correctly docked him a point in the eighth round. It turned out not to matter as Bundrage won the slim decision in a "Friday Night Fights" main event that was not nearly as entertaining as it looked like it would be on paper. Nonetheless, it was a solid victory for Bundrage, who won for the fifth time in six fights with the only defeat being an eighth-round TKO to Joel "Love Child" Julio last summer.
Friday at Kissimmee, Fla.
Lightweight
Jose Reyes KO4 Ivan Valle
Records: Reyes, 22-4, 8 KOs; Valle, 26-7-1, 22 KOs

Rafael's remark: Those who stayed up late to watch Telemundo's monthly card were rewarded with this dandy of an action fight that featured six knockdowns in three-plus rounds. Each man was down three times in a see-saw battle until Reyes finally knocked Valle down for good with a short left hand in the opening seconds of the fourth round. The fight started with a bang and never let up as Reyes dropped Valle twice in the first round. Valle rebounded to knock Reyes down at the end of the round. Valle added knockdowns in the second and third round before Reyes ended the terrific brawl in the fourth by sending Valle to his third loss in four fights. Sometimes, it's worth it to stay up late because you just may get a fight that should make the fight of the year honorable mention list come December.
Junior featherweight
Wilfredo Vazquez Jr. KO3 Corey Goodwin
Records: Wilfredo Vazquez Jr., 10-0-1, 9 KOs; Goodwin, 7-5, 4 KOs

Rafael's remark: Last time out, Vazquez Jr., the son of the former multi-division titleholder, was held to a draw by Jorge Cardenas in December. What better way to shake that off? By facing Goodwin, whom Vazquez had already knocked out in two rounds in November. At least this time Goodwin lasted a little longer. But no matter. The end result was the same, a painful knockout at the hands of the 23-year-old prospect from Puerto Rico.
Heavyweight
Attila Levin KO1 Willy Perryman
Records: Levin, 30-3, 24 KOs; Perryman, 10-15, 7 KOs

Rafael's remark: Yup, Levin is still around, albeit a little flabbier and sporting a few more tattoos. The once-promising prospect returned from a nearly three-year layoff to blow away Perryman with an uppercut. Levin, 31, who is from Sweden but based in Miami, hadn't fought since Nikolai Valuev crushed him three rounds in February 2005 and handed him a second consecutive loss.
Friday at Industry Hills, Calif.
Junior lightweight
Cornelius Lock KO4 Juan Garcia
Records: Lock, 17-3-1, 10 KOs; Garcia, 14-1, 5 KOs

Rafael's remark: Lock, who took the fight on two days' notice when Jose Hernandez pulled out, was by far the best opponent of Garcia's career and he made Garcia pay. Lock scored a second-round knockdown and dropped one of Manny Pacquiao's sparring partners for the count with a body shot in the fourth round of the Telefutura main event.
Thursday at St. Louis
Junior middleweight
Verno Phillips W12 Cory Spinks
Wins a junior middleweight title
Scores: 116-12, 115-113 Phillips, 115-113 Spinks
Records: Phillips, 42-11-1, 21 KOs; Spinks, 36-5, 11 KOs

Rafael's remark: Former titleholder Phillips, at 38, was probably getting his last chance to win another belt as Spinks' mandatory challenger and few thought he could win. Spinks was fighting at home and is a far superior technical boxer. But upsets happen and this was one of them as Phillips got the shocking split decision nod in a fight that Spinks deserved to win, although it was not the near-shutout decision that broadcaster Bob Sheridan had it on promoter Don King's Internet-only broadcast of the bout. Sheridan was way off, but at least he had the right man winning. Can't say the same for two of the judges. Still, Spinks was clearly rusty following a 10-month layoff from his last fight, a split decision loss to then-middleweight, and he didn't vehemently dispute the judges' decision. The judges who gave it to Phillips probably preferred his harder punching to Spinks' faster, busier style. Spinks had his famous father and uncle, former heavyweight champions Leon and Michael Spinks, respectively, in his corner assisting new trainer Buddy Shaw, who was brought in after Cory Spinks' unfortunate split with longtime trainer and manager Kevin Cunningham about three weeks before the fight. Now where does Spinks, 30, go? He's no longer a draw, even in his hometown as this fight attracted fewer than 9,000, including thousands of freebies three years after he drew more than 20,000 for a fight with Zab Judah. And HBO and Showtime want no part of Spinks, which is why this weak matchup was only available via King's Web site. For Phillips, it was a rebirth. He'll get another payday out of the victory, his fourth in a row since suffering back-to-back losses to Kassim Ouma (2004) and Ike Quartey (2005).
Junior welterweight
Devon Alexander W12 Miguel Callist
Scores: 120-105, 120-106 (twice)
Records: Alexander, 15-0, 8 KOs; Callist, 24-7-1, 17 KOs

Rafael's remark: It was easy work for Alexander, the 21-year-old St. Louis native who won every second of every round against Callist, 33, a former lightweight title challenger from Panama who looked like a dead man as he ate punch after punch for the entire fight. It was the second consecutive bout in which Alexander battered a game veteran. He also scored a near-shutout of ex-titlist DeMarcus "Chop Chop" Corley in January. Alexander nearly knocked Callist out in the seventh and finally knocked him down a minute into the 12th. Callist spent the rest of the round in survival mode. Alexander did everything he was supposed to do except get the knockout. It would be nice to see him turn it up a notch and develop a nose for the finish when he is so clearly superior to his opponent.
Dan Rafael is the boxing writer for ESPN.com.
Boxing
2013 BWAA Nat Fleischer Award winner for excellence in boxing journalism
ESPN.com boxing writer since 2005
Five years at USA Today
MOST SENT STORIES ON ESPN.COM