Commentary
Scorecard: Chavez lambasts Loriga, fight with Camacho Jr. on the horizon
Another main event, another overpriced pay-per-view, another handpicked opponent with little chance to win -- welcome to the world of Julio Cesar Chavez Jr. Chavez stopped Tobia Giuseppe Loriga on Saturday to set up a possible showdown with Hector Camacho Jr.
Originally Published:
April 28, 2008
By
Dan Rafael
| ESPN.com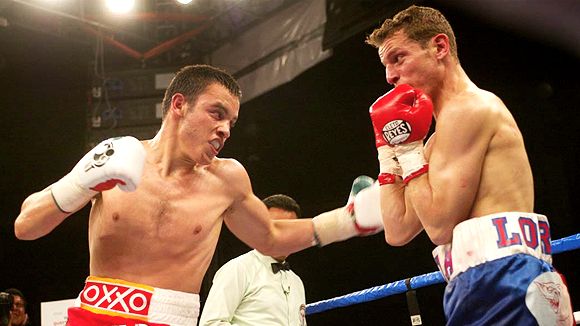 Rafael Soto/Top Rank and ZanferJulio Cesar Chavez Jr., left, upped his record to 36-0-1 by stopping Giuseppe Loriga on Saturday.

A roundup of last week's notable boxing results from around the world:

Saturday at Queretaro, Mexico
Junior middleweight
Julio Cesar Chavez Jr. KO9 Tobia Giuseppe Loriga
Records: Chavez Jr., 36-0-1, 29 KOs; Loriga, 24-1-1, 6 KOs

Rafael's remark: Another main event on an overpriced Top Rank pay-per-view. Another handpicked opponent with little chance to win. Another somewhat easy victory. Welcome to the world of Chavez Jr., the son of the Mexican icon who was ringside to watch his boy batter the bejesus out of Loriga, an Italian fighting outside his country for the first time. He was overmatched from the outset but showed tremendous heart. Chavez, 22, continues to feast on lesser opponents while he learns his craft after having no amateur experience. He knocked Loriga down with a pinpoint right hand in the second round and was on the attack and in control the entire fight. He was breaking Loriga down slowly until a scary moment in the seventh when Chavez fell to the canvas after twisting his right ankle. He was unsteady on the ankle but continued firing punches at Loriga, who finally took a knee midway through the ninth round after taking another barrage. He looked alert as referee Guadalupe Garcia counted, but Loriga, 31, had enough. He stayed down until jumping up just after Garcia reached 10. After the one-sided fight, which topped the weakest pay-per-view show in recent memory, Hector Camacho Jr., who won a lopsided undercard fight, joined Chavez in the ring to talk up a possible future showdown. The fight probably would make tremendous business. Of course, their famous fathers fought each other in a huge fight in 1992 in Las Vegas, a match that Chavez Sr. took via lopsided decision to retain the junior welterweight title.
Super middleweight
Hector Camacho Jr. W8 Kenny Kost
Scores: 79-71 (twice), 78-74
Records: Camacho Jr., 46-3-1, 25 KOs; Kost, 14-4, 6 KOs

Rafael's remark: Camacho Jr. has wasted so much talent that it's sad, but on this night he rolled past Kost in a one-sided fight that he should have ended with a knockout. Camacho, 29, knocked Kost, also 29, down with a hard left in the second round and again with a body blow in the third, but he could not finish him. Maybe it was because Camacho was in such poor condition and well over his optimal fighting weight. Camacho should be ashamed that he let Kost survive. Nonetheless, the victory keeps alive the possibility of Camacho getting a future bout with headline fighter Julio Cesar Chavez Jr.
Junior welterweight
Omar Chavez W4 Marco Nazareth
Scores: 39-38, 39-37 (twice)
Records: Chavez, 9-0, 7 KOs; Nazareth, 5-4, 3 KOs

Rafael's remark: Chavez is the 18-year-old son of Mexican legend Julio Cesar Chavez Sr. and the younger brother of headline fighter Julio Cesar Chavez Jr. He showed that he has a long way to go to even reach the level of his big brother as he was pushed to the limit by Nazareth, 23. The decision appeared to be charitable. A draw would have been perfectly legitimate. You knew it was a weak decision when Mexican fans booed the result of a Chavez victory in Mexico. Please, somebody teach Chavez how to throw a punch that isn't as wide as I-95.
Junior lightweight
Orlando Salido TKO4 Renan Acosta
Records: Salido, 30-9-2, 20 KOs; Acosta, 21-6, 6 KOs

Rafael's remark: In another mismatch on Top Rank's PPV card, Salido beat down Acosta until finishing him with a barrage late in the fourth round. It was Salido's third consecutive victory since November 2006, when he outpointed Robert Guerrero to win a featherweight belt only to fail a postfight drug test. That led to the victory being overturned to a no contest, the title being stripped and Salido being fined and suspended. However, with his trio of victories since then, he is next in line for a mandatory fight against titleholder Guerrero. That's a rematch that sounds a whole lot more interesting than this worthless fight.
Junior featherweight
Bernabe Concepcion TKO2 Torrence Daniels
Records: Concepcion, 25-1-1, 14 KOs; Daniels, 10-4-1, 4 KOs

Rafael's remark: Concepcion, a 20-year-old crowd-pleaser from the Philippines, walked right through the overmatched Daniels in a mismatch that opened the "Latin Fury" pay-per-view card. Concepcion dropped Daniels with a right and forced referee Ruben Carrion to call it off during an ensuing barrage.
Saturday at Dresden, Germany
Light heavyweight
Zsolt Erdei W12 DeAndrey Abron
Retains a light heavyweight title
Scores: 119-109 (three times)
Records: Erdei, 29-0, 17 KOs; Abron, 15-2, 10 KOs

Rafael's remark: Erdei, tucked safely in Germany, racked another meaningless defense with a lopsided victory against Abron, 35, who belonged no closer than the 20th row to a title fight. Erdei was faster and much more skilled than Abron, of Youngstown, Ohio. It was Erdei's 10th defense, and he might reach 50 if he continues to fight one unqualified opponent after another. Virtually all of Erdei's defenses have been a joke. It's enough already.
Junior middleweight
Sergei Dzindziruk W12 Lukas Konecny
Retains a junior middleweight title
Scores: 118-110, 115-113, 114-114
Records: Dzindziruk, 35-0, 22 KOs; Konecny, 36-3, 18 KOs

Rafael's remark: After multiple postponements because of various injuries, technically skilled southpaw Dzindziruk, 32, finally met the Czech Republic's Lukas Konecny, 29, and claimed a majority decision to retain his 154-pound belt. It was his fourth defense in an uneventful, uninteresting three-year reign. Konecny saw his seven-fight winning streak end. He had not lost since Michele Piccirillo outpointed him for the vacant European title in 2006.
Saturday at Trabzon, Turkey
Heavyweight
Odlanier Solis KO2 Mamuka Jikurashvili
Records: Solis, 9-0, 6 KOs; Jikurashvili, 20-1-0, 14 KOs

Rafael's remark: Solis, the 2004 Cuban Olympic gold medalist who defected with a pair of teammates to Germany a year ago, knocked down Jikurashvili, of Georgia, with a body shot in the first round; he knocked him out in the second with a body blow. The victory sets up the 28-year-old to make his U.S. debut. Solis will fight May 17 in Primm, Nev., on the untelevised portion of HBO's "Night of the Rising Stars" card, a televised tripleheader featuring junior middleweights James Kirkland and Alfredo Angulo and junior lightweight Yuriorkis Gamboa, Solis' gold-medal-winning Olympic teammate. Maybe if we are lucky, HBO will at least show highlights of Solis' bout.
Friday at New York
Junior middleweight
Andrey Tsurkan TKO8 Jesse Feliciano
Records: Tsurkan, 26-3, 17 KOs; Feliciano, 15-7-3, 9 KOs

Rafael's remark: Quick, someone get Feliciano an MRI! The kid takes so many punches you have worry about what the 25-year-old will be like in a few years. There's no surprise that this "Friday Night Fights" main event was a physically grinding and exciting match but, as expected, Tsurkan was too strong and too big for Feliciano to handle. Feliciano gave then-welterweight titlist Kermit Cintron everything he could handle in a November title bout before being stopped in the 10th round. Tsurkan, with heavy blows landing regularly, had a much easier time. He knocked Feliciano down in the first round, dished out mucho punishment and finally stopped his defenseless opponent in the eighth. Feliciano has made a lot of great action fights, but how much more can he take before he's knocked into a dire situation? At the very least, if he's going to fight again he needs a long, long rest after this one. During his time off he might want to seriously consider this: It is not a sin to hold your hands up and defend yourself. For Tsurkan, 30, it was a good bounce-back win after he lost a split decision to Yuri Foreman in December.
Friday at Toa Boja, Puerto Rico
Junior lightweight
Roman "Rocky" Martinez W10 Christian Favela
Scores: 99-91, 98-92, 97-93
Records: Martinez, 19-0-1, 12 KOs; Favela, 14-15-4, 9 KOs

Rafael's remark: Martinez, 25, of Puerto Rico, treated his home fans to an uneventful, lopsided decision against Mexican journeyman Favela. Martinez pretty much did as he pleased, although Favela did have some good moments in the final couple of rounds. All in all, an easy night at the office for Martinez.
Friday at Erie, Pa.
Welterweight
Paul Spadafora W8 Shad Howard
Scores: 80-72 (three times)
Records: Spadafora, 41-0-1, 16 KOs; Howard, 13-11-3, 6 KOs

Rafael's remark: Spadafora, a former lightweight titlist who made eight defenses during his 1999-2003 reign, returned for his first bout in 13 months and just his third fight since mid-2004. His inactivity was due to a boatload of legal problems, an admitted alcohol problem, jail time for shooting his former girlfriend and a parole violation, and a left knee injury. Perhaps the problems are behind him and he'll become more active in his new weight class. Even with the long layoff, Spadafora remains a slick boxer, as he shut out Howard, who dropped his fifth fight in his past six, a rut that has included stoppage losses to Julio Cesar Chavez Jr. and Dmitriy Salita. Spadafora would like to fight more regularly and could return to the ring June 14.
Wednesday at Hollywood, Fla.
Junior welterweight
Juan Urango KO4 Carlos Wilfredo Vilches
Records: Urango, 20-1-1, 16 KOs; Vilches, 53-8-2, 31 KOs

Rafael's remark: In the "Wednesday Night Fights" main event, Urango won his third bout in a row since losing his title via lopsided decision to Ricky Hatton in January 2007, and what a sensational win this was. The Colombian southpaw knocked down the experienced fighter from Argentina in the first round and was in command all the way. In the fourth round, Urango unleashed a short, fast right hook that landed flush on Vilches' jaw and knocked him out. Vilches, whose 10-fight winning streak came to a crashing halt, never saw the shot coming. He was down on the mat for several minutes. So far, it's one of the knockouts of the year. The win moves Urango a step closer to a shot at Hatton's title.
Middleweight
Joe Greene TKO9 Joshua Okine
Records: Greene (19-0, 14 KOs; Okine, 18-4-1, 12 KOs

Rafael's remark: Greene, the 22-year-old Queens, N.Y., prospect, turned in another solid performance against Ghana's Okine, a late replacement after a series of opponents fell out. Greene was a little sloppy in the fight and lost a point for a second-round low blow, but he boxed well before overpowering Okine late in the bout. He dropped Okine in the ninth round with a left hand and moments later knocked him down again with a big right hook that caught Okine flush as he was backing up with his hand down. Okine survived both knockdowns, but not Green's intense follow-up attack, which forced the referee to step in and stop the fight.
Dan Rafael is the boxing writer for ESPN.com.
Boxing
2013 BWAA Nat Fleischer Award winner for excellence in boxing journalism
ESPN.com boxing writer since 2005
Five years at USA Today
SPONSORED HEADLINES
MORE BOXING HEADLINES
MOST SENT STORIES ON ESPN.COM