Commentary
Hatton, Malignaggi survive scares, set for fall showdown
You know a fight was underwhelming when there's more talk about a boxer's hair than about his performance. Despite the hair extensions, Paulie Malignaggi looked less than stellar in his rematch win over Lovemore N'Dou, while Ricky Hatton plodded his way to a unanimous decision victory over Juan Lazcano.
Originally Published:
May 26, 2008
By
Dan Rafael
| ESPN.com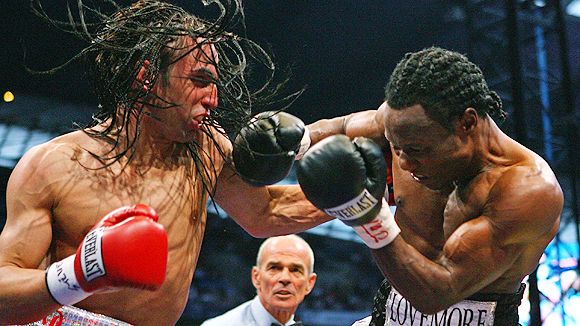 Alex Livesey/Getty ImagesPaulie Malignaggi's hair extensions cost him some of the early rounds against Lovemore N'Dou.

A roundup of last week's notable boxing results from around the world:

Saturday at Manchester, England
Junior welterweight
Ricky Hatton W12 Juan Lazcano
Retains world junior welterweight title
Scores: 120-108, 120-110, 118-110
Records: Hatton, 44-1, 31 KOs; Lazcano, 37-5-1, 27 KOs

Rafael's remark: After four consecutive fights in the United States, Hatton returned to his beloved England and packed 57,000 or so into a rocking stadium in his hometown. That's a lot of love for Hatton, especially considering that in his last ring appearance in December, he was dominated by Floyd Mayweather Jr. and knocked out in the 10th round of a welterweight championship challenge. But his fans are like no others in the world. Returning to junior welterweight, where he is most effective, and fighting for the first time since signing with Golden Boy Promotions, Hatton, 29, dominated Lazcano to win the lopsided decision with the likes of Oscar De La Hoya and Mike Tyson sitting at ringside. But Hatton's win wasn't as easy as the scores made it look and Hatton certainly didn't look all that great. Although Lazcano, 33, was fighting for the first time since losing a decision to Vivian Harris in February 2007, he's a rugged customer who never stopped pressing forward and throwing punches. He just wasn't all that effective, other than some big moments in the eighth and 10th rounds. In the 10th, Lazcano nailed Hatton with an excellent left hand on the inside. Hatton was clearly hurt and it looked as though this might be Lazcano's moment to close him out. But instead British referee Howard Foster decided to provide Hatton with a helping hand. It was at the exact moment that a dazed Hatton was on the verge of going down that Foster called a timeout and walked Hatton to his corner so he could have his shoe tied. Hatton got roughly 90 seconds of valuable recovery time and by the time the fight resumed, he had cleared his head and Lazcano's window of opportunity had slammed shut. Hatton ought to send Foster a very nice thank you gift. It was a horrible example of hometown officiating that was simply unfair. Maybe Lazcano wouldn't have knocked Hatton down. But shouldn't he have had a fair chance? Hatton's victory, combined with titleholder Paulie Malignaggi's win in the co-feature, set the stage for them to meet in November in the United States, although that bout could depend on the health of Malignaggi's injured right hand. If he's OK, though, the fight is a go.
Junior welterweight
Paulie Malignaggi W12 Lovemore N'Dou
retains a junior welterweight title
Scores: 116-113, 116-112 Malignaggi, 115-114 N'Dou
Records: Malignaggi, 25-1, 5 KOs; N'Dou, 46-10-1, 31 KOs

Rafael's remark: The first time Malignaggi met N'Dou came in June 2007. The slick 27-year-old New Yorker won his belt by knocking down N'Dou and winning a virtual shutout decision in the best performance of his career. Making his second defense in a contractually obligated rematch nobody wanted to see, Malignaggi struggled to a split decision victory in a lackluster performance. Malignaggi said one of the reasons for his struggles, especially in the second half of the fight, was a broken knuckle on his chronically injured right hand.

The fight took place in England because it was designed to set up Malignaggi's next fight, a November showdown in the United States against Ricky Hatton, the real division champ who retained his title in the main event in his hometown. Hatton's fans took great joy it seemed in booing Malignaggi at every possible moment.

Malignaggi had a tough time keeping N'Dou off him and got hit quite a bit. There was also way too much clinching. Frankly, the fight did very little to whet the appetite for a Hatton-Malignaggi fight. And what about Malignaggi's ridiculous hairdo? He had hair extensions put in, giving him laughable braids that were so long, and so poorly tied back, that his hair was flying all over the place and getting in his face during the fight. It was such a poor decision and it angered promoter Lou DiBella enough that he got into a screaming match about the hair in the dressing room before the fight even began. There's no doubt that Malignaggi's hair, which prevented him from seeing some of N'Dou's shots, cost him some early rounds and it caused a delay in the eighth round while it was taped up. His cornermen began trimming the hair between rounds, but, finally, sanity prevailed after the delay in the eighth. After the eighth round, the rest of the long strands were cut off. When the story of the fight is the hair of the titleholder, you know it was a crappy fight. And, by the way, what were the British officials thinking when they allowed him to the enter the ring in the first place with that mop on his head?
Friday at Lincoln, R.I.
Cruiserweight
Jose Luis Herrera TKO5 Aaron Williams
Records: Herrera, 16-4, 16 KOs; Williams, 17-1-1, 12 KOs

Rafael's remark: Williams came into his first headline fight with a lot of hype and failed to deliver. Instead of finishing Colombia's Herrera in the first round, when Williams had him badly hurt, Williams let him hang around and paid dearly for it in the "Friday Night Fights" main event. The result was a shocking TKO loss. As much talent as Williams has and as much firepower as he seems to possess, his reputation of not having a chin, a knock that dates back to his amateur career, came back to haunt him. Herrera, who has never gone the distance -- he either knocks out his opponents or gets knocked out -- went down in the first round and looked finished. But he survived. Williams, however, remained in total control of the fight until Herrera landed a terrific overhand right hand in the fifth round that had Williams out on his feet and reeling into the ropes. The referee ruled it a knockdown because the ropes clearly kept Williams on his feet. Seconds later, Williams went to the canvas without being hit and, after the referee asked the ringside doctor to take a look, the fight was called off. Williams didn't seem to have any idea where he was and Herrera had himself a major upset. Fights like this one are what makes boxing so cool -- a fight, a career possibly, can change with just a single punch. Williams, trained by former light heavyweight champ Eddie Mustafa Muhammad, was on his way to a dominating victory. In the blink of an eye, he had lost.
Heavyweight
Jason Estrada TKO7 Moultrie Witherspoon
Records: Estrada, 13-1, 3 KOs; Witherspoon, 14-2, 8 KOs

Rafael's remark: The biggest upset here is that Estrada, 27, actually scored a stoppage victory, a rarity in his career. The 2000 U.S. Olympian scored a first-round knockout in his second pro fight and none until this bout on ESPN2's "Wednesday Night Fights." Estrada, who won his sixth in a row since losing to Travis Walker in November 2006, did a good job of beating down the overmatched Witherspoon, who was taking a monumental step up in competition. Estrada did as he pleased, hammering Witherspoon virtually at will, especially with an effective uppercut. After Estrada laid another flurry of punches on Witherspoon in the seventh round and knocked out his mouthpiece, the referee stepped in at 1:38. Witherspoon, 1-2 in his last three, took the fight on only a few days' notice after Derek Bryant pulled out.
Friday at Toa Baja, Puerto Rico
Junior featherweight
Eric Morel TKO3 Jose Garcia Bernal
Records: Morel, 38-2, 20 KOs; Bernal, 27-12-1, 18 KOs

Rafael's remark: Morel had a nice flyweight title run, making five defenses during a 2000-03 reign. A March 2005 shot at a junior bantamweight title against Martin Castillo ended in lopsided decision loss. Following that defeat, Morel was out of the ring until three months ago. The reason: The 1996 U.S. Olympian originally from Puerto Rico was serving time for a sexual assault of a 15-year-old girl. Out of prison, Morel, 32, is trying to get his career back on track. And he looked sharp against Bernal in the Telefutura main event. In winning the third consecutive fight of his comeback, Morel scored a knockdown in the second round and two more in the third before the referee called it off. Morel has always had outstanding boxing skills, so if he can keep himself out of trouble there's no reason he can't figure into the title picture at bantamweight, the division he intends to campaign in.
Light heavyweight
Manny Siaca Jr. W10 David Whittom
Scores: 100-90, 99-91 (twice)
Records: Siaca Jr., 21-6, 18 KOs; Whittom, 10-7, 10 KOs

Rafael's remark: Siaca, 32, of Puerto Rico, is a former super middleweight titleholder who owns a 2004 victory against current belt holder Anthony Mundine. But Mundine also hadn't fought since July 2006, when he dropped a decision to Silvio Branco for an interim light heavyweight title. Returning to the ring, Siaca, whose father also trains heavyweight John Ruiz, shook off the rust with a near shutout of Canada's Whittom, who lost his second in a row and third decision in four fights.
Wednesday at Jacksonville, N.C.
Lightweight
Edner Cherry KO10 Stevie Johnston
Records: Cherry, 24-5-2, 12 KOs; Johnston, 42-6-1, 18 KOs

Rafael's remark: These kinds of matches have been fought throughout boxing history. You know, the kind in which a young fighter with a possible future in the sport takes on a badly faded former champion hoping to get that good name on his record. Welcome to Cherry vs. Johnston. Cherry, 25, was way too fast and strong for the 35-year-old Johnston, a former two-time lightweight champ with absolutely nothing left. In his 1997 to 2000 prime, Johnston would have schooled Cherry. In 2008, it's a different story. Cherry had his way with Johnston, knocking him down in the third and ninth rounds before finishing him with a brutal one-punch right-hand knockout in the 10th round. Johnston, who smashed his head on the canvas when he hit the ground, was down for several minutes. After a career filled with tough fights, no real chance to knock out opponents once he gets behind and a once-excellent chin that can no longer take the heat, let's hope Johnston -- a pound-for-pound-caliber fighter in his prime -- calls it a day. It was Cherry's third victory in a row since moving up to junior welterweight and dropping a lopsided loss to future titleholder Paulie Malignaggi.
Junior lightweight
Johnnie Edwards KO7 Freddie Norwood
Records: Edwards, 14-2-1, 8 KOs; Norwood, 42-3-1, 23 KOs

Rafael's remark: Last fall, Edwards, 28, pulled off an upset when he defeated former featherweight titlist Freddie Norwood via sixth-round disqualification in an ugly fight in which Norwood was run for hitting Edwards with repeated low blows. Norwood was in the midst of trying to come back from a six-year hiatus caused mainly by prison time. When he met Edwards in their first fight, Norwood had won four in a row on his comeback. But instead of an immediate rematch, Edwards was matched with hot prospect Yuriorkis Gamboa, the 2004 Cuban Olympic gold medalist, in February. Gamboa smashed Edwards in one round. So, with Norwood, 38, still wanting a rematch and Edwards coming off a brutally one-sided defeat, they got together again. This time Edwards left no doubt about the result of their first encounter. He dropped Norwood with a clean left hand in the third round and cut him over the right eye. In the seventh, Edwards landed a beautiful left hook high on the head that splattered Norwood on the canvas face-first in a knockout-of-the-year-type of shot. At this point, it's pretty clear that Norwood is finished.
Dan Rafael is the boxing writer for ESPN.com.
Boxing
2013 BWAA Nat Fleischer Award winner for excellence in boxing journalism
ESPN.com boxing writer since 2005
Five years at USA Today