Commentary
Khan thumps gutsy Gomez in U.K. shootout
Welcome to the big leagues, Amir Khan. The precocious English prospect showed guts and gusto in rising from a knockdown to blast out Michael Gomez in five pulsating rounds.
Originally Published:
June 23, 2008
By
Dan Rafael
| ESPN.com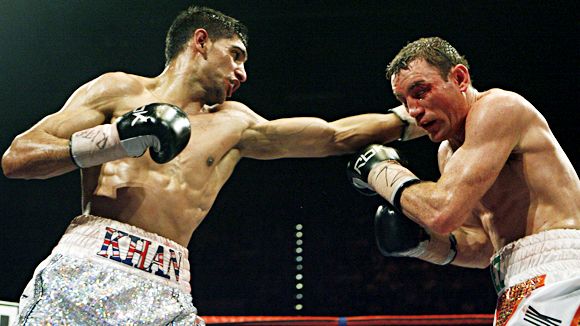 AP Photo/Simon DawsonAmir Khan, left, let it all hang out against Michael Gomez in their scintillating showdown on Saturday.

A roundup of last week's notable boxing results from around the world:

Saturday at Memphis
Welterweight
Andre Berto TKO7 Miki Rodriguez
Wins a vacant interim welterweight title

Records: Berto, 22-0, 19 KOs; Rodriguez, 29-3, 23 KOs

Rafael's remark: At 24, Berto, a 2004 Olympian and the 2006 ESPN.com prospect of the year, is fulfilling his potential. Blessed with tremendous talent and terrific speed and power, Berto claimed a title belt in the wake of Floyd Mayweather's retirement. The WBC has not officially vacated Mayweather's title, so Berto grabbed the interim version, but he'll be upgraded as soon as the WBC gets around to recognizing the retirement Mayweather announced in writing two weeks ago. Berto looked great taking apart an overmatched challenger in Mexico's Rodriguez, who is a strong puncher with few skills and a barren résumé. It's sad that this match was for a world title, especially when you consider the depth of the welterweight division. Rodriguez shouldn't have been ranked in the top 20, much less at No. 2. Still, Berto didn't pick the opponent and did what he was supposed to do: Dominate. He dropped Rodriguez twice in the seventh before referee Laurence Cole stopped the fight during a follow-up attack. The first knockdown was sensational, and it was shocking that Rodriguez was able to get up. He took two huge right hands, including a thudding uppercut that floored him. Rodriguez didn't belong in the fight, but you have to give him credit for his heart.
Heavyweight
Cristobal Arreola W-DQ3 Chazz Witherspoon
Records: Arreola, 24-0, 21 KOs; Witherspoon, 23-1, 15 KOs

Rafael's remark: Arreola, 27, has designs of being the first heavyweight champion of Mexican descent, and he sure looked good against Witherspoon, 26, despite the odd ending. Arreola, of Riverside, Calif., dominated the fight and looked to be on the verge of a knockout. He dropped Witherspoon, of Philadelphia, the second cousin of former two-time heavyweight titleholder Tim Witherspoon, twice in the third round. However, the second knockdown came just before the bell. Witherspoon made it to his feet as the bell rang, but referee Randy Phillips was still giving the unsteady Witherspoon an eight count when members of his team entered the ring and got up on the apron, thinking, like everyone else, that the round was over. But corners are not allowed to do that until the referee declares the round over, so Witherspoon was disqualified. What a terrible ending. The referee's decision seemed kind of weak and robbed Arreola of a probable knockout because Witherspoon was in bad shape after the knockdowns. It didn't seem as though a one-minute break would have saved him. And the Witherspoon camp was understandably unhappy to be nailed on a technicality. Sure, rules are rules, but there is a difference between the spirit of the rule and the letter of the law. The fight should not have been ruled a DQ. Arreola should have been given a chance to finish in style, and Witherspoon should have been given the chance to see whether he could recover.
Flyweight
Rayonta Whitfield TKO4 Wilfredo Valdez
Records: Whitfield, 22-0, 11 KOs; Valdez, 23-4-3, 16 KOs

Rafael's remark: Whitfield, 26, is America's top flyweight contender and probably about as ready to fight for a world title as he'll ever be. He's positioned to be the mandatory for titleholder Omar Narvaez. He scored six knockdowns of Colombia's Valdez, 30, before it was called off. Valdez served precisely as the soft touch he was supposed to be, and he's now lost three in a row by knockout, all inside of four rounds.
Saturday at Hollywood, Fla.
Super middleweight
Arthur Abraham TKO4 Edison Miranda
Records: Abraham, 27-0, 22 KOs; Miranda, 30-3, 26 KOs

Rafael's remark: Abraham pretty much made his point, didn't he? The middleweight titleholder from Germany was facing the loudmouthed Miranda in a 166-pound nontitle rematch two years after Abraham won a controversial decision in Germany. In that fight, Miranda broke Abraham's jaw in two places in a brutal battle. Miranda had five points deducted for a head butt and low blows in a fight that referee Randy Neumann did a horrible job officiating. Since the fight, Miranda taunted and trash-talked Abraham relentlessly. Abraham has left no doubt as to who is the better man after disposing of Miranda with ease in the rematch. For that reason, Miranda just needs to shut up. Although the Colombian, 27, won at least two of the first three rounds, Abraham was just lying in wait until he saw an opening. It came in the fourth, and he responded by knocking down Miranda three times with booming left hands. By the third knockdown, the fight was called off without a count. Abraham, 28, made a huge impression in his first fight in the United States and sent recognized champion Kelly Pavlik a strong message. Pavlik-Abraham is the only fight in the middleweight division that means anything right now. It could happen early next year, as the sides are talking. Pavlik, who also owns a violent knockout of Miranda, will fight somebody in the fall, and Abraham will face mandatory challenger Raul Marquez, who won on the undercard. Then maybe we'll get the fight.
Middleweight
Raul Marquez W12 Giovanni Lorenzo
Title eliminator
Scores: 114-113 (three times)
Records: Marquez, 41-3-1, 29 KOs; Lorenzo, 26-1, 18 KOs

Rafael's remark: Chalk one up for the old guy. At 36 and with a ton of mileage on his body, Marquez, who has been considered past his prime for many years, looked as good as he has looked in a long, long time. He derailed the hopes of 27-year-old Lorenzo, who finally stepped up against a name opponent. Instead of running through Marquez, Lorenzo had a rough night. Marquez, a former junior middleweight titleholder and one of the all-around good guys in boxing, controlled the action most of the way and survived a bloody gash over his right eye in the 10th round to pull out the tight decision. Most ringside observers had Marquez winning far more comfortably than the three official judges scored. But had Lorenzo not been docked a point for head-butting in the 10th round, the fight would have been a draw. But even officials from Lorenzo's promoter Main Events and his own corner thought he lost the fight. Marquez, now 6-0-1 since a two-year layoff following a 2004 loss to Jermain Taylor, outpunched Lorenzo, outhustled him and looked like he simply wanted it more. The win earned Marquez a shot at Arthur Abraham's title. The two probably will fight in the fall, although Marquez will need to see how bad his cuts are. With Abraham winning the main event, they both appeared together at the postfight news conference to begin hyping their fight, showing nothing but respect and admiration for each other. It was a nice scene. Lorenzo, a 2000 Olympian for the Dominican Republic, is still young and surely learned a great deal in his first serious fight, especially as he faced a southpaw for the first time. Lorenzo has some tools, and if he can mentally recover from the loss, he should be a better fighter for it in the long run.
Heavyweight
Elijah McCall TKO1 Darion Moss
Records: McCall, 1-0, 1 KO; Moss, 0-2

Rafael's remark: McCall, the 20-year-old son of former heavyweight champion Oliver McCall, made a good impression in his professional debut. With his father, who is still an active fighter, in his corner as his trainer, McCall scored two knockdowns against a game opponent and displayed a strong right hand. That should come as no surprise considering the thunder that his old man has in his right hand. McCall, a 6-foot-1, 250-pounder who played college football as a defensive end for James Madison University last year, had no amateur experience, but though he's raw, he appears to have something to work with.
Saturday at Birmingham, England
Lightweight
Amir Khan TKO5 Michael Gomez
Retains Commonwealth lightweight title
Records: Khan, 18-0, 14 KOs; Gomez, 35-9, 24 KOs

Rafael's remark: What a terrific fight. Gomez, producing an inspired effort on his 31st birthday, pushed Khan, the 21-year-old 2004 British Olympic silver medalist and 2007 ESPN.com prospect of the year, as hard as he has been pushed so far in his pro career. Those who thought Khan would blitz Gomez were wrong. The Irishman gave him everything he could handle for five action-packed rounds. Khan looked as if he might end it early until a combination floored Gomez in the opening round. But he stormed back, then dropped Khan with a left hand in the second round of a fierce war. Khan also cut Gomez's left eye in the second round, a candidate for round of the year. The pulsating action continued until the fifth, when Khan dropped Gomez with a body shot and later sent him into the ropes with a right hand and a closing flurry that forced referee John Keane to step in. Although Gomez was very upset by the stoppage, it seemed OK, although maybe the fight should have continued a little longer. Khan looms as the mandatory challenger for the winner of the world title bout between Nate Campbell and Joan Guzman, and a fight like this sure helped him prepare for the difficulty of that sort of match. Gomez dropped to 3-4 in his past seven, with all four losses coming via TKO inside six rounds, but he has been one of the United Kingdom's most consistently exciting fighters for years.
Saturday at Copenhagen
Super middleweight
Mikkel Kessler TKO12 Dimitri Sartison
Wins a vacant super middleweight title
Records: Kessler, 40-1, 30 KOs; Sartison, 22-1, 14 KOs

Rafael's remark: Seven months removed from a lopsided loss to Joe Calzaghe in a unification fight, Kessler returned to stop the obscure Sartison to claim a sham title belt. This fight personifies everything that is wrong with sanctioning organizations, as the WBA sanctioned the fight for its "regular" title (Calzaghe remains the unified "super" champion) before "regular" titlist Anthony Mundine had made his contracted defense against Sam Soliman a few weeks ago. However, a backroom deal was cut under which Mundine would vacate the title after the Soliman fight. Nobody ever thought about what would happen had Soliman won. The WBA got lucky, because he didn't. Nonetheless, Kessler, 28 and still one of the best 168-pounders in the world, returned to the win column in front of a hometown crowd, dominating the 28-year-old Kazakhstan-born, Germany-based Sartison. Kessler, with huge leads on all three scorecards, dropped him in the 11th round and stopped him in the 12th. Sartison, who took a beating in the final few rounds, was hospitalized as a precaution. Now Kessler must face Danilo Haussler in a mandatory defense. And just to show you how disgusting the WBA can be: Haussler was a higher-rated fighter than Sartison and therefore should have been facing Kessler for the vacant belt. The WBA broke its rules when it bypassed Haussler, who was available and wanted the fight.
Saturday at Tijuana, Mexico
Middleweight
Luis Ramon "Yory Boy" Campas TKO1 Alejandro "Terra" Garcia
Records: Campas, 92-12, 74 KOs; Garcia, 26-4, 24 KOs

Rafael's remark: In an all-Mexican fight between faded former junior middleweight titleholders, Campas, 36, blew away Garcia, 28. Campas dropped Garcia three times in less than two minutes to score the victory and end a two-fight losing streak. Garcia, who was fighting in his hometown, has lost three of his past four.
Friday at Georgetown, Cayman Islands
Super middleweight
Andre Ward TKO8 Jerson Ravelo
Records: Ward, 16-0, 11 KOs; Ravelo, 18-3, 12 KOs

Rafael's remark: Ward, 24, was the lone U.S. boxing gold-medal winner in the 2004 Olympics and has quite a legacy to live up to. He has taken the slow and steady path during his pro career, but it seems to be paying off. Ward continues to get better and better, and this dominant performance against Ravelo, 30, a 2000 Dominican Olympian, in the "ShoBox" main event looked like a sign of more good things to come. Ward was in control in the eighth when he connected with a lightning-quick right hand that knocked down Ravelo. He barely beat the count, and Ward was all over him in a follow-up onslaught. Ravelo's corner threw in the towel just as referee Steve Smoger was moving in to stop it. Ward looks ready to face a top-10 opponent. Promoter Dan Goossen previously tried to match him with Allan Green, but another fight Green had agreed to got in the way. How about making it now? Ravelo, meanwhile, has lost two of three, including an eighth-round knockout by Green, and has never lived up to the potential he had coming out of the Sydney Olympics.
Junior middleweight
Ronald Hearns TKO7 Jose Luis Gonzalez
Records: Hearns, 19-0, 15 KOs; Gonzalez, 12-4-1, 10 KOs

Rafael's remark: With his famous father, Thomas Hearns, manning his corner, Ronald Hearns faced the stiffest test of his career and passed with flying colors. In a hard-hitting and entertaining fight, Hearns' toughness and strength won out. He displayed a smooth jab and hit Gonzalez, 26, with a lot of leather, although he couldn't knock him down. But Gonzalez, who had a swollen left eye after the second round, did take a lot of punishment before his corner eventually threw in the towel. Even though Hearns was in control, Gonzalez did manage to get in some clean shots. Gonzalez fell to 1-3-1 in his past five fights, but his March draw against Jason LeHoullier was a robbery. Hearns got a late start to his boxing career, so even though he is already 29, he's still learning. He still could develop into a legitimate contender.
Heavyweight
Eddie Chambers TKO6 Raphael Butler
Records: Chambers, 31-1, 17 KOs; Butler, 31-5, 24 KOs

Rafael's remark: In January, Chambers was outclassed by Russian Alexander Povetkin, the 2004 Olympic super heavyweight gold medalist, in an elimination bout with a shot at Wladimir Klitschko at stake. Making his return, Chambers, 26, who's not known for his power in any way, shape or form, got back in the win column with a sensational knockout of Butler, a 24-year-old with excellent power but no chin. Chambers ended it in surprising fashion, raining a seven-punch combination on Butler that knocked him down and halfway through the ropes. Although he made it to his feet, he was in no shape to continue, and referee Bill Clancy called off the fight. That's what you call returning in style.
Featherweight
Juan Ruiz TKO6 Wayne McCullough
Records: Ruiz, 22-5, 7 KOs; McCullough, 27-7, 18 KOs

Rafael's remark: Ruiz, 29, ended a three-fight losing streak and also ended the career of 37-year-old McCullough, the former 1992 Irish Olympic silver medalist and bantamweight titleholder. McCullough, who has one of boxing's all-time best iron chins, was making a comeback after a three-year layoff. Alas, he lost his third in a row, second straight by stoppage. Afterward, the classy McCullough announced his retirement. Hopefully, he means it. McCullough is one of the good guys in boxing, and nobody wants to see him take any more blows after a career in which he has been involved in some tremendous slugfests and eaten thousands and thousands of punches for our entertainment. Although McCullough was ahead on two of the three official scorecards when the fight ended, he had taken enough. It's good he realized it. If it's truly the end, now would be a good time to break out the videos of some of McCullough's most memorable fights, such as his epic battle with Hall of Famer Daniel Zaragoza.
Friday at Las Vegas
Heavyweight
Friday Ahunanya W10 Alonzo Butler
Scores: 96-93, 95-94 (twice)
Records: Ahunanya, 24-5-3, 13 KOs; Butler, 26-1-1, 19 KOs

Rafael's remark: Friday sure delivered in the "Friday Night Fights" main event. Ahunanya, 36, pulled off a second consecutive upset as he handed Butler his first defeat. It was the second fight in a row in which Ahunanya hung the first loss on an opponent; he was coming off a 12th-round TKO of previously undefeated prospect Shane Cameron of New Zealand in November. Butler, 28, was coming off a 13-month layoff because of a detached retina and was a career-heavy 265 pounds. He probably should have taken on a somewhat easier opponent to get his feet wet again before jumping in right away with such an experienced, upset-minded veteran like Ahunanya. If Ahunanya were a good finisher, the fight would have been over in the fourth round, when he knocked Butler down, had him badly hurt with his left eye swelling. He had Butler nearly out again in the seventh, but again couldn't finish him off, although he did earn the clear decision.
Heavyweight
Kevin Burnett W8 Horace Ray Grant
Records: Burnett, 13-1-1, 8 KOs; Grant, 12-2, 7 KOs

Rafael's remark: You could watch boxing for many, many years and never see an ending quite like this one. It was the kind of climax that made sitting through an otherwise pedestrian fight worthwhile. Burnett, the Craig Hamilton-managed prospect, was winning easily and had scored an early knockdown. However, literally as the bell sounded to end the fight, Grant crushed Burnett with a right hand that dropped him like a sack of rocks face-first. Because you cannot be saved by the bell, referee Joe Cortez counted while a dazed and wobbly Burnett barely made it to his feet. Although he did stand up, he was in bad shape, but the fight was over and he won the decision. Let's call it the almost-knockout of the year.
Friday at Chicago
Light heavyweight
Montell Griffin W10 Corey Cummings
Scores: 100-89 (three times)
Records: Griffin, 49-7, 30 KOs; Cummings, 16-3, 12 KOs

Rafael's remark: Can you believe Griffin is still around? In just his third fight in three years, Griffin, fighting at home in Chicago, rebounded from an 11th-round knockout loss to former champ Glen Johnson 13 months ago to shut out Cummings, 28. Griffin, 38, a former champion best known for hanging the first loss on Roy Jones Jr. via controversial disqualification in 1997, dropped Cummings in the third round. Griffin is now 3-3 in his past six fights dating to 2004.
Lightweight
"Kid Diamond" Almazbek Raiymkulov TKO4 Leo Martinez
Records: Raiymkulov, 26-1-1, 15 KOs; Martinez, 13-12, 6 KOs

Rafael's remark: Raiymkulov, 31, got the victory when Martinez hurt his shoulder and quit on his stool one second into the fourth round for his third loss in a row. Raiymkulov was coming back from a one-year layoff following a controversial split-decision victory against Miguel Angel Huerta. Top Rank gave him the tune-up fight with Martinez in anticipation of a possible match against hot prospect Anthony Peterson later this summer, a fight that could happen on the Aug. 2 HBO card headlined by the Joshua Clottey-Zab Judah welterweight title bout.
Friday at Miami
Junior flyweight
Carlos Tamara W12 Juan Esquer
Scores: 116-112 (three times)
Records: Tamara, 18-4, 13 KOs; Esquer, 23-4-1, 18 KOs

Rafael's remark: A solid main event on Telemundo matched the fringe contenders and former world title challengers. In April 2007, Mexico's Esquer, 21, gave junior flyweight champ Ivan "Iron Boy" Calderon one of his toughest fights. In January, Colombia's Tamara was less competitive in losing a lopsided decision to flyweight titleholder Omar Narvaez. The 25-year-old Tamara was the more skillful boxer compared to the more brutish Esquer. Both men waged a competitive fight until Tamara took over down the stretch against the tiring Esquer. Tamara appeared to sweep the final four rounds to pull out the decision. Don't be surprised to see either of these guys back in a title bout at some point.
Wednesday at Phuket, Thailand
Strawweight
Oledong Sithsamerchai KO9 Juinichi Ebizuoka
Retains a strawweight title
Records: Sithsamerchai, 27-0, 11 KOs; Ebizuoka, 17-11-3, 7 KOs

Rafael's remark: In his first defense of the title he won in November by decision against Eagle Kyowa, Sithsamerchai, 22, of Thailand, was pitching a shutout on all three scorecards before dispatching his Japanese challenger with an onslaught of body shots. Ebizuoka, 27, doesn't have a great record, but he scored his most notable win last August when he outpointed former strawweight titleholder Jose Antonio Aguirre, the first of three consecutive wins that helped him land the title match.
Dan Rafael is the boxing writer for ESPN.com.
Boxing
2013 BWAA Nat Fleischer Award winner for excellence in boxing journalism
ESPN.com boxing writer since 2005
Five years at USA Today
EDITORS' PICKS
WBC made Kovalev the mandatory for Stevenson.
Dan Rafael »

Lawson defeats Prescott by split decision.
Watch replay

Charlo hoping for title shot with win over Martirosyan.
Dan Rafael »
MOST SENT STORIES ON ESPN.COM