Commentary
Pacquiao's HOF résumé now includes a lightweight title
A sublime performance against lightweight champion David Diaz should all but guarantee Manny Pacquiao a place in the Hall of Fame.
Originally Published:
June 30, 2008
By
Dan Rafael
| ESPN.com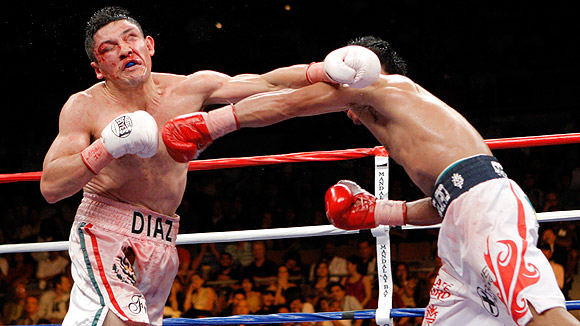 AP Photo/Jae C. HongDavid Diaz, left, had no answer for Manny Pacquiao's blend of speed and power.

A roundup of last week's notable boxing results from around the world:

Saturday at Las Vegas
Lightweight
Manny Pacquiao TKO9 David Diaz
Wins a lightweight title
Records: Pacquiao, 47-3-2, 35 KOs; David Diaz, 34-2-1, 17 KOs

Rafael's remark: The Pacman gobbled up yet another opponent in a sensational performance, perhaps the best of his career. Moving up in weight again, Pacquiao, 29, the national hero of the Philippines, looked awesome in destroying the 32-year-old Diaz, the 1996 U.S. Olympian from Chicago who was making his second title defense. In his first defense last summer, Diaz retired the great Erik Morales, Pacquiao's old rival. Against Pacquiao, Diaz was simply outgunned and had absolutely no chance to deal with his speed and power. Pacquiao won every second of every round, but the match was entertaining to watch because Diaz never stopped trying to win. He just couldn't succeed. Pacquiao ripped open a cut over Diaz's right eye in the fourth round and cracked him with punches from all angles with both hands until he finally knocked him to the canvas face-first in the ninth, at which point there was no need for the fight to continue. Referee Vic Drakulich stopped it without a count, thankfully. Even before the fight, Pacquiao was a lock first-ballot Hall of Famer. He owns two wins in three fights with Morales, has twice manhandled Marco Antonio Barrera and is 1-0-1 against Juan Manuel Marquez (no matter how disputed both outcomes are). With the win against Diaz, Pacquiao further enhanced his historic résumé by claiming his fifth title in five divisions. He'd already won belts at flyweight, junior featherweight and junior lightweight. And when he knocked out Barrera in their first meeting in 2003, he earned the lineal featherweight title. Forget the mentions in some media of Pacquiao's being a four-division champion. It's five. That win against Barrera surely counts for a title as much or more than his 122-pound title victory against Lehlo Ledwaba. In any case, the victory over Diaz was as convincing as it gets and was the kind of statement Pacquiao needed to make to rightfully take his place atop the pound-for-pound list in the wake of Floyd Mayweather's retirement a few weeks ago. Although there is talk of a first-quarter 2009 megafight with junior welterweight champion Ricky Hatton, Pacquiao will be back in the fall. Promoter Bob Arum is targeting Nov. 8 (which could move to Nov. 15) for Pacquiao to defend his new belt (he'll vacate the junior lightweight title he won from Marquez in March shortly) against knockout artist Edwin Valero, a junior lightweight titleholder. If that happens, bet the under.
Featherweight
Steven Luevano D12 Mario Santiago
Retains a featherweight title
Scores: 117-111 Luevano, 115-113 Santiago, 114-114
Records: Luevano, 35-1-1, 15 KOs; Santiago, 19-2, 14 KOs

Rafael's remark: It was the fight of the night on the Pacquiao-Diaz HBO PPV card as Luevano, 27, and Puerto Rico's Santiago, 29, battled in entertaining fashion all the way. Santiago had the better part of the action early but seemed tired down the stretch. Luevano, in great condition for his third defense, seemed to strengthen as the fight went on. He withstood some serious punches from Santiago but appeared to will himself through some rocky moments, the sign of a real champion. Luevano and Santiago exchanged knockdowns in the second round and provided a lot of fireworks for an appreciative crowd. Top Rank promoter Bob Arum said he'll consider a rematch later in the year. It was a good fight, and Santiago deserves one. So, let's see it.
Heavyweight
Monte Barrett KO1 Tye Fields
Records: Barrett, 34-6, 20 KOs; Fields, 40-2, 35 KOs

Rafael's remark: All hail Barrett! Although Barrett, at 37, is a long-faded contender, he's still a skilled pro who totally exposed Fields as the fraud so many believed he was. Barrett has seen the 6-foot-8, 265-pound Fields so many times on Versus-televised cards blowing out one stooge after another and has had to hear promoter Bob Arum talk about how he was the savior of the heavyweight division. This time, Arum finally matched him with a legitimate fighter in what was supposed to be a test. Instead, Fields crashed and burned miserably, unable to withstand Barrett's assault. After the much-smaller Barrett (6-3, 220 pounds) landed a few solid punches, Fields went down and was unable to beat the count. He lasted just 57 seconds. Time for Fields to find a new line of work. Barrett probably can parlay the win into another decent payday.
Junior lightweight
Francisco Lorenzo W-DQ4 Humberto Soto
Interim junior lightweight title remains vacant

Records: Lorenzo, 33-4, 14 KOs; Soto, 43-7-2, 27 KOs

Rafael's remark: Referee Joe Cortez is one of the best officials in the world, but he had a horrific night with this fight. He cost Soto a victory and an interim title made available because of champion Manny Pacquiao's move up to lightweight to try for that title. Mexico's Soto, the hard-luck loser, was disqualified for hitting Lorenzo while he was down, but please. Replays did not show a clean blow landing. Maybe he grazed his head, but he sure didn't damage him enough to warrant a stoppage. This one is on Cortez. Soto, 27, was viciously beating Lorenzo, 36, and had already knocked him down earlier in the round. Soto moved in for the kill when Cortez got between them as if to stop the fight. But he was indecisive -- the worst thing a referee can be -- and let it continue, at which point Lorenzo went down either on a delayed reaction from a previous blow or took a knee. Nonetheless, Soto might have grazed him a split second after he went down. After several minutes of confusion, as the Dominican Republic's Lorenzo lay on the mat bleeding from various places on his face and nose from legal punches, the fight was stopped and Soto was victimized by an undeserved disqualification. You won't find the WBC being praised too often here, but it did the right thing by refusing to award the interim belt to Lorenzo, who did a nice acting job by making the grazing shot look like it was severe. It wasn't. This result is a joke. There might be a rematch, but there's no reason. Next time Soto will crush him even worse.
Saturday at Boston
Middleweight
John Duddy W10 Charles Howe
Scores: 100-90 (three times)
Records: Duddy, 25-0, 17 KOs; Howe, 17-5-2, 9 KOs

Rafael's remark: Last time Ireland's Duddy was in the ring, he left looking as if he'd been on the wrong end of a knife fight with Walid Smichet on the Wladimir Klitschko-Sultan Ibragimov heavyweight unification undercard in February. Although he won a disputed decision, Duddy had several severe cuts on his face, which cost him a summer shot at middleweight champion Kelly Pavlik. Making his return, Duddy, 29, rolled past 33-year-old journeyman Howe. It was Duddy's first fight with trainer Pat Burns after firing Don Turner. Although Duddy cruised to the win, he couldn't avoid another cut, this time suffering a cut over his right eye after an accidental head butt. The cut, however, shouldn't keep him from a possible September or October shot against junior middleweight titleholder Verno Phillips. Duddy would move down in weight for the shot. Phillips' promoter, Artie Pelullo, told ESPN.com that he has been talking to Duddy's people about the match and that he believes they can close a deal.
Friday at Cabazon, Calif.
Bantamweight
Abner Mares W10 Jonathan Arias
Scores: 99-89 (twice), 98-91
Records: Mares, 17-0, 10 KOs; Arias, 15-2, 8 KOs

Rafael's remark: Mares, 22, was a 2004 Mexican Olympian and remains the shining star of Golden Boy's young fighters. He looks to be the company's best hope to become its first homegrown world champion. Headlining on Telefutura against Arias, who took the fight on two days' notice after former titlist Kermin Guardia failed a prefight medical exam, Mares dominated all the way. It was a strong follow-up to his three-round destruction of former title challenger Diosdado Gabi in March. Mares looms as the mandatory challenger for bantamweight titleholder Gerry Penalosa, who is also with Golden Boy. That very interesting fight likely will take place on one of Golden Boy's several fall cards, perhaps on the Sept. 13 Joel Casamayor-Juan Manuel Marquez undercard or the Oct. 11 Shane Mosley-Ricardo Mayorga undercard.
Friday at Fort Lauderdale, Fla.
Lightweight
Breidis Prescott W10 Richard Abril
Scores: 97-92, 95-94 Prescott, 95-94 Abril
Records: Prescott, 19-0, 17 KOs; Abril, 10-1-1, 5 KOs

Rafael's remark: Colombia's Prescott, 25, made his American debut in the ESPN2 "Friday Night Fights" main event and came away with a split-decision victory over Cuba's Abril, 25, who replaced Mexico's Juan Rodriguez on a few days' notice. It looked like it might be a nice matchup of styles because Prescott has a reputation as a big puncher, and Abril, trained by Roger Mayweather, is more of a boxer. Instead, it turned out to be a forgettable fight with little action, unless you count the constant clinches or Prescott's repeated low blows and point deduction for the foul in the eighth round. Neither guy impressed.
Super middleweight
Julio "Baby Face" Garcia KO1 Jose Medina
Records: Garcia, 41-3, 35 KOs; Medina, 14-12, 10 KOs

Rafael's remark: Garcia had taken a year off because of management issues following a shocking upset loss to Troy Browning. Now with Shelly Finkel, he returned in emphatic fashion. The 21-year-old from Mexico -- who already has 44 fights -- didn't need much time to take care of business. He ended the fight on his first punch, a smashing left hook that pulverized Medina. The fight was over in 13 seconds and was replayed all night on "SportsCenter." Medina, 32, lost for the sixth time in seven fights.
Welterweight
Ricardo Williams Jr. TKO1 Sebastien Hamel
Records: Williams Jr., 11-2, 7 KOs; Hamel, 9-14-1, 1 KO

Rafael's remark: Look who's back. It's Williams, the 2000 U.S. Olympic silver medalist who never lived up to his hype or came close to justifying the $1.4 million signing bonus he got after the Olympics. Then he went to prison for 31 months after being convicted of cocaine distribution charges. Now out of the joint, Cincinnati's Williams, 27, is trying to come back. In his first bout since April 2005, Williams needed only 91 seconds to knock out Hamel. In his postfight quotes, Williams sounded apologetic and thankful for a second chance. Let's hope he makes the most of it.
Thursday at Las Vegas
Lightweight
Anthony Peterson W12 Fernando Trejo
Scores: 120-108 (twice), 119-109
Records: Prescott, 19-0, 17 KOs; Abril, 10-1-1, 5 KOs

Rafael's remark: In his first fight since signing with Top Rank along with brother Lamont, Peterson nabbed a main event on Versus, and though he easily dominated Mexico's Trejo, it was not an impressive performance. Peterson seemed to lack the fire to stop his man, and every time he punched, he grunted like Monica Seles. It was just awful to watch, rather, to listen to. Peterson has a lot of potential but is far from a finished product. At least he had the good sense during his postfight discussion with the media to admit he was disappointed in his performance. He too agreed that he should have taken out Trejo, 33. Despite the lackluster performance, Peterson, 23, is the favorite to land a slot on the HBO undercard of Top Rank's Aug. 2 show headlined by the Joshua Clottey-Zab Judah welterweight title bout. Peterson's likely opponent is Jose Reyes. We'll be expecting a more dynamic performance than this sleep inducer.
Junior middleweight
Vanes Martirosyan W10 Angel Hernandez
Scores: 100-89 (three times)
Records: Martirosyan, 20-0, 13 KOs; Hernandez, 28-7, 16 KOs

Rafael's remark: Martirosyan, a 2004 U.S. Olympian, turned in a workmanlike effort as he thoroughly dominated the game Hernandez in what looked more like a sparring session than a serious fight. Martirosyan, 22, landed what seemed like a zillion punches on the hard-chinned Hernandez, so it's no wonder he complained of a hurt left hand afterward. Martirosyan did manage to score a knockdown early in the first round with an uppercut but survived only to eat leather all night. The best Hernandez, 32, could do was to dance, pose and jiggle his hips after being caught flush. He simply had no answers and no offense. He fell to 4-5 in his past nine fights, including a 2003 loss to Winky Wright in a junior middleweight title fight. If main event winner Anthony Peterson doesn't land the slot on the Aug. 2 HBO undercard, Martirosyan could open the telecast against Andrey Tsurkan.
Wednesday at Los Angeles, Calif.
Junior welterweight
Julio Diaz TKO5 David Torres
Records: Diaz, 35-4, 26 KOs; Torres, 20-1, 13 KOs

Rafael's remark: Last October, Diaz took a punishing beating from Juan Diaz in their lightweight unification bout before retiring on his stool for a ninth-round TKO loss. It was a demoralizing, lopsided loss that made you wonder if Julio could ever get his sexy back. Returning to the ring, Diaz, 28, looked sharp, albeit against an untested opponent in Torres, 30. Fighting in the main event of "Wednesday Night Fights" at the famed Playboy Mansion with Hugh Heffner and some of his lady friends looking on, Diaz took Torres apart in brutal fashion. Diaz was credited with a third-round knockdown when the only thing that kept Torres on his feet was the ropes. Torres went down again in the fifth, but his face was a mess. As Torres was examined by the ringside doctor, referee Tony Krebs thankfully called off the fight.
Tuesday at Melbourne, Australia
Junior middleweight
Jeff Fenech W10 Azumah Nelson
Scores: 96-94 (twice) Fenech, 95-95
Records: Fenech, 29-3-1, 21 KOs; Nelson, 39-6-2, 28 KOs

Rafael's remark: Why did this fight happen? No idea, but it did, and boxing somehow survived. Australia's Fenech is 44 and had been retired since 1996 after winning world titles at bantamweight, junior featherweight and featherweight champion. Ghana's Nelson, 49, is a former featherweight and junior lightweight champion who has been retired since 1998. Both are already in the Hall of Fame but came out of retirement for a one-shot deal fight in a renewal of their early 1990s rivalry. In 1991, Fenech challenged Nelson for the junior lightweight title and was robbed when it was ruled a draw. In the rematch nine months later, Nelson went to Australia and knocked Fenech out in the eighth round in an upset. Now they're all even after Fenech edged Nelson in their third fight, which despite the absurdity of their fighting so long after retirement and at their ages, was embraced by the Australian public. Can you believe more than 10,000 people turned out for the fight? What's next? Pryor-Arguello III?
Dan Rafael is the boxing writer for ESPN.com.
Boxing
2013 BWAA Nat Fleischer Award winner for excellence in boxing journalism
ESPN.com boxing writer since 2005
Five years at USA Today
EDITORS' PICKS
After his win, Brook wants to face Khan, Marquez.
Scorecard »

Russell proved to be the better man against Gonzalez.
Brian Campbell »

Six months after suffering a severe stab wound, Kell Brook defended his welterweight title with a demolition of Jo Jo Dan in a dominant performance Saturday in England.
ESPN UK »
MOST SENT STORIES ON ESPN.COM