Commentary
Gamboa on the fast track toward a world title
Seven months into 2008, Yuriorkis Gamboa seems a lock to win the prospect of the year award. The Cuban's one-round blowout of Al Seeger on Friday certainly bolstered his credentials, writes Dan Rafael.
Originally Published:
July 21, 2008
By
Dan Rafael
| ESPN.com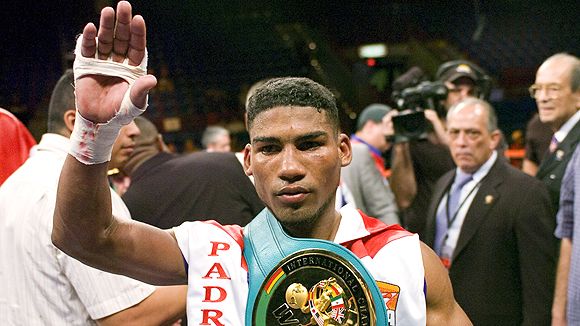 Chris Cozzone/Fightwireimages.comSee ya later, Seeger: Yuriorkis Gamboa wasted little time dispatching Al Seeger on Friday.

A roundup of the past week's notable boxing results from around the world:

Saturday at Chekhov, Russia
Heavyweight
Alexander Povetkin KO4 Taurus Sykes
Records: Povetkin, 16-0, 12 KOs; Sykes, 25-5, 7 KOs

Rafael's remark: For Povetkin, the next stop is a shot at Wladimir Klitschko's unified heavyweight title now that he blitzed through Sykes, as expected, in a tune-up fight in his hometown. Povetkin, 28, the 2004 Olympic super heavyweight gold medalist and mandatory challenger, will challenge Klitschko in his next fight, which should come before the end of the year. Povetkin became the mandatory challenger by winning the IBF's four-man box-off. He defeated former titleholder Chris Byrd and previously undefeated American contender Eddie Chambers to land the shot. But since Klitschko was taking care of Tony Thompson -- his other mandatory obligation -- earlier this month, Povetkin and his handlers didn't want him sitting around waiting. That's where Sykes, 33, came in. They figured he'd go a few rounds and not pose much of a threat. Bingo; they got it right. Povetkin was in charge all the way before knocking Sykes down for the count with a right to the head early in the fourth round. As good as Povetkin is, he's probably not yet ready to face Klitschko yet, but he and his team insist on it. They better be careful what they wish for.
Saturday at Limerick, Ireland
Middleweight
Andy Lee TKO10 Willie Gibbs
Records: Lee, 16-1, 13 KOs; Gibbs, 20-4, 16 KOs

Rafael's remark: Lee, the 23-year-old 2004 Irish Olympian who is trained and managed by Emanuel Steward, was being hailed by many as a future middleweight star when he ran into Brian Vera of "The Contender" fame in March. In a shocking upset, Vera stopped Lee in the seventh round and derailed his fast rise to the top. Starting over and fighting in his hometown, Lee took on Gibbs, 32, of Philadelphia, in his comeback fight. It figured to be a fast knockout for Lee since Gibbs has not displayed a good chin in two previous knockout losses, a one-round destruction by Edison Miranda in December 2006 and a fourth-round knockout to Daniel Edouard in 2004. Although Lee dominated the fight, Gibbs hung in there until the 10th, when Lee, bleeding from a cut over his right eye since early in the fight and rattled in the early going, steadied himself and knocked Gibbs down with a sweet straight left hand. Gibbs did make it to his feet and continued, but Lee was all over him, and Gibbs' corner threw in the towel -- which actually hit Lee -- with 14 seconds to go in the fight. Although it went longer than it figured to, it was a good rebound fight for Lee. A rematch with Vera should also be something he and Steward pursue, even though the Vera camp said it wasn't interested (that means it just wants more money). Gibbs, a journeyman at this point, dropped his third in a row.
Friday at Primm, Nev.
Featherweight
Yuriorkis Gamboa KO1 Al Seeger
Records: Gamboa, 11-0, 9 KOs; Seeger, 27-4, 21 KOs

Rafael's remark: You want spectacular? Catch the replay, get a DVD, click the link on ESPN.com. Whatever. Just make sure you catch the knockout of the year candidate as Gamboa -- the leading prospect of the year candidate -- simply dusted Seeger in 2:30 with a fast, short, destructive right hand to the chin in the "Friday Night Fights" main event. Gamboa is without question the most explosive and most exciting young fighter on the scene today. Is it even close? The 2004 Cuban gold medalist, who defected and now lives in Miami, is being moved very quickly by promoter Ahmet Oner of Germany's Arena-Box Promotion. They have designs on a world title by the end of the year, and it's not out of the question. Gamboa, 26, moved down to featherweight from junior lightweight for this bout and intends to fight at 126 pounds for the time being. His power was excellent at junior lightweight. At featherweight, it could be scary. Seeger, 28, felt the full force of it. Gamboa opened the fight landing hooks to the head and body before catching Seeger with a lightning-fast right hand he never saw. He was out, it seemed, before he hit the ground. In his last fight, Gamboa made his HBO debut and easily outpointed Darling Jimenez on May 17, but he had some problems and got knocked down in a somewhat sloppy performance. In the aftermath, Oner fired his trainer, Osmiri Fernandez, and eventually brought in Ismael Salas, who trained Gamboa for this fight. It looks like the relationship is off to a nice start. Next up, Gamboa is expected to return to HBO's "Boxing After Dark" in the fall, probably Oct. 4. Circle the date because we can't wait to see him again. Gamboa was originally supposed to fight the solid Jose "Cheo" Rojas, but he had issues with his visa. So in came Seeger at the last minute. Seeger had looked like a bit of a prospect at one time, but he's now lost three in a row: to Gamboa, a decision to Mike Oliver in November and an eighth-round destruction at the hands of Daniel Ponce De Leon in a junior featherweight world title bout.
Friday at Houston
Junior middleweight
Hector Camacho Sr. TKO7 Perry Ballard
Records: Camacho Sr., 79-5-2, 38 KOs; Ballard, 20-2, 15 KOs

Rafael's remark: In his first fight in three years, the flamboyant Camacho -- who spent part of his time off from boxing in prison -- defeated Ballard when Ballard's corner threw in the towel as he bled from cuts around his left eye and was dealing with a dislocated jaw, according to the Houston Chronicle. Camacho, 46, probably thinks the win should qualify him for some kind of meaningful fight. But that's not going to happen. Beating Ballard, 41, should not count for anything. His glossy record is a joke. When you examine his opponents and do a little math, you'll realize that they had a combined record of 154-366-14 when they fought. In other words, Ballard built his record on a collection of stiffs. Camacho actually claimed some nonsense title sanctioned by something called the World Boxing Empire. Don't ask. We have no idea. Despite the constant ripping of sanctioning bodies you'll often read in this space, it's hard to get worked up over that one because it is just too darn funny. World Boxing Empire? Was that in "Star Wars"?
Friday at Dagenham, England
Heavyweight
Danny Williams W12 John McDermott
Retains British heavyweight title
Scores: 114-113, 114-111, 113-113
Records: Williams, 40-6, 31 KOs; McDermott, 25-4, 16 KOs

Rafael's remark: Despite losing two points in the 11th round and one in the 12th for fouls, Williams, 35, escaped with his British title intact in a fight in which he was also nearly stopped. Williams, who once defeated Mike Tyson, almost was knocked out in the fifth round when McDermott caught him with an uppercut and had him in trouble. In the 11th, veteran referee Dave Parris controversially docked Williams a point for a low blow and another for pushing. The 12th-round deduction was for spitting out his mouthpiece. Williams, who didn't have his best night against McDermott, would like a rubber match now with fellow Brit Audley Harrison. McDermott, 28, saw his six-fight winning streak end.
Wednesday at Temecula, Calif.
Heavyweight
James Toney TKO3 Hasim Rahman
Records: Toney, 71-6-3, 44 KOs; Rahman, 45-7-2, 36 KOs

Rafael's remark: Rahman, a former two-time heavyweight titleholder, has to feel like he can't get one over on Toney. The first time they met, Rahman retained his belt but was the victim of a terrible draw decision in March 2006. Meeting in a rematch with both of their careers fading fast, Toney was awarded a ludicrous third-round TKO when the fight clearly should have been ruled a no-contest after Rahman was badly cut by an accidental head butt in the third round and then said he had vision problems in his corner following the round. The doctor instructed the referee to stop the bout and the referee said it would be a no-contest, the obvious call when a fight is stopped for that reason before four rounds are completed. However, somewhere between that statement to ringside broadcasters and Jimmy Lennon Jr.'s announcement of the result, it became an undeserved TKO for Toney. The fight was televised on Fox Sports Net's "Best Damn Sports Show Period," so let's call this the "Worst Damn TKO Decision Period." The Rahman camp was understandably upset and plans to appeal to the California commission. If it has a clue about what it's doing, the result should be overturned to a no-contest. Rahman, 35, appeared to have won the first round and then lost the next two, and there's no denying that he didn't look too excited about continuing the fight after the third round. But just because he might have wanted out of the fight doesn't mean it shouldn't have been a TKO loss when he was legitimately head butted (by accident) and badly cut. Toney, 39, danced around and barked as though he had just won the heavyweight title when the result was announced, which was pathetic to see. He was fighting for the first time since a split-decision win against Danny Batchelder in May 2007, a fight after which both fighters tested positive for steroids and were suspended. It was the second steroid suspension for Toney, who came in at 226 pounds, his lightest since he was 217 when he defeated Evander Holyfield in 2003. The only fair thing to do is to have Toney and Rahman meet for a third time.
Wednesday at San Antonio
Welterweight
Delvin Rodriguez TKO10 Oscar Diaz
Records: Rodriguez, 23-2-1, 14 KOs; Diaz, 26-3, 12 KOs

Rafael's remark: The good news is that it seems as though Diaz is going to survive after collapsing in his corner following the 10th round because of a brain bleed, being rushed to the hospital and undergoing emergency brain surgery. As of Sunday, he was still in a coma, but the worst appears to be behind him and his doctor expected that he will pull through. You just hope the 25-year-old from San Antonio can lead as normal a life as possible. You also hope that Rodriguez, 28, can deal with what happened and not let it have a negative impact on a still-promising career.

As for the fight, the main event on "Wednesday Night Fights," it was a typical Diaz fight in that it was a brawl. For the first half, it was somewhat competitive, but by the end, Rodriguez was dominating Diaz, whose right eye had been swollen shut. But Diaz has always had a big heart and never backed away, perhaps too brave for his own good. It was an important victory for Rodriguez, who won his third fight in a row since his upset eighth-round TKO loss to Jesse Feliciano in March 2007.
Dan Rafael is the boxing writer for ESPN.com.
Boxing
2013 BWAA Nat Fleischer Award winner for excellence in boxing journalism
ESPN.com boxing writer since 2005
Five years at USA Today