Commentary
Valuev gets past Ruiz; Calderon outfoxes Cazares for technical decision
Nikolai promised improvement and guaranteed a positive change before climbing into the ring against Ruiz. His title-winning performance on Saturday, however, left much to be desired.
Originally Published:
September 1, 2008
By
Dan Rafael
| ESPN.com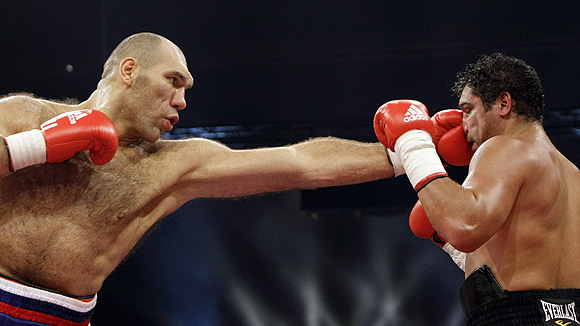 AP Photo/Miguel VillagranHow do you keep John Ruiz, right, from clinching? Easy: stick a jab in his face.

A roundup of the past week's notable boxing results from around the world:

Saturday at Bayamon, Puerto Rico
Junior flyweight
Ivan "Iron Boy" Calderon Tech. Dec. 7 Hugo Cazares
Retains world junior flyweight title
Scores: 68-65 (twice), 67-66
Records: Calderon, 32-0, 6 KOs; Cazares, 26-5-1, 19 KOs

Rafael's remark: Whatever problems Cazares gave Calderon in their first fight last August, Calderon figured out and didn't let happen again. In that initial meeting, Calderon, the longtime strawweight champion, was moving up to junior flyweight for the first time for a crack at Cazares' world title. Although Cazares dropped him in the eighth round and gave him all sorts of problems, boxing's most gifted technical fighter pulled out a split decision to win the legitimate 108-pound title. The rematch, which headlined a small pay-per-view card, was entertaining but not nearly as competitive as the first fight because Calderon is such a boxing master. Fighting again in Calderon's native Puerto Rico and in the same ring where they met the first time, Cazares, a much bigger man who had to lose about 10 pounds in the week leading to the fight to make weight, could not do anything against him. With smooth skills, fast feet and just enough offense, Calderon, 33, toyed with the powerful Cazares for his third defense. He was boxing circles around Cazares, 30, until a brutal accidental head butt in the seventh round opened a large, bloody gash in the center of Calderon's forehead. With blood pumping out of the wound, the fight was appropriately stopped and sent to the scorecards. Calderon had lost maybe one round, two if you wanted to be generous, so the 67-66 scorecard was a joke. But at the end of the day, Calderon showed once again why he is a legitimate top-10 pound-for-pound entrant. He's not going to knock anyone out, but he can beat anyone in the world in his division. With a third fight with Cazares unlikely -- and not necessary -- Calderon would like a unification fight with any of the other beltholders, including Ulises Solis and Edgar Sosa. If he can't get that kind of fight, Calderon said he'd consider moving up to flyweight, where his lack of power and 5-foot stature could be a serious problem. Cazares, who figures to move up to flyweight, and his team complained about the decision afterward, but they really need to go watch the tape. This wasn't even close.
Junior featherweight
Roman Martinez TKO6 Santos Benavides
Records: Martinez, 20-0-1, 12 KOs; Benavides, 14-2-1, 12 KOs

Rafael's remark: Martinez usually is in good fights and this was no exception. It was outstanding for as long as it lasted. Although Martinez went down in the second round, the 25-year-old Puerto Rican was not badly hurt. He popped right back and went after Benavides in a sensational round. Martinez had a huge third round and cut Benavides over his right eye in the sixth. Later in the sixth, he knocked Benavides down with a quick left-right combination. Martinez put his foot on the gas for a tremendous follow-up attack and, with Benavides reeling backward, referee Roberto Ramirez Jr. stepped in to end a terrific slugfest.
Bantamweight
Eric Morel W12 Heriberto Ruiz
Scores: 117-109 (three times)
Records: Morel, 39-2, 20 KOs; Ruiz, 39-7-2, 23 KOs

Rafael's remark: Morel, a former flyweight titleholder and 1996 U.S. Olympian, thoroughly dominated Ruiz in such a one-sided fight that it's hard to understand how the three judges found three rounds to give to Ruiz. Nonetheless, it was all Morel, who dropped Mexico's Ruiz, 30, in the third. Ruiz also later lost a point for a low blow. The win was Morel's fourth in a row since losing a junior bantamweight title fight to Martin Castillo in March 2005. That loss was followed by a three-year layoff, much of which was spent in prison for a sexual assault on a female minor. Despite the long layoff and change of weight class, Morel, 32, remains a talented boxer who could certainly win a bantamweight title if given the opportunity.
Saturday at Berlin
Heavyweight
Nikolai Valuev W12 John Ruiz
Wins a vacant heavyweight title
Scores: 116-112, 116-113, 114-113
Records: Valuev, 49-1, 34 KOs; Ruiz, 43-8-1, 29 KOs

Rafael's remark: Thanks to Ruslan Chagaev's recent ankle injury and him subsequently being absurdly classified as something called "champion in recess" by the inventive WBA, the world was subjected to a second helping of Valuev vs. Ruiz for a belt. When they met the first time in Berlin in December 2005, Valuev claimed a tight majority decision to win a belt in a terrible fight. The rematch, which was slightly better than the first fight, was also quite close, but Valuev did enough to merit the unanimous decision. It was originally announced as a split decision, but there was simply a mistake with the scorecards. Valuev isn't that good, but his overwhelming size (7-feet, 317 pounds) makes up for a lot and he does posses a good jab. He used it to dominate Sergei Liakhovich in a shutout decision in a February eliminator and he used it very well against to keep the 6-foot-2, 239-pound Ruiz from mauling him too much, although Ruiz did land some hard shots and nearly knocked him down with a right hand in a big second round. Valuev also lost a point for pushing down on Ruiz's neck in the 10th round. Naturally, Ruiz thought he won the fight, but has he ever thought he lost any of his fights (well, except maybe the 19-second destruction at the hands of David Tua in 1996)? Although Valuev is obligated to face Chagaev upon his return, does that interest anyone? Does any fight with Valuev truly interest you? Maybe a fight with Wladimir Klitschko would be interesting, but that's using the world "interesting" loosely. As for Ruiz, he's like Jason in the "Friday the 13th" movies. He never really goes away, so don't be surprised to see him work his way back to yet another shot.
Saturday at Monterrey, Mexico
Junior bantamweight
Cristian Mijares TKO3 Chatchai Sasakul
Retains unified junior bantamweight title
Records: Mijares, 36-3-2, 15 KOs; Sasakul, 64-4, 39 KOs

Rafael's remark: In his first fight since unifying two of the 115-pound titles in a March masterpiece against Alexander Munoz, pound-for-pound-ranked Mijares returned for his encore and wiped out Thailand's Sasakul. Mijares dominated the former flyweight titleholder, who hasn't been a serious player since Manny Pacquiao smashed him to win the flyweight title in 1998. Mijares knocked down Sasakul, 38, with a straight left just as the second round was ending, and Sasakul was wobbly going back to his corner. In the third, Mijares was teeing off when he knocked Sasakul down again with a right-left combination. Again, Sasakul was very unsteady when he rose and this time the fight was called off by referee Toby Gibson. Mijares, 26, is in his prime right now and there are big-time unification fights out there for him against Fernando Montiel or Vic Darchinyan. All the promoters need to do is make them happen. And it would be nice if HBO or Showtime would show some interest in one of the world's best fighters, who is also an entertainer with charisma and an excellent personality. On the undercard, Japanese flyweight Koki Kameda (19-0, 12 KOs), a former junior flyweight titleholder with designs on a title shot at 112 pounds, outpointed Salvador Montes (5-5, 2 KOs) in a stay-busy fight.
Saturday at Cebu, Philippines
Strawweight
Donnie Nietes KO2 Eddy Castro
Retains a strawweight title

Records: Nietes, 23-1-3, 14 KOs; Castro, 12-4-1, 9 KOs

Rafael's remark: After Ivan Calderon relinquished his strawweight title to move up to junior flyweight last year, Nietes claimed the vacated 105-pound belt last September by outpointing Thailand's Pornsawan Kratingdaenggym. Almost a year later, the Philippines' Nietes, 26, returned to make his first defense. The result was a dominant knockout performance against Nicaragua's Castro, who lost his second in a row and third of five. Nietes dropped Castro with a right in the first and then flattened him with a right to the chin in the second. Castro fell flat on his back and the fight was stopped without a count.
Junior featherweight
Rey Bautista TKO2 Eden Marquez
Records: Bautista, 26-1, 19 KOs; Marquez, 16-4-3, 12 KOs

Rafael's remark: Bautista stormed to victory against Mexico's Marquez in front of an adoring Filipino crowd as the 22-year-old puncher won his third consecutive fight since a stunning first-round knockout loss challenging then-titleholder Daniel Ponce De Leon a year ago. After spending the first round feeling out Marquez, 23, Bautista went after him in the second. He hurt him with a left hand and knocked him down moments later with a left hook. Marquez, bleeding from his nose, went down again from a right hand and the referee stopped it without any argument from the fighter. Marquez lost for the fourth time in his last seven bouts.
Saturday at Cincinnati
Heavyweight
Lamon Brewster KO5 Dan Batchelder
Records: Brewster, 34-4, 30 KOs; Batchelder, 25-6-1, 12 KOs

Rafael's remark: Brewster, a former heavyweight titleholder, is 35. He hadn't fought in 13 months. He was coming off back-to-back losses, including a one-sided destruction at the hands of Wladimir Klitschko in their rematch last summer. He has nursed eye and shoulder injuries. Yet, Brewster, now in charge of his own promotional company, Relentless Events, decided to come back to the ring. The result was a knockout of journeyman Batchelder, 31, who lost his third in a row and fifth of six. Brewster took his time to get warmed up but finally got rolling before landing a hard right hand over a lazy Batchelder jab to knock him out. Considering the injuries and time off, it wasn't a bad performance from Brewster. But can he still compete with the better heavyweights? He thinks he can, but that remains to be seen. Brewster said he's working on a deal for his company to put on its second fight card Nov. 11 at the Conseco Fieldhouse in his hometown of Indianapolis. He didn't say if he would be on the card.
Saturday at Tampere, Finland
Middleweight
Amin Asikainen KO2 Roberto De Oliveira de Jesus
Records: Asikainen, 25-1, 17 KOs; De Oliveria de Jesus, 13-3, 6 KOs

Rafael's remark: Later this year, Finland's Asikainen is due to challenge Germany's Khoren Gevor for the vacant European middleweight title, which is why he took this tune-up fight against de Jesus, who was a late replacement for Claudio Ariel Abalos. All went well for Asikainen, who starched his Brazilian opponent with a right hand. Bring on Gevor.
Friday at Rama, Ontario
Junior featherweight
Steve Molitor TKO10 Caferino Labarda
Retains a junior featherweight title
Records: Molitor, 28-0, 11 KOs; Labarda, 18-1, 7 KOs

Rafael's remark: The entertaining and skillful Molitor did his part to set up a 122-pound unification fight against Panama's Celestino Caballero by dismantling the game Labarda en route to an impressive stoppage. Making his fifth defense, Molitor, 28, of Ontario, dominated the 27-year-old from Argentina. An accumulation of pinpoint shots finally knocked Labarda down late in the ninth round and he was still unsteady in the 10th. Molitor took advantage, whacking the staggering Labarda around the ring until referee Charlie Fitch stepped in at 2:34. The fight was Molitor's first since aligning himself with new trainer Stephane Larouche, who also trains Canadian star super middleweight titleholder Lucian Bute. Now, Molitor will sit back and await the outcome of Caballero's Sept. 18 defense against Elvis Mejia in Panama City. If Caballero makes it through unscathed, they'll meet to unify belts Nov. 21 at Molitor's home base of Casino Rama, where he has made all five of his defenses. Fortunately for American fight fans, Molitor-Caballero, which is a terrific matchup, will air live on Showtime's "ShoBox." As good as Molitor looked, Labarda had no business in a title bout. Despite his glossy record, further examination will show that the record was meaningless. Labarda had faced horrific opposition and was a joke to be in the IBF's absurd rankings. For example, three of Labarda's previous four wins came against the same opponent, Marcelo Antonio Gomez, who was 11-23-4 entering their third fight in May. Including Molitor, Labarda has only faced four opponents with winning records.
Friday at Uncasville, Conn.
Cruiserweight
Matt Godfrey TKO4 Emmanuel Nwodo
Records: Godfrey, 17-1, 10 KOs; Nwodo, 22-5, 18 KOs

Rafael's remark: Godfrey, 27, suffered a major disappointment in March, when he suffered his first defeat to Rudolf Kraj in Germany in a title eliminator. Getting back to work in the "Friday Night Fights" main event, Godfrey rallied from a third-round knockdown to score a nice victory. Nwodo -- whom "FNF" viewers will recall being on the wrong end of the titanic 2007 knockout of the year courtesy of Darnell "Ding-A-Ling Man" Wilson -- and Godfrey each landed hard right hands in the third, but it was Godfrey who wound up on the seat of his pants. Godfrey had also gone down in the first, but referee Dan Schiavone mistakenly ruled it a slip. Godfrey collected himself after each trip to the mat and, in the fourth, clobbered Nwodo with right hands to knock him down and open a nasty cut that sent blood gushing from what was an apparent broken nose. Godfrey staggered the bloody Nwodo, 34, again and Schiavone called off the fight for a stoppage some bloodthirsty folks might argue was a tad premature.
Featherweight
Matt Remillard TKO4 Adauto Gonzalez
Records: Remillard, 15-0, 8 KOs; Gonzalez, 10-6, 3 KOs

Rafael's remark: Remillard, 22, is a prospect worth keeping an eye on and did nothing to change that opinion with a strong performance against Gonzalez. Remillard is now seemingly recovered from the two operations he had on his left wrist, which forced him to miss all of 2007. Both of the knockdowns he scored came with his left hand. While Gonzalez was throwing a flurry, Remillard tagged him with a counter left hook that forced him to take a knee in the fourth. Moments later, Remillard dug a left to Gonzalez' body that knocked him down and forced referee Arthur Mercante Jr. to stop it without a count. For Gonzalez, 29, it was a long trip to make to get knocked out. He took the fight on four days' notice and drove 29 hours from Austin, Texas, only to lose his fifth fight of his last six.
Heavyweight
Jason Estrada W8 Domonic Jenkins
Scores: 79-73 (three times)
Records: Estrada, 14-1, 3 KOs; Jenkins, 13-9-1, 6 KOs

Rafael's remark: Despite injuring his right hand in the second round, Estrada, 27, a 2004 U.S. Olympian, cruised to the near-shutout victory. It was Estrada's seventh consecutive win since losing an eight-round decision to Travis Walker in November 2006. Estrada's hand injury did not have a serious impact on his performance because, as he said afterward, "As long as it isn't my left, I can fight."
Friday at Philadelphia
Welterweight
Mike Jones TKO6 Juliano Ramos
Records: Jones, 15-0, 13 KOs; Ramos, 15-2, 12 KOs

Rafael's remark: Philadelphia's Jones, 25, is a fresh new face to watch in the loaded welterweight division. He's 5-foot-11, has a lanky but muscular build, good power and a pleasing style. He displayed all of his attributes in the Telefutura main event as he scored a strong knockout of Brazil's Ramos, the best opponent of his career. Jones was in control when he staggered Ramos, 28, in the sixth and was punishing him along the ropes. Finally, a big left flush on the chin badly hurt Ramos, who was on his way to the canvas when referee Steve Smoger properly stepped in. Jones is being developed slowly and surely by astute promoter/matchmaker Russell Peltz and, hopefully, we'll have a chance to see much more of him next year, be it on "ShoBox" or ESPN2.
Friday at Johannesburg, South Africa
Junior featherweight
Jeffrey Mathebula W12 Julio Zarate
Title eliminator
Scores: 118-109, 117-109 (twice)
Records: Mathebula, 22-1-2, 12 KOs; Zarate, 26-5-1, 16 KOs

Rafael's remark: Mathebula, 29, of South Africa, has never beaten a name opponent, but will nonetheless get an eventual shot at Steve Molitor's belt based on this victory in a typically crazy IBF sanctioned eliminator. Mathebula, whose most notable fights consist of a six-round draw with future titleholder Malcolm Klassen and a knockout loss to contender Thomas Mashaba, scored two 10th-round knockdowns to punctuate his victory against Mexico's Zarate, 33, who unsuccessfully challenged for a bantamweight and junior featherweight title in 2005.
Junior lightweight
Malcolm Klassen KO2 Manuel Medina
Title eliminator
Records: Klassen, 23-4-2, 14 KOs; Medina, 67-16-1, 31 KOs

Rafael's remark: After what seems like 100 years as a pro (OK, it's only been 23) for Mexico's Medina, 37, he finally reached what has to be the end of the line as South Africa's Klassen, 27, blew him out in an eliminator that will earn him an eventual shot at countryman Cassius Baloyi's title (Baloyi has a defense against Javier Osvaldo Alvarez on Sept. 13). Believe it or not, Medina, who turned pro as a teen, won a piece of the featherweight title five times. But he's a shell of what he once was and Klassen took him apart in Medina's first bout in 13 months. He knocked Medina down in the first round and he went down again for good after taking some modest shots in the second. The fact that Medina, at this stage of his career, was allowed anywhere near a title eliminator bout tells you pretty much all you need to know about the IBF's woeful rankings.
Strawweight
Ronald Barrera KO2 Zukisani Kwayiba
Title eliminator
Records: Barrera, 24-5-1, 16 KOs; Kwayiba,11-1, 7 KOs

Rafael's remark: Barrera, 23, of Colombia, has previously fought for two versions of the strawweight title, losing decisions to Yutaka Niida and Ivan Calderon. Now, it looks like he will get a shot at yet another alphabet belt thanks to this upset win against South Africa's Kwayiba, a 22-year-old nicknamed "Troublemaker." The victory put him next in line to face the winner of the Sept. 13 bout between titleholder Raul Garcia and Jose Luis Varela. A Barrera body shot floored Kwayiba in the second round, but another body shot knocked him down for the count later in the round.
Friday at Atlanta
Heavyweight
Cedric Boswell TKO2 Roman Greenberg
Records: Boswell, 27-1, 18 KOs; Greenberg, 28-1, 22 KOs

Rafael's remark: Although both guys have sweet records, Greenberg, 26, came in as the prospect taking his first big test against the 39-year-old Boswell. He flunked in dramatic fashion. Boswell, who took 2½ years off after losing a 10th-round knockout to Jameel McCline in 2003, won his seventh in a row since that defeat and he did in surprising quick fashion. Boswell had Greenberg in retreat in the second round when he landed a combination, including a hard right hand, that rocked him and had him hurt when referee Bill Clancy stopped the fight. Guess now we know why Greenberg has been matched so softly since turning pro in 2001.
Dan Rafael is the boxing writer for ESPN.com.
Boxing
2013 BWAA Nat Fleischer Award winner for excellence in boxing journalism
ESPN.com boxing writer since 2005
Five years at USA Today
SPONSORED HEADLINES
MORE BOXING HEADLINES
MOST SENT STORIES ON ESPN.COM
EDITORS' PICKS
Murray defeats Spada, eyes fight with Golovkin.
Dan Rafael »

Hamed deserves his place in the Hall of Fame.
Dan Rafael »

Golden Boy promotes rival cards on Dec. 13 in Las Vegas.
Blog »