Commentary
Khan crumpled by Prescott; Juarez tears through Barrios
A case of too much, too soon? Or maybe ill-advised matchmaking? Either way, Amir Khan will have to start from scratch after being blasted out in under a round by robust Colombian Breidis Prescott on Saturday.
Originally Published:
September 8, 2008
By
Dan Rafael
| ESPN.com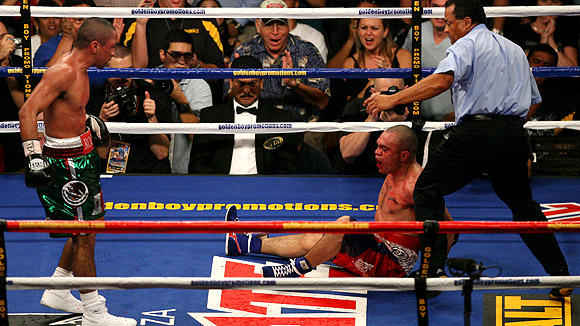 Thomas B Shea/Icon SMITake a seat: Rocky Juarez, left, overcame a slow start to take out Jorge Barrios in Round 11.

A roundup of the past week's notable boxing results from around the world:

Saturday at Manchester, England
Lightweight
Breidis Prescott KO1 Amir Khan
Records: Prescott, 20-0, 18 KOs; Khan, 18-1, 14 KOs

Rafael's remark: This was absolutely stunning and clearly the upset of the year! Khan was simply not supposed to lose, certainly not in his first fight as a pay-per-view headliner in the United Kingdom and in his first fight under promoter Frank Warren's new deal with Sky Sports. Khan, 21, had been moved masterfully through his first 18 fights and the 2004 Olympic silver medalist had already become a major star in the UK. He had been touted by many as a future champion (including by a certain boxing writer who named him 2007 ESPN.com prospect of the year). However, everyone familiar with his career knew he had one possible flaw -- a questionable chin, which has been exposed here and there in fights against non-punchers. So why, oh why, did Warren match him with an undefeated Colombian with a terrific knockout percentage? That was shocking. Supposedly, Khan's new trainer, Jorge Rubio (who might be fired before this is even published) gave the green light on Prescott as the opponent and convinced Warren to go along with it. Warren shall rue the day. Rule No. 1 of boxing -- never, ever, ever, ever, ever match your fighter with a Colombian puncher. They have pulled numerous upsets and this one is just another to add to the list (think Alejandro Berrio and Epifanio Mendoza, for example). Prescott just blew Khan away in destructive fashion. He hurt Khan with the first solid jab of the fight and then all but destroyed him with a monster left hook that landed flush. Khan went down as though he had been cut in half. Khan's body bent in such an exaggerated way when he went down it was shocking to see him pop back up. But that was instinct. He was badly hurt and off balance, but referee Terry O'Connor knew there would be a riot if he didn't give Khan a chance to continue. He did and it lasted a few more seconds, because Prescott, 25, landed another big left hand and Khan was down again. He failed to beat the count and when he did rise, he was doing the British version of the Chicken Dance. Over in a mere 54 seconds, this outcome is one of the biggest upsets in British boxing history. Words do not exist to explain how damaging this is to Khan's career. For Prescott, it was a career-maker. He had fought all of his previous bouts in Colombia, except for a June split decision win in Florida (and on ESPN2). Now, he can at least expect to make a few bucks. Maybe he'll even develop into a contender. Obviously, he can crack. Someday there may be a rematch with Khan, but he might want to think twice about that. Khan and Warren are already planning a Dec. 6 comeback, but it could be a difficult road for Khan, who was violently stripped of a large part of his aura in this devastating defeat.
Junior lightweight
Nicky Cook W12 Alex Arthur
Wins a junior lightweight title
Scores: 117-111, 117-112, 115-114
Records: Cook, 29-1, 16 KOs; Arthur, 26-2, 19 KOs

Rafael's remark: Not only was Amir Khan stunningly upset on the card, so was Arthur. Thanks to politics and dirty dealing by the WBO, the Scottish hero, who had the interim belt, was given the title in May instead of being forced to fight titleholder Joan Guzman, who got tired of waiting and moved up in weight class. Arthur's reign was awfully brief. Arthur, 30, looked a little flat as England's Cook, 28, got the nod in a good, competitive fight. Although Arthur complained about the judges afterward, he didn't do enough, even if two of the scorecards should have been a little closer. Cook was moving up from featherweight after suffering his only defeat in a title bout in that division. In July 2007, he met Steven Luevano for a vacant title and was beaten decisively via 11th-round knockout. Cook's first defense is likely to come Dec. 6 on the same card in which Khan attempts his comeback. Promoter Frank Warren said a rematch with Arthur is possible.
Heavyweight
Audley Harrison W10 George Arias
Score: 98-94
Records: Harrison, 23-3, 17 KOs; Arias, 41-11, 20 KOs

Rafael's remark: Harrison was once the darling of British boxing. He had won the 2000 super heavyweight Olympic gold medal and was supposed to be on his way to pro glory. But that was then and this is now. Now, Harrison, 36, looks more like a journeyman heavyweight with little chance to be more. His second victory in a row since a crushing third-round knockout loss to Michael Sprott in February 2007 was yet another example of a gun-shy fighter going through the motions. As has become the norm, he was sluggish against Arias and the crowd was booing. Others probably were sleeping. Brazil's Arias, 34, has faced a slew of notable opponents and dropped his second in a row. He might have been familiar to British fans, having lost a decision to Johnny Nelson in a 2001 cruiserweight title bout.
Saturday at Houston
Lightweight
Juan Diaz W12 Michael Katsidis
Scores: 116-112, 115-113 Diaz, 115-113 Katsidis
Records: Diaz, 34-1, 17 KOs; Katsidis, 23-2, 20 KOs

Rafael's remark: In March, Diaz and Katsidis both suffered their first defeats. Diaz was outpointed by Nate Campbell and lost his trio of world title belts. Two weeks later, Australia's Katsidis was stopped in the 10th round of a sensational fight against recognized division champion Joel Casamayor. Instead of easy comeback fights, both men opted for the challenge of facing each other, and when the fight between these action fighters was made it was like heaven. Many believed that HBO's "Boxing After Dark" main event would be an instant classic. Although it was a heck of a fight, it didn't result in a classic. That's because Diaz, 24, was on top of his game and outclassed Katsidis, 28, who had to deal with Diaz and the 13,477 hometown fans who were cheering for him. From the outset, it was all Diaz, who was quicker and more accurate with his punches. He cut Katsidis over the left eye in the second round and simply outworked and outfought him, inside or outside. Through six rounds, it looked like a Diaz shutout. Katsidis' best rounds came over the last few rounds, but it looked like Diaz, thanks to an excellent jab, had it in the bag. But you never know. Just look at the absurd scorecards, which were like a flashback to the nauseating scoring in the Olympics last month. Gale Van Hoy's 116-112 scorecard was about as generous as you could be for Katsidis. Levi Martinez's 115-113 scorecard was a joke, but at least he got the right winner. Glen Hamada's scorecard in favor of Katsidis goes down as one of the worst in history. He actually gave Katsidis seven rounds. It might be fun to watch the video with him to see what the hell he was watching, because this was actually a very easy fight to score -- in Diaz's favor. It was a terrific bounce-back performance from Diaz, who should find himself right back in the title hunt, perhaps with a fight against the winner of next week's Casamayor-Juan Manuel Marquez fight. Katsidis is still a fun fighter to watch with a future, but he should take a step back and get himself a win or two against more modest competition.
Junior lightweight
Rocky Juarez TKO11 Jorge Barrios
Records: Juarez, 28-4, 20 KOs; Barrios, 47-4-1, 34 KOs

Rafael's remark: With such huge expectations for a classic battle in the Diaz-Katsidis main event, who would have thought that this fight, which did figure to be very good, would turn out to be the fight of the night? That's what happened when Juarez-Barrios really picked up steam in the second half. After two postponements of the bout, which were partly to blame for titlist Barrios' 17-month layoff (not to mention injuries to both eyes), it was worth the wait. In front of his hometown fans, Juarez, 28, was dominated by Barrios for most of the fight but outfought him late to score the bloody TKO. Barrios, 32, of Argentina, was the victim of two weak point deductions from apparently biased referee Rafael Ramos. He deducted points for borderline low blows in the third and ninth rounds, which had to unnerve Barrios, who had to think twice about going to the body in the late going. Juarez started slowly, as has been the case in recent fights. It's quite frustrating to watch him simply not throw punches with openings available. Fortunately, he eventually got things going and helped turn this into an all-action bout. As Juarez picked up his pace, Barrios was slowing down in the late rounds. The 10th was action-packed as they traded in a round-of-the-year candidate. But the round would turn out to be Barrios' last stand. In the 11th, Juarez softened him up with a body attack and dropped him with a right hand. Barrios was a bloody mess when he got up. This was as graphic and gruesome an injury as you will ever see. The left side of his cheek was ripped open as though the Joker had sliced him across the mouth. Blood was everywhere as his cheek flopped in the wind. It was almost as disgusting an injury as the one in the fight between Antonio Margarito and Sebastian Lujan a few years ago, when Lujan's ear was dangling off the side of his head. This was a much-needed victory for Juarez, who was coming off a lopsided loss to Juan Manuel Marquez last fall and had also lost to the other elite fighters he had faced (twice to Marco Antonio Barrera and Humberto Soto). The win surely keeps him alive for a title shot. Barrios probably is looking at another lengthy layoff after the brutal cheek injury. And, now, quickly a word on the judging. It stunk out loud. At the time of the stoppage, Rocky Burke had it 94-94, Ruben Carrion had Juarez up 96-92 and Ruben Garcia had him ahead 95-93. What a joke. Even with the point deductions, Barrios should have been in the lead or even at worst. He was throwing with abandon and way more aggressive than Juarez. Barrios had landed 162 of 1,006 punches (16 percent), according to CompuBox, to Juarez's paltry output of 126 of 475 (26 percent). Talk about home cooking.
Lightweight
Jesus Chavez TKO9 Andres Ledesma
Records: Chavez, 44-4, 30 KOs; Ledesma, 14-11-1, 9 KOs

Rafael's remark: It is understandable that Golden Boy wanted to match Chavez with a soft touch as the 35-year-old, former two-division titleholder is trying make a comeback from an assortment of injuries, including the blown out knee he suffered in February 2007 which caused his lightweight title loss to Julio Diaz. But this was ridiculous. Chavez, who returned from 14-month layoff to win an April fight, was matched with Ledesma, who was about as bad an opponent as they could have found for him. He knocked Ledesma down in the seventh and again in the ninth. Besides losing his sixth in a row and 10th of 11, Ledesma is really only a junior featherweight or featherweight. Despite that, it still took Chavez nine rounds to get rid of him. Undoubtedly, Chavez, with another couple of wins (hopefully against a better cut of opponent) hopes to get into the picture for a notable fight with some of Golden Boy's other lightweights, such as Juan Diaz, Michael Katsidis, Joel Casamayor, Juan Manuel Marquez, Jose Armando Santa Cruz or a rematch with Carlos Hernandez.
Saturday at Moscow
Heavyweight
Oleg Maskaev W10 Robert Hawkins
Scores: 100-92, 100-90 (twice)
Records: Maskaev, 35-6, 26 KOs; Hawkins, 23-12, 7 KOs

Rafael's remark: In the main event of the first boxing show to ever take place at Moscow's Red Square, Maskaev, 39, was fighting for the first time since Samuel Peter relieved him of a title via sixth-round knockout in March. It was a triumphant return against an old foe in the 38-year-old Hawkins. The two met in 1995 on ESPN when they were each in their fourth professional fight. Maskaev won it on a fourth-round knockout, but could not repeat the performance against Hawkins, who has great durability. In fact, in his 12 defeats, only Maskaev and top-10 contender Vladimir Virchis (last November) have ever stopped him. Considering how badly Maskaev was beaten up by Peter, this was a halfway decent comeback fight for him, although Hawkins dropped to 2-8 in his last 10 fights.
Friday at Austin, Texas
Junior middleweight
James Kirkland TKO2 Ricardo Cortes
Records: Kirkland, 23-0, 20 KOs; Cortes, 22-3-1, 15 KOs

Rafael's remark: Kirkland sure is exciting to watch. He comes to blow his opponent away and that is what he did to Cortes, who never stood a chance under Kirkland's relentless pressure in the season finale of ESPN2's "Friday Night Fights." Cortes should consider it a moral victory that he even made it out of the first round, considering the pressure Kirkland applied. Kirkland, in his first fight since leaving promoter Gary Shaw over the summer, was fighting in front of a raucous hometown crowd and he gave his fans what they wanted. The southpaw dispensed with the jab that trainer Ann Wolfe (yes, that Ann Wolfe) wanted him to rely on and went right after Cortes, who barely survived the opening round. In the second, Kirkland was all over him again, although Cortes did land some decent shots. Eventually Kirkland dropped him with a two-fisted attack, although he needs to be careful and not hit his future opponents while they are down, like he did to Cortes. Kirkland is lucky that unnecessary punch didn't get him disqualified (and he's lucky Joe Cortez was not the referee). Cortes beat referee Gregorio Alvarez's count but it was only a matter of time before the fight was going to be over. Finally, Alvarez called it off with Cortes again under heavy fire, although the stoppage was a tad premature. Premature or not, the fight simply made you want to see much, much more of Kirkland. There are few fighters who are as electrifying to watch. What would you pay to see Kirkland in with Joel "Love Child" Julio or Alfredo Angulo?
Friday at Primm, Nev.
Lightweight
Antonio DeMarco W10 Jose Reyes
Scores: 96-93, 95-94 DeMarco; 96-93 Reyes
Records: DeMarco, 20-1-1, 14 KOs; Reyes, 23-5, 8 KOs

Rafael's remark: In previous "ShoBox" appearances, Mexico's DeMarco, 22, has brawled his way to entertaining victories. Against Puerto Rico's Reyes, 30, he still did some brawling, but he had do a bit more thinking in what was more of a boxing match than we are used to seeing him in. Still, it was an entraining bout and DeMarco passed the test with a solid performance. He dropped Reyes in the third round during a fast start to the fight, although Reyes was in this bout all the way.
Bantamweight
Yonnhy Perez TKO6 David Martinez
Records: Perez, 18-0, 13 KOs; Martinez, 18-5-1, 3 KOs

Rafael's remark: Colombia's Perez, 29, found himself in with Martinez, 25, on only two days' notice when original opponent Tomas Rojas fell out because a problem with his visa on his way to the U.S. from Mexico. It hardly made a difference to Perez, a good-looking prospect who swelled up Martinez's left eye early on and was battering him when referee Joe Cortez finally intervened at 2:41 of the sixth. Martinez, too brave for his own good, lost for the third time in four fights
Friday at Albuquerque, N.M.
Junior lightweight
Urbano Antillon KO4 Daniel Attah
Records: Antillon, 24-0, 17 KOs; Attah, 24-5, 8 KOs

Rafael's remark: You can add the crowd-pleasing Antillon to the growing list of talented fighters between 130 and 135 pounds. This kid is going to be a player. Headlining on Telefutura, Antillon, 26, born in Mexico but living in Maywood, Calif., took apart Attah, a former title challenger who had lasted the distance in fights with Nate Campbell and Acelino "Popo" Freitas. Attah, 31 but on the way down, couldn't do anything against Antillon's pressure. He wilted in the third round, going down from a body attack. In the fourth, he was under pressure again when he took a knee and wisely elected to stay down for the count. Antillon, who struggled to make 130 pounds and probably would be best served fighting at 135, just keeps getting better and better and it's time for Top Rank to put him in a higher-profile fight, perhaps on one of its pay-per-view undercards. And if HBO or Showtime execs are looking for excitement in their fights, he'd be a perfect guy to open a show. Junior welterweight Demetrius Hopkins (28-0-1, 11 KOs), the estranged nephew of Bernard Hopkins, was supposed to fight for the first time since leaving Golden Boy Promotions, in part because of a fallout with his uncle, and signing with Top Rank. He did not make a good impression on his new handlers. Hopkins came in more than six pounds over the 142-pound contract limit for his bout with Juaquin Gallardo (18-7-2, 5 KOs) and it was canceled.
Friday at Atlantic City, N.J.
Junior welterweight
Mike Arnaoutis KO3 Nasser Athumani
Records: Arnaoutis, 20-2-2, 10 KOs; Athumani, 20-7, 16 KOs

Rafael's remark: Arnaoutis, 29, a native of Greece who now lives outside of Atlantic City, was a hot contender a few years ago. But then the southpaw dropped a pair of decisions in a row, losing to Ricardo Torres in a November 2006 fight for a vacant title followed by an April 2007 loss to future titleholder Kendall Holt in an eliminator. After a year off, Arnaoutis has returned with three consecutive wins, including this one in which he knocked Athumani out cold. Arnaoutis landed a flush left to the jaw and flattened his fellow southpaw. Athumani, 39, dropped to 0-4-1 in his last five. Thanks to the Web site gofightlive.tv this card was able to be viewed free (and legally) on the Internet.
Heavyweight
Kevin Johnson TKO5 Bruce Seldon
Records: Johnson, 20-0-1, 7 KOs; Seldon, 38-7, 34 KOs

Rafael's remark: Johnson, known more for his excellent jab than his power, promised he'd notch a knockout before the fight and he got it. But he should have. Seldon, a former titleholder, is 41 and about as passed-his-prime as a guy can get -- he didn't fight for years after laying down in the first round against Mike Tyson in their 1996 title bout. Johnson took it easy in the first round to see what Seldon had, which wasn't much. In the third, Johnson dropped Seldon with a right hand and from there it was all Johnson, who laid a beating on him until dropping him again with a right hand in the fifth. Johnson, 28, has talent, but fighting the Seldons of the world doesn't mean much.
Dan Rafael is the boxing writer for ESPN.com.
Boxing
2013 BWAA Nat Fleischer Award winner for excellence in boxing journalism
ESPN.com boxing writer since 2005
Five years at USA Today
SPONSORED HEADLINES
MORE BOXING HEADLINES
MOST SENT STORIES ON ESPN.COM
EDITORS' PICKS
Welterweight titlist Manny Pacquiao defeats Chris Algieri.
Analysis

Lomachenko retains title with win over Piriyapinyo.
Dan Rafael »

Another fight, another victory for Roman Gonzalez.
Story »