Commentary
Lopez gets the job done in Round 1
You can pat yourself on the back now, Juan Manuel Lopez. For the second fight in a row, Lopez, left, stopped an opponent inside of one round.
Originally Published:
October 6, 2008
By
Dan Rafael
| ESPN.com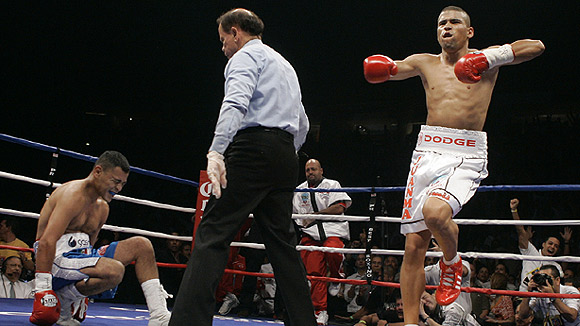 AP Photo/Ricardo Arduengo Juan Manuel Lopez, right, had reason to celebrate after notching his second first-round KO victory in a row.

A roundup of the past week's notable boxing results from around the world:

Saturday at Temecula, Calif.
Featherweight
Yuriorkis Gamboa KO2 Marcos Ramirez
Records: Gamboa, 12-0, 10 KOs; Ramirez, 25-1, 16 KOs

Rafael's remark: There is no disputing the fact that Gamboa is an electrifying offensive talent. But the 2004 Cuban Olympic gold medalist's defense still is porous and will eventually cost him dearly if he doesn't tighten it up. New trainer Ismael Salas, brought in earlier this year, is working on it, but Rome wasn't built in a day. In Gamboa's first appearance on HBO in May, he pounded out a 10-round decision against Darling Jimenez, but was dropped in the fourth round and looked vulnerable in the victory. After that bout, Gamboa's trainer was fired and Salas was brought in. Gamboa won his next fight, blowing away Al Seeger in one round in July, to set up the fight with Midwest club fighter Ramirez, a firefighter by day with a record built against nobodies. But Ramirez had one big moment, dropping the wild and often unbalanced Gamboa, 26, in the first round as the result of a clean right hand and an elbow that nailed him on the follow through. Gamboa seemed OK when he got up and immediately went on the attack. In the second round, he dropped Ramirez twice with right uppercuts during flurries. On the second knockdown, referee Jerry Cantu gave an obvious quick count that Ramirez couldn't beat, not that it would have mattered much if he had. Ramirez, 27, who hadn't fought in 17 months, was done and wouldn't have lasted much longer. Gamboa is breathtaking to watch, which is why he'll probably be back on HBO sooner than later, but you just wonder what will happen when he is matched against a top-notch opponent.
Junior middleweight
Alfredo Angulo TKO10 Andrey Tsurkan
Records: Angulo, 14-0, 11 KOs; Tsurkan, 26-4, 17 KOs

Rafael's remark: Angulo, one of the fastest-rising fighters in the world, looks and fights just like Antonio Margarito, with whom he has sparred. This is a good comparison. The 26-year-old 2004 Mexican Olympian is simply relentless. If you stand in front of him, like Tsurkan did, you'll get creamed. Going into the fight, it figured to be an Angulo victory but one that would be somewhat competitive. But that was not the case as Angulo delivered a massive beating to the New York-based Ukrainian, who was too brave for his own good. Referee Tony Crebs and Tsurkan's corner were also far too brave, allowing him to take a potentially life-altering beating that was so severe HBO announcer Jim Lampley was screaming for the fight to be stopped. Tsurkan, who turns 31 Monday, had no answer for Angulo's punishing attack, especially to the body. Although Angulo suffered a cut by his right eye, it had little impact on his attack as he just crushed Tsurkan, battering him from an orthodox stance and also having great success when he switched to southpaw. The fight could have been stopped anytime after the sixth round, but Crebs was more like a spectator than a referee. In the 10th, when Tsurkan was being smashed to bits, Crebs stood and watched, almost frozen until finally calling it off at 2:27. Angulo, who has scored 10 consecutive stoppage victories, has arrived and makes us long for fights with the likes of Joel "Love Child" Julio, James Kirkland or any of the titleholders. After the fight, Angulo was not focused on those names, however, instead calling out Julio Cesar Chavez Jr. and John Duddy. He would be a huge favorite in either bout.
Junior middleweight
Sergio Martinez TKO8 Alex Bunema
Wins a vacant interim junior middleweight title
Records: Martinez, 44-1-1, 24 KOs; Bunema, 30-6-2, 16 KOs

Rafael's remark: A star was born in Martinez, who looked absolutely sensational dismantling the rugged Bunema, who had been on his own outstanding run. But Bunema was never in the fight as Martinez, a quick southpaw from Argentina with a load of talent and energetic style, dominated. The win was as decisive as it gets and undoubtedly gained Martinez a lot of fans since he was fighting on the big HBO stage for the first time. Hopefully, we'll see plenty more of him. Although the win netted Martinez an interim belt, making him the mandatory challenger for Vernon Forrest, don't hold your breath that Forrest will fight him. No way he takes that fight. Martinez, 33, is that dangerous and doesn't bring a whole lot of cash to the table. He dropped Bunema with a left hand in the third round and teed off almost at will for the remainder of the fight until it was stopped with Bunema on the stool after the eighth round. Martinez kept throwing punches (and landing them) while Bunema was unable to do anything. According to CompuBox, Martinez landed 212 of 518 punches (41 percent) to Bunema's 31 of 216 (14 percent). When a guy lands almost the same amount of punches as the other guy throws, you know it's a wipeout. Martinez has certainly come a long way since his lone loss in 2000, a seventh-round TKO loss to Antonio Margarito in a welterweight bout on the undercard of the first Erik Morales-Marco Antonio Barrera fight. Wouldn't a rematch be a lot of fun? Even though that and the Forrest bout are unlikely for the time being, all of a sudden junior middleweight is a little interesting again. With Martinez, a fresh 33, and young guns Alfredo Angulo (who also looked great winning on the card), James Kirkland and Joel "Love Child" Julio in the division, there are some intriguing fights. Bunema, 33, a Congo native living in Memphis, saw his nice four-fight winning streak -- which included a big upset knockout against former titleholder Roman Karmazin in January and a crushing knockout of fringe contender Walter Matthysse in July -- come to an end.
Saturday at San Juan
Junior featherweight
Juan Manuel Lopez KO1 Cesar Figueroa
Retains a junior featherweight title
Records: Lopez, 23-0, 21 KOs; Figueroa, 30-7-2, 22 KOs

Rafael's remark: Does anyone in boxing have as sweet a right hook as Lopez? Making his first title defense, Lopez, 25, thrilled his hometown fans with an electric, one-punch performance that was simply devastating. They circled each other for a few seconds, Lopez stuck a jab out a few times and then BOOM! Lopez dropped a right hook that just crumpled Figueroa, who was counted out just 47 seconds into the fight. Lopez looks like the next great Puerto Rican fighter. It was his second consecutive first-round knockout as he also blew away Daniel Ponce De Leon in stunning fashion in the opening round to win the belt in June. Expect to see Lopez's second defense on the undercard of the Dec. 6 Oscar De La Hoya-Manny Pacquiao undercard. That's where Top Rank promoter Bob Arum wants to put Lopez for his next fight because Arum knows he has a rising star on his hands and what better way to expose Lopez around the world than to put him on the undercard of the year's biggest fight? Just make sure you don't go to the bathroom or get a drink during his fights. They seem to end awfully quickly lately. Mexico's Figueroa, 30, didn't figure to win, but it was a surprise he lasted less than a minute, a disappointment for those who spent $34.95 for the pay-per-view. He had faced a number of quality opponents over the years but never was blown out this severely.
Junior bantamweight
Jose "Carita" Lopez KO7 Jonathan Perez
Records: Lopez, 38-7-2, 32 KOs; Perez, 13-5, 10 KOs

Rafael's remark: Lopez, the 36-year-old wily veteran from Puerto Rico, took a step closer to another title shot with an impressive destruction of Colombia's Perez, 21, who didn't have nearly enough to keep Lopez off of him. Four times Lopez has fought for a flyweight title and four times he's lost on points. But he hasn't lost a fight since dropping his most recent title bout, to Fernando Montiel in September 2001. Since then, Lopez is 14-0-1 and likely will face Z Gorres of the Philippines for an interim title later this year or early next year. Lopez worked Perez's body very well despite warnings for low blows. He pretty much did as he pleased with an opponent who was out of his depths with someone of Lopez's experience level. Finally, in the eighth round, Lopez was battering Perez around the ring before landing a left hook that dropped Perez to his knees, where he shook his head "no" and listened to the full count.
Junior welterweight
Alex De Jesus TKO8 Jose Antonio Izquierdo
Records: De Jesus, 19-0, 13 KOs; Izquierdo, 17-4-1, 14 KOs

Rafael's remark: De Jesus, a 2004 Puerto Rican Olympian, maintained his perfect record with a lopsided win against Izquierdo, a Mexican-based Cuban who was stopped for the third consecutive fight and lost his fourth in a row overall. De Jesus, 25, scored knockdowns in the third, sixth and eighth rounds before the pay-per-view opener was called off.
Saturday at Philadelphia
Junior middleweight
Kassim Ouma TKO6 Martinus Clay
Records: Ouma, 26-5-1, 16 KOs; Clay, 13-19-4, 5 KOs

Rafael's remark: Former junior middleweight titleholder Ouma is starting over after three losses in a row (a forgivable defeat to Jermain Taylor in a middleweight championship fight and far less forgivable losses to Saul Roman and Cornelius "K9" Bundrage. Fighting for the first time since losing a decision to Bundrage in March, Ouma, 29, was matched with an opponent in Clay, 26, who was 1-6-3 in his previous 10 fights. He was obviously the perfect guy for Ouma to gain confidence against and work on the basics. Although Ouma won, he has some work to do. According to promoter Russell Peltz, who was ringside, Clay rocked Ouma in the fourth round and Ouma "just looked fair, a little slow, but very strong since he had spent the last month with his old strength and conditioning coach." Peltz believes Ouma needs two or three more of these kinds of fights before moving back up to a top-level challenge.
Friday at Denver
Junior welterweight
Mike Alvarado TKO4 Manuel Garnica
Records: Alvarado, 23-0, 16 KOs; Garnica, 24-10, 12 KOs

Rafael's remark: Fighting at home for the first time since 2004, Alvarado, 28, received great support from his crowd as he dominated the experienced Garnica for a solid victory in the Telefutura main event. Alvarado, one of Top Rank's sleeper rising contenders, had his way with Garnica and was punishing him in the fourth round under a hail of unanswered punches. Finally, a left hand to the face put Garnica on the mat, where he spit out his mouthpiece. He tried to rise and barely beat the count but was too shaky to continue. Alvarado keeps getting better and better each time out, and after disposing of opponents like Garnica, former lightweight titleholder Cesar Bazan and Michel Rosales in his past three fights, it's pretty clear he's ready to take a bigger step up. Garnica, 33, lost for the fifth time in seven fights, but his decision loss to Juan Lazcano in that stretch was a robbery.
Lightweight
Manny Perez D10 Brandon Rios
Scores: 95-95 (twice), 96-94 Perez
Records: Perez, 12-4-1, 2 KOs; Rios, 18-0-1, 12 KOs

Rafael's remark: Good solid scrap but a surprising result in that Rios, the highly touted 22-year-old Top Rank prospect, was held to a draw by the scrappy local fighter Perez, 24, who was fined when he came in overweight but had the size advantage. They traded blows throughout the entertaining bout, but neither could establish superiority and it was rightfully called a draw.
Friday at Philadelphia
Heavyweight
Eddie Chambers TKO5 Livin Castillo
Records: Chambers, 32-1, 18 KOs; Castillo, 14-6, 9 KOs

Rafael's remark: Chambers had been a top candidate to land a November fight with David Haye, the cruiserweight champ moving up in weight, but was passed over. So, Chambers, 26, returned home to Philly and delivered a convincing victory, his second in a row since losing a title elimination fight to Alexander Povetkin in January. Chambers, with a speed advantage against almost anyone he fights, used it against Castillo until finishing him with a left-right combination. After taking the shots, Castillo turned away and the fight was stopped. Castillo, 32, of Ecuador but living in New Jersey, went to the hospital with an apparent jaw injury. He dropped to 3-4 in his past seven, including a fourth-round TKO loss to Povetkin. Castillo has been stopped inside five rounds in each of his defeats.
Friday at Salisbury, Md.
Welterweight
James De La Rosa W10 Tim Coleman
Scores: 96-94 (three times)
Records: De La Rosa, 18-0, 12 KOs; Coleman, 14-1-1, 3 KOs

Rafael's remark: What a bummer for Coleman. When the close, exciting fight was over, the Baltimore native and crowd favorite was announced as the winner before the ring announcer quickly corrected his mistake and announced Harlingen, Texas, native De La Rosa as the victor. But it was a close enough fight that it probably could have gone either way. Coleman's best work came early in the bout, but De La Rosa, 20, punished Coleman's body and finished strong to take the tight decision. Coleman, who was fighting for the first time in 10 months, is 0-1-1 in his past two bouts.
Middleweight
Fernando Guerrero W8 Tyrone Watson
Scores: 80-72 (twice), 80-71
Records: Guerrero, 10-0, 9 KOs; Watson, 7-1, 3 KOs

Rafael's remark: In his first scheduled eight-round bout, Guerrero, a standout amateur and former National Golden Gloves champion, went the distance for the first time and looked good doing it against Watson, who was coming back to the ring after a 15-month layoff caused by managerial issues. Guerrero showed himself to be an exciting prospect to keep an eye on. At 21 and with a tremendously enthusiastic hometown crowd behind him, Guerrero is going to be fun to follow. The Dominican Republic native, who has lived in Salisbury since he was 8, turned pro in December and has been perfect under the tutelage of trainer Barry Hunter, who also handles the promising Peterson brothers. In Watson, 28, Guerrero was facing a bigger man, but it didn't seem to matter. Guerrero, who spars with welterweight titleholder Paul Williams and the Peterson brothers, worked his body well, kept his hands moving and won easily in the entertaining bout.
Dan Rafael is the boxing writer for ESPN.com.
Boxing
2013 BWAA Nat Fleischer Award winner for excellence in boxing journalism
ESPN.com boxing writer since 2005
Five years at USA Today
SPONSORED HEADLINES
MORE BOXING HEADLINES
MOST SENT STORIES ON ESPN.COM
EDITORS' PICKS
Austin Trout looks to snap losing skid vs. Daniel Dawson.
5 Keys »

Welterweight titlist Kell Brook considering Amir Khan.
Blog »

Trout is still a force in the junior middleweight ranks.
Q&A »