Commentary
V. Klitschko punches through Peter to reclaim portion of heavyweight title
Many boxing pundits had pegged Sam Peter as the next big thing in heavyweight boxing. Vitali Klitschko put an end to that by bludgeoning Peter for eight, one-sided rounds in Berlin on Saturday.
Originally Published:
October 13, 2008
By
Dan Rafael
| ESPN.com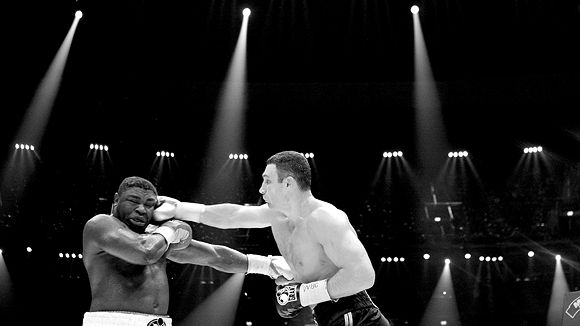 Stuart Franklin/Bongarts/Getty ImagesJust like old times: Vitali Klitschko, right, is back on top after breaking down Sam Peter on Saturday.

A roundup of the past week's notable boxing results from around the world:

Saturday at Berlin
Heavyweight
Vitali Klitschko TKO8 Samuel Peter
Regains a heavyweight title
Records: Klitschko, 36-2, 35 KOs; Peter, 30-2, 23 KOs

Rafael's remark: Almost four years since his last fight -- Dec. 11, 2004 against Danny Williams -- Klitschko came out of retirement and destroyed Peter in stunningly one-sided fashion. It was an incredible performance considering the length of the layoff and all of the injuries that forced Klitschko to vacate his title back then and retire. It literally didn't look like he had missed a day, much less four years; that's how good he was. From the opening bell, Peter had no idea what to do. He was inept and looked like a rank amateur. He wasn't in the fight for one moment as Klitschko, with his superior size, reach, thudding jab and powerful right, slammed home shot after shot on a nearly defenseless Peter, who showed only the ability not to go down. Klitschko rocked Peter several times in the first round and never let up. It was as dominant a performance as there has been in recent years in such a high-profile fight. Think Winky Wright-Felix Trinidad, Joe Calzaghe-Jeff Lacy or Bernard Hopkins-Antonio Tarver, except this one ended with a stoppage. By the time the eighth round was over, Peter had zero chance to win. He had not landed a single telling blow and because of the WBC's horrible open scoring system, he knew officially that he was losing via shutout on two scorecards and 7-1 in rounds on the third (the judge that gave Peter, 28, even one round, Thailand's Anek Hongtongkam, should be ashamed of himself). Whether that influenced his decision to quit is not known, but Peter refused to come out for the ninth round, instead meekly quitting on his stool and yielding his heavyweight title belt in his first defense. Klitschko, the mandatory challenger because of the WBC's wacky "champion emeritus" status he was granted when he retired -- meaning if he ever decided to unretire he would immediately be the mandatory challenger -- won back the belt he vacated after his lone defense against Williams. Aside from the historical nature of winning a title in his first fight back after such a long layoff, Klitschko, 37, joined his younger brother Wladimir Klitschko, the world's No. 1 heavyweight who holds two of the four alphabet belts, as a simultaneous heavyweight champion. For years, the brothers' stated goal was to hold titles at the same time. Mission accomplished. But because they have said over and over that they will never fight each other, the division is held hostage with no chance for a unification or for the two best heavyweights to fight each other. It's a difficult but interesting situation for heavyweight boxing.
Heavyweight
Odlanier Solis TKO9 Chauncy Welliver
Records: Solis, 12-0, 8 KOs; Welliver, 35-5-5, 12 KOs

Rafael's remark: Solis was a 2004 Cuban Olympic gold medalist before defecting with gold medal-winning teammates Yuriorkis Gamboa and Yan Barthelemy to Germany in late 2006. Since signing with Arena-Box Promotions and turning pro in early 2007, Solis, 28, has been on the fast track. With the stoppage of Welliver, Solis picked up a regional heavyweight belt that will nudge him up the rankings of one of the alphabet organizations and puts a title bout within reach in the next year or two. Although Solis was outweighed by almost 30 pounds, he had little trouble dominating Welliver, 25, who had never previously been stopped.
Saturday at Las Vegas
Light heavyweight
Chad Dawson W12 Antonio Tarver
Wins a light heavyweight title
Scores: 118-109, 117-110 (twice)
Records: Dawson, 27-0, 17 KOs; Tarver, 27-5, 19 KOs

Rafael's remark: While Tarver talked a great game, as he always does, Dawson was more reserved. Instead of yammering endlessly about how great he was or how he would whip Tarver, he did a little bit of talking in response to the taunts but mainly let his fists do the talking, dominating Tarver with relative ease. It was the best performance of Dawson's burgeoning career as he won his second world title in an entertaining one-sided fight, one that took 16 months to make but finally happened thanks to the steadfast work of Showtime's Ken Hershman, promoter Gary Shaw and Tarver adviser Al Haymon.

At 26 and loaded with skills and outstanding speed, Dawson is now a pound-for-pound candidate after this impressive win, one that followed a much closer victory against Glen Johnson, who once formed a formidable 1-2 light heavyweight punch with Tarver after their wins over Roy Jones. Dawson started fast and never slowed down. He peppered Tarver with numerous flurries of six or seven punches throughout the bout and displayed an outstanding jab. If there is one criticism it is only that he didn't keep the pressure on for all three minutes of the rounds. If he had, he would have probably stopped Tarver, whom he did knock down in the 12th round to punctuate the win.

Tarver, who, to his credit, was a total gentleman and humble in defeat, has a rematch clause in the contract, according to Shaw, but it is not immediate. Tarver, 39, said he wanted to have the rematch but it appears as though Dawson will have the opportunity to go in another direction for at least one fight. A rematch with Johnson would be nice since he deserves one, but don't count on that. The landscape of big fights for Dawson is limited but in a dream world, the best option would be the winner of the Joe Calzaghe-Roy Jones fight or Kelly Pavlik-Bernard Hopkins bout. Even the winner of the Jermain Taylor-Jeff Lacy fight or Mikkel Kessler would be interesting.

By the way, Tarver didn't fight a bad fight. In fact, he'd probably beat most other light heavyweights judging by his performance. But he just didn't have enough bullets in his gun to handle a young, determined fighter entering his prime.
Welterweight
Ricardo Williams W8 Dairo Esalas
Scores: 80-71, 79-72 (twice)
Records: Williams, 13-2, 7 KOs; Esalas, 31-15, 25 KOs

Rafael's remark: Williams is trying to get his disappointing career back on track and by looks of this performance, that's a long way off. Williams won a 2000 Olympic silver medal, received a seven-figure signing bonus from then-promoter Lou DiBella and turned pro on HBO. The world was at his feet. But he had little discipline, struggled with weight and lost two fights against journeymen opponents. By the time he went to prison on drug charges, it was not an overstatement to label him the biggest Olympic prospect bust ever. But Williams, 27, is trying to make a low-key comeback after signing with promoter Gary Shaw. He handled Esalas, 34, with relative ease, dropping him to his backside with a left hook in the second round. The fight was never in doubt, but it looked more like a sparring session than a real fight. Williams, who once displayed dazzling speed, didn't show any of it, plodding to a decision against a hard-punching opponent who lost his 10th fight in his last 11 and was coming off a first-round knockout loss. Next up for Williams could be the opening bout on Shaw's Dec. 5 "ShoBox" card.
Super middleweight
Anthony Dirrell W4 Andy Mavros
Records: Dirrell, 13-0, 11 KOs; Mavros, 6-2, 2 KOs

Rafael's remark: When Dirrell turned professional after a standout amateur career that fell short of a 2004 Olympic berth because of injury, the younger brother of 2004 U.S. Olympic bronze medalist Andre Dirrell was considered by many to be as good of a prospect. Dirrell has similar speed as his brother and better power. However, Anthony, who turns 24 on Tuesday, saw his career sidetracked when he was diagnosed with non-Hodgkin's lymphoma last year. He was fighting for the first time since December 2006 and looked rusty against Mavros. Dirrell was knocked down in the first round but came back to sweep the remaining rounds to post the clear decision.
Saturday at Torreon, Mexico
Junior lightweight
Humberto Soto TKO10 Gamaliel Diaz
Wins a vacant interim junior lightweight title
Records: Soto, 45-7-2, 29 KOs; Diaz, 23-8-2, 10 KOs

Rafael's remark: Four months after Soto was the victim of a horrific disqualification by referee Joe Cortez for grazing Francisco Lorenzo with a punch while he was down in a fight Soto had been dominating, Soto got the interim 130-pound belt he was denied on that July night. Soto had faced Lorenzo for the interim belt but the WBC refused to recognize Lorenzo as the titleholder after the ludicrous disqualification. But Lorenzo was so busted up from the fight he was unavailable and Soto faced Diaz for the interim strap; he now must face Lorenzo in a rematch for the title Manny Pacquiao vacated when he moved up to lightweight. Sanctioning organization madness aside, Soto pounded on Diaz to leave no doubt. He dropped Diaz twice in the first round and Soto further extended his lead when referee Laurence Cole deducted two points from Diaz for excessive holding in the 10th round. Finally, after the 10th, Diaz's corner stopped the fight. If a Soto-Lorenzo rematch really does materialize, expect Soto to put the smack down in another one-sided destruction.
Friday at Tucson, Ariz.
Middleweight
David Lopez W12 Samuel Miller
Scores: 119-108, 118-109, 117-110
Records: Lopez, 37-12, 25 KOs; Miller, 19-3, 16 KOs

Rafael's remark: Mexico's Lopez, 30, continued his solid run with his 13th victory in a row since Fulgencio Zuniga stopped him in the 12th round in 2005. Lopez is a no-frills fighter, but he's a bull who works hard for everything he gets, and that's just what he did against Colombia's Miller, who lost his third decision in four fights. Lopez outworked him and outhustled him, which is the way he usually notches his victories. Miller, 29, nailed Lopez with a vicious low blow in the 10th round, which seemed to really draw Lopez's ire as he had two of his best rounds afterward to put an exclamation mark on his win in the Telefutura main event. There's a chance Lopez will eventually face the winner of Saturday's Marco Antonio Rubio-Enrique Ornelas eliminator, which is on the Kelly Pavlik-Bernard Hopkins HBO PPV undercard. If Lopez does indeed face that winner, that bout's winner could become a mandatory title challenger.
Junior lightweight
David Rodela W8 Kevin Kelley
Scores: 78-74, 77-75 Rodela, 78-74 Kelley
Records: Rodela, 11-1-3, 6 KOs; Kelley, 60-9-2, 39 KOs

Rafael's remark: At 41, Kelley has been past his prime for ages but cannot seem to walk away. The former featherweight champ has had a terrific career, but now it's sort of sad to watch even though he was competitive with Rodela. Although they seemed to alternate winning rounds, Rodela, 26, was just good enough to take the split decision against the more experienced Kelley, who lost his third bout in his last five. Although Kelley is quite faded, it's still the biggest win of Rodela's career. Rodela said he grew up watching Kelley's clashes with such notable stars as Erik Morales, Marco Antonio Barrera and Naseem Hamed, so it had to be a thrill for him to put his name on his ledger.
Dan Rafael is the boxing writer for ESPN.com.
Boxing
2013 BWAA Nat Fleischer Award winner for excellence in boxing journalism
ESPN.com boxing writer since 2005
Five years at USA Today
SPONSORED HEADLINES
MORE BOXING HEADLINES
MOST SENT STORIES ON ESPN.COM
EDITORS' PICKS
Felix Verdejo is ESPN.com 2014 prospect of the year.
Dan Rafael »

Coyle's 11th round against Brizuela is the best of 2014.
Brian Campbell »

Klitschko could face Jennings next April in New York.
Rankings »