Commentary
Taylor tames Lacy, Wilder impresses in debut
Some use the jab to set up their right hand. Others use it to disrupt an opponent's flow. Jermain Taylor used it to get past Jeff Lacy -- and to get his sagging career back on track.
Originally Published:
November 17, 2008
By
Dan Rafael
| ESPN.com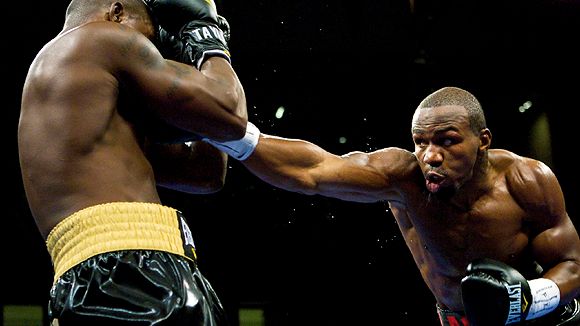 Fightwireimages.com Jeff Lacy, right, had his moments against Jermain Taylor, but they were few and far between in the end.

A roundup of the past week's notable boxing results from around the world:

Saturday at Nashville
Super middleweight
Jermain Taylor W12 Jeff Lacy
Title eliminator
Scores: 119-109 (twice), 118-110
Records: Taylor, 28-2-1, 17 KOs; Lacy, 24-2, 17 KOs

Rafael's remark: Although former undisputed middleweight champ Taylor had lost two fights in a row to Kelly Pavlik and former super middleweight titleholder Lacy had won three in a row, Taylor was still a substantial betting favorite. Taylor showed that the wise guys had it right: He thoroughly dominated his 2000 U.S. Olympic teammate, former roommate and friend in an entertaining scrap in the unusual environment of the Vanderbilt University campus gymnasium. Even though Taylor had lost the two fights to Pavlik, he fought well in both of them. He was simply caught by a big puncher in their first encounter and lost a close, very competitive decision in the February rematch. Lacy, on the other hand, had notched three wins in a row since his crushing one-sided decision loss to Joe Calzaghe. However, Lacy was awfully shaky in all three victories and was viewed by many as a far more flawed fighter than Taylor when they met for the right to challenge the winner of the a Dec. 6 fight between Carl Froch and Jean Pascal, who are meeting for one of the belts Calzaghe vacated when he won the light heavyweight championship in April. Lacy, 31, showed great determination and heart -- he never stopped coming forward to try to blast Taylor, 30, with power punches -- but Taylor executed trainer Ozell Nelson's game plan to perfection. Taylor never let Lacy get set and continually pumped his jab and kept his hands busy. In the end, the CompuBox stats painted a clear picture of the fight: Taylor landed 213 of 442 blows (48 percent), and Lacy landed just 75 of 443 punches (17 percent). Sometimes CompuBox stats don't tell the true story of a fight, but in this case, they told the tale to perfection. After Taylor had a huge fourth round, Lacy's best moment came in the fifth when he scored what appeared to be a knockdown but was ruled by referee Laurence Cole as a slip. It turned out not to matter because Taylor won so wide on the cards. Lacy's future is in serious doubt. It seems as though the Calzaghe fight truly ruined him as a fighter, and it's hard to see where he goes now for something meaningful. Taylor, on the other hand, looked good, and promoter Lou DiBella is angling for a fight with Calzaghe, should he elect not to retire. Taylor would have to move up in weight again to make that fight possible, but perhaps DiBella should pause and think about the number Calzaghe did on Lacy before he seriously tries to match Taylor with him.
Welterweight
Kermit Cintron W12 Lovemore N'Dou
Title eliminator
Scores: 117-110, 116-111, 115-112
Records: Cintron, 30-2, 27 KOs; N'Dou, 46-11-1, 31 KOs

Rafael's remark: Is it over yet? It feels as though this fight is still going on. What an icky fight to watch, especially coming right after the sensational Chazz Witherspoon-Adam "Swamp Donkey" Richards fight. Boring or not, it was a critical victory for Cintron, who moved a step closer to a mandatory fight with Joshua Clottey, now the owner of the belt Cintron had until Antonio Margarito smashed him in their April rematch. Cintron dominated N'Dou in a sloppy fight that seemed to feature more head butts from N'Dou than clean punching. N'Dou, a former junior welterweight titlist coming off a rematch loss to beltholder Paulie Malignaggi before moving up in weight, was finally docked a point for butting in the eighth round. It would have been better if he had been disqualified and saved us all from four more rounds.
Heavyweight
Chazz Witherspoon TKO8 Adam "The Swamp Donkey" Richards
Records: Witherspoon, 24-1, 16 KOs; Richards, 21-2, 14 KOs

Rafael's remark: In the fight of the night, Witherspoon and Richards waged one hell of a blistering, action-packed brawl that fans would be raving about had it been televised. From the opening bell, they went straight at each other and didn't let up until Witherspoon put the tiring Swamp Donkey away with a series of hard shots, including a thudding uppercut in the eighth. Richards showed huge heart by never going down, but he was out on his feet and about to be knocked cold when referee Bill Clancy stepped in to avoid a potentially scary scene. Witherspoon could have made the fight a lot easier, and probably less exciting, had he used his boxing skills from the start instead of engaging in a slugfest. But those who saw the fight are probably quite pleased that Witherspoon fought the way he did. Considering Witherspoon was essentially knocked out in a third-round disqualification loss (because his corner entered the ring) to Cristobal Arreola in June, it was a solid rebound performance. Note to the Freaks: Try to find this one on the Internet or on a DVD -- it was televised overseas as part of the international broadcast of the card.
Heavyweight
Deontay Wilder TKO2 Ethan Cox
Records: Wilder, 1-0, 1 KO; Cox, 2-3-1, 1 KO

Rafael's remark: Maybe Wilder, 23, is a future heavyweight champion, maybe he's not. Whatever he is, it's always a joy to watch a young fighter with so much potential turn pro and fight with such unbridled enthusiasm, knowing that if he does his job and develops, big opportunities will be there for him. Coming off an impressive and unexpected bronze-medal showing at the Beijing Olympics, where he saved the U.S. from a boxing medal shutout, the 6-foot-7 Wilder began his pro journey with a pleasing knockout of Cox, who was there to fight as hard as he could and not lie down as soon as he was hit. Wilder started slowly but began to find a home for his powerful (but way too wide) right hand in the second round. He dropped Cox three times before it was stopped as Cox lay on the mat with no prayer of beating the count. Wilder is raw and is a project, but he has an outstanding team behind him in Golden Boy Promotions; co-managers Shelly Finkel and Jay Deas; and trainer Mark Breland, who works with Deas in the corner. The key is to let Wilder develop at his own pace after a brief amateur career. He also needs to put on weight. He's only 207 pounds, but with a weight program and hard work, his handlers envision him as a 240-pounder someday.
Light heavyweight
Allan Green TKO7 Carl Daniels
Records: Green, 27-1, 18 KOs; Daniels, 50-16-1, 32 KOs

Rafael's remark: There was an upset in this one. No, not that Green battered the ridiculously faded 38-year-old Daniels, who shouldn't fight anymore after losing his 12th fight in his last 13 in a noncompetitive manner. The upset was that Green, 29, never once looked down at his feet during the fight, as had become a maddening and distracting habit. In any case, Green returned for his first fight since January and subsequent suspension for pulling out of a February ESPN2 bout against Antwun Echols at the last minute without an explanation and the failure to grasp basic economic sense by allowing an offer to fight middleweight champ Kelly Pavlik to be withdrawn. Now with promoter Lou DiBella after his relationship with Tony Holden blew up because of the two incidents, Green was added to the card late, trained for only about 10 days and still won every second of every round until Daniels' corner mercifully threw in the towel at 2:42 of the seventh. If Green can be realistic about his value, there are some good matchups for him in an increasingly deep super middleweight division, where he campaigns.
Middleweight
Fernando Guerrero KO2 Gevonte Davis
Records: Guerrero, 11-0, 10 KOs; Davis, 3-2-1, 2 KOs

Rafael's remark: Guerrero is going to be fun to watch and is certainly a prospect to keep an eye on. Not only does the 22-year-old Salisbury, Md., resident have a quality amateur background, but he also is an entertaining fighter who draws a crowd. When he fought at home last month in his TV debut on "ShoBox," the arena was sold out with a raucous crowd. Coming off that fight, the first time Guerrero had gone the distance, he once again flashed his considerable power. A left-right combination in the second round starched Davis, who went down face-first to the canvas. The referee could have counted to 50, and he wasn't going to get up. Can't wait to see more of Guerrero.
Saturday at London
Heavyweight
David Haye KO5 Monte Barrett
Records: Haye, 22-1, 21 KOs; Barrett, 34-7, 20 KOs

Rafael's remark: Haye had an excellent run at cruiserweight, culminating with his crushing second-round knockout of Enzo Maccarinelli in March to unify titles and further cement his status as the division's true champion. But onward and upward: The British star vacated his titles, took the plunge and moved up to heavyweight. He had fought in the division once before, weighing 217 pounds in a first-round knockout of Tomasz Bonin in April 2007. But now Haye, 28, is with the big men for good. Weighing 215 pounds to Barrett's 226, Haye was facing a veteran heavyweight who had twice fought for versions of the title and faced all sorts of quality opposition. So it represented a reasonable test for Haye in the new division. In an exciting fight, Haye passed the test but looked sloppy doing it. Even though he knocked down New Yorker Barrett, 37, five times en route to the victory, Haye showed plenty of vulnerability. His chin, already a huge question mark at cruiserweight, is going to be an even bigger issue at heavyweight, especially if he gets the fight he really wants, which is a title match with either Klitschko brother, Wladimir or Vitali (who was ringside), both of whom are way bigger than Haye and are tremendous punchers. Haye scored two knockdowns in the third, one in the fourth and a final one in the fifth, but Barrett also scored a knockdown in the fifth, although the referee wrongly ruled it a slip and deducted a point from Barrett for hitting Haye as he was going down (not while he was down). Perhaps Barrett's ring entrance foreshadowed the outcome. Barrett attempted to jump over the top rope but instead caught his leg on it and tripped into the ring.
Saturday at Düsseldorf, Germany
Heavyweight
Alexander Dimitrenko KO3 Luan Krasniqi
Records: Dimitrenko, 29-0, 18 KOs; Krasniqi, 30-4-1, 14 KOs

Rafael's remark: He is an imposing 6-foot-7, 256-pounder from Ukraine and no, it's not one of the Klitschko brothers. It is 26-year-old Dimitrenko, who continued to roll and moved a step closer to becoming a mandatory challenger for Wladimir Klitschko. Dimitrenko scored the most notable victory of his eight-year career with an impressive knockout of former title challenger Krasniqi, 37, of Germany, who in a 2005 challenge led then-titleholder Lamon Brewster on the scorecards before he was stopped in the ninth round. Dimitrenko, who had some struggles in the first two rounds, ended it in the third with a right to the head and left to the body. Krasniqi, in his first fight in 16 months since losing a title eliminator to Tony Thompson, went down from the body shot on a delayed reaction and didn't beat the count.
Saturday at Niagara Falls, N.Y.
Heavyweight
Michael Grant W12 Paul Marinaccio
Scores: 119-107 (twice), 117-107
Records: Grant, 45-3, 33 KOs; Marinaccio, 24-4-3, 11 KOs

Rafael's remark: Yeah, Grant, 36, is still hanging around on the fringes of contendership eight years after he was the consensus No. 1 contender before being blown away in two rounds by then-champion Lennox Lewis in April 2000. Now, Grant fights on small cards with little publicity. In this case, Grant won his seventh in a row since being knocked out by Dominick Guinn in 2003. He went the distance with the 41-year-old Marinaccio but claimed a wide decision. Grant floored Marinaccio twice in the seventh, bloodied his lip, cut him over the right eye and rolled to the victory. What will it get Grant? Probably another small fight against a low-level opponent.
Friday at Philadelphia
Junior bantamweight
Raul Martinez TKO1 Victor Proa
Records: Martinez, 24-0, 14 KOs; Proa, 26-1-2, 19 KOs

Rafael's remark: As the clock winds down to the Dec. 19 series finale of Telefutura's beloved but now-canceled "Solo Boxeo," one of the many casualties of the brutal economy, enjoy the remaining shows. This main event, however, didn't last long enough for fans to savor, as San Antonio's Martinez, 25, stopped Mexico's Proa, 23, in just 68 seconds in a battle of undefeated prospects. It was one of those "whoever lands first" kinds of fights. They went straight at each other, and Martinez landed the first big blow, backing Proa into the ropes with a hard right hand. Proa was immediately hurt, and Martinez kept firing until the fight was called off.
Thursday at Providence, R.I.
Super middleweight
Sakio Bika TKO3 Peter Manfredo Jr.
Records: Bika, 27-3-2, 17 KOs; Manfredo Jr., 31-6, 16 KOs

Rafael's remark: Do you think Bika, who won "The Contender" in the third season, was going to be intimidated coming into the hometown of first-season runner-up Manfredo? No chance. Bika fought Markus Beyer in Germany, Joe Calzaghe in the United Kingdom and Lucian Bute in Montreal. The Providence trip was a walk in the park compared to what he's already seen. For some reason, Manfredo, 27, who also has a loss to Calzaghe, elected to trade with Bika instead of boxing him. He paid the price. Although Manfredo was awarded a dubious knockdown in the second round -- he and Bika got their feet tangled -- Bika punished Manfredo in the third round. He was battering him around the ring, and Manfredo was hurt and wobbly when referee Ricky Gonzalez properly stopped it. The crowd wasn't happy -- some knuckleheads pelted the ring with debris, which was just stupid. Bika would probably make a good fight with anyone in the crowded super middleweight and light heavyweight divisions, but he called out Bernard Hopkins; his handlers are also interested in securing a fight with Jermain Taylor. Neither is likely, but you can't blame a guy for trying.
Junior middleweight
Grady Brewer W10 Cornelius "K9" Bundrage
Scores: 94-91, 93-92 Brewer, 95-90 Bundrage
Records: Brewer, 24-11, 13 KOs; Bundrage, 28-4, 16 KOs

Rafael's remark: What a dreadfully dull fight, which on paper figured to be pretty decent. It didn't turn out that way, as Brewer, the winner of the second season of "The Contender," claimed a split decision against Bundrage, who also was on the third season. For Brewer, it was only his second fight since beating Steve Forbes for the tournament crown two years ago because of a serious knee injury. He knocked Bundrage down in the third but lost a point for holding in the fifth round. Bundrage then lost a point for holding in the sixth and another point for hitting on the break in the 10th. All in all, a horrible fight.
Super middleweight
Jaidon Codrington TKO8 William Gill
Records: Codrington, 19-2, 15 KOs; Gill, 8-21, 7 KOs

Rafael's remark: Codrington has been out of the ring for a nice long rest since being taking massive punishment in the hellacious third-season finale of "The Contender," which he lost via eighth-round knockout to Sakio Bika last November. It was one of most action-packed fights of 2007, but Codrington, 24, probably will never be the same. That Gill, who has a terrible record, was competitive with Codrington until being stopped with three seconds left should tell you just how much Codrington has deteriorated. His handlers, Jeff Wald of Tournament of Contenders and Lou DiBella, don't want Codrington to fight anymore and believe he'll retire. If Codrington does, he should walk away with his head held high -- he gave fight fans compelling TV during his season on "The Contender" and one of the most memorable fights you'll ever see.
Wednesday at Liverpool, Australia
Super middleweight
Anthony Mundine W10 Rafael Sosa Pintos
Scores: 119-107 (twice), 117-107
Records: Mundine, 34-3, 23 KOs; Pintos, 31-3, 12 KOs

Rafael's remark: Australia's Mundine, 33, continues to waste everyone's time with irrelevant matches like this one against Uruguay's obscure Pintos, 28, who lost every round. Mundine gave up his version of the 168-pound title to avoid a rematch with Mikkel Kessler, who beat him easily a few years ago, and this was his second pointless fight in a row since giving up the belt. Supposedly, Mundine wants to go down to middleweight and challenge titleholder Felix Sturm. Who cares?
Tuesday at Hollywood, Fla.
Light heavyweight
Glen Johnson TKO4 Aaron Norwood
Records: Johnson, 48-12-2, 32 KOs; Norwood, 26-11-2, 13 KOs

Rafael's remark: Former champ Johnson, 39, gave Chad Dawson hell in an April title bout but came up short even though many thought he won. Unable to secure a rematch or any other noteworthy match, Johnson took a stay-busy fight and doled out punishment to Norwood until it was stopped at 1:20 of the fourth round. If Joe Calzaghe wants a farewell fight in Wales and doesn't want a piece of Dawson, why not offer to fight Johnson, who deserves a big fight as much as anyone?
Middleweight
James McGirt Jr. D10 Marcus Upshaw
Scores: 94-94 (twice), 95-93 Upshaw
Records: McGirt Jr., 19-1-1, 9 KOs; Upshaw, 8-3-1, 3 KOs

Rafael's remark: Although McGirt, 25, scored a first-round knockdown, he struggled through the fight with Upshaw, 28, who entered the bout having dropped two in a row and three of four. Upshaw sent McGirt to the mat in final round. The draw might as well have been a loss for the son of former world champ and top trainer Buddy McGirt. The fight was supposed to be a simple tune-up for McGirt in advance of a Jan. 17 HBO fight with "Kid Chocolate" Peter Quillin, but the draw knocked him out of contention to finalize that fight, and organizers are looking for a new opponent for Quillin.
Dan Rafael is the boxing writer for ESPN.com.
Boxing
2013 BWAA Nat Fleischer Award winner for excellence in boxing journalism
ESPN.com boxing writer since 2005
Five years at USA Today
EDITORS' PICKS
After his win, Brook wants to face Khan, Marquez.
Scorecard »

Russell proved to be the better man against Gonzalez.
Brian Campbell »

Six months after suffering a severe stab wound, Kell Brook defended his welterweight title with a demolition of Jo Jo Dan in a dominant performance Saturday in England.
ESPN UK »
MOST SENT STORIES ON ESPN.COM