Commentary
Hats off to new and improved Hatton
British fans are quick to point out there's only one Ricky Hatton. But that doesn't mean the one and only can't undergo a a style change, especially if it will get him back in the winners' circle -- and add miles to the odometer.
Originally Published:
November 24, 2008
By
Dan Rafael
| ESPN.com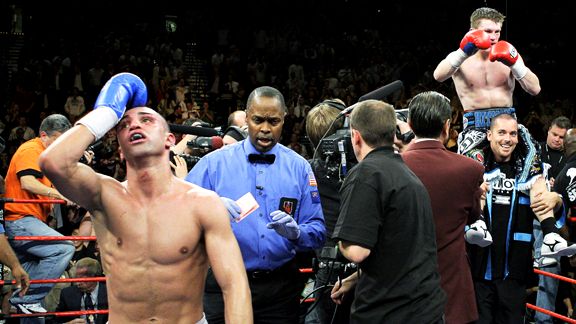 AP Photo/Jae C. HongBy stopping Paulie Malignaggi, Ricky Hatton solidified his place as top dog at 140 pounds.

A roundup of the past week's notable boxing results from around the world:

Saturday at Las Vegas
Junior welterweight
Ricky Hatton TKO11 Paulie Malignaggi
Retains world junior welterweight title
Records: Hatton, 45-1, 32 KOs; Malignaggi, 25-2, 5 KOs

Rafael's remark: Not since 2005, when he took apart Kostya Tszyu to win the world championship, have we seen Hatton this sharp and dominant. With thousands of his loyal British fans singing the ubiquitous "There's Only One Ricky Hatton" throughout the fight, Hatton outboxed the boxer, Malignaggi, and also roughed him up. Having dumped trainer Billy Graham after yet another poor performance in May against Juan Lazcano (on the same card in which Malignaggi defeated Lovemore N'dou for a second time), Hatton was in his first bout under the tutelage of trainer Floyd Mayweather Sr., the father of the only man to defeat him. The pairing seemed to work wonders for Hatton, who was very sharp. Hatton, 30, fought with the aggressiveness that made him so much fun to watch earlier in his career but had been missing for the past several bouts. Hatton also fought a smart fight, much smarter than in his last trip to Las Vegas, where Floyd Mayweather Jr. knocked him out in the 10th round in December. Against Malignaggi, Hatton did all the things Mayweather Sr. asked him to do during their seven weeks together, meaning he moved his head more, used his jab better and didn't get hit nearly as much as he had in recent fights. It was a job well-done for the champ, who gained the surprising TKO when trainer Buddy McGirt, with encouragement from promoter Lou DiBella and attorney John Hornewer, threw in the towel early in the 11th round. New Yorker Malignaggi, 27, hadn't been knocked down and wasn't in danger of being knocked out, but he had absolutely no chance to win the fight. He was down 99-91 on all three scorecards and, because Malignaggi has so little punching power, he had no prayer for even a miracle knockout. His corner knew that, and even though Malignaggi was extremely upset by the stoppage, hopefully someday he will come to realize that his team made the decision because of its love for him. To his credit, he didn't harp on the stoppage at the postfight news conference. While Malignaggi's future is cloudy -- especially with such a chronically injured right hand -- Hatton set himself up for monster business. On Dec. 6, in the same MGM Grand Garden Arena ring, Oscar De La Hoya faces Manny Pacquiao. Hatton is by far the biggest money fight and most notable opponent for the winner. If De La Hoya wins, a fight with Hatton is a mortal lock for next spring. If Pacquiao wins, it's very likely, as well. Every fight involving Hatton is a big fight because of the money and fans he brings. Indeed, there is only one Ricky Hatton.
Middleweight
James Kirkland TKO8 Brian Vera
Records: Kirkland, 24-0, 21 KOs; Vera, 16-2, 10 KOs

Rafael's remark: Couldn't you just watch Kirkland throw bombs all day? He's that aggressive and exciting to watch. In his first fight since signing with Golden Boy in October after an acrimonious split with Gary Shaw, Kirkland smashed third-season "Contender" participant and fellow Austin, Texas, native Vera in brutal fashion. Kirkland, 24, knocked Vera down twice in the second round and administered a beating until referee Vic Drakulich stopped the entertaining (but one-sided) fight in the eighth. How Vera, 26, made it that far is anyone's guess, but the guy obviously has a huge heart. However, he had no head movement and no clue how to handle Kirkland's relentless pressure even though they had sparred briefly a few years ago. Vera was fighting for the first time since scoring his biggest win, a March TKO upset of heralded 2004 Irish Olympian Andy Lee. Vera, who usually fights in the 160s, faced Kirkland, really a 154-pounder, at a contract weight of 157½ pounds, but Kirkland figures to return to junior middleweight, where there are all sorts of exciting younger fighters he could potentially face. Wouldn't you love to see him against Alfredo Angulo or Joel "Love Child" Julio or Deandre Latimore? With Golden Boy behind him, HBO smitten with him and matches to be made, expect to see more of Kirkland. Hopefully, we'll see a lot more.
Welterweight
Matthew Hatton W10 Ben Tackie
Scores: 98-92 (twice), 97-93
Records: Hatton, 35-4-1, 13 KOs; Tackie, 29-11-1, 17 KOs

Rafael's remark: The 27-year-old younger brother of main event star Ricky Hatton looked as good as he ever has cruising to a dominant decision against the long-faded but hard-headed Tackie, who has never been stopped. Hatton won his second in a row since losing in a British Commonwealth title match in May. Hatton is not nearly the talent that his brother is, but he fights in the same kind of aggressive style and the fans seem to enjoy it. Ghana's Tackie, 35, was once a fringe contender at junior welterweight, but those days are long gone as he lost his fifth in a row.
Junior featherweight
Heriberto Ruiz W8 Rey Bautista
Scores: 80-70, 78-72, 77-73
Records: Ruiz, 40-7-2, 23 KOs; Bautista, 26-2, 19 KOs

Rafael's remark: Big upset. Bautista, 22, has been a heralded prospect from the Philippines despite his one-round knockout loss to Daniel Ponce De Leon in a 2007 title bout. Bautista had won three in a row since before running into the experienced Ruiz, 31, of Mexico. It was a grueling fight in which Bautista went down in the third round and suffered a terrible cut over his right eye from an accidental head butt in a fight filled with butts. He was a bloody mess for most of the fight, which sure seemed closer than the scorecards indicate. A low blow cost Bautista a point in the seventh round.
Welterweight
Sirimongkol Singwancha W8 Rogelio Castaneda
Scores: 80-72, 78-74, 76-76
Records: Singwancha, 60-2, 34 KOs; Castaneda, 24-15-3, 8 KOs

Rafael's remark: Thailand's Singwancha, 31, was once a bantamweight titleholder (1997) and a junior lightweight titleholder (2002-03) but now fights at welterweight. He's only 31 and still capable, especially against a journeyman such as Castaneda, 32, who dropped to 1-5 with a no contest in his past seven fights. Singwancha, who wound up on the card because his trainer is tight with the Hattons, was never in any danger as he cruised to the decision. The scorecard that had it even was nonsense.
Junior welterweight
Danny Garcia W6 Adan Hernandez
Scores: 59-52 (three times)
Records: Garcia, 9-0, 7 KOs; Hernandez, 14-6, 5 KOs

Rafael's remark: Garcia, 20, is one of Golden Boy's top prospects, which is why he regularly fights on the company's biggest undercards, which is why after this lopsided victory, the 20-year-old from Philadelphia is scheduled to be back in action Dec. 6 on the Oscar De La Hoya-Manny Pacquiao undercard. Hernandez, 29, lost for the fifth time in six bouts but pushed Garcia the distance. Garcia dropped him with a left hook in the second round and both fighters had points deducted for low blows, Hernandez in the fifth and Garcia in the sixth. Garcia has a load of talent, but he needs to work on one thing in particular -- not pulling straight back when his opponent throws at him. Take a step to the side. It works.
Lightweight
Adrien Broner TKO6 Terrance Jett
Records: Broner, 4-0, 3 KOs; Jett, 4-12-2, 2 KOs

Rafael's remark: With an amateur career of about 300 fights behind him, Cincinnati prospect Broner has a very appealing pro style because he's so aggressive. Through his first three fights, he encountered little resistance as he scored three first-round knockouts. It looked like he might do it again when he dropped Jett twice in the opening round, but Jett survived and took Broner into the sixth before Broner's nonstop attack finally forced the referee to stop it 33 seconds into the round. If you like aggressive fighters, keep an eye on Broner.
Lightweight
Hylon Williams W4 Ramon Flores
Scores: 40-36 (three times)
Records: Williams, 6-0, 1 KO; Flores, 2-4-1, 2 KOs

Rafael's remark: Williams, 18, opened the card with a one-sided decision over Flores, who was no match for the boxing skills of the Houston native. As an amateur, Williams was a 2008 Olympic alternate and a 2007 national champion. He's scheduled back in action on the Dec. 6 Oscar De La Hoya-Manny Pacquiao undercard.
Saturday at Rostock, Germany
Light heavyweight
Hugo Hernan Garay W12 Juergen Braehmer
Retains a light heavyweight title
118-110, 117-112, 116-115
Records: Garay, 32-3, 17 KOs; Braehmer, 31-2, 25 KOs

Rafael's remark: Making the first defense of the vacant belt he won in July, Argentina's Garay, 27, went to Germany to face the popular Braehmer, 30, and did something rare for a foreigner there: win a clear decision. In a tough inside fight, Garay was able to wear Braehmer down and outwork him. For Garay, it was a triumphant return to Germany, where he had twice lost title challenges to beltholder Zsolt Erdei via split decision and majority decision.
Friday at Rama, Ontario
Junior featherweight
Celestino Caballero TKO4 Steve Molitor
Unifies junior featherweight titles
Records: Caballero, 31-2, 22 KOs; Molitor, 28-1, 11 KOs

Rafael's remark: When this unification match was made -- the first in Canadian history -- it looked like a very evenly matched fight on paper. Flip a coin to pick the winner. But that's why they fight the fights. Instead of a competitive fight, Caballero delivered an old-fashioned beating to hometown favorite Molitor on "ShoBox." With his nation's greatest boxing hero, Roberto Duran, at ringside, Panama's Caballero went to Molitor's home turf and dominated from the opening bell. Molitor never looked comfortable and was never able to find a rhythm as Caballero knocked him around the ring and had him on rubbery legs throughout the fight. Finally, in the fourth round, a nasty right uppercut dropped Molitor, who rose in bad shape. After Caballero, 32, landed a four-punch combination in the follow-up assault, referee Luis Pabon stopped the fight as Molitor trainer Stephane Larouche was throwing in the towel. Caballero hasn't lost since May 2004, when he dropped a decision to Ricardo Cordoba, who now happens to be an interim titleholder and one of Caballero's mandatories. Rematch, anyone? And, hey, if they don't do it again, wouldn't you love to see Caballero face world champion Israel Vazquez or titlist Juan Manuel Lopez? There are some serious fights at 122 pounds to delight fight fans.
Friday at Cabazon, Calif.
Junior featherweight
Jhonny Gonzalez KO4 Reynaldo Lopez
Records: Gonzalez, 40-6, 34 KOs; Lopez, 29-7-2, 21 KOs

Rafael's remark: In August 2007, Gonzalez was leading Gerry Penalosa on the scorecards in a bantamweight title defense when he was suddenly knocked out in the seventh round by a body shot. But since that stunning defeat, Mexico's Gonzalez, 27, who moved up in weight, has won six in a row, including five by knockout, including this Telefutura main-event victory. Gonzalez dropped Lopez in the third round and finished him with a flurry of blows in the fourth. Gonzalez is one of the most exciting smaller fighters in boxing and deserves another title opportunity at this point. He'd make for an exciting fight with any of a number of guys, including a rematch with world champion Israel Vazquez, whom he lost to in a terrific battle in 2006. Colombia's Lopez, 35, has seen better days, losing for the third time in five fights.
Friday at Kissimmee, Fla.
Junior featherweight
Wilfredo Vazquez Jr. KO12 Victor Martinez
Records: Vazquez Jr., 14-0-1, 12 KOs; Martinez, 14-4, 10 KOs

Rafael's remark: If you watch Telemundo's boxing regularly, you've seen a lot of Vazquez, the 24-year-old son of Wilfredo Vazquez, the former three-division titlist and his son's trainer. Vazquez is starting to come into his own; he put on a dominant performance in going the deepest he's ever gone in a fight in his second scheduled 12-rounder. Vazquez kept Mexico's Martinez on the defensive most of the night and was way ahead on points when a flurry of punches sent Martinez looking for cover and eventually to a knee, where he took the full count from referee Brian Garry.
Dan Rafael is the boxing writer for ESPN.com.
Boxing
ESPN.com boxing writer since 2005
Writes pound-for-pound rankings
Five years at USA Today
SPONSORED HEADLINES
MORE BOXING HEADLINES
MOST SENT STORIES ON ESPN.COM
EDITORS' PICKS
Nelson Mandela, a true fighter, dies at age 95.
Story »

Why don't U.S. fans appreciate Rigo's artistry?
Nigel Collins »

Alexander to fight Porter while waiting for big names.
Dan Rafael »