Commentary
Pacquiao following bravely in steps of other lighter-weight greats
Pound-for-pound king, a five-division titlist and a throwback to the golden era of boxing, Manny Pacquiao is doing it all inside the ring.
Originally Published:
December 5, 2008
By
Dan Rafael
| ESPN.com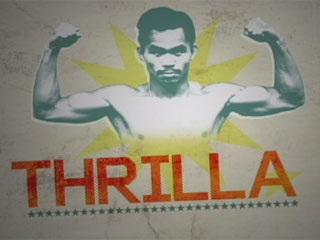 E:60 Feature Thrilla
E:60 features the story on the rise of Manny Pacquiao and how he's about to explore in the US if he beats Oscar De La Hoya in December.
E:60 Feature Thrilla
LAS VEGAS -- When Oscar De La Hoya outpointed Javier Castillejo to win the junior middleweight championship on June 23, 2001, nobody had a clue that an obscure undercard fighter -- Manny Pacquiao -- seven weight divisions below would figure so prominently in the Golden Boy's future.
And in boxing history. Seven years later, Pacquiao is on the verge of entering rare air with a victory against De La Hoya on Saturday night (HBO PPV, 9 ET) in the same ring at the MGM Grand Garden Arena where he and De La Hoya won that night. On that night, De La Hoya weighed 154 pounds when he dominated Castillejo to wrest the title. Pacquiao, virtually unknown to boxing fans outside of his native Philippines, made a spectacular American debut. He was a late replacement when he blew out highly regarded 122-pound junior featherweight titlist Lehlo Ledwaba in six devastating rounds. The victory launched Pacquiao, a former flyweight champion (112 pounds), to stardom. Separated from each other by 32 pounds that night, the two fighters' eventual meeting hadn't even been contemplated, but now they'll battle at the same weight Saturday. And if Pacquiao, the pound-for-pound king and only a slight underdog, wins the welterweight showdown, it would be his third win of the year in a third weight class, including two title victories.
Fight Credential
De La Hoya-Pacquiao
For all the stories, podcasts, videos and news on Oscar De La Hoya's showdown with Manny Pacquiao, visit the Fight Credential.
In March, Pacquiao edged rival Juan Manuel Marquez via split decision to win the recognized junior lightweight (130 pounds) world championship. In June, Pacquiao moved up to lightweight (135 pounds) and crushed David Diaz to win an alphabet belt before leaping up two divisions to meet De La Hoya at 147 pounds. Such a move up in that short period of time, especially against top opponents, is incredibly rare in boxing history. Although there is no title at stake Saturday night, a victory would make Pacquiao the closest thing to a modern-day Henry Armstrong, the all-time great pound-for-pound legend who over the course of 10 months from October 1937 to August 1938 claimed, in order, the world featherweight, welterweight and lightweight championships. In one of the most remarkable feats in boxing history, Armstrong held all three championships simultaneously at a time when there were only eight divisions, not the cluttered field of 17 that exists today. Of course, boxing politics and rules now make it impossible for a fighter to hold three titles in three divisions at the same time, but for this day a nd age, Pacquiao sure is the closest thing there is to Armstrong in that sense. "It's a big accomplishment if I win this fight," Pacquiao said. "It's going to be boxing history and a big honor to my country. To fight in three divisions in one year, that's amazing. To win the fight is really good for me and a really big honor to my country." Top Rank's Bob Arum, Pacquiao's promoter, has promoted numerous stars who have won titles in multiple divisions, including De La Hoya, Floyd Mayweather and Roberto Duran, for example. But Arum thinks because of how quickly Pacquiao has moved up in weight combined with his success, he's the closest thing there is to Armstrong. "He's been the most remarkable fighter in that regard in this era," Arum said. "He is a throwback. He is a complete throwback to that era. He's totally unconventional for the fighters we have around today."
Two Title Fights, One Night
TV lineup for the Golden Boy Promotions/Top Rank card Saturday night (HBO PPV, 9 ET) from the MGM Grand Garden Arena in Las Vegas: • Welterweights: Oscar De La Hoya (39-5, 30 KOs) vs. Manny Pacquiao (47-3-2, 35 KOs), 12 rounds • Junior welterweights: Victor Ortiz (22-1-1, 17 KOs) vs. Jeff Resto (22-2, 13 KOs), 12 rounds • Junior featherweights: Juan Manuel Lopez (23-0, 21 KOs) vs. Sergio Medina (33-1, 18 KOs), for Lopez's title • Super middleweights: Daniel Jacobs (12-0, 11 KOs) vs. Victor Lares (14-3, 3 KOs), 8 rounds
Arum believes Pacquiao would have been a top fighter in any era of boxing history. "I think so because he seems to have an energy level and a determination which matches favorable with any fighter in the old days," he said. "The relentless pressure and the way he attacks his target, the way he never gets tired." The perceived size difference between De La Hoya and Pacquiao has been a big part of the rhetoric leading up to the fight because De La Hoya began his career in the 130-pound division and steadily moved up the scale to 160 pounds, winning titles in six divisions (130, 135, 140, 147, 154 and 160) along the way. Some have been critical of the match because of the perceived size difference, but Arum hasn't let that bother him. "Throughout history, smaller guys went up in weight," Arum said. "Now it has to be an exceptional smaller guy. It can't be the ordinary run-of-the-mill smaller guy. But the exceptional smaller guy went up in weight to fight great, great fighters in a higher weight. And very often the little guy won. That happens all the time. Now, from my standpoint, I feel a tremendous sense of responsibility to Manny Pacquiao, who is the icon of a nation of 90 million people.
12 Rounds
De La Hoya-Pacquiao

Oscar De La Hoya might be the bigger fighter, but who is the harder puncher? Which fighter has the better corner? How will the fight play out? Visit 12 Rounds for a complete breakdown of Saturday's contest.
"I would not have allowed this fight to happen if I didn't feel in my heart of hearts that Manny could win the fight. That doesn't necessarily mean that he's going to win. I really believe that he will win and that it is very, very competitive. … You don't put somebody in a fight that you believe he can't win and your matchmakers believe he can't win just for money. [Trainer] Freddie Roach believes that he will win the fight. [Top Rank matchmaker] Bruce Trampler believes that he will and can win the fight. And those are the people whose views I respect. The haters out there and the know-nothings out there, they can say what they want. It has no effect on me." Pacquiao began his professional career as a teen weighing 106 pounds and also moved up the scale to claim titles in five divisions (112, 122, 126, 130 and 135). When you look at both men this week, however, the size difference isn't apparent other than De La Hoya being a few inches taller than Pacquiao. Roach, Pacquiao's trainer and one of De La Hoya's many former trainers, has insisted all along that the size difference won't make much of a difference. In fact, it was Roach who was one of the driving forces in helping get the fight made because he had such a strong belief in Pacquiao's ability to handle De La Hoya. "Manny's been getting bigger all the time, he's getting older, getting thicker, and he had trouble making weight," Roach said. "Even in the Diaz fight, the day of the weigh-in we had to lose two pounds. He told me then we're not fighting at '35 again. He said we had to move to '40. Then when this fight came about, when you [media] guys started talking about this, at first I thought no way, I thought it was unrealistic. "Then I started thinking about it and Oscar coming down in weight and Manny going up. For the Diaz fight, he went into the ring 146½ pounds [24 hours after the official weigh-in] and I thought he might be a little sluggish, his speed might be affected because he gained too much weight. But he fought a perfect fight. He's that type of athlete. He's a great athlete. He just performs. Speed and power is something he has and it's really hard to deal with." Roach, a student of boxing history, said the comparison to Armstrong is legitimate.
[+] Enlarge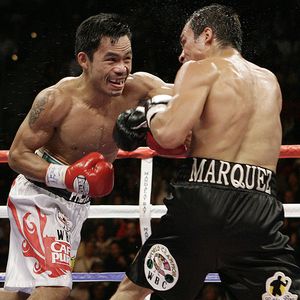 AP Photo/Jae C. HongPromoter Bob Arum considers Manny Pacquiao, left, a throwback to a bygone era of boxing.
"He's so unorthodox like Armstrong. He just mauls you," Roach said. "Manny Pacquiao is not a traditional type boxer. He's very hard to read. I think Oscar is going to have trouble with the southpaw stance. Manny throws punches from everywhere, from all different angles, it's crazy. That's why he gets hit sometimes, because he likes to engage, of course. I know Oscar has knockout power in the left hook, so it's something we have to look out for. The right hand I'm not really worried about so much." De La Hoya said if he had wanted to, he also could have fought in three divisions over the course of a year but elected not to. "As long as you train right, as long as you have the right foods going into your body, as long as you have the right team, you can jump up as many weight classes as you want," De La Hoya said. "Manny Pacquiao can handle the weight because of his power and speed. … My frame allowed it, my speed and power allowed it too. It's a matter of wanting to do it and having the [guts] to do it." De La Hoya sure doesn't make apologies for making Pacquiao come up in weight to meet him because he is sacrificing to come down to a weight at which he has not fought since his 2001 knockout of Arturo Gatti. "When you want to win an Oscar, you'll do whatever you can to win that Oscar," De La Hoya said. "That's what they've done. They've jumped up two weight classes and they are looking for that Oscar. [Saturday], they either leave empty-handed or they take the trophy." And make boxing history.
Dan Rafael is the boxing writer for ESPN.com.
Boxing
2013 BWAA Nat Fleischer Award winner for excellence in boxing journalism
ESPN.com boxing writer since 2005
Five years at USA Today
EDITORS' PICKS
Russell proved to be the better man against Gonzalez.
Brian Campbell »

Six months after suffering a severe stab wound, Kell Brook defended his welterweight title with a demolition of Jo Jo Dan in a dominant performance Saturday in England.
ESPN UK »

WBC made Kovalev the mandatory for Stevenson.
Dan Rafael »
MOST SENT STORIES ON ESPN.COM