Commentary
Giant Valuev did little to deserve victory over Holyfield
Fight fans who had the misfortune of watching Nikolai Valuev lumber around the ring for 12 rounds against Evander Holyfield also were treated to a bogus decision, writes Dan Rafael.
Originally Published:
December 22, 2008
By
Dan Rafael
| ESPN.com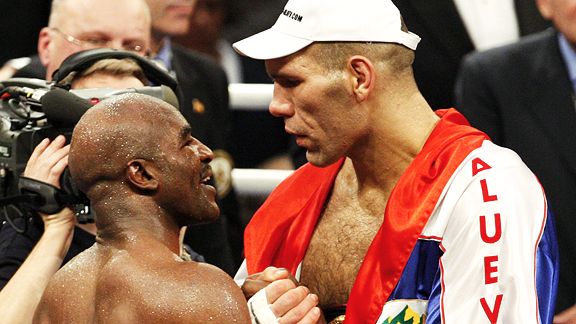 AP Photo/Keystone, Steffen SchmidtNo winners here: Everyone came out a loser in Zurich on Saturday.

A roundup of the past week's notable boxing results from around the world:

Saturday at Zurich, Switzerland
Heavyweight
Nikolai Valuev W12 Evander Holyfield
Retains a heavyweight title
Scores: 116-112, 115-114, 114-114
Records: Valuev, 50-1, 34 KOs; Holyfield, 47-10-2, 27 KOs

Rafael's remark: What a humiliating night for boxing. The stench from this fight won't go away even with a strong wind. Everything about it stunk as it notched the hat trick of heinous, specifically: 1. The WBA never should have approved the 46-year-old Holyfield to fight for the title in the first place after he lost his previous fight in lopsided fashion to Sultan Ibragimov for another belt more than a year ago. 2. The fight was horrible, one of the worst heavyweight title fights in history with less contact than an episode of "Dancing With the Stars." 3. The decision was so atrocious and so scandalous that it made Holyfield's gift draw in his first with Lennox Lewis look like a competent ruling. Judges Pierluigi Poppi (the 116-112 joke) and Mikael Hook (the 115-114 disaster) rendered ghastly scorecards. Judge Guillermo Perez Pineda's 114-114 draw was merely disgusting. For the record, ESPN.com, watching the fight on pay-per-view, scored it 117-112 for Holyfield. Holyfield, who was the fan favorite of the 12,500 in the sold-out crowd, was bidding to become the oldest heavyweight titleholder in history. He also was bidding for a record fifth title reign. But he was ripped off. Badly. Although few gave him any serious chance to win, he deserved to make history in his 25th year as a professional, eight years removed from the last time he held a title.

Holyfield deserved the victory not because he fought well. He didn't. All he did was bounce around, move from side to side and stay about 10 feet from Valuev all night while coming forward a couple of times per round to land a combination. But given that Valuev, who looked like a statue, fought as if he was in a coma all night long, what little Holyfield was doing should have been enough for a landslide points victory.

Valuev barely threw any punches at all. He threw so few that it looked as if he was purposely trying not to hit Holyfield for fear of hurting the old man. Where was the excellent jab he possesses? Never once was there a sense of urgency nor the notion that he should try to do anything other than plod around and follow Holyfield. And remember: Russia's Valuev, 35, is 7 feet and 310 pounds, a mountain of a man. Holyfield is barely 6-foot-2 and weighs 214 pounds. It was a physical mismatch, but Valuev never did one thing to use his advantages. Frankly, you can make more of a legitimate argument that Holyfield won all 12 rounds than you can make one that Valuev claimed at least seven to take the fight. Holyfield, obviously disappointed, summed up the fight well in his postfight interview: "I thought I hit him more times than he hit me." Broadcaster Nick Charles, handling the blow-by-blow for the U.S. pay-per-view, summed it up even better: "I am shocked, dazed and amazed. That is the worst display of officiating I have ever seen." Valuev's credibility as a titleholder is nonexistent. Why would anyone pay 10 cents to see him fight again, especially against somebody such as Wladimir or Vitali Klitschko? His nonperformance has reduced him to a joke. As for Holyfield, although he was robbed, hopefully he will finally retire, but that seems unlikely because of the sad state of his financial affairs. What a thoroughly rotten way to end a great year of boxing that gave us such memorable fights as Israel Vazquez-Rafael Marquez III, Manny Pacquiao-Juan Manuel Marquez II, Tomasz Adamek-Steve Cunningham and Antonio Margarito-Miguel Cotto, not to mention marvelous performances such as Pacquiao against Oscar De La Hoya and Bernard Hopkins against Kelly Pavlik. All have been clouded by this rancid fight and a worse decision.
Saturday at Cozumel, Mexico
Junior lightweight
Humberto Soto W12 Francisco Lorenzo
Wins a vacant junior lightweight title
Scores: 118-108, 117-109 (twice)
Records: Soto, 46-7-2, 29 KOs; Lorenzo, 33-5, 14 KOs

Rafael's remark: Soto, who finally earned his world title, can be rid of Lorenzo, and so, hopefully, can all of us. Soto dominated the mandatory rematch six months after they first met. In that June 28 bout for a vacant interim title, made available because champion Manny Pacquiao was moving up to challenge for a lightweight title in the main event, Soto beat the bejesus out of Lorenzo but was ridiculously disqualified by referee Joe Cortez in the fourth round for hitting Lorenzo with a grazing punch when he was down. However, the blow was a glancing shot that did no damage despite Lorenzo's Hall of Fame acting job. The DQ was so ridiculous that the WBC actually did something that made sense by withholding the interim title recognition from the bloodied and destroyed Lorenzo. After Pacquiao vacated to remain at lightweight, Soto claimed the interim belt in October with a TKO win against Gamaliel Diaz, and that win set up the rematch with Lorenzo for the full title. Although Soto, 28, of Mexico, didn't thrash the Dominican Republic's Lorenzo, 37, as badly as he did in their first fight, he made his point. Soto won the near shutout despite Lorenzo's continued dirty tactics. He head-butted, threw low blows, held and did everything in his power to unsettle Soto. Lorenzo's ignoring of the rules finally resulted in point deductions from referee Jay Nady in the eighth and ninth rounds.
Saturday at Santo Domingo, D.R.
Lightweight
Joan Guzman W12 Ameth Diaz
Title eliminator
Scores: 120-108, 119-109 (twice)
Records: Guzman, 29-0, 17 KOs; Diaz, 25-8, 9 KOs

Rafael's remark: In September, Guzman failed to make weight, then refused to go through with a nontitle fight against unified titleholder Nate Campbell, causing the Showtime main event to be scrubbed just hours before the fight was to start. Campbell, missing the $300,000 payday, was forced to declare bankruptcy and hasn't fought since. As for Guzman, he got away with it and even was rewarded by the onerous WBA when they sanctioned this mismatch as a title eliminator. Guzman, training with Robert Garcia instead of Floyd Mayweather Sr., now has a shot at a title. Sure, he made weight this time for the fight in his home country, but so what? The damage already had been done. Fighting for the first time in 13 months, Guzman, 32, won the near shutout of Panama's Diaz, 25, whose appearance in a title eliminator was laughable based on his résumé. Guzman's speed and movement simply overwhelmed Diaz.
Saturday at Antwerp, Belgium
Welterweight
Jackson Bonsu W12 Carlos Baldomir
Title eliminator
Scores: 114-113, 114-112, 113-113


Records: Bonsu, 30-2, 23 KOs; Baldomir, 44-12-6, 13 KOs

Rafael's remark: Baldomir is no longer pulling upsets. Boxing's new-era "Cinderella Man" upset Zab Judah to become undisputed welterweight champion during his historic 2006 campaign, then upset Arturo Gatti in his first title defense before being wiped out in a one-sided decision by Floyd Mayweather Jr. But he's not even winning regularly anymore. The 37-year-old from Argentina put up a strong effort against Ghana's Bonsu, who lives in Belgium, but it just wasn't enough in their title eliminator. In a sometimes spirited battle, Bonsu, 27, eked out the majority decision to become the next mandatory challenger for titleholder Andre Berto. Although Bonsu lost a point for a head butt in the fourth round and was down in the 10th round on what probably should have been ruled a slip, he won for the second time since losing the European championship. For Baldomir, it was his third loss in four fights, including the Mayweather fight and a lopsided points loss to Vernon Forrest for a vacant junior middleweight belt. Baldomir provided an uplifting story of an underdog's success, but that chapter is long over.
Saturday at Los Angeles
Middleweight
Roman Karmazin W12 Bronco McKart
Scores: 119-109, 118-110, 117-111
Records: Karmazin, 37-3-1, 23 KOs; McKart, 51-9-1, 31 KOs

Rafael's remark: When last seen in the ring, Karmazin, 35, a former junior middleweight titleholder, was on the wrong end of a stunning 10th-round upset knockout loss to Alex Bunema in January on the Roy Jones-Felix Trinidad undercard. Making his comeback against a fellow former titleholder, Karmazin, a Russian living in Los Angeles, won the lopsided decision against the long-faded McKart, 37. Although Karmazin fought at middleweight, he has said that for the right opportunity, he would gladly return to junior middleweight.
Friday at Denver
Junior welterweight
Mike Alvarado TKO4 Miguel Angel Huerta
Records: Alvarado, 24-0, 17 KOs; Huerta, 27-10-1, 18 KOs

Rafael's remark: Alvarado is just one of the many rising contenders who have grown up on Telefutura's "Solo Boxeo," which came to a close with this card after debuting in August 2000 and having a memorable 410-show run. Boxing fans, regardless of whether they speak English or Spanish, are mourning the loss of this show, cut by the financially troubled network as part of drastic cost-cutting measures. The series, which launched so many careers, will be dearly missed. Alvarado, who is developing a following in his hometown, gave them a show as he won the final "Solo Boxeo" main event in a dominant performance. Alvarado, 28, was all over Huerta, 30, from the outset. He was teeing off on Huerta with a barrage of crisp, short punches in the fourth round when referee Stephen Bleas ended the match. For the sake of history, one more bout went into the ring to close the broadcast, as bantamweight Alejandro Castillo (1-0) won a majority four-round decision in his pro debut against Shawn Nichol (1-1, 1 KO). Adios, "Solo Boxeo."
Lightweight
Brandon Rios KO5 Carlos Guevara
Records: Rios, 19-0-1, 12 KOs; Guevara, 12-7-1, 9 KOs

Rafael's remark: Coming off a surprising draw with Manuel Perez in October, Rios, 22, returned to action for a dominant victory against Nicaragua's Guevara. But Rios blew making the weight for the fight, coming in four pounds over the limit. To allow the fight to go on, Rios had to give Guevara $3,500 from his $12,500 purse, but Rios made him pay once the fight started. He dropped Guevara in the fourth round with a debilitating left hook to the body for what would have been a knockout, but referee Curtis Thrasher inexplicably ruled it a low blow when it wasn't even close to being below the belt. Rios continued his attack in the fifth, dropping Guevara twice more including the finisher, a beautiful left uppercut that put him down for good.
Friday at Milan, Italy
Heavyweight
Matt Skelton TKO10 Paolo Vidoz
Wins vacant European heavyweight title
Records: Skelton, 22-2, 19 KOs; Vidoz, 25-6, 14 KOs

Rafael's remark: Skelton, 41, of England, lost a lopsided decision in a world title bout to Ruslan Chagaev his last time out in January. In his comeback, Skelton was busier and opened a lead in the early going against Italy's Vidoz, a 2000 Olympic bronze medalist bidding for a second reign as European champion. Vidoz, 38, landed some solid shots and briefly rallied in the middle rounds, but he was not really doing much damage. By the ninth, Vidoz was out of gas and not answering Skelton's blows. It finally ended with Vidoz on his stool one second into the 10th round suffering his second loss in a row and third in five fights.
Dan Rafael is the boxing writer for ESPN.com.
Boxing
2013 BWAA Nat Fleischer Award winner for excellence in boxing journalism
ESPN.com boxing writer since 2005
Five years at USA Today
EDITORS' PICKS
Russell proved to be the better man against Gonzalez.
Brian Campbell »

Six months after suffering a severe stab wound, Kell Brook defended his welterweight title with a demolition of Jo Jo Dan in a dominant performance Saturday in England.
ESPN UK »

WBC made Kovalev the mandatory for Stevenson.
Dan Rafael »
MOST SENT STORIES ON ESPN.COM