Commentary
Miranda right turns out lights on Banks, earns KOY honors
When it comes to slick, intelligent boxing, No one will ever confuse Edison Miranda's boxing skills for those of Floyd Mayweather. When it comes to knockout power and highlight-reel KOs, however, Miranda is in a league of his own.
Updated:
December 26, 2008, 3:36 PM ET
By
Dan Rafael
| ESPN.com
Whatever Edison Miranda's limitations are as a prizefighter (and there are many), two things have never been questioned: his gift for funny trash talk before a fight and his power.
In his native Colombia, Miranda was scoring knockout after knockout before arriving in the United States in 2005 with a reputation as a huge puncher, and his rep didn't diminish after his eye-catching first-round devastation of Willie Gibbs in his December 2006 HBO debut.
But after hard-hitting and exciting battles, although losses, against Arthur Abraham and Kelly Pavlik, Miranda was on the comeback trail when he met David Banks in a super middleweight fight Jan. 11 at the Hard Rock resort in Hollywood, Fla., in the main event of ESPN2's "Friday Night Fights."
It was a good style match on paper. Miranda was the aggressive brawler with power, and Banks -- coming off a stint on the third season of "The Contender" reality series -- was more of a technician.
| | |
| --- | --- |
| Year | Fight |
| 2008 | Edison Miranda KO3 David Banks |
| 2007 | Darnell Wilson KO11 Emmanuel Nwodo |
| 2006 | Calvin Brock KO6 Zuri Lawrence |
| 2005 | Allan Green KO1 Jaidon Codrington |
| 2004 | Antonio Tarver KO2 Roy Jones Jr. |
| 2003 | Rocky Juarez KO10 Antonio "Chelo" Diaz |
| 2002 | Roy Jones KO7 Glenn Kelly |
| 2001 | Lennox Lewis KO4 Hasim Rahman |
| 2000 | Lennox Lewis TKO2 Frans Botha |
Banks boxed well in the first two rounds and was doing well in the third round as Miranda tried to find his target. For Banks to win, he was going to have to keep it up throughout the scheduled 10-rounder. But he could do it for only so long before Miranda struck later in the third round.
With Banks backing up to the ropes, Miranda flicked a left jab and followed with a crushing right hand to the jaw that immediately launched Banks backward and sent him falling between the second and third ring ropes.
"There's a big right hand," ESPN blow-by-blow announcer Joe Tessitore called with exuberance. "Holy cow! David Banks is halfway out of the ring! What a knockout!"
For the first seven seconds of referee Telis Assimenios' count, Banks lay almost motionless on his back, literally hanging like a teeter-totter as he balanced on the ropes. If you missed the punch and glanced at the TV, you might have thought someone had pressed the DVR pause button because Banks was virtually frozen horizontally on top of the rope with half his body inside the ring and the other half of his body outside it from the waist up about to fall to the floor headfirst.
Banks eventually grabbed the rope above him and fell back into the ring, but he couldn't beat the count before Assimenios stopped it at 1:15. Although Banks made it to his feet, he was wobbling and totally out of it. He nearly fell down again until grabbing the top rope on another side of the ring before the ring doctor guided him to a stool.
"Can you believe that?" Tessitore continued as the aftermath was unfolding. "Not even two weeks into 2008 and you have the leading candidate for knockout of the year! Edison Miranda! Wow!"
Turns out, it stood up as the knockout of the year. As for the second part of Tessitore's statement?
Wow, indeed.
Other sweet shots:
Breidis Prescott KO1 Amir Khan (Sept. 6 at Manchester, England)
[+] Enlarge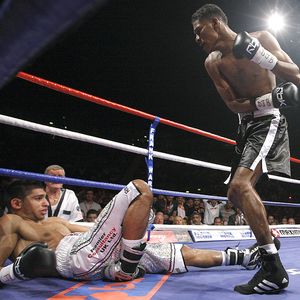 AP Photo/Jon SuperKhan-quered! Breidis Prescott, standing, became the first fighter to blemish Amir Khan's record with a two-fisted assualt in September.
Khan's meteoric rise came to a crashing halt as Prescott pulled off a shocking upset in a 54-second destruction of Khan that featured two rough knockdowns of the lightweight prospect. Khan's biggest flaw had been his chin, and it betrayed him badly as Prescott hurt Khan with the first solid jab of the fight, then ripped him with a monster left hook. Khan went down as though he had been cut in half, but he popped back up on instinct. Moments later, however, Prescott delivered another flush left hand that knocked Khan down for the count in the corner. "He's counted out, and it's one of the biggest stunners in British boxing history in the modern era," Sky TV's Ian Darke exclaimed. "Breidis Prescott has knocked out Amir Khan sensationally in one round." When Khan finally did rise, he was doing the British version of the Chicken Dance.
Kendall Holt KO1 Ricardo Torres (July 5 at Las Vegas)
[+] Enlarge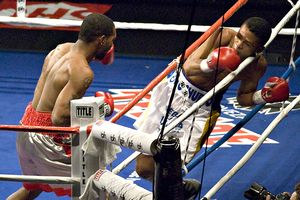 Ray Kasprowicz/Fightwireimages.com Holt it right there: Kendall Holt, left, exacted revenge by stopping Ricardo Torres in under a round.
Torres stopped Holt in the 11th round of their first junior welterweight title fight, but Holt exacted revenge and won the title in a frenzied 61-second rematch that ended when Holt, rallying from two knockdowns earlier in the round, just waxed Torres. After hitting him with a hard, but accidental, head butt, Holt connected with a massive right hand that left Torres unconscious on his knees against the ropes and in need of medical attention.
Shane Mosley TKO12 Ricardo Mayorga (Sept. 27 at Carson, Calif.)
[+] Enlarge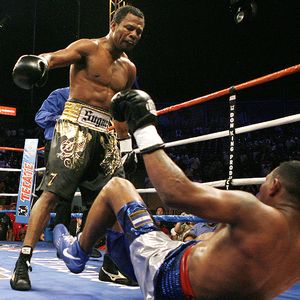 AP Photo/Gus RuelasA sweet finish: "Sugar" Shane Mosley knocked out Ricardo Mayorga in the final moments of their 12-round fight.
In his Southern California homecoming, his first fight there since beating Oscar De La Hoya in 2000, Mosley gave the fans a sweet ending with a dramatic knockout. He had the junior middleweight fight in hand in the final round and could have coasted. But that's not Mosley. He was going for the knockout until the final bell, and he finally got it with one second left. Mosley had dropped Mayorga with a right-left-right combination in the 12th round, but Mayorga made it to his feet. But as soon as the action resumed, Mosley slammed him with a left hook to the chin that flattened him. Referee David Mendoza didn't bother to count, waving off the fight as the bell was ringing. "Such a dramatic knockout in a fight that was going back and forth the last few rounds," HBO analyst Emanuel Steward said. "Fantastic knockout."
Juan Urango KO4 Carlos Wilfredo Vilches (April 23 at Hollywood, Fla.)
[+] Enlarge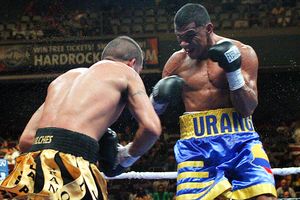 Javiel Centeno/FightWireImages.com Juan Urango's vicious right hook turned the lights out on Carlos Vilches.
On the comeback trail after losing a junior welterweight belt to Ricky Hatton in January 2007, Urango was headlining against Vilches in a title eliminator on ESPN2's "Wednesday Night Fights" when he authored a scary knockout that left Vilches down on the canvas for several minutes attempting to recover from the bomb that hit him. It was a one-punch knockout as Urango unleashed a fast right hook that landed flush on Vilches' jaw and knocked him cold. If Vilches wasn't already out before he hit the canvas, he sure was after his head whacked the mat upon landing. Ouch, babe.
Yuriorkis Gamboa TKO1 Al Seeger (July 18 at Primm, Nev.)
Gamboa, a 2004 Olympic gold medalist from Cuba, is an electrifying offensive talent and has scored several pretty knockouts, including a first-round blowout of Johnnie Edwards and second-round destruction of Marcos Ramirez in 2008. But the featherweight's most sensational knockout of the year came when he annihilated Seeger in 2:30 on "Friday Night Fights." All it took was a fast, short, destructive right hand to the chin that deposited Seeger flat on his back, apparently out cold before he landed.
Jason Cintron KO2 Pascali Adorno (Dec. 5 at Reading, Pa.)
The kid brother of big-punching ex-welterweight titleholder Kermit Cintron hasn't displayed much pop through his first 10 fights. Although the junior welterweight is undefeated, he has only three knockouts. Still, this one on Telefutura's "Solo Boxeo" was explosive. He ripped Adorno with a straight right hand that clipped Adorno on the chin, and it looked as though Cintron was trying to punch a hole through his head. Adorno fell to his back, where he tried to get up, raising his arms over his head as if he was trying to do a sit-up that he could never complete.
Arthur Abraham KO12 Elvin Ayala (March 29 at Kiel, Germany)
[+] Enlarge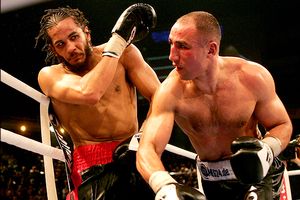 Martin Rose/Bongarts/Getty ImagesElvin Ayala, left, was one of three opponents to be stopped by Arthur Abraham in '08.
Abraham is a vicious puncher who stopped all three of his 2008 opponents, but none in more violent fashion than when he ended Ayala's night in a middleweight title defense. With 28 seconds left, Abraham trapped Ayala in a corner and unloaded a brutal left uppercut that snapped Ayala's head straight up before he fell to the ground on his knees. But Ayala didn't collapse all the way to the mat because, with his jelly arms at his side, he came to rest on his chin in a scary scene. It was another highlight-reel knockout in Abraham's growing collection.
Antonio Margarito KO6 Kermit Cintron (April 12 at Atlantic City, N.J.)
[+] Enlarge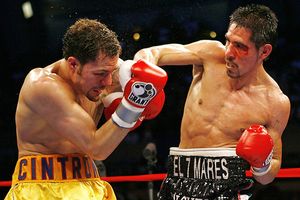 Ed Mulholland/Fightwireimages.comSix rounds of sustained punishment took its toll on Kermit Cintron.
What would a roundup of the year's best knockouts be without a terrific one-punch KO on a body shot? That's just what Margarito delivered against Cintron in their rematch as the "Tijuana Tornado" claimed a welterweight belt. Margarito had been dominating when he landed a thudding left hook to Cintron's rib cage. Cintron fell to all fours in agony. As referee Earl Brown counted him out at 1:57, Margarito stood in the neutral corner and mockingly motioned for Cintron to get up. He didn't.
Juan Manuel Lopez KO1 Cesar Figueroa (Oct. 4 at San Juan)
Lopez's right hook is one of the most dangerous weapons in boxing, a sentiment Figueroa probably will agree with after feeling its full fury. Lopez, who had won a junior featherweight title by erasing Daniel Ponce De Leon in the first round in June, went home to Puerto Rico for his first defense and absolutely blitzed Figueroa in 47 seconds. After the two circled each other for a few seconds, Lopez pawed with his jab a few times, then unloaded the money punch, a right hook to the chin that crumpled Figueroa face-first. He struggled to his knees but couldn't beat the count.
Vic Darchinyan KO9 Cristian Mijares (Nov. 1 at Carson, Calif.)
[+] Enlarge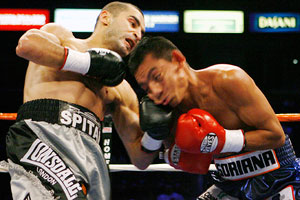 AP Photo/Danny MoloshokVic Darchinyan's one-punch power and relentless aggression proved too much for Cristian Mijares.
Darchinyan had said all along in the buildup to the junior bantamweight unification fight that even though he was the underdog, he'd break Mijares in half and knock him out. He didn't quite break him in half, but he sure did drill him. Darchinyan, one of boxing's biggest punchers, knocked Mijares down in the first round and dominated the fight until finishing in style just as the ninth round ended. He forced Mijares backward into the ropes with a flurry of punches. Among them was a crisp straight left hand that caught Mijares on the jaw and dropped him. Mijares smacked his head on the bottom rope, spun slightly sideways and came to rest under the ropes. Referee Lou Moret didn't even bother to count. What would the point have been?
Daniel Santos KO6 Joachim Alcine (July 11 at Montreal)
[+] Enlarge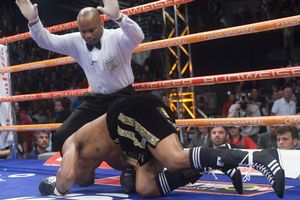 AP Photo/The Canadian Press/Ryan RemiorzNo need to count; Joachim Alcine never saw the left hand that put him to sleep.
Santos became a two-time junior middleweight titleholder in style when he destroyed Alcine in front of the Canadian's disappointed home crowd. He knocked Alcine silly with a murderous straight left hand that knocked Alcine flat on his back, his hands sprawled at his side. Alcine, who never saw the punch, rolled over onto his knees and tried to get up but pitched forward as the referee stopped it at 2:06. Alcine then attempted to rise again, but he fell backward in a fruitless attempt.
Manny Pacquiao TKO9 David Diaz (June 28 at Las Vegas)
[+] Enlarge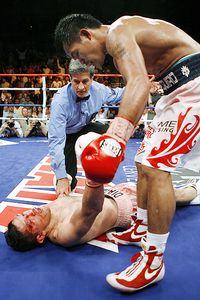 AP Photo/Eric Jamison"Need a hand?" Manny Pacquiao's two-fisted attack proved too much for David Diaz.
Pacquiao, the ESPN.com Fighter of the Year, moved up to lightweight to challenge Diaz for his belt and was grinding him down in a wickedly one-sided assault. He had ripped open a cut over Diaz's right eye and was hammering him with frighteningly flush punches until Diaz could take no more after Pacquiao unleashed a right jab followed by a sharp left cross that nailed Diaz's chin and deposited him face-first on canvas in the center of the ring. Referee Vic Drakulich immediately stopped it at 2:24 as Diaz rolled over on his back and blood trickled down his face.
Emmanuel Nwodo KO2 Ezra Sellers (Jan. 19 at New York)
In 2007, Nwodo was on the receiving end of one of the most violent knockouts ever when he went to sleep in the 11th round against cruiserweight Darnell "Ding-A-Ling Man" Wilson in the knockout of the year. This year, in his first bout since the crushing loss, Nwodo, fighting as a heavyweight, was on the other side of a sensational knockout. Facing chinny Sellers on the untelevised portion of the Roy Jones-Felix Trinidad undercard, Nwodo gave those in attendance at Madison Square Garden a thrill. After earlier knocking Sellers down, Nwodo detonated a right hand on his chin. Sellers was out before he hit the mat face-first, and he stayed down for several minutes.
Alex Bunema KO10 Roman Karmazin (Jan. 19 at New York)
[+] Enlarge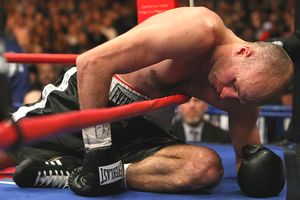 Al Bello/Getty Images"Quick, someone get Roman Karmazin a pillow!"
Although Nwodo-Sellers was not part of the Jones-Trinidad HBO PPV broadcast, Bunema's upset knockout of former junior middleweight titlist Karmazin was, and it was sensational. Bunema was way behind on the scorecards when, out of nowhere, he wrecked Karmazin with a left hand, then finished him with a violent flurry reminiscent of Kelly Pavlik's knockout of Jermain Taylor. In the end, it was a right hand in the flurry at 1:36 that dropped Karmazin for good to his backside in a corner, where he fell to the side, his upper body hanging over the bottom rope onto the ring apron. No need for referee Johnny Callas to count.
Sebastian Sylvester KO12 Javier Castillejo (April 12 at Mecklenburg, Germany)
Former junior middleweight champion Castillejo displayed a solid chin throughout his long career -- until Sylvester touched him with a jab and came behind it with a flush right hand on the point of the chin. The blow swiveled Castillejo's head, and he dropped to the canvas -- first pinning his feet underneath himself, then falling onto his back -- where he was out cold at 1:53 in the 12th round of Sylvester's memorable European middleweight title defense.
Julio "Baby Face" Garcia KO1 Jose Medina (June 27 at Fort Lauderdale)
A year after sleepwalking his way to an upset loss to Troy Browning, Garcia returned to the ring. But it didn't last long -- 13 seconds to be exact as Garcia erased journeyman Medina with a left hook to the chin, crushing him with the first punch of the fight.
Also coming: awards for prospect, round and fight of the year
Dan Rafael is the boxing writer for ESPN.com.
Boxing
2013 BWAA Nat Fleischer Award winner for excellence in boxing journalism
ESPN.com boxing writer since 2005
Five years at USA Today
MOST SENT STORIES ON ESPN.COM