Commentary
Holt-Torres 2 packed action, knockdowns and a stoppage into 61 seconds
How did Kendall Holt and Ricardo Torres top the back-and-forth thrills and spills of their first fight? Easy: They packed the same amount of action into a 61-second rematch. Dan Rafael looks back on the one round of mayhem.
Originally Published:
December 28, 2008
By
Dan Rafael
| ESPN.com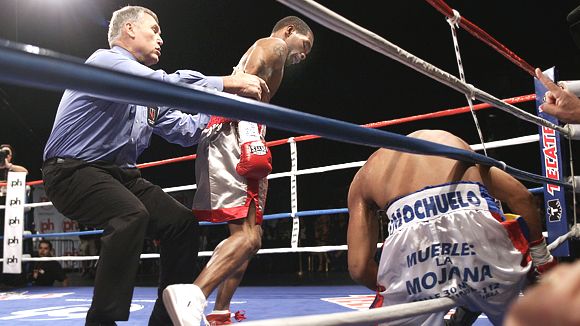 Courtesy Chris Farina/Top RankKendall Holt, left, decided to stand and trade with Ricardo Torres -- and the decision paid dividends in the end.
When Kendall Holt and Ricardo Torres met for the first time in September 2007, Torres won in his native Colombia with an 11th-round TKO to retain a junior welterweight title in a controversy-filled fight. Both fighters were knocked down and the bout was marred by flying debris from the crowd, questionable refereeing and a shaky stoppage.
A rematch was inevitable and it was set for Las Vegas on July 5. Little did anyone know that it would provide all the fireworks you could ask for on the holiday weekend as Holt claimed the title in jaw-dropping style.
Rather than a long, grinding fight like their first encounter, the sequel produced an entire fight worth of blazing action in a mere 61 seconds.
That's right, a 61-second firefight that was as exciting and breathtaking as anything seen in a prize ring.
| | |
| --- | --- |
| Year | Fight |
| 2008 | Kendall Holt-Ricardo Torres II (1st) |
| 2007 | Israel Vazquez-Rafael Marquez II (3rd) |
| 2006 | Somsak Sithchatchawal-Mahyar Monshipour (9th) |
| 2005 | Diego Corrales-Jose Luis Castillo I (10th) |
| 2004 | Marco Antonio Barrera-Erik Morales III (11th) |
| 2003 | Acelino "Popo" Freitas-Jorge Barrios (11th) |
| 2002 | Micky Ward-Arturo Gatti I (9th) |
| 2001 | Micky Ward-Emanuel Burton (9th) |
| 2000 | Erik Morales-Marco Antonio Barrera I (5th) |
In that short burst of explosiveness -- one second more than one-third of a full round -- Holt and Torres produced an electrifying fight that included Holt being knocked down twice, a shocking comeback, a cut, controversy and a pulverizing knockout. Remember, it all happened in 1:01, which is why it was the clear choice as 2008 ESPN.com Round of the Year.
With Mike Tyson, Julio Cesar Chavez and even Paris Hilton watching at ringside at the Planet Hollywood Resort & Casino, Torres charged at Holt, looking to pick up where he left off in the first fight.
Just 13 seconds into the fight, Torres landed a big right hand to Holt's head. Holt went down, but he popped back up so quickly that referee Jay Nady hadn't even begun the count yet. After taking the mandatory eight-count, they engaged again and Torres was all over Holt.
A flurry of punches from Torres, including a damaging left to the head, knocked Holt down for the second time 31 seconds into the fight.
Holt was far more hurt from this knockdown than the first one, but again, he jumped up quickly -- so quickly, that Torres fouled him by landing another left hook before Nady, who didn't even warn Torres about the infraction, could even begin the eight-count.
When the fight resumed, Holt was cut over the right eye and Torres charged him again. They were trading punches, Torres looking to end it and Holt fighting to stay alive. During the exchange, they accidentally smashed heads and Torres went reeling into the ropes. A split-second later, Holt unleashed a devastating right hand that knocked Torres out cold. He dropped to his knees and came to rest slumped unconscious against the ropes.
Showtime's "ShoBox: The New Generation" broadcast team was as stunned as any observer by what they were seeing.
"Trying to fight back," blow-by-blow man Nick Charles said as Holt tried to stave off the Torres attack. "Now he's got Torres down! Round of the year candidate! Ohhhhh, Torres is down and out! One of the most colossal rounds we've ever seen in boxing!"
Torres wound up on his back receiving medical attention for a lot longer than the entire fight had lasted.
"Absolutely incredible," Showtime's Steve Farhood said. "Torres was en route to winning this fight. I think that's why we love boxing. One shot turned it around. Holt hit a seven-run home run."
Other scorchers:
Israel Vazquez-Rafael Marquez III (4th)
[+] Enlarge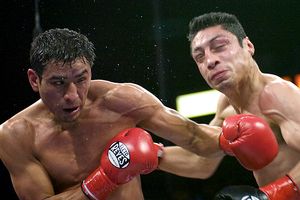 Chris Cozzone/FightWireImagesRafael Marquez, left, Israel Vazquez packed more action into one round than most fighters produce in entire bouts.
They have waged 25 rounds of thrilling action against each other in three epic battles for the world junior featherweight championship and virtually every round has been hard-hitting and entertaining. In the rubber match, there were several exciting rounds, including the 12th, in which Vazquez, trailing on the scorecards, scored a knockdown in the final seconds to seal a split-decision victory. But the round that packed the most dramatic punch came earlier in the fight. As the fourth opened, they traded hard shots and worked each other's bodies at close quarters. The action really heated up in the final frenetic minute. That's when a right hand from Marquez stunned Vazquez and another right moments later dropped him to the seat of his pants. But as soon as the fight resumed, Vazquez, now cut over his left eye, nailed Marquez with a pair of right hands that hurt him. Then it was on. They traded ferocious shots toe-to-toe over the final 30 seconds. "Incredible drama here in Round 4," Showtime's Steve Albert roared as the memorable round came to a close.
Tomasz Adamek-Steve Cunningham (4th)
[+] Enlarge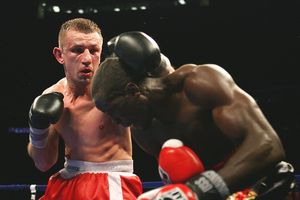 Al Bello/Getty ImagesTomasz Adamek, left, battled back from the brink of a stoppage to knock down Steve Cunningham in Round 4.
Cunningham had already been down in the second round of this cruiserweight championship fight, but appeared to even things up in this all-action frame. It was all Cunningham early as he rocked Adamek with a left uppercut and had him holding on. Cunningham continued his attack and was teeing off on Adamek, who looked ready to go. Even if Cunningham couldn't get the knockout, he was authoring a textbook example of a 10-8 round without scoring a knockdown, that's how badly he was punishing Adamek. But with 30 seconds left, Adamek landed a right hand that knocked Cunningham down as the pro-Adamek crowd went wild. A rejuvenated Adamek dominated the rest of the round and had Cunningham in big trouble in a classic round that had a huge shift in momentum.
Lucian Bute-Librado Andrade (12th)
[+] Enlarge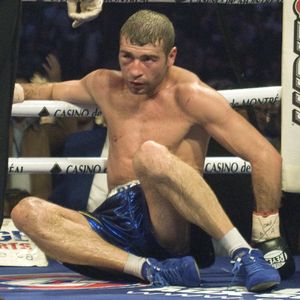 AP Photo/The Canadian Press, Ryan RemiorzLucian Bute was down and nearly out after 12 rounds with Librado Andrade.
Fighting in super middleweight titleholder Bute's hometown of Montreal, Andrade was way behind on the scorecards and in desperate need of a knockout. As they entered the final round, Bute was running out of steam and Andrade was giving everything he had to get the knockout, resulting in an exciting round filled with exchanges as the crowd went berserk. But that was only part of it. The serious drama unfolded over the final 20 seconds or so, when Andrade was pounding a fading Bute all over the ring. Andrade finally floored him with about three seconds left. With Bute in horrible shape and struggling to rise, referee Marlon Wright stopped his count and admonished Andrade to stay in the neutral corner. The delay gave Bute valuable extra time to make it to his feet, and when he did, the fight was over, as was a wild finish to a terrific round.
Antonio Margarito-Miguel Cotto (2nd)
[+] Enlarge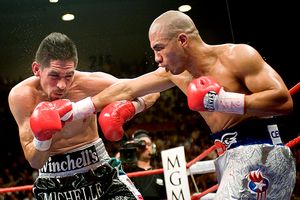 Chris Cozzone/FightWireImagesAntonio Margarito, left, and Miguel Cotto took turns teeing off on each other in an exciting Round 2.
After a feeling out process in the first round of the welterweight title bout, one of the year's most anticipated fights, things kicked into high gear with a fast-paced, high-punch-output second stanza in which Margarito and Cotto both landed solid shots. Cotto rocked Margarito with an uppercut in the first minute, but Margarito shook it off and stalked forward, pressuring Cotto like he would try to do the entire fight. As they traded, HBO's Max Kellerman said, "They took a round to warm up." As the action continued, HBO's Jim Lampley added, "This is the fight everyone expected to see." Margarito eventually drew blood from Cotto's nose, but Margarito got in a strong left just before the bell. "What a round Round 2 has been," Lampley barked. "Most of the crowd of 12,500 stood up to applaud that round."
Chad Dawson-Glen Johnson (11th)
[+] Enlarge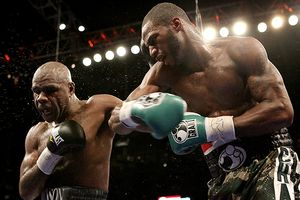 John Gichigi/Getty ImagesChad Dawson, right, and Glen Johnson took their gut-wrenching brawl to new heights during the championship rounds.
It had been a grueling light heavyweight title bout and it got even rougher as they entered the championship rounds. Johnson, at 39, was walking down the 26-year-old Dawson and connecting at an alarming rate with the fight apparently still up for grabs. But Dawson summoned whatever he had inside him and eventually turned the tables before the two settled into a toe-to-toe slugfest. "Unbelievable action," shrieked Showtime's Steve Albert. "Dawson. Back comes Johnson with uppercuts! Then it's Dawson's turn. Then Johnson. It's Vazquez-Marquez, only bigger!"
Jorge Arce-Rafael Concepcion (4th)
Defense? Who needs defense? Arce and Concepcion, battling for an interim junior bantamweight belt, tore into each other throughout this punishing round that took a lot out of both guys. Without an iota of defense, Arce and Concepcion spent much of the round with their heads on each other's shoulders as they bashed each other with everything they had. Concepcion seemed to get the better of it, especially when he cracked Arce repeatedly with right hands during an extended toe-to-toe exchange as the round came to a close, after which Arce staggered back to his corner.
Cristobal Arreola-Travis Walker (2nd)
[+] Enlarge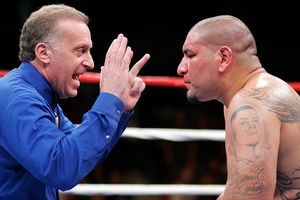 Bryan Crowe/FightWireImages.comCristobal Arreola found himself on the canvas early in Round 2 against Travis Walker.
If you like big men wailing away on each other, here's your round. Walker had already rocked heavyweight contender Arreola twice in the first round before knocking him to a knee with a right hand 30 seconds into the second round. Arreola was clear and rose at referee Jack Reiss' count of eight, after which Walker went right back at him. But after a brief break while Reiss replaced Walker's dislodged mouthpiece, Arreola came alive. He immediately rocked Walker and then dropped him twice in the final minute of the topsy-turvy round.
Amir Khan-Michael Gomez (2nd)
[+] Enlarge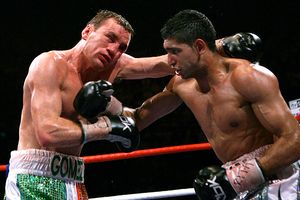 John Gichigi/Getty ImagesAmir Khan gave as good as he recieved against Michael Gomez in a high-octane second round.
Gomez, one of Britain's most exciting brawlers, had already been down in the first round when he and Khan, Britain's heralded lightweight prospect, came out with guns blazing in the incredibly high-octane second round. Just 15 seconds in, Gomez exploited Khan's shaky chin when he decked him with a left hand. Gomez continued the assault, chasing Khan down and trapping him on the ropes and landing a booming uppercut. Khan was in trouble, but he regrouped and turned the tables, hammering Gomez with an onslaught of blows and cutting him badly over the left eye in a cracker of a round.
Carl Froch-Jean Pascal (3rd)
[+] Enlarge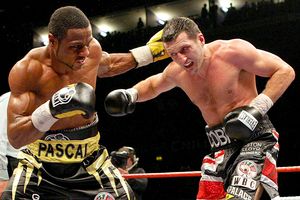 AP Photo/PA, Nick Potts Round 3 saw Carl Froch and Jean Pascal did their best Rock 'Em, Sock 'Em imitations.
Froch and Pascal threw down from the opening bell, battling for one of the super middleweight belts Joe Calzaghe vacated. But as intense as the opening two rounds were, it went to another level in the third round as they exchanged hard jabs before Froch rocked Pascal and nearly dropped him with a left hook in the first 30 seconds. Pascal rebounded and got in his own left. Pascal continued to land left hands and Froch hurt Pascal again, this time with an uppercut. "And it's turning into a real tear-up here in the third round," ITV broadcaster John Rawling exclaimed. By the time the clock was winding down, they had taken to simply trading with each other in a hard-hitting round of a tremendous fight.
Jose Reyes-Ivan Valle (1st)
Although the lightweights would combine for six knockdowns until Reyes stopped Valle in the fourth, the opening round was the wildest of a mayhem-filled fight on Telemundo. Reyes dropped Valle with a short left 90 seconds into the fight. Valle tried desperately to hold in order to clear his head, but eventually was sent staggering into the ropes and down again a few seconds later. Although he survived, Valle was shaky and Reyes went for the knockout only to be caught by a counter left hand with 25 seconds left. Both men had been down and hurt as they fired away toe-to-toe for the final few seconds in this gem of a round.
Rogers Mtagwa-Tomas Villa (9th)
You don't need to understand Spanish-speaking announcers to know an exciting round when you see it, and this was one of them, which ironically aired on Telefutura just hours after "Solo Boxeo" was canceled. Both men were tiring, but Villa had enough in the tank to catch Mtagwa with three right hands that send him stumbling across the ring and eventually down midway through the round. Mtagwa was up at four and took numerous big shots over the final minute. But you know what? He was also throwing and landing on Villa, setting up what would be Mtagwa's triumph in the next frame.
Steven Luevano-Mario Santiago (2nd)
The best action took place in the first minute, when they traded knockdowns in Luevano's featherweight title defense. First, it was Santiago's turn as he landed an overhand left 20 seconds in to drop Luevano. After taking the count from referee Tony Weeks, the fight resumed and Luevano immediately clipped Santiago with a perfect straight left hand that knocked him down. As Santiago went to a corner to take the count, he smiled and motioned to Luevano as if to say, "OK, we're even now." They were even indeed because the outstanding fight was ruled a draw.
Alfredo Angulo-Richard Gutierrez (5th)
[+] Enlarge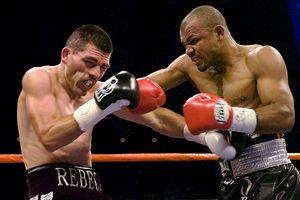 Chris Cozzone/FightWireImagesAlfredo Angulo's chin proved to be a deciding factor against Richard Gutierrez.
Angulo, the junior middleweight prospect with a penchant for brawling, was supposed to be tested by Gutierrez, an experienced veteran who also likes to brawl. So guess what? Angulo was tested and it was a brawl, especially in what turned out to be the final round. Gutierrez took control in the early going, stunning Angulo 35 seconds into the stanza and sending him reeling into the ropes with a solid left hook. But Angulo got himself together and landed a series of right hands as he looked to finish. Gutierrez was trying to make a stand but was getting hammered. "What a chin Gutierrez has! He has taken some bombs," said HBO's Max Kellerman, amazed Gutierrez was still on his feet. Gutierrez never did go down, but Angulo continued to dish out the shots until referee Tony Weeks called it off at 2:48.
Also coming: awards for prospect and fight of the year
Dan Rafael is the boxing writer for ESPN.com.
Boxing
2013 BWAA Nat Fleischer Award winner for excellence in boxing journalism
ESPN.com boxing writer since 2005
Five years at USA Today
EDITORS' PICKS
Dawson to fight at home looking to revive his career.
Rankings »

Fury to remain quiet leading up to Chisora rematch.
Dan Rafael »

Salido wins interim junior lightweight title in thriller.
Scorecard »