Commentary
Ortiz primed for a breakout '09
From his hard-hitting, crowd-pleasing style to his boyish charm, what's not to like about Victor Ortiz? Dan Rafael foresees many years at the top of the sport to come for boxing's next big star.
Originally Published:
December 29, 2008
By
Dan Rafael
| ESPN.com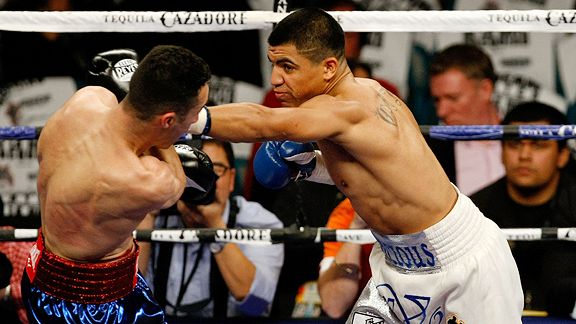 Ethan Miller/Getty ImagesLook into the future: Golden Boy has high hopes for 21-year-old Victor Ortiz.
A few days before Oscar De La Hoya faced Manny Pacquiao in Las Vegas on Dec. 6, De La Hoya took to the podium at the final news conference to make his remarks.
De La Hoya, of course, did his job to hype the pay-per-view fight. He also took time to thank his team and the numerous sponsors involved in the year's biggest fight. But just before wrapping up, De La Hoya had a special thank you to dole out.
This one went to "Vicious" Victor Ortiz, a 21-year-old junior welterweight who had recently signed with De La Hoya's company, Golden Boy Promotions. Ortiz, a southpaw, spent time in De La Hoya's training camp as a stand-in for Pacquiao, who's also a hard-hitting, quick southpaw. But Ortiz was also there because he was training for his undercard fight against Jeffrey Resto, which would take place in the prime position immediately prior to the main event.
"One person I really want to thank, who made me move my head more, was Victor Ortiz," De La Hoya said. "For giving me that shiner under my eye that they showed on TV [on HBO's '24/7'], and I wasn't too happy about, but thank you very much."
| | |
| --- | --- |
| Year | Fighter |
| 2008 | Victor Ortiz |
| 2007 | Amir Khan |
| 2006 | Andre Berto |
| 2005 | Joel Julio |
| 2004 | Samuel Peter |
| 2003 | Jermain Taylor |
| 2002 | Miguel Cotto |
| 2001 | Francisco Bojado |
| 2000 | Julio Diaz |
It was high praise from boxing's biggest star. Although reaching the same stratosphere of stardom that De La Hoya has reached is unlikely, the talented Ortiz (23-1-1, 18 KOs), with a crowd-pleasing, aggressive style, two-fisted power and boyish charm, has a chance to be a star for years to come, making him the choice as the 2008 ESPN.com Prospect of the Year in a year that had several quality candidates, including Alfredo Angulo, James Kirkland, Devon Alexander and Yuriorkis Gamboa.
Ortiz, who along with his older sister and younger brother was abandoned by his parents in Kansas when he was a child before he found his way to Oxnard, Calif., didn't start his year until May because he filed for bankruptcy and had his promotional contract with Top Rank voided by the court. Top Rank promoter Bob Arum is suing co-managers Shelly Finkel and Rolando Arellano over the matter, saying they engineered the bankruptcy to get out of his promotional contract so they could take Ortiz to Golden Boy Promotions, which signed him after the court said Ortiz was free of Top Rank.
Finkel and Arellano, who bought Ortiz's contract from manager Cameron Dunkin at the time of the bankruptcy filing, deny Arum's charges.
So while the nasty business of boxing plays out for Ortiz, who turned pro in 2004 at age 17, outside the ring, he's doing his job inside the ring. He turned in three ruthless knockouts against opponents who represented a mild step up in competition.
Ortiz's first fight of the year came on short notice after a court ruling allowed him to fight for Golden Boy, which added him to the May undercard of De La Hoya's fight against Steve Forbes.
Ortiz shook off the rust of a six-month layoff by stopping hard puncher Dairo Esalas in the fifth round. Although Ortiz was knocked down in the third round, he finished Esalas in exciting fashion, dropping him three times in all.
In September, Ortiz authored a dynamic fifth-round knockout of veteran Roberto Arrieta, before returning to destroy Resto in two rounds.
If you're curious about the loss and draw on Ortiz's record, pretend they don't exist. In his eighth pro fight, Ortiz was disqualified in the first round for knocking Corey Alarcon cold with an uppercut off a clinch in a mismatch. The first-round technical draw came in January 2007, when Ortiz was thrashing Marvin Cordova and about to knock him out when an accidental head-butt opened a cut on Ortiz's forehead and rendered him unable to continue.
Ortiz's 2009 campaign will start against an opponent to be determined on HBO's "Boxing After Dark" in March. It surely won't be the only time you see the rising star on HBO.
Other future stars (in alphabetical order with age, division, promoter and record):
Devon Alexander (21, junior welterweight, Don King, 17-0, 10 KOs)
[+] Enlarge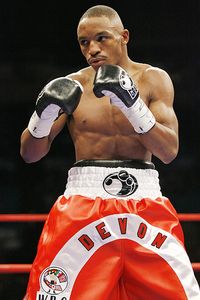 Ed Mulholland/FightWireImages.comPlease, Don King: Give us more of Devon Alexander!
The St. Louis native, who's trained and managed by Kevin Cunningham, is about the only gem left in King's stable. Yet for some unknown reason, King left Alexander on the shelf for most of 2008 until finally giving him two untelevised bouts in November and December under the threat of litigation. Earlier in the year, the stylish and fast Alexander had dominant points wins against ex-titlist DeMarcus "Chop Chop" Corley and former lightweight title challenger Miguel Callist. Had Alexander been with any other promoter of consequence, he'd have been a TV regular instead of a mystery man to so many fans. Mystery or not, the kid can fight.
Mike Alvarado (28, junior welterweight, Top Rank, 24-0, 17 KOs)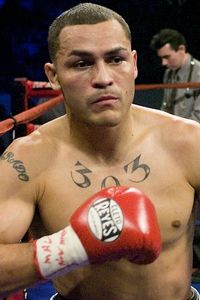 Chris Cozzone/FightWireImages Mike Alvarado shows improvement every time he steps into the ring.
Although Alvarado is a little older than most prospects, he got a late start. He didn't turn pro until age 23 and had only 41 amateur fights. As a pro, he seems to get better with every fight, and his Denver fan base is growing based on the crowds he has drawn in his past two fights. He's close to being a factor in his division after going 5-0 for the year against solid opponents, including three consecutive fourth-round knockouts, against ex-lightweight champ Cesar Bazan, Manuel Garnica and Miguel Huerta. A title shot in 2009 is not out of the question.
Demetrius Andrade (20, junior middleweight, Banner Promotions/Star Boxing, 2-0, 2 KOs)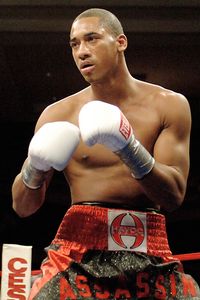 Emily Harney/Fightwireimages.comGood size, fast hands and an amateur pedigree: Demetrius Andrade has everything a boxing fan could want in a young talent.
The Providence, R.I., native nicknamed "Boo Boo" was the best pro prospect on the 2008 U.S. Olympic team and first squad member to turn pro in October. Besides making the Olympics, Andrade, who started boxing at age 6, was an amateur world champion, two-time U.S. national champion and two-time national Golden Gloves champion. He has everything you like to see in a rising talent: good size (he's 6-foot-1), a deep amateur background, fast hands, power and ring smarts.
Alfredo Angulo (26, junior middleweight, Gary Shaw, 14-0, 11 KOs)
[+] Enlarge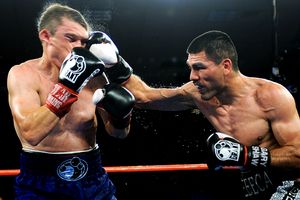 Naoki FukudaLike Antonio Margarito? Then you'll love Alfredo Angulo, right.
"Perro" was a 2004 Mexican Olympian who resembles Antonio Margarito in the way he looks and fights. This is a good thing. Angulo isn't the fastest fighter, but he's strong as a bull, pressures opponents and is a crowd-pleaser. He won all three of his 2008 fights by knockout, including two impressive appearances on HBO when he stopped Richard Gutierrez in five exciting rounds and slaughtered usually solid Andrey Tsurkan for a 10th-round TKO. Angulo takes a big step up Feb. 14 against ex-titleholder Ricardo Mayorga in what figures to be a slugfest and good test.
Andre Dirrell (26, super middleweight, Gary Shaw, 17-0, 12 KOs)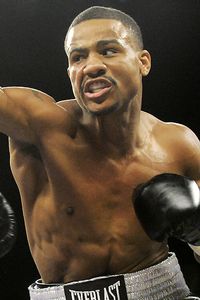 AP Photo/Ingrid BarrentineAndre Dirrell has taken the slow and steady route since turning pro in 2004.
Four years removed from an Olympic bronze medal, the 6-foot-3 Flint, Mich., native is coming into his own. His horrific performance against Curtis Stevens on HBO in June 2007, when he ran and stunk his way to victory, seems like a distant memory. Since then, the fast and powerful southpaw has looked sensational. He was 4-0 in 2008, including dominant, Showtime-televised knockouts of Anthony Hanshaw, Mike Paschall and Victor Oganov. Dirrell has pound-for-pound talent and is on the doorstep of some serious fights in a packed division.
Kenny Galarza (23, junior welterweight, Seminole Warriors Boxing, 8-0, 8 KOs)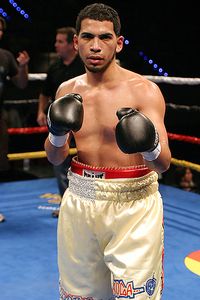 Javiel Centeno/Fightwireimages.comDon't know Kenny Galarza? You're not alone but expect to hear a lot about him in '09.
Galarza hasn't received a lot of hype from his handlers, but they know they have a possible gem in the Puerto Rico native. He has looked good fight in and fight out since turning pro in mid-2007. Fighting six times in '08, Galarza faced soft opposition, but he did pass a small test in June by knocking out previously undefeated Heraclides Barrantes.
Yuriorkis Gamboa (27, featherweight, Arena-Box, 12-0, 10 KOs)
[+] Enlarge
Arena Box-PromotionYuriorkis Gamboa's rapid-fire fists are setting the boxing world ablaze.
The 2004 Cuban Olympic gold medalist defected and has emerged as an electrifying offensive talent and a must-watch fighter. Despite serious defensive lapses, Gamboa, who has ridiculous speed, was 5-0 in 2008, including sensational knockouts against Johnnie Edwards, Al Seeger and Marcos Ramirez. But he also was knocked down by Darling Jimenez and Ramirez and changed trainers to help with his defense. If he can square that away, he'll be a star. On Jan. 9, he'll headline the season premier of ESPN2's "Friday Night Fights."
Danny Garcia (20, junior welterweight, Golden Boy, 10-0, 7 KOs)
[+] Enlarge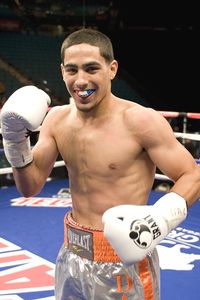 Fightwireimages.com Danny Garcia has a knack for knocking opponents out in style.
Philadelphia's Garcia, a 2006 U.S. national amateur champ and 2007 U.S. Olympic trials finalist, is one of several Shelly Finkel-managed, Golden Boy-promoted prospects with bright futures. They think very highly of him because he has received numerous showcases on the undercard of most of Golden Boy's big shows. They kept him busy with eight fights during the year. He has fast hands and oozes confidence.
Miguel Angel "Mikey" Garcia (21, featherweight, Top Rank, 15-0, 12 KOs)
[+] Enlarge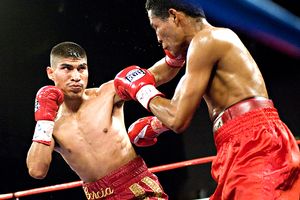 Chris Cozzone /Fightwireimages.comMiguel Angel "Mikey" Garcia went 4-0 in 2008.
Garcia fights with a maturity beyond his years, which should come as no surprise considering he comes from a fighting family. He's the younger brother of former junior lightweight titleholder Robert Garcia, who is his trainer. The Oxnard, Calif., native was 4-0, including going the eight-round distance for the first time in his latest fight, a decision against former title challenger Walter Estrada in October. Garcia suffered a broken pinkie on his right hand in the bout, but he's expected back by February.
Gennady Golovkin (26, middleweight, Spotlight Boxing, 14-0, 11 KOs)
Golovkin has moved along steadily since winning a silver medal for Kazakhstan in the 2004 Athens Olympics. And just whom did he beat in the Olympic semifinals? American Andre Dirrell. Golovkin, now based in Germany, didn't turn pro until mid-2006, but he went 5-0 in '08 and projects as another in a long line of German-based middleweight and super middleweight contenders.
Fernando Guerrero (22, middleweight, Prize Fight, 11-0, 10 KOs)
[+] Enlarge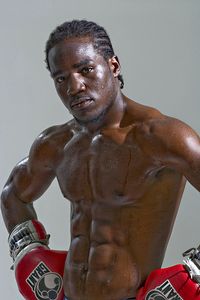 AP Photo/Nathan BilowFernando Guerrero is hoping his amateur success translates in the paid ranks.
Prize Fight has a budding sensation in Guerrero -- a talented, crowd-pleasing southpaw originally from the Dominican Republic who has a rabid following in his longtime adopted hometown of Salisbury, Md. After a standout amateur career, including a national Golden Gloves title, Guerrero turned pro in December '08 under the tutelage of trainer Barry Hunter. Since then, he's kept a torrid schedule. Guerrero gets outstanding gym work, sparring with Paul Williams and Hunter-trained brothers Lamont and Anthony Peterson.
Daniel Jacobs (21, super middleweight, Golden Boy, 13-0, 12 KOs)
[+] Enlarge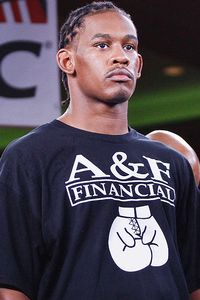 Craig Bennett/FightWireImages.comDaniel Jacobs plans to step up the competition in '09.
Although New York's Jacobs has faced woeful competition, he's clearly a fighter to watch. He had a standout amateur career and is exciting to watch because of his two-fisted power, excellent hand speed and aggressive style. He also has good size and maturity plus a strong commitment from Golden Boy and manager Al Haymon, who have put him on the undercard of big show after big show. Jacobs fought 12 times in 2008. In 2009, his schedule will slow but the level of his opposition should significantly increase.
Kevin Johnson (29, heavyweight, Star Boxing, 21-0-1, 8 KOs)
[+] Enlarge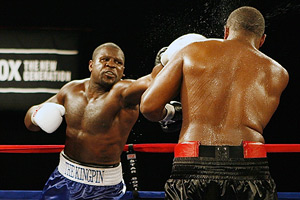 Scott Foster/Fightwireimages.com Kevin Johnson is America's best heavyweight prospect.
There are few notable American heavyweight prospects, but the 6-foot-3, 240-pound Johnson, of Asbury Park, N.J., is one of them. He's not a puncher, but he possesses an outstanding jab, quickness and a gift for gab. Slick heavyweights aren't usually popular with fans, but that doesn't mean Johnson, who had just 16 amateur fights, isn't talented. He was 3-0 in '08, including a knockout of long-faded ex-titlist Bruce Seldon.
Mike Jones (25, welterweight, Russell Peltz, 16-0, 14 KOs)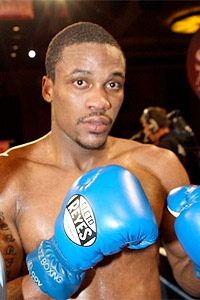 Steve Samoyedny/FightwireimageIf Mike Jones can take a punch, he might be destined for great things.
The lanky Philadelphia native is a sleeper who has been built by Peltz the old fashioned way, locally in Philly and with little TV exposure. But Jones is a crowd-pleasing puncher with good speed. He looks like the real deal, going 4-0 in '08 and modestly upping his competition. You know he's hungry too, because he works a day job and has custody of his two daughters. It's hard to get Peltz, a Hall of Fame matchmaker and promoter who has seen it all, excited about too many fighters, but he is about Jones, and it's not hard to see why. If Jones can take a punch, he could go all the way.
James Kirkland (24, junior middleweight, Golden Boy, 24-0, 21 KOs)
[+] Enlarge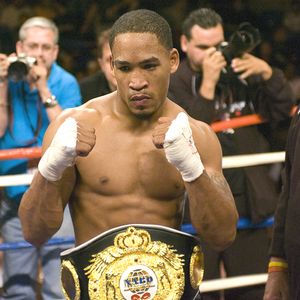 Chris Cozzone/Fightwireimages.comJames Kirkland has been described as an offensive dynamo.
A nasty split with promoter Gary Shaw threatened to stunt the aggressive Austin, Texas, puncher's year. But a settlement was reached, and he signed with Golden Boy in time to be on HBO in the November Ricky Hatton-Paulie Malignaggi co-feature. The southpaw Kirkland, trained by former women's champion Ann Wolfe, was impressive in all three of his 2008 wins, smoking Eromosele Albert in one round in his HBO debut, mowing down Ricardo Cortes in two rounds and delivering a beatdown to "Contender" alum Brian Vera. Simply put, Kirkland is an exceptionally exciting fighter. Sure, he needs to tighten his defense, but his offense is special.
Matvey Korobov (25, middleweight, Top Rank, 2-0, 2 KOs)
[+] Enlarge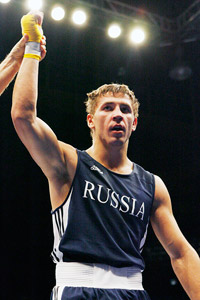 AP Photo/Nam Y. HuhCount on Matvey Korobov to make a smooth transition into the paid ranks.
Korobov has looked good in his first two pro bouts, but he's here because of his amateur pedigree and pro style. The 2008 Russian Olympic southpaw, now living in Florida and training with two-time trainer of the year Dan Birmingham, was a two-time amateur world champion. Top Rank is very selective when it comes to signing Olympians, but its track record is outstanding (Oscar De La Hoya, Floyd Mayweather, Miguel Cotto, etc.). Korobov, managed by Cameron Dunkin, will get the company's full attention and should move quickly because he's a little older than many first-year pros.
Vanes Martirosyan (22, junior middleweight, Top Rank, 22-0, 14 KOs)
[+] Enlarge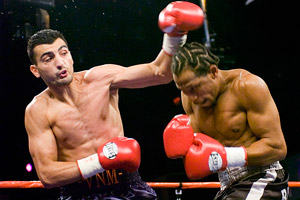 Chris Cozzone/Fightwireimages.comVanes Martirosyan continues to show poise and promise inside the ring.
The 2004 U.S. Olympian turned pro at 18 with Top Rank, which is the best in the business at taking a raw amateur and molding him into a quality professional. Matchmaker Brad Goodman is following that same blueprint with Martirosyan, who is being given ample time to develop and beginning to come into his own, especially since relocating from California to Houston to work with trainer Ronnie Shields. Martirosyan went 5-0 and probably would have gotten in another fight if not for a minor hand injury. His power is developing, and Shields has helped turn his jab into a weapon.
Breidis Prescott (25, lightweight, Arena-Box, 20-0, 18 KOs):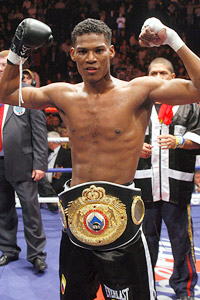 AP Photo/Jon SupeBreidis Prescott announced his arrival by knocking out Amir Khan.
The Colombia native, who has excellent power, headlined on ESPN2 in June in his American debut and eked out a split decision against Richard Abril. At that point, Prescott looked like just another fighter with a padded record. But then came a career-altering victory: a first-round destruction of 2007 ESPN.com prospect of the year Amir Khan. Prescott brutally knocked Khan down twice for the knockout in just 54 seconds. Prescott opened everyone's eyes and now commands our attention to his progress.
"Kid Chocolate" Peter Quillin (25, middleweight, Cedric Kushner, 20-0, 15 KOs)
[+] Enlarge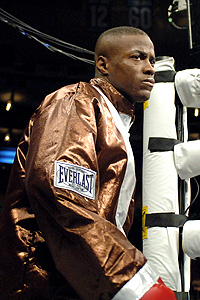 Emily Harney/Fightwireimages.comLiving up to the hype: Peter Quillin went 5-0 against tough competition in '08.
The New Yorker has received plenty of hype, but so far he has lived up to it, especially when you consider that he had just 15 amateur fights before turning pro in 2005. He has a pleasing style and a growing fan base, and he has piqued the interest of execs at HBO (and ought to be featured on "ShoBox"). He went 5-0 and nudged up the level of his competition, beating aging warhorse Antwun Echols and tough journeyman Sam Hill.
Bastie Samir (22, middleweight, Top Rank/TKO Boxing, 3-0, 3 KOs)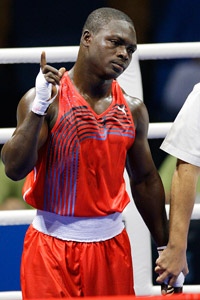 AP Photo/Rick BowmerBastie Samir might've come up short in the '08 Olympics, but his aggressive style will be successful in the paid ranks.
"The Beast" turned pro in November and could move quickly under the guidance of manager Cameron Dunkin. Samir captained the 2008 Ghanaian Olympic team and looked like one of the best pro prospects in Beijing despite an early exit from the tournament because of a terrible decision. His style is made for the pros because he's aggressive, has a powerful jab and likes to punch to the body. Samir, who has relocated to Las Vegas, is going to be fun to watch develop.
Beibut Shumenov (25, light heavyweight, KZ Event Productions, 7-0, 5 KOs)
Shumenov, a 2004 Olympian for Kazakhstan now based in Las Vegas, promotes himself and has had an impressive start to a pro career that began in November 2007. He has moved incredibly fast, facing opponents with good records and tons of experience with little fanfare. In his fourth fight, Shumenov, who fights with nonstop pressure and aggression, knocked out Donnell Wiggins in two rounds; in his sixth fight he dominated former world champion Montell Griffin over 12 lopsided rounds; and in his seventh fight he dominated dangerous ex-title challenger Epifanio Mendoza in a 10-round decision. That competition level is almost insane for a guy with so few pro fights.
Odlanier Solis (28, heavyweight, Arena-Box, 12-0, 8 KOs)
[+] Enlarge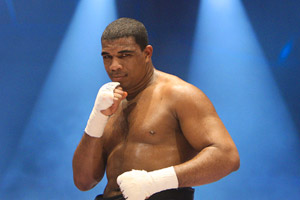 AP Photo/Christof StacheExpect to see a lot more of Odlandier Solis in '09.
The 2004 Cuban Olympic gold medalist defected along with teammates Yuriorkis Gamboa and Yan Barthelemy before turning pro in Germany in 2007. At 6-foot-1 and 250 pounds, he's been plowing through an assortment of veteran journeymen, going 6-0 for the year. Now, he's set for his American debut on the Jan. 9 season premiere of ESPN2's "Friday Night Fights."
Carlos Velasquez (24, junior lightweight, Golden Boy/Luis DeCubas, 9-0, 8 KOs)
[+] Enlarge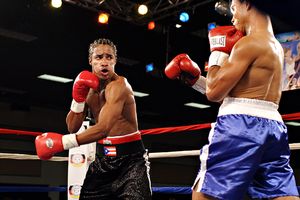 Javiel Centeno/Fightwireimages.comCarlos Velasquez hopes to punch his way into the boxing mainstream in the new year.
Along with his twin brother, Juan, Puerto Rico's Velasquez had an extensive amateur career and has been impressive since turning pro in 2007. He's a headache for Golden Boy matchmakers Eric Gomez and Robert Diaz, but not because he's done anything wrong. It's because it's so difficult to find opponents willing to face him. They found four in 2008 and Velasquez dominated them all.
Andre Ward (24, super middleweight, Dan Goossen, 17-0, 12 KOs)
[+] Enlarge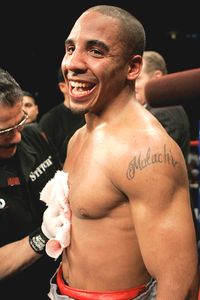 AP Photo/Marcio Jose SanchezAndre Ward had reason to smile after a promising '08 inside the ring.
The only U.S. Olympic gold medalist in 2004 remains a potential star despite developing slower than your typical gold-medal winner. Injuries have been a problem, including knee surgery that cost him six months in 2008. When he has fought, he has displayed terrific speed and ring intelligence. He's not a one-punch knockout guy, but when he hurts opponents, they're in deep trouble. Ward stopped all three of his 2008 foes -- Rubin Williams, Jerson Ravelo and Esteban Camou. All three were reasonable steps up in competition. If Ward can stay healthy, 2009 should be his breakout year.
Also coming: award for fight of the year
Dan Rafael is the boxing writer for ESPN.com.
Boxing
2013 BWAA Nat Fleischer Award winner for excellence in boxing journalism
ESPN.com boxing writer since 2005
Five years at USA Today
EDITORS' PICKS
Six months after suffering a severe stab wound, Kell Brook defended his welterweight title with a demolition of Jo Jo Dan in a dominant performance Saturday in England.
ESPN UK »

Russell proved to be the better man against Gonzalez.
Brian Campbell »

WBC made Kovalev the mandatory for Stevenson.
Dan Rafael »
MOST SENT STORIES ON ESPN.COM