Commentary
Martinez robbed of win against Cintron
Talk about dropping the ball: it was referee Frank Santore's incompetence and not Kermit Cintron's fists that did the most damage to Sergio Martinez during "Boxing After Dark" Saturday.
Originally Published:
February 16, 2009
By
Dan Rafael
| ESPN.com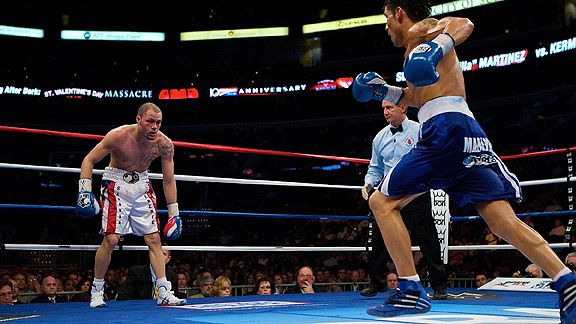 Fightwireimages.comKermit Cintron, left, should have been counted out against Sergio Martinez on Saturday.

A roundup of the past week's notable boxing results from around the world:

Saturday at Sunrise, Fla.
Lightweight
Nate Campbell W12 Ali Funeka
Scores: 115-111, 114-112, 113-113
Records: Campbell, 33-5-1, 25 KOs; Funeka, 30-2-2, 25 KOs

Rafael's remark: Although Campbell had lost his three alphabet belts on the scale Friday for coming in overweight -- he was 137½ pounds when the division limit is 135 -- the fight went on anyway, with Campbell having no chance to win the titles. Had Funeka, 30 and fighting outside of South Africa for the first time, won, he would have claimed all three belts. And it looked as though Funeka, freakishly tall (6-foot-1) for a lightweight, was on his way to doing just that against a sluggish, 5-foot-7 Campbell, 36, who had not fought since winning the belts in an upset of Juan Diaz 11 months ago.
Campbell dropped Funeka in the second round with a big overhand right, but Funeka showed great heart and smarts to survive. But as the fight wore on, Campbell appeared tired and Funeka was simply outhustling him. Funeka was busier and landing shots, apparently on his way to a decision win. But then he fell apart. Campbell landed the same booming overhand right with a minute to go in the 11th round and Funeka went down again. Again, he survived but Campbell continued to pour it on and easily won the 12th round to pull out the tight victory.
Campbell said he'll go to junior welterweight and try for a title bid there. With Funeka losing, the belts remain vacant. However, Funeka, who had knocked out Zahir Raheem in four rounds last summer to earn his mandatory status, was fighting a heavier man and performed well. He deserves to remain in position to fight for a vacant belt despite the loss.
Junior middleweight
Sergio Martinez D12 Kermit Cintron
Retains an interim junior middleweight title
Scores: 113-113 (twice), 116-110 Martinez
Records: Martinez, 44-1-2, 24 KOs; Cintron, 30-2-1, 27 KOs

Rafael's remark: Ladies, gents and Fight Freaks, we have our first serious candidate for robbery of the year. This was no draw. Martinez easily beat Cintron, and he did it twice. The 33-year-old from Argentina first deserved a knockout at the end of the seventh round, which was horrifically overturned by referee Frank Santore in an egregious error, and then he deserved a clear decision against Cintron, a former welterweight titleholder moving up in weight. Between them, Martinez and Cintron had only lost to Antonio Margarito -- Martinez getting stopped by him in 2000 and Cintron getting knocked out by him in 2005 and 2008. Facing each other, they figured to make a good fight, but it turned out to be a bit disappointing and was mired in bad officiating all around.
First, Santore blew the call on the cut Cintron suffered over his left eye early in the fight, ruling it was from a punch when HBO's replay showed it was clearly produced by an accidental head butt. Then, at the end of the seventh, Martinez seemed to score a knockout. He drilled Cintron with a clean left hand, Cintron wobbled backward and went down. With Cintron on his knees, Santore counted, reached 10, waved his arms and declared the fight over. Cintron argued, claiming he was hit by a head butt and Santore bought the nonsense after a delay. The video replays clearly showed there was nothing other than Martinez's left hand nailing Cintron. Amazingly, after a 2½-minute break between rounds to clear the ring, the fight resumed. It became more spirited because Martinez was clearly ticked off to have been robbed of a clean knockout.
HBO's announcers continually talked about the knockout and presented video replays from various angles, but there was not one replay that showed Cintron was clearly off the floor before Santore reached 10. Besides, once a ref says "10," that's it, the fight is over. Look at this as if it were an NFL game and a coach challenged a ruling. In the NFL, without a definitive replay showing otherwise, the ruling on the field stands. Same deal here as there was no definitive evidence that Cintron was up and Santore had ended the fight. Period.
Still, the fight continued and Martinez was outboxing Cintron, 29, who could do little but follow him around the ring. Clearly, he never had a lesson from anyone about trying to cut off the ring. In the 12th round, Santore docked Martinez for hitting behind the head in a ticky-tack call because it was not on purpose, not damaging and he hadn't given him a previous hard warning. That point deduction cost Martinez the fight. This was a highway robbery in every way -- from the knockout that was overturned to the weak point deduction to the horrible scoring.
Martinez, who, as interim titleholder, is the mandatory challenger for Vernon Forrest, deserves his title shot immediately. Cintron showed very little in the fight and promoter Lou DiBella, who also promotes Martinez and was therefore not in his usual volcanic state over the decision, said Cintron would return to the welterweight division, where he could wind up facing Miguel Cotto this summer if Cotto wins his vacant title bout with Michael Jennings on Saturday.
Junior middleweight
Alfredo Angulo TKO5 Cosme Rivera
Records: Angulo, 15-0, 12 KOs; Rivera, 31-12-2, 23 KOs

Rafael's remark: Angulo, a 2004 Mexican Olympian, has emerged as one of the most exciting rising prospects in boxing. No matter who "Perro" fights, it's always entertaining because he comes forward, throws a lot of punches and takes his fair share in return. This fight was no different as Angulo, 26, pounded away at Rivera, also of Mexico, with scary accuracy (landing 46 percent, 217 of 467, of his blows, according to CompuBox statistics) until referee Telis Assimenios finally called the fight off. Assimenios did a horrible job allowing Rivera, 32, to take as many flush, unanswered blows as he did, looking more like a deer in headlights than an actual referee. And let's throw a rotten tomato at Rivera's corner as well, which did its man no favors by sitting on its hands. Although Angulo, who unofficially weighed 165 pounds to Rivera's 150 on the night of the fight, blasted him virtually at will with right hands, Rivera also landed some blows because Angulo has no defense. Unless he tightens it up, Angulo's lack of defense is going to haunt him eventually. Rivera, who scored knockdowns against Joel "Love Child" Julio and Andre Berto in losses when they were rising prospects, opened a cut over Angulo's right eye in the first round, but Assimenios said it was from a punch when video replays clearly showed it was from an accidental head butt. Despite the lopsided nature of the bout, you have to give Rivera some credit. He took the fight on only four days' notice, after Ricardo Mayorga and then Danny Perez pulled out, and gave it his all. That's all you can ask for. Other than being knocked silly in three rounds by Zab Judah while challenging for the undisputed welterweight title in 2005, this was only the second time Rivera has been stopped.
Heavyweight
Bermane Stiverne W8 Robert Hawkins
Scores: 78-72, 77-73 (twice)
Records: Stiverne, 17-1, 16 KOs; Hawkins, 23-13, 7 KOs

Rafael's remark: For the first time in his career, Stiverne, 30, heard the final bell in a professional fight. That should come as little surprise because Hawkins was the best opponent Stiverne has ever faced. Even though Hawkins fell to 2-9 in his past 11 fights, he's typically very durable, having been stopped only twice in his career. Stiverne, who dropped Hawkins in the first and sixth rounds, won his fifth in a row since an upset loss, by fourth-round TKO, to Demetrice King in July 2007.
Featherweight
Gary Russell Jr. W4 John Wampash
Scores: 40-33 (three times)

Records: Russell Jr., 2-0, 1 KO; Wampash, 1-1-1, 1 KO

Rafael's remark: The dynamic and fast Russell, 20, followed his spectacular pro debut performance on Jan. 16 with a lopsided victory against Wampash, whom he dropped three times en route to the win. Russell, of course, was the 2008 U.S. Olympic bantamweight in Beijing, but never fought in the Games because he passed out trying to make weight the night before the first weigh-in and was disqualified from the tournament.
Saturday at Jersey, Channel Islands
Light heavyweight
Clinton Woods W12 Elvir Muriqi
Title eliminator
Scores: 119-109, 117-111 (twice)
Records: Woods, 42-4-1, 24 KOs; Muriqi, 35-5, 22 KOs

Rafael's remark: In a battle of Antonio Tarver victims, former titleholder Woods of England put himself in position for another title shot by easily outpointing Muriqi, whose presence in a title eliminator is awfully questionable considering he has never beaten anyone of remote note. But that's the IBF for you. Although there were no knockdowns, Woods did have Muriqi in retreat at times during the action fight and swelled his eye. The 36-year-old Woods, who has faced excellent competition -- including Roy Jones, Glen Johnson, Julio Gonzalez and Antonio Tarver -- was fighting for the first time since losing his title to Tarver last April via lopsided decision. He had said before the fight with Muriqi, 29, of New York via Albania, that he would retire if he didn't win, so maybe he was more motivated than usual. Of course, it helped that he was facing Muriqi, who is simply not a world class fighter.
Saturday at Saint-Quentin, France
Junior welterweight
Phillip N'dou TKO5 Rachid Drilzane
Records: N'dou, 32-3, 31 KOs; Drilzane, 15-7, 1 KO

Rafael's remark: South Africa's heavy-punching "Time Bomb" N'dou made a successful return to the ring, fighting for the first time since a cyst on his brain sent him into retirement after his last fight in mid-2004. N'dou had been a rising lightweight contender when he met Floyd Mayweather Jr. for the title in November 2003 and was stopped in the seventh round. A split decision loss to countryman Isaac Hlatshwayo followed in May 2004, and then came retirement. But, apparently healthy and rejuvenated at age 31, N'dou made his return with the stoppage victory over his French opponent and could be headed for the United States for a fight in the spring, according to South African media reports.
Saturday at Hermosillo, Mexico
Strawweight
Manuel Vargas W12 Walter Trello
Retains an interim strawweight title
Scores: 119-108, 118-109, 116-111
Records: Vargas, 26-3-1, 11 KOs; Trello, 11-2, 5 KOs

Rafael's remark: Mexico's Vargas, 27, took a unanimous decision against Panama's Trello, 22, in the first defense of the interim 105-pound belt he claimed via a fourth-round knockout of Daniel Reyes in December. It would be nice if someone could explain why the WBO made an interim belt available when its titleholder, Donnie Nietes, is not injured, defended the title in August and is scheduled for another defense on Feb. 28. How much evidence must we provide before folks will simply ignore some of the sanctioning organization madness?
Friday at New York
Welterweight
Carlos Molina W10 Alexis Camacho
Scores: 100-90, 98-92, 97-93
Records: Molina, 15-4-1, 5 KOs; Camacho, 17-2, 16 KOs

Rafael's remark: In this forgettable "Friday Night Fights" main event between Mexico natives, Molina pounded out the easy decision against Camacho in a disappointing fight. You could have probably gone outside in midtown Manhattan and seen a better fight on a street corner. Camacho, 27, who lost his second bout in his past three, is so slow he looks like he's fighting under water. Molina is best known for putting the only blemish on Julio Cesar Chavez Jr.'s record, a six-round draw with him in Mexico in December 2005. In the rematch two months later, Chavez eked out a majority decision.
Friday at Miami
Lightweight
Jose Reyes No Contest Efren Hinojosa
Records: Reyes, 23-5, 8 KOs; Hinojosa, 29-5-1, 17 KOs

Rafael's remark: This Telemundo main event was over before it really got started. After the fighters engaged early in the opening round, Reyes, 30, of Puerto Rico nailed Hinojosa, 37, of Mexico, with a punch to the back of head/neck area. It didn't look like it was on purpose, as Hinojosa was turning. Nonetheless, the illegal blow floored Hinojosa, who could not continue and the bout was ruled a no contest. Hinojosa ended up receiving medical attention, was fitted with a brace and taken out on a stretcher and to the hospital as a precautionary measure. Hinojosa can't seem to catch a break. He's now 0-3-1 with a no contest in his past five.
Dan Rafael is the boxing writer for ESPN.com.
Boxing
2013 BWAA Nat Fleischer Award winner for excellence in boxing journalism
ESPN.com boxing writer since 2005
Five years at USA Today
SPONSORED HEADLINES
MORE BOXING HEADLINES
MOST SENT STORIES ON ESPN.COM