Commentary
Marquez proves his worth against Diaz
Lightweight champion thrashes Diaz, solidies place as Mexican legend
Originally Published:
March 2, 2009
By
Dan Rafael
| ESPN.com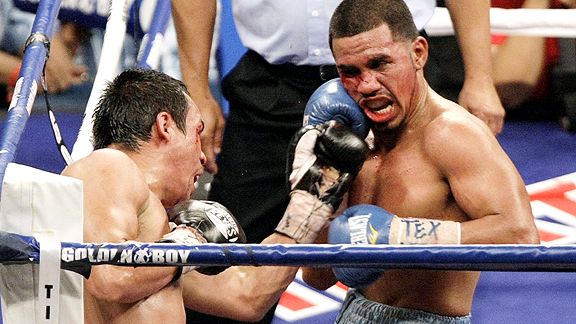 Bob Levey/Icon SMIIt was only a matter of time before Juan Diaz, right, folded to Juan Manuel Marquez's accurate punching.

A roundup of the past week's notable boxing results from around the world:

Saturday at Houston
Lightweight
Juan Manuel Marquez KO9 Juan Diaz
Retains world lightweight title
Records: Marquez, 50-4-1, 37 KOs; Diaz, 34-2, 17 KOs

Rafael's remark: There is still a long way to go in 2009, but we very well may have witnessed the fight of the year as Marquez and Diaz left it all in the ring in this classic battle that ended with Marquez getting a clean knockout in perhaps the greatest performance of his Hall of Fame-worthy career. The 14,571 who rocked the Toyota Center and the millions watching one of the best HBO cards in years -- the Chris John-Rocky Juarez undercard fight was also terrific -- got more than its money's worth.
At 35, Mexico's Marquez went to Diaz's hometown and beat a prime bigger man 10 years his junior. It was a remarkable performance, especially since Marquez seemed to clearly be outgunned early. The rounds were loaded with action from the outset and seemed to fly by because of the crazy pace they set. Marquez, who seemed to be in trouble early, made some adjustments (no doubt in part thanks to his great trainer Nacho Beristain), cranked up that sweet uppercut and began to break Diaz down. He cut him in the eighth, which really bothered Diaz, and then scored two knockdowns in the ninth, including the final one with a right uppercut on the button that flattened Diaz in the center of the ring.
Diaz, a former titleholder, is a very good fighter who may yet win another title before his career is over. On this night, he would have beaten any other lightweight on earth. But Marquez showed that he is in a different league. It was an outstanding encore for Marquez in the lightweight division. After winning titles at featherweight and junior lightweight, Marquez moved up to lightweight in September and claimed the lineal title with a terrific 11th-round knockout of Joel Casamayor. In addition to cementing his spot at the world's No. 1 lightweight -- Manny Pacquiao and Nate Campbell have recently left the division -- Marquez also picked up a pair of sanctioning organization belts to go with his lineal claim. There can be no argument whatsoever that Marquez is the man at 135.
You can make the argument that Marquez, in his 16th year as a pro, should be rated as the best pound-for-pound fighter in the world. Many believe he won both of his fights against pound-for-pound king Pacquiao despite winding up with a controversial draw and split decision loss.
With this win, Marquez also polished his Hall of Fame résumé for that obvious first-ballot induction speech. As great as his countrymen Erik Morales and Marco Antonio Barrera were in their primes (when neither would fight Marquez), Marquez has surpassed them in accomplishment and should be considered the era's best Mexican fighter. Like Morales and Barrera, Marquez also won a boatload of titles and conquered three divisions. But he's also done something neither of them have -- beat a top-tier, prime lightweight. And now Marquez has designs on junior welterweight, where he'd love a crack at the winner of the Ricky Hatton-Pacquiao fight. He also called out retired former pound-for-pound king Floyd Mayweather. Whatever happens next for Marquez, it'll be big and important. And we should all be watching this all-time great.
Featherweight
Chris John D12 Rocky Juarez
Retains a featherweight title
Scores: 114-114 (three times)
Records: John, 42-0-2, 22 KOs; Juarez, 28-4-1, 20 KOs

Rafael's remark: Juarez is a terrific guy and a damn good fighter -- a decorated amateur (including a 2000 Olympic silver medal) and a quality professional contender. He just seems destined to go down as one of the era's best fighters never to win a title, which in this day and age of so many trinkets is almost shocking. This was Juarez's fifth shot at a belt so how many more will there be? He lost an interim featherweight title bout to Humberto Soto (2005), lost twice to Marco Antonio Barrera (2006) in junior lightweight title bouts (although the first one was debatable), and lost a lopsided decision to Juan Manuel Marquez (2007) in a junior lightweight title bout.
Moving back down to featherweight, Juarez seemed to have everything set up on a silver platter for him to finally claim an elusive belt -- the hometown advantage with a crowd cheering "Rocky! Rocky! Rocky," throughout the fight, a distinct power advantage and an opponent who had traveled halfway around the world from Indonesia. But even though Juarez received the gift draw he just couldn't close the deal and win.
Make no mistake, John, making his 11th defense, deserved the decision victory. Juarez closed very strong, certainly taking the last two rounds and perhaps sweeping the final four rounds. However, by that time, John should have already been well ahead. He outboxed Juarez with ease, dictated the fight and had the clear speed advantage. Juarez gave up numerous rounds in the middle of the fight and had no ability to cut the ring off. Not that CompuBox statistics tell the entire story of any fight, but they are still an excellent guide. Those numbers were way in favor of John, 29, who landed 344 of 1,190 blows (29 percent) while Juarez, 28, was credited with landing 206 of 797 punches (26 percent).
John, who owns a controversial win against now-lightweight champ Marquez, opened a bad cut over Juarez's left eye in the fifth and it seemed to bother Juarez, which may be the reason he slowed down in the middle of the fight before finding a higher gear in the late rounds. John, who was making his American debut and visiting the country for only the second time, is an excellent fighter. Keep in mind that he put on this kind of performance despite suffering flu-like symptoms all week before the fight.
Despite the iffy decision, this was a hell of a fight. The crowd was into it and both guys showed tremendous heart and determination. Given the strong fan turnout and appealing action, who would have a problem with a rematch, especially since it's not like there is some other big fight out there for John?
Junior welterweight
Danny Garcia W8 Cristian Favela
Scores: 80-72 (twice), 79-73
Records: Garcia, 11-0, 7 KOs; Favela, 15-18-6, 9 KOs

Rafael's remark: When this fight was made, it figured to go the distance -- and it did, which was a good thing for 20-year-old Garcia, a tremendous prospect who just needs rounds and experience in the pros. Favela, who has faced many good opponents but has been stopped only once, gave him good work. But Garcia's class, speed and skills were too much for him. The 2006 U.S. national champion and Olympic trials finalist is one of Golden Boy's most promising prospects, which is why he continually is given prime spots on the company's big undercards. It's been a pleasure to watch him develop since he turned pro in November 2007. He still has a way to go, but part of the fun is the journey.
Super middleweight
Daniel Jacobs KO1 Jose Cruz
Records: Jacobs, 14-0, 13 KOs; Cruz, 12-16-3, 4 KOs

Rafael's remark: Jacobs, 22, is one of our favorite prospects. The U.S. Olympic trials finalist has good size, obvious power and the sort of charisma you look for in a budding star. However, he deserves (and the fans who bought tickets deserve) something better than this utter crap. A heavy bag probably would have put up a better fight. Instead, Cruz was hurt with every shot before being dusted just before the end of the round with a flurry of blows. Cruz has lost six in a row and 11 of 12. Frankly, he probably shouldn't have even been approved to fight Jacobs by the Texas commission. In promoter Golden Boy's defense, Cruz took the fight on only a couple of days' notice when the original opponent pulled out. Still, what did this fight do for Jacobs' development? Absolutely nothing. With as much promise as Jacobs has, there is nothing wrong with matching him a lot tougher. He can handle it.
Saturday at Los Mochis, Mexico
Junior bantamweight
Simphiwe Ndogqayi W12 Francisco Arce
Title eliminator
Scores: 116-111 (three times)
Records: Ndogqayi, 15-0, 6 KOs; Arce, 28-5-2, 19 KOs

Rafael's remark: South Africa's Ndogqayi went to Arce's hometown, scored an 11th-round knockdown and outpointed him to gain a mandatory shot at 115-pound titleholder Vic Darchinyan in the Azteca America headliner. However, Darchinyan likely will move up to bantamweight, leaving Ndogqayi to probably fight for a vacant belt. February was not a good month for the Arce family. Besides this loss, older brother Jorge Arce got ripped apart over 11 lopsided rounds when he fought Darchinyan for the junior bantamweight title on Feb. 7.
Saturday at Oaxaca, Mexico
Strawweight
Donnie Nietes W12 Erick Ramirez
Retains a strawweight title
Scores: 116-108, 115-109, 113-111
Records: Nietes, 24-1-3, 14 KOs; Ramirez, 25-6-1, 19 KOs

Rafael's remark: Nietes, 26, of the Philippines went to Ramirez's home country and made a statement, knocking him down four times en route to the victory in his second title defense. Nietes dropped Ramirez in the first, fifth, ninth and 12th rounds, although he was unable to finish the 26-year-old, who was in his first world title bout. With Nietes defending his belt on same card on which Roman Gonzalez defended his version of the 105-pound title, perhaps this was a prelude to a unification fight, something quite rare in boxing's smallest weight division.
Strawweight
Roman "Chocolatito" Gonzalez W12 Francisco Rosas
Retains a strawweight title
Scores: 116-112, 115-113, 114-114
Records: Gonzalez, 23-0, 20 KOs; Rosas, 20-6-2, 12 KOs

Rafael's remark: Knockout artist Gonzalez, 21, of Nicaragua, traveled to Rosas' hometown and although he didn't get a stoppage, he retained his 105-pound belt with a majority decision. Rosas, 28, made it a fight, but perhaps Gonzalez's youth was the difference in his first defense since blowing out Yutaka Niida in four rounds to win the title in September. It was the first time Gonzalez has gone 12 rounds.
Friday at Newark, N.J.
Light heavyweight
Tomasz Adamek TKO8 Johnathon Banks
Retains world cruiserweight title
Records: Adamek, 37-1, 25 KOs; Banks, 20-1, 14 KOs

Rafael's remark: Two months removed from his brutal battle against Steve Cunningham, Adamek returned to face Banks in front of another adoring crowd filled with Polish fans at the Prudential Center, which has become Adamek's home base. He gave them another thrill as he scored a sensational knockout against Banks, who was abandoned by trainer/manager Emanuel Steward. Instead of being with his man in an important fight, Steward was in Houston as part of HBO's broadcast team for the Juan Manuel Marquez-Juan Diaz fight. He should have been with Banks and come to Houston on Saturday, but that is not why Banks lost. He lost because he seemed to get complacent. Banks did very well early as he outboxed Adamek. But Adamek, a native of Poland now living in Jersey City, never stopped coming. He finally dropped Banks with a flurry in the eighth. Frankly, the fight could have been stopped right there, but referee Eddie Cotton allowed it continue and Adamek, 32, pounded Banks into the canvas during the follow-up attack that left Banks, 26, crumpled in the corner and the fight over. It was an excellent win for Adamek, who could find himself in a money fight with the great Bernard Hopkins, who told ESPN.com that he has designs on moving up to cruiserweight specifically to challenge Adamek, who obviously can make more money facing Hopkins than anyone else at the moment. That's a very interesting fight. Let's hope it happens.
Middleweight
Giovanni Lorenzo KO2 Dionisio Miranda
Title eliminator
Records: Lorenzo, 27-1, 19 KOs; Miranda, 19-3-2, 17 KOs

Rafael's remark: The first time Lorenzo stepped up to face a notable opponent, he lost a decision to former junior middleweight titleholder Raul Marquez in June in a title eliminator. In his first fight since that loss, Lorenzo, 28, inexplicably found himself in another elimination bout for the dubious IBF, this time dusting Colombia's Miranda, 26, with a single right hand to the jaw. The victory puts Lorenzo in a mandatory position to get a shot against titleholder Arthur Abraham. Lorenzo should be careful what he wishes for.
Friday at Hollywood, Fla.
Light heavyweight
Glen Johnson W10 Daniel Judah
Scores: 99-90 (twice), 99-89
Records: Johnson, 49-12-2, 33 KOs; Judah, 23-4-3, 10 KOs

Rafael's remark: Johnson's career is littered with bad decisions that have gone against him. One of the many was his April 2004 draw against Daniel Judah, a fight that Johnson clearly deserved to win. Now, meeting in the rematch on "Friday Night Fights," Johnson, ducked by too many top fighters to name, faced Judah again. And this time Johnson left no doubt, pounding Judah for a lopsided decision. At 40, Johnson, the former champion with wins against Roy Jones and Antonio Tarver, is a freak of nature still going strong after a long career. He obviously deserves another title shot and came close to regaining the title in April, when he pushed Chad Dawson to the brink in a very, very close fight. But nobody wants to fight him, so Johnson wound up against Judah (one of Zab Judah's fighting brothers) again. Johnson knocked Judah down with a hard right hand during a big first round and went on to dominate, never seemingly taking a break as he punched all night long. Johnson is the mandatory challenger for the winner of the bout between titleholder Adrian Diaconu and Silvio Branco. Although it will be nice for Johnson to get another well-deserved title shot, what he really deserves is big money, preferably a rematch with Dawson.
Wednesday at Mashantucket, Conn.
Cruiserweight
Troy Ross TKO4 Ehinomen "Hino" Ehikhamenor
Records: Ross, 21-1, 15 KOs; Ehikhamenor, 15-4, 7 KOs

Rafael's remark:
Ross put the cherry on top of his stellar run through the fourth season of "The Contender" by stopping Ehikhamenor to win the 16-man reality series tournament. He joins past winners Sergio Mora, Grady Brewer and Sakio Bika and probably will receive opportunities for notable fights thanks to the notoriety the series brings its champion. Ross, 33, is a two-time Canadian Olympian (1996 and 2000) and a legitimate contender. The show just gave him the exposure and activity he hadn't received before. Ross was the class of the tournament from the outset and won three of his four "Contender" fights by knockout. On his way to the title, he beat Lawrence Tauasa (TKO2), Felix Cora Jr. (TKO1), Akinyemi "AK" Laleye (W5) and then Ehikhamenor. Ross' southpaw style gave Ehikhamenor problems throughout the fight. In the fourth, a combination sent Ehikhamenor, 28, of Nigeria but living in New York, reeling into the ropes. Trying to protect himself, Ehikhamenor turned his back on Ross, giving referee Steve Smoger no choice but to stop the bout. Ehikhamenor had advanced to the final by winning three fights, all five-round decisions, against Darnell "Ding-A-Ling Man" Wilson, Deon Elam and Rico Hoye.
One big difference this year on "The Contender," which started on NBC, moved to ESPN and then moved to Versus this season, is that the grand prize for the winner was a pittance compared to past years. The first year, Mora won $1 million for winning the tournament. The second year was $500,000 and it was $750,000 last year. This year, Ross won only $150,000.
In the third-place match, Hoye (23-3, 15 KOs) took a lopsided decision from Laleye (12-3, 6 KOs) in a fight between semifinal losers. Hoye dominated and won 79-72 on all three scorecards.
Wednesday at New York
Light heavyweight
Shaun George KO1 Jaffa Ballogou
Records: George, 18-2, 9 KOs; Ballogou, 46-8, 40 KOs

Rafael's remark: George, 29, of Brooklyn, N.Y., put himself on the boxing map last May when he upset former heavyweight titleholder Chris Byrd, who was moving down to light heavyweight in a much-publicized move. But instead of Byrd winning, George dominated Byrd and stopped him in the ninth round for the upset. But George hadn't fought since until finally making his return against 40-year-old Ballogou of Togo. It was a quick return as George needed just 86 seconds to knock him out. The beginning of the end started with a right hand to the body from George, who followed it with a sustained attack until the referee moved into stop the fight.
Dan Rafael is the boxing writer for ESPN.com.
Boxing
2013 BWAA Nat Fleischer Award winner for excellence in boxing journalism
ESPN.com boxing writer since 2005
Five years at USA Today
SPONSORED HEADLINES
MORE BOXING HEADLINES
MOST SENT STORIES ON ESPN.COM
EDITORS' PICKS
Hamed deserves his place in the Hall of Fame.
Dan Rafael »

Golden Boy promotes rival cards on Dec. 13 in Las Vegas.
Blog »

At 49, Hopkins a slight favorite over Kovalev in media poll.
Blog »