Commentary
Ortiz delivers against quality foe
Originally Published:
March 9, 2009
By
Dan Rafael
| ESPN.com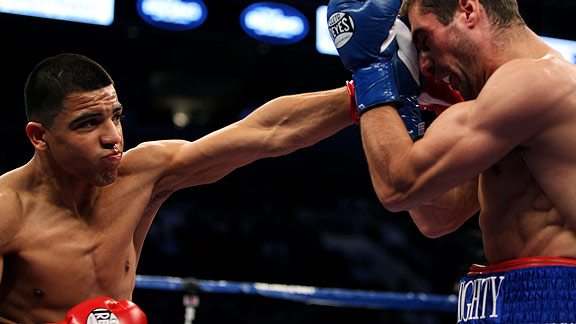 Fightwireimages.com The total package: What's not to like about the charismatic, hard-hitting Victor Ortiz?

A roundup of the past week's notable boxing results from around the world:

Saturday at San Jose, Calif.
Junior middleweight
James Kirkland TKO6 Joel "Love Child" Julio
Records: Kirkland, 25-0, 22 KOs; Julio, 34-3, 31 KOs

Rafael's remark: Forget about having to stand up to Kirkland's incredible pressure for any period of time. He makes you tired just watching him fight. Kirkland, with sheer determination and tremendous conditioning, pressured the Love Child like an attack dog until he simply could take no more. It was a tremendous performance from Kirkland, who is the single most aggressive active fighter in boxing and a joy to watch. The way he storms across the ring looking to destroy his opponent is reminiscent of a young Mike Tyson. Kirkland is powerful and intimidating and going to find himself in some big-time fights making a lot of money because he is so crowd-pleasing.
Julio spent most of the fight moving and backing up, although he did land some solid shots, especially in the second and third rounds. However, Kirkland, who some believe has a poor chin, took the shots without issue. Julio didn't help himself because he didn't plant his feet enough when he was throwing. Nor was Julio in top condition, especially compared to the awesome conditioning of Kirkland, who looked like he could have fought 20 rounds. Julio, on the other hand, seemed gassed after the first round. Maybe one of his issues was that, according to sources, he had to lose something like 30 pounds in about four weeks.
Kirkland, 24, started fast and never slowed down. He opened a cut over Julio's right eye with a solid left hand in the first round and it seemed to bother the Love Child. In the fourth round, Kirkland smacked the 24-year-old Colombian with a shot on the break while Julio was trying to touch gloves with him. It was not a cool move on Kirkland's behalf, but the ref had called them back together and the cardinal rule of boxing is protect yourself at all times. Julio didn't and he paid for it. But that was only one of a ton of shots he ate. By the time the sixth round ended, Julio's right eye was a mess. There was a cut over it and bad swelling under it and his cornermen pulled him out of the fight, although he didn't exactly try to talk them out of it.
While Julio's future is unclear (although he should consider going back to welterweight where he probably belongs), we're going to be seeing a lot of Kirkland it would seem. Golden Boy may put him on the May 2 Ricky Hatton-Manny Pacquiao HBO PPV undercard. HBO and Golden Boy are also planning a June 27 "Boxing After Dark" card that could feature the same three fighters featured on this card: Kirkland, Victor Ortiz and Robert Guerrero. Wherever Golden Boy puts Kirkland next, we should all be watching. He is that exciting.
Junior welterweight
Victor Ortiz TKO2 Mike Arnaoutis
Records: Ortiz, 24-1-1, 19 KOs; Arnaoutis, 21-3-2, 10 KOs

Rafael's remark: There is a reason Ortiz was selected as the 2008 ESPN.com prospect of the year -- he simply appears to be the total package. He has tremendous charisma, skill, firepower in both hands, youthful charm and a crowd-pleasing style. And he just turned 22 in January. He clearly is on the path to stardom.
Ortiz figured to get a solid test from fellow southpaw Arnaoutis, a top 12 or so junior welterweight. Instead, Ortiz looked incredibly sharp and ran him over like a speed bump in a stunningly one-sided blowout. Arnaoutis, 29, who has faced good competition and was the victim of a very debatable decision loss to Ricardo Torres in a November 2006 title fight, just had nothing to keep Ortiz off him. He couldn't hit Ortiz and could do nothing to prevent himself from being hit. In the end, a dynamic 14-punch flurry ended Arnaoutis' night at 1:27 of the second round. A hard left sent Arnaoutis reeling into the ropes at the start of the flurry, and a right uppercut badly hurt him. He was offering nothing back, and referee Ray Balewicz had no choice but to stop the fight. Some have suggested it was a quick stoppage. That's ridiculous. Arnaoutis was hurt, nearly out on his feet and not protecting himself. A couple of more shots could have done serious damage. Ortiz is just about ready for a top contender or even a title bout, but at 22, there is no rush with him. He has a chance to be a major star, and everyone associated with him knows it. Ortiz could wind up with a coveted spot on the May 2 Ricky Hatton-Manny Pacquiao pay-per-view undercard. He could also be back on HBO's "Boxing After Dark" on June 27, when Golden Boy likely will feature the same three rising stars it had on this card -- Ortiz, James Kirkland and Robert Guerrero. That's an impressive array of talented young fighters (all, by the way, who were developed by other promoters before landing at Golden Boy). Ortiz ultimately may be the best of the bunch.
Junior lightweight
Robert Guerrero No Contest 2 Daud Yordan
Records: Guerrero, 23-1-1, 16 KOs; Yordan, 23-0, 17 KOs

Rafael's remark: What an utter disappointment. After Guerrero won his arbitration against former promoter Dan Goossen and ended almost a yearlong layoff, he returned in January for a quick first-round knockout in his first fight since signing with Golden Boy Promotions. But this was supposed to be his re-emergence on the world stage. Instead, it was a giant dud.
The 25-year-old two-time former featherweight titleholder, who had moved up to junior lightweight for that January bout, was fighting virtually at home. He is from Gilroy, Calif., which is very close to San Jose. Thousands in the crowd of 6,765 had turned out to cheer him, but they wound up with a fight that ended before it really got rolling.
Guerrero had a lot of problems with the movement of Indonesia's Yordan, 21, who was landing shots and then tying up. Then, midway through the second round of what was shaping up to be a very competitive fight, they banged heads, and Guerrero emerged with a bloody cut over his right eye. When referee Jon Shorle called timeout for the ringside doctor to examine the cut, the doctor and Shorle were ready to let the fight go on, but Guerrero said he couldn't see because blood was dripping into his eye. So the fight was called off and ruled a no-contest.
Guerrero just didn't seem to want to fight. Although the cut was not in a good spot, Guerrero seemed quite content to take his paycheck and go home. There was only about a minute to go in the round, it was very early in the fight, the hometown fans had bought tickets to see him and he had an awesome platform on HBO to show the world that he should be considered a future star. Instead, he begged out. The more acceptable situation would have been for him to at least finish the round and give his corner a chance to work on the cut. If the cut was still a problem, so be it -- the fight would be over. But for Guerrero to go out so meekly just left a horrible impression.
As HBO's Max Kellerman asked later in the telecast, do you think main event fighter James Kirkland would have taken himself out of the fight with Joel Julio because of a cut without doing everything he could to stay in the fight? The answer from broadcast partner Bob Papa was, "No." Just think about some of the cuts we've seen on Vitali Klitschko and Arturo Gatti, for example. They wanted to fight on or at least give themselves every opportunity to keep a fight going. Guerrero is certainly allowed to stop fighting after the cut -- which didn't seem that bad -- but it sure didn't help his quest to be a star. Getting cut and fighting through it is part of what you sign up for when you become a prizefighter.
Saturday at Commerce City, Colo.
Junior welterweight
Mike Alvarado KO10 Emmanuel Clottey
Records: Alvarado, 25-0, 18 KOs; Clottey, 24-9, 14 KOs

Rafael's remark: Fighting at home, Denver's Alvarado was winning the monotonous fight with relative ease against the survival-minded Clottey (brother of welterweight titlist Joshua Clottey). Although Alvarado, 28, was going to win easily on the scorecards, he hadn't given the fans much to be excited about. That was until the final seconds of the bout. Rather than coast to the finish and claim the forgettable victory in the Azteca America main event, Alvarado finished Clottey with an absolutely spectacular knockout of the year-caliber punch with two seconds left in the fight. It was a crushing right hand over Clottey's lazy left that landed squarely on his chin and rendered Clottey unconscious upon impact. Why the referee even began his count is a mystery. He could have counted to 1,000. Clottey, 34, was out cold and needed immediate medical attention.
It was an impressive win for Alvarado because Clottey is normally such a durable fighter. Although he has lost three in a row, including a 10th-round TKO loss to Victor Ortiz in his last fight more than a year ago, Clottey had never been erased like he was by Alvarado. HBO and Top Rank wanted to put Alvarado on the April 25 "Boxing After Dark" undercard, but they went with another bout because Alvarado was already scheduled for this fight and the timing was too tight for HBO's taste. After a knockout like this one, it shouldn't be too long until Alvarado earns his shot on HBO. He's ready to face a top-10 opponent.
Friday at Uncasville, Conn.
Welterweight
Delvin Rodriguez W12 Shamone Alvarez
Scores: 115-112, 114-113 (twice)
Records: Rodriguez, 24-2-2, 14 KOs; Alvarez, 20-2, 11 KOs

Rafael's remark: In an excellent main event on ESPN2's "Friday Night Fights," Rodriguez did enough to get past Alvarez in a tough fight. Rodriguez, 28, came on strong late to secure the victory, knocking down Alvarez in the 11th round and overcoming an injury to his right wrist in the eighth round. Alvarez, 32, certainly had his moments, and his southpaw style seemed to give Rodriguez some problems, but not enough to avoid dropping his second bout in three fights. (The other loss was a decision to Joshua Clottey, who would go on to win a title after their elimination bout.) Rodriguez was fighting for the second time since an 11th-round knockout of Oscar Diaz in July, a fight in which Diaz suffered a serious brain injury and spent several months in a coma before being released to a rehabilitation facility just a couple of weeks ago. In his first bout after the injury, Rodriguez fought to a draw in South Africa with Isaac Hlatshwayo in a title eliminator for the right to challenge Clottey. They were supposed to meet in a rematch in this main event, but Hlatshwayo pulled out and Rodriguez wound up facing Alvarez.
Junior middleweight
Demetrius Andrade TKO1 Tom Joseph
Records: Andrade, 3-0, 3 KOs; Joseph, 4-2-1, 1 KO

Rafael's remark: Clearly, Andrade, a 2008 U.S. Olympian, is a gifted fighter who has massive potential. Forget about the fact that Joseph was a weak opponent. Look at Andrade's physical gifts. The former world amateur champion has blazing hand speed, terrific size for a junior middleweight and obvious power. A 4-year-old could watch him fight and realize instantly that he has loads of talent. Joseph never stood a chance as Andrade dazzled in his ESPN2 debut. A nasty uppercut had Joseph in retreat almost immediately. Then Andrade savaged him with a never-ending flurry of punches until referee Dick Flaherty stopped it at 1:53. Having barely broken a sweat, Andrade will be back on "Friday Night Fights" on March 20. Can't wait.
Friday at Philadelphia
Welterweight
Mike Jones KO2 Dairo Esalas
Records: Jones, 17-0, 15 KOs; Esalas, 31-16, 25 KOs

Rafael's remark: Jones, 25, a lanky, powerful prospect with tremendous upside, continues to do his work without the benefit of television coverage. But just because he hasn't been seen by many doesn't mean he's not an exciting and quality prospect. Frankly, he deserves an opportunity to fight on ESPN2's "Friday Night Fights" or Showtime's "ShoBox" as much as anyone. Promoter Russell Peltz, however, has not been able to get him on, which is mind-boggling. So he has been keeping Jones busy and developing him as an attraction in Philadelphia, one of the great fight cities in America. Promoting his first show in years at his old stomping grounds at the famed Blue Horizon, Peltz drew a standing-room-only crowd of about 1,350 for Jones' main event. Facing late substitute (and extraordinarily experienced) Esalas, who filled in for Larry Mosley, Jones decked Esalas three times in the second round for the victory. Although Esalas, 35, dropped his sixth in a row and 11th of 12, Jones' career is on the upswing. He just needs a TV executive to give him a chance. And Peltz says Jones is willing to fight a quality opponent. He mentioned Delvin Rodriguez, Jesus Soto Karass and Alfonso Gomez, among others, whom Jones would be happy to fight. Can someone please give Jones a chance?
Friday at Wigan, England
Junior middleweight
Jamie Moore KO3 Michele Piccirillo
Wins vacant European junior middleweight title
Records: Moore, 31-3, 22 KOs; Piccirillo, 50-5, 29 KOs

Rafael's remark: What a sensational performance from the crowd-pleasing Moore. The Brit, 30, took it to Italy's Piccirillo, 39, in unrelenting fashion until he knocked him out with a crushing left hook to the body in the third round. Piccirillo, on his knees and hanging on the ropes, had his air taken away and could not get up even if the referee had counted to 25. Moore had dropped Piccirillo, a former welterweight titleholder, twice in the second round. It was the best win of Moore's career. Piccirillo, however, seems to be nearing the end. Nobody has dominated him as Moore did. In 2002, Piccirillo got a gift decision against Cory Spinks to win a welterweight title but then lost it in his first defense -- an immediate rematch with Spinks. Ricardo Mayorga outpointed him for a vacant junior middleweight belt in 2005. Vernon Forrest defended a title against Piccirillo in 2007 and stopped him in the 11th round. But Moore destroyed him.
Friday at Grand Ronde, Ore.
Welterweight
Steve Forbes KO2 Jason Davis
Records: Forbes, 34-7, 10 KOs; Davis, 11-3-1, 3 KOs

Rafael's remark: Fighting near his hometown of Portland for the first time since 2005, Forbes, 32, made a triumphant return with a rare knockout against Davis, 26, who dropped his second in a row. It was a return to the win column for Forbes, a runner-up in the second season of "The Contender" and a former junior lightweight titleholder. He had lost his previous two bouts, a lopsided decision to Andre Berto in a welterweight title challenge and a similarly lopsided loss at 150 pounds to Oscar De La Hoya.
Friday at Columbus, Miss.
Heavyweight
Deontay Wilder KO1 Shannon Gray
Records: Wilder, 2-0, 2 KOs; Gray, 1-1, 0 KOs

Rafael's remark: Wilder, 23, an Olympic bronze medalist and the only American boxing medalist in at the Beijing Games, retuned quietly for his second pro fight against Gray, whose only previous pro bout came in April 2004. Wilder, a 23-year-old from Tuscaloosa, Ala., turned pro in November on the Jermain Taylor-Jeff Lacy undercard. But his second match came on a much smaller card on which he served as the headliner. Promoter Golden Boy and manager Shelly Finkel are in no rush him. Wilder didn't have a lot of amateur experience and is going to move slowly as he puts on muscle and weight to his 6-foot-7 and just over 200-pound frame.
Dan Rafael is the boxing writer for ESPN.com.
Boxing
ESPN.com boxing writer since 2005
Writes pound-for-pound rankings
Five years at USA Today
SPONSORED HEADLINES
MORE BOXING HEADLINES
MOST SENT STORIES ON ESPN.COM