Commentary
Khan too fast and too strong for Barrera
Originally Published:
March 16, 2009
By
Dan Rafael
| ESPN.com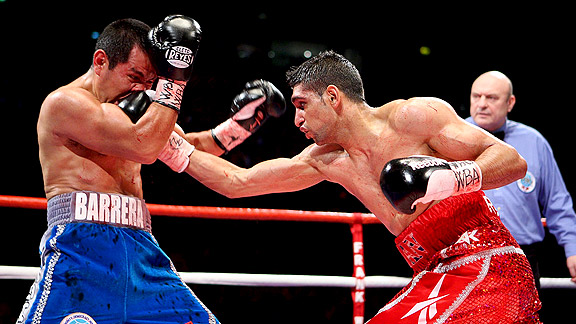 David Martin Warr/Don King Productions Chew on this: Amir Khan proved too strong for Marco Antonio Barrera.

A roundup of the past week's notable boxing results from around the world:

Saturday at Manchester, England
Lightweight
Amir Khan Tech. Dec. 5 Marco Antonio Barrera
Scores: 50-44, 50-45 (twice)
Records: Khan, 20-1, 15 KOs; Barrera, 65-7, 43 KOs

Rafael's remark: It was make or break for Khan and the kid delivered, albeit Barrera certainly was at a huge disadvantage because of a messy, gaping cut he suffered near his hairline from an accidental head clash in the opening round.
But cut aside, Khan did what he needed to do and he did it well. He hammered the smaller Barrera, showed a vastly improved defense -- you had to love how he held his hands nice and high -- in his second fight with trainer Freddie Roach and showed that he just might be able to indeed reach his potential.
Khan won a 2004 Olympic silver medal and became an overnight sensation in his native England. He was expected to storm his way to a world title in the pros and promoter Frank Warren was moving him quickly when he ran into unheralded Breidis Prescott in September and was blown out in 54 seconds. It was a shocking loss and Khan's future was called into question. Although he rebounded in December against Oisin Fagan, he was a soft opponent and Khan took him out in two rounds. There's a big difference between Fagan and Barrera, a future Hall of Famer, a three division champion, a longtime pound-for-pound entrant and simply one of the greatest fighters of this generation. Even though he is 35 and clearly on the downside of his career fighting a much bigger man, how could anyone count Barrera out, especially after seeing the replay over and over of Prescott destroying Khan so easily? That is why this was a fascinating fight and so unexpected when it was made.
But Khan's youth -- he's still only 22 -- size and obvious power and speed advantages were evident in the first round. It seemed like every time he touched Barrera, the shot rattled him. Then they smashed heads and Barrera wound up with the terrible cut. The blood poured down Barrera's face for the remainder of the fight. Between rounds, his corner would clean him up but within a few seconds of the next round beginning, his face was again covered in a mask of red and blood was trickling into his left eye. It was not a fight for those with a queasy stomach. But Barrera, one of the great warriors of our time, kept on trucking and trying to make the best of it even though the fight could have easily been stopped -- frankly, should have been stopped -- at any time in the first four rounds, which would have resulted in a no contest.
The doctor looked at the wound during the fourth round, but the fight continued. It wasn't until the fight was official in the next round that the bout was stopped and sent to the scorecards, where the verdict was obvious: Khan had thoroughly dominated every round for the unanimous decision. While Khan looked very good, you do have to wonder what would have been had Barrera not been handicapped by the brutal gash. And you also have to be concerned about the obvious home cooking for Khan that the fight would not be stopped until the fifth round had started so Khan would win rather than get a no contest. Khan got his desperately needed win, but because of the circumstances of the loss, Barrera probably will go on with his career and get some sort of other notable fight because he fought bravely under heavy duress.
Cruiserweight
Ola Afolabi TKO 9 Enzo Maccarinelli
Wins a vacant interim cruiserweight title
Records: Afolabi, 14-1-3, 6 KOs; Maccarinelli, 29-3, 22 KOs

Rafael's remark: This was an exciting fight and Afolabi ended it in style, knocking the glass-chinned Maccarinelli out with a nice right hand to claim an interim belt. The Enzo Calzaghe-trained Maccarinelli, 28, of Wales, was trying to win a second belt. He had been destroyed in two rounds by David Haye in their March 2008 unification bout and then rebounded with an easy second-round knockout of Mathew Ellis in December. That set the stage for this bout, which was originally supposed to come against Johnathon Banks in December. But Banks pulled out with an ankle injury and then, instead of rescheduling, opted to face Tomasz Adamek for his belt in February and got knocked out. Banks' decision left an opening for Afolabi, a big underdog, and he took advantage of it. The London-born, California-based Afolabi, 29, hurt Maccarinelli in the third, survived some rocky moments in the middle of the fight and then turned out the lights in the ninth. He landed a flush right hand that deposited Maccarinelli flat on his back. Although he made it to his feet, Maccarinelli was all over the place and the fight was called off. Now, Afolabi, as interim beltholder, is supposed to face titleholder Victor Emilio Ramirez, but let's see if the WBO pushes the issue. Maccarinelli's brief time near the top of the division is likely over. He just can't take a solid punch without crumbling.
Junior lightweight
Roman Martinez TKO4 Nicky Cook
Wins a junior lightweight title
Records: Martinez, 22-0-1, 13 KOs; Cook, 29-2, 16 KOs

Rafael's remark: What a fun, exciting fight this one was as Martinez and Cook traded hard shots before the explosive end. England's Cook, 29, had the crowd behind him and seemed in control when he rocked Puerto Rico's Martinez, 26, with a hook in the second round. The blow sent Martinez to a squatting position, like a catcher in baseball, but he apparently didn't touch the canvas, so it was not ruled a knockdown. But Cook certainly buzzed him. Fast forward to the fourth round, when Martinez came storming back. He landed a thunderous left uppercut that dropped and badly hurt Cook. He barely beat the count, although referee Dave Parris certainly could have stopped the fight. However, Parris gave Cook a chance to continue. Moments later, Martinez landed a flush left and dropped Cook again. This time, although Cook made it to his feet, he was in bad shape and Parris called it off. Cook's title reign was brief. He won the belt from Alex Arthur in September before losing it in his first defense. Cook's only other defeat came in July 2007, when Steven Luevano knocked him out with body shots in the 11th round of a fight for a vacant featherweight belt.
Saturday at Kiel, Germany
Middleweight
Arthur Abraham W12 Lajuan Simon
Retains a middleweight title
Scores: 118-109, 117-110 (twice)
Records: Abraham, 29-0, 23 KOs; Simon, 21-1-2, 12 KOs

Rafael's remark: Middleweight world champion Kelly Pavlik and German titlist Abraham need to fight each other already, instead of taking pointless fights that excite so few. Pavlik did it in February when he fought Marco Antonio Rubio, a decent contender, but nobody good enough to set anyone on fire other than the Pavlik faithful in Youngstown, Ohio. This month it was Abraham's turn to face undeserving Simon, 30, of Philadelphia, who had never even faced (much less beaten) anyone of remote note to qualify for a title bout. And as expected, Abraham, 29, of Germany, rolled over the unqualified challenger, knocking him down in the third round and claiming a lopsided decision in his ninth title defense. Yawn. Abraham and his team say they want Pavlik. The Pavlik team and promoter Top Rank talk about Abraham in less definitive terms. But there is no reason the fight shouldn't happen this year. Abraham says if he can't get Pavlik, he'll move to super middleweight, especially since he is having more and more of a difficult time making 160 pounds. But as long as Pavlik and Abraham are at middleweight, they need to fight each other. The rest of the field is extremely weak, and don't even say Felix Sturm because he and his team are way too conservative to even consider either man in a serious way.
Heavyweight
Lamon Brewster W8 Michael Sprott
scores: 79-73, 78-73 (twice)
Records: Brewster, 35-4, 30 KOs; Sprott, 31-13, 16 KOs

Rafael's remark: Former heavyweight titleholder Brewster continued his comeback from eye injuries and back-to-back punishing losses. In 2006, he lost his belt to Sergei Liakhovich in a grueling battle that was the heavyweight fight of the year. Brewster returned 15 months later, in July 2007, for a rematch with Wladimir Klitschko, who smashed him over six lopsided rounds to avenge a previous knockout loss. After a 13-month layoff, Brewster, 35, made another comeback last summer. This was his second win in a row since returning and first since signing with German promoter Sauerland Event. Brewster, who says he is injury-free for the first time since 2000, scored the only knockdown of the fight when he floored England's Sprott, 34, with a left hook and follow-up right near the end of the third round. Considering Brewster is on the comeback trail, facing Sprott seemed reasonable. Sprott knocked Audley Harrison out with one punch in February 2007, although Sprott has now lost three of his past four bouts (all by decision).
Saturday at Mexicali, Mexico
Junior flyweight
Giovani Segura TKO4 Cesar Canchila
Wins an interim junior flyweight title
Records: Segura, 20-1-1, 16 KOs; Canchila (27-2, 21 KOs

Rafael's remark: This past July, Canchila beat Segura via decision to win a vacant interim belt on the Antonio Margarito-Miguel Cotto undercard in Las Vegas. It was a terrific action fight, but because the main event was so sensational, Canchila-Segura was sort of lost in the shuffle. Meeting in an immediate rematch on Azteca America in a fight that had been scheduled and rescheduled numerous times, they went at it again with ferocity in a slugfest. But it was Segura, 26, of Mexico, who overwhelmed Canchila, 27, of Columbia in a fast-paced fight. Segura came out guns blazing in the first round, dropping Canchila and pounding him around the ring. Referee Julio Alvarado certainly would have been within his rights to stop the fight after the hard knockdown, but he let it go. Segura knocked Canchila down again with a massive overhand left in the final 30 seconds of the second round and hammered him in the third, a round to think about when you compile your round of the year nominees at the end of 2009. Canchila, however, was throwing enough back to stay in the fight and keep things interesting. Segura was hammering him some more at the end of the fourth when the bell rang, leading to an odd ending of the fight. Alvarado didn't step between them, apparently not hearing the bell. Neither fighter seemed to hear the bell either because the crowd was so loud. So Segura got in a few more shots before the referee realized the round was over and then took a few moments before he still stopped the fight, apparently because Canchila had taken so much punishment. Segura is a relentless fighter who is a joy to watch and Canchila has an enormous heart.
Saturday at Torreon, Mexico
Bantamweight
Nehomar Cermeño W12 Cristian Mijares
Wins a vacant interim bantamweight title
Scores: 116-112, 115-113 Cermeño, 117-111 Mijares
Records: Cermeño, 17-0, 10 KOs; Mijares, 36-5-2, 15 KOs

Rafael's remark: What a difference four months can make. Last fall, Mijares was a unified junior bantamweight titleholder climbing up the top 10 pound-for-pound rankings. He was an emerging star on a tremendous run with notable victories against Jorge Arce, Katsushige Kawashima (twice), Jose Navarro and Alexander Munoz. Then he met Vic Darchinyan in a unification bout and had his head handed to him. Darchinyan dominated and knocked him out in the ninth round for the upset. Returning from that crushing loss, Mijares moved up to bantamweight to fight for an interim belt offered up by the increasingly absurd WBA. It did not go as planned for Mijares, who has now lost two bouts in a row as Venezuela's Cermeño, a 2000 Olympian, came to Mijares' turf in Mexico and pulled the split decision upset, a difficult task for a fighter on the road. Given Cermeño's amateur background, nice professional record and a victory against a name opponent, he's certainly a fighter to watch. As for Mijares, where does he go now?
Saturday at Cincinnati
Heavyweight
Deontay Wilder TKO1 Richard Greene
Records: Wilder, 3-0, 3 KOs; Greene, 1-2-1, 0 KOs

Rafael's remark: Fighting for the second time in eight days, Wilder scored his second consecutive first-round stoppage. The 23-year-old U.S. Olympic bronze medalist, America's lone boxing medalist at the 2008 Beijing Games, didn't score any knockdowns but won when Greene failed to come out of his corner for the second round because of the facial damage Wilder inflicted in the opening frame. Co-manager Shelly Finkel told ESPN.com that Wilder's fourth fight probably will come on April 24 on an ESPN2 undercard in Chicago.
Lightweight
Adrien Broner W4 Eric Ricker
Scores: 40-36 (three times)
Records: Broner, 7-0, 5 KOs; Ricker, 1-2, 1 KO

Rafael's remark: Broner, one of Golden Boy's most exciting prospects, met Ricker in a rematch after the odd ending to their first encounter. When they met in December, also in Broner's hometown of Cincinnati, Broner, 19, was dominating when he shoved Ricker off of him when he was trying to hold. Ricker wound up falling between the ropes and out of the ring and was unable to continue. Broner was disqualified but the ruling was overturned by Ohio officials and properly changed to a no contest. In the rematch, Broner hurt Ricker to the body in the opening round and dominated for the shutout decision victory. Manager Shelly Finkel told ESPN.com that Broner will return to action April 10 on an ESPN2 undercard in Tucson, Ariz.
Saturday at Saransk, Mordovia
Heavyweight
Oleg Maskaev TKO1 Rich Boruff
Records: Maskaev, 36-6, 27 KOs; Boruff, 17-3-1, 10 KOs

Rafael's remark: By knocking out American journeyman Boruff, 37, who was stopped inside two rounds for the third consecutive fight, former titleholder Maskaev preserved his preposterous status as the mandatory challenger for the winner of the Vitali Klitschko-Juan Carlos Gomez heavyweight title bout on Saturday. Maskaev, 40, barely broke a sweat, drilling Boruff in 95 seconds. The fight didn't exactly register among fight fans in the United States, but in Mordovia, which was part of the former Soviet Union and where Maskaev's father is from, the fight was a huge deal. It was the second win in a row for Maskaev against a low-level opponent since Samuel Peter knocked him out in the sixth round a year ago to claim a heavyweight belt. Maskaev as a mandatory challenger is a farce, but what else would you expect from the WBC?
Friday at Montreal
Super middleweight
Lucian Bute TKO4 Fulgencio Zuniga
Retains a super middleweight title
Records: Bute, 24-0, 19 KOs; Zuniga, 22-4-1, 19 KOs

Rafael's remark: In October, Montreal star Bute came perilously close to being knocked out in the final seconds of the 12th round and losing his title to Librado Andrade, but a big heart and perhaps a little home cooking from Montreal referee Marlon Wright (who was officiating a fifth consecutive Bute bout) saved him. Bute survived the rocky 12th round and won the clear decision.
So the question for Bute, 29, heading into his third title defense and his 11th consecutive fight at the Bell Centre, where the 12,153 fans cheered him wildly, was would he suffer any lingering effects from what happened to him in October, especially considering that Colombia's Zuniga is a tremendous puncher? The answer was a resounding "no." Bute, a southpaw, was dominant. He toyed with Zuniga through the first three rounds of the Showtime-televised bout. In the fourth, he landed a left to the pit of Zuniga's belly that dropped him. Struggling for air, Zuniga barely beat the count. When the fight resumed, Zuniga was met by a hard-charging Bute, who was pouring punches on Zuniga in the corner when referee Lindsey Page intervened at 2:25.
Next up for Bute could be a rematch with Andrade in the fall. Andrade will face Vitali Tsypko in a title eliminator April 4 on Showtime on the undercard of the Tim Bradley-Kendall Holt junior welterweight unification fight. The Andrade-Tsypko winner will become Bute's mandatory challenger. Bute has said repeatedly that he would like to give Andrade a rematch. Beyond that, Bute said he'd be happy to leave the comfort of Canada to come to the United States to face Kelly Pavlik or Jermain Taylor. He has also expressed interest in a unification bout with Denmark's Mikkel Kessler.
As for Zuniga, 31, he just can't get over the hump. Three of his defeats have come in world title bouts. Besides losing to Bute, Zuniga dropped a decision in a 2003 junior middleweight title match to Daniel Santos in Santos' native Puerto Rico. In September, he lost a competitive decision in Germany to Denis Inkin for a vacant super middleweight belt. His other defeat came via ninth-round TKO to Kelly Pavlik in Las Vegas in 2005. Pavlik, of course, would go on to win the middleweight championship.
Friday at Kissimmee, Fla.
Junior featherweight
Wilfredo Vazquez W12 Jose Beranza
Scores: 120-107, 119-108, 118-109
Records: Vazquez, 15-0-1, 12 KOs; Beranza, 31-15-2, 25 KOs

Rafael's remark: Vazquez, 24, of Puerto Rico, rolled past journeyman Beranza, 32, of Mexico, who dropped his sixth fight in his past seven. Vazquez, son of the former multidivision champion, was just faster and more accurate with his punches as he cruised in a Telemundo main event that figured to be a one-sided bout. It would be nice to see Vazquez step up his competition for a change.
Thursday at Kobe, Japan
Bantamweight
Hozumi Hasegawa TKO1 Vusi Malinga
Retains a bantamweight title
Records: Hasegawa, 26-2, 10 KOs; Malinga, 18-3-1, 11 KOs

Rafael's remark: Japan's Hasegawa, 28, is inching his way toward consideration for the pound-for-pound list. This was another tremendous performance by Hasegawa, who made his eighth title defense. After two in a row that ended in the second round, Hasegawa blitzed the South African mandatory challenger and fellow southpaw in 2:37, knocking him down three times in a brutally efficient performance. Malinga, 29, had earned the shot at the title with fourth-round knockout of former titlist Veeraphol Sahaprom, from whom Hasegawa had taken the title in 2005 and beaten in a rematch in 2006. But Malinga was quickly outclassed by Hasegawa. Malinga was unable to get away from Hasegawa's overhand left and paid for it. The first one dropped him to his backside. He went down for the second time about 30 seconds later under a hail of blows. The fight was finally called off when Hasegawa connected with the left again for the third knockdown. Malinga suffered his first loss since dropping a four-round split decision in his fifth fight in 2001.
Thursday at Tokyo
Featherweight
Takahiro Aoh W12 Oscar Larios
Wins a featherweight title
Scores: 119-107, 118-109, 116-111
Records: Aoh, 17-1-1, 8 KOs; Larios, 63-7-1, 39 KOs

Rafael's remark: When they first met in October in Tokyo, Larios retained the belt on a controversial split decision, which set the stage for this immediate rematch. This time Japan's Aoh, a 24-year-old southpaw, left no doubt, cruising to the easy decision. He knew he was way ahead on the scorecards after the fourth and eighth rounds because the bout was fought using the WBC's horrible open scoring system. Aoh dominated Mexico's Larios, 32, who lost for the first time in six career fights in Japan. The faster Aoh put a cherry on top of his victory with a knockdown in the 12th round. Larios has sure seen better days. This was his fifth fight since taking a beating from Jorge Linares in a featherweight title bout in Las Vegas in 2007. Linares stopped him in the 10th round and Larios suffered a brain bleed, thereby being medically suspended in Nevada and throughout the United States. But officials don't seem to care in Mexico, where Larios has fought three times, and Japan, where two of the bouts took place.
Dan Rafael is the boxing writer for ESPN.com.
Boxing
2013 BWAA Nat Fleischer Award winner for excellence in boxing journalism
ESPN.com boxing writer since 2005
Five years at USA Today
EDITORS' PICKS
Brook defended his title with a demolition of Dan.
ESPN UK »

Russell focused on Gonzalez's featherweight title.
Dan Rafael »

WBC made Kovalev the mandatory for Stevenson.
Dan Rafael »
MOST SENT STORIES ON ESPN.COM