Commentary
Dunne steals show in Dublin shootout
Originally Published:
March 23, 2009
By
Dan Rafael
| ESPN.com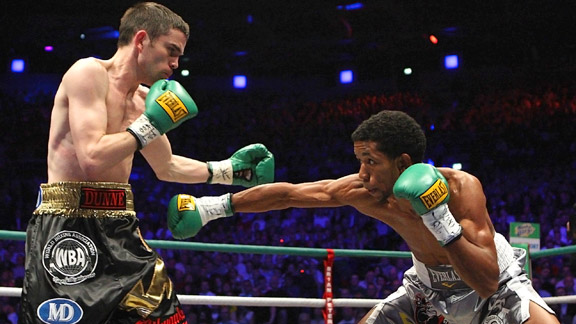 AP Photo/PA, Julien BehalRicardo Cordoba, right, gave as good as he got for 11 rounds against Bernard Dunne.
A roundup of the past week's notable boxing results from around the world:
Saturday at Stuttgart, Germany
Heavyweight
Vitali Klitschko TKO9 Juan Carlos Gomez
Retains a heavyweight title
Records: Klitschko, 37-2, 36 KOs; Gomez, 45-2, 35 KOs

Rafael's remark: Klitschko is amazing. He is 37 and has overcome a ton of injuries, which were so bad that he was forced to give up his heavyweight title and retire for almost four years. But he made a brilliant comeback in October by pummeling Samuel Peter and making him quit after eight rounds to reclaim his old belt. His first defense came against mandatory challenger Gomez, 35, a German-based Cuban defector whose quickness, skills and southpaw style are the polar opposite of what Peter brings to the table, which is brute strength and power. Gomez, a former cruiserweight titleholder, figured to give Klitschko at least a few problems, right? Wrong.
After an awkward first round, the only one Gomez appeared to win, Klitschko completely dismantled Gomez in an excellent performance. Klitschko and younger brother Wladimir Klitschko, a two-belt heavyweight titleholder, are clearly the best two heavyweights in the world. Granted, the division is not very good these days, but it's the Klitschkos and everyone else is way behind.
The 6-foot-7 Klitschko puffed up the 6-3 Gomez's right eye in the second round of the ESPN Classic-televised bout and cut the eye in the fifth round. He had Gomez holding on for dear life in the sixth when he nearly knocked him down with some hard right hands. Finally, in the seventh, Klitschko did knock him down with a clubbing right hand. Gomez was on very shaky legs after Klitschko punished him until the round ended. Gomez looked like he wanted to quit under heavy fire in the eighth, but he toughed it out. The end, however, was only a matter of time, and it came in the ninth. An accidental head butt opened a cut over Gomez's left eye (and Klitschko was docked one point, as if it mattered, under the WBC's hideous head-butt rule) and Klitschko knocked him down again seconds later. During the follow-up attack, referee Daniel Van de Wiele called off the carnage.
Klitschko is now saddled with an unconscionable second mandatory against former titleholder Oleg Maskaev, who has done nothing to earn the shot. It's a pointless fight few are interested in. Klitschko would rather face titleholder Nikolai Valuev, but he is supposed to face Ruslan Chagaev to clean up the WBA's messy title picture. One man Klitschko won't be facing is his brother, leaving the world with a two-headed heavyweight monster and few worthy challengers.
Heavyweight
Tony Thompson TKO5 Adnan Serin
Records: Thompson, 32-2, 20 KOs; Serin, 19-10-1, 7 KOs

Rafael's remark: In his last fight, Thompson went to Germany as the mandatory challenger for unified heavyweight titlist Wladimir Klitschko and was dominated in an 11th-round knockout loss. When Klitschko's brother, fellow titleholder Vitali Klitschko, needed southpaw sparring to get ready for his defense against Juan Carlos Gomez in the main event, Thompson was brought into the training camp. As a favor to Thompson, Klitschko gave him a spot on the undercard for him to make his comeback. It was successful, as the 6-foot-5 Thompson, 37, used his height advantage over the 5-11 Serin, 33, of Germany. This one was all Thompson, who dropped Serin to 0-2-1 in his last three when Serin's corner threw in the towel during the fifth round.
Cruiserweight
Chris Byrd TKO4 Mathias Sandow
Records: Byrd, 41-5-1, 22 KOs; Sandow, 4-4, 3 KOs

Rafael's remark: Trying to reinvent himself at 38 and having lost three of four coming into the bout, former heavyweight titleholder Byrd got back on track by stopping an opponent so inexperienced that he likely would not have been approved to fight Byrd in the United States. In Byrd's last fight, he dropped from heavyweight all the way down to light heavyweight and had absolutely nothing against Shaun George, who stopped him in the ninth round of a lopsided fight in May 2008. Now at cruiserweight and coming off the long layoff, Byrd, who sparred with main eventer Vitali Klitschko to prepare him for his heavyweight title defense, faced a fellow southpaw in Germany's Sandow and was teeing off on him in a corner before it was called off at 1:30 of the fourth round. Afterward, Byrd called out cruiserweight champ Tomasz Adamek, who is looking at a possible fight with Bernard Hopkins, which would be much bigger than a match with Byrd.
Saturday at Pensacola, Fla.
Light heavyweight
Roy Jones Jr. TKO5 Omar Sheika
Records: Jones Jr., 53-5, 39 KOs; Sheika, 27-9, 18 KOs

Rafael's remark: Electing to fight on at age 40 and in the wake of a lopsided loss to then-light heavyweight champ Joe Calzaghe in November, Jones returned to his roots. He was fighting in his hometown for the first time in a decade and even had his father, Roy Jones Sr., from whom he has been estranged from for most of his career, in his corner for only the second time since 1992.
It was a triumphant night for Jones, who looked pretty good against Sheika, 32, who was quite obviously not in top condition. About the only danger Sheika, a former four-time super middleweight title challenger, brought to the party was the possibility of landing a hard, wild shot. Jones avoided them and had his way with Sheika, who hadn't fought since September 2007 and lost for the third time in his last four bouts. Jones battered him throughout the fight with hard shots, mostly one at a time, although he was able to rip off a few of those vintage flurries that were so mesmerizing to watch when he was the pound-for-pound king for so many years. In the fifth, Jones landed several flush blows and had bloodied Sheika's face when referee Tommy Kimmons jumped in to stop it at 1:45. It seemed like a premature stoppage, but Sheika didn't look like he had a prayer to win the fight, which, outrageously, didn't start until after midnight on a woeful pay-per-view card that included boxing and mixed martial arts bouts (something we never want to see again -- they're different sports). Jones' company, Square Ring, put on the event and is lucky the boss got the knockout when he did because had the fight gone the distance, it would have been knocked off the air in many places where the window of satellite time ran only until 1 a.m. ET. What were they thinking when they aired a taped six-rounder from earlier in the evening before the main MMA bout? It was already getting late and just one disappointing part of a nearly unwatchable, meandering and unfocused telecast.
Cruiserweight
B.J. Flores W10 Jose Luis Herrera
Scores: 99-91 (twice), 98-92
Records: Flores, 23-0, 14 KOs; Herrera, 16-6, 16 KOs

Rafael's remark: In his first bout since signing with Roy Jones' promotional company, Flores, 30, cruised to a lopsided decision in a sleep-inducing bout on an overall dreadful pay-per-view card. Flores, who said he injured his left hand in the third round, easily outboxed the slower Herrera, who simply followed him around all night and never landed anything clean. Solid win for Flores, but not the kind of performance that is going to excite anyone. The one notable thing about this match is that it was the first time Colombia's Herrera, 29, has ever heard the final bell. He had won by knockout in all of his victories and lost by knockout in all of his previous losses.
Saturday at Dublin
Junior featherweight
Bernard Dunne KO11 Ricardo Cordoba
Wins a junior featherweight title
Records: Dunne, 27-1, 14 KOs; Cordoba, 34-2-2, 21 KOs

Rafael's remark: We've seen some great fights already this year, such as Juan Manuel Marquez-Juan Diaz and Andre Berto-Luis Collazo. But Dunne's dramatic knockout of Cordoba at 2:59 of the 11th round was the end of a fabulous action fight that will be part of the fight-of-the-year discussion. It was just a tremendous battle with wild momentum swings, knockdowns galore (six in total) and plenty of blood and guts. Thank goodness for the Internet so anyone around the world could see the fight live on Irish network RTE's Web site. It was worth sitting at an office desk watching rather than being able to lounge on the couch in front of the TV.
Dunne, 29, of Ireland, gave the partisan crowd of about 9,000 a memorable victory in the first boxing event at Dublin's O2 Arena as he rallied from deep deficits on all three scorecards to roar back for the improbable win in the first world title bout in Ireland since then-bantamweight titlist Wayne McCullough defended his title in Dublin in 1996.
Cordoba, 24, of Panama, held only the WBA's ludicrous "regular" title since Celestino Caballero (whom Cordoba outpointed in a national title fight in 2004) unified belts in November and was "elevated" to a "super" titleholder last fall. The madness of the WBA, however, is not enough to spoil this great fight.
Dunne, who won his fourth in a row since a shocking first-round knockout loss to Kiko Martinez in Dublin in August 2007 -- a defeat that cost Dunne the European title -- dropped Cordoba with a huge left hook in the third round and nearly had him out. But the round ended before Dunne could finish him. Dunne suffered a bloody gash over his right eye in the fourth and Cordoba was cut over his right eye in the fifth.
Dunne tasted the canvas when he was knocked down hard twice in the fifth round and nearly stopped during the follow-up attack of what was becoming a brutal slugfest. By the 11th round, Cordoba appeared in control, but Dunne, out of nowhere, dropped him three times, including a tremendous left uppercut to finish him. Cordoba was down for several minutes and left on a stretcher to go to the hospital for observation. Even Dunne, the winner, needed oxygen after the fight just to make sure everything was OK.
If you call yourself a Fight Freak, do yourself a favor -- seek out a DVD of this explosive match or search the Internet for the video.
Super middleweight
Andy Lee W10 Alex Sipos
Score: 98-91
Records: Lee, 17-1, 13 KOs; Sipos, 19-6-2, 9 KOs

Rafael's remark: Lee was one of the hottest prospects in boxing until running into Brian Vera on ESPN2 and shockingly getting stopped in the seventh round in March 2008. The 2004 Irish Olympian, a southpaw trained and managed by Emanuel Steward, rebounded with a win against Willie Gibbs in Ireland in July, but then had a long layoff while healing from surgery to remove scar tissue around his eyes. Lee, 24, was supposed to fight on a card in New York on March 16, but when it was abruptly canceled because of lagging ticket sales, he was added to this card in Ireland and matched with Germany's Sipos, with whom he had sparred last year. Although Lee won easily (the referee is the only scorer in a non-title bout in the United Kingdom) and dropped Sipos in the sixth round, he looked rusty after the long layoff. Lee also suffered a cut over his right eye early in the fight. Sipos, 34, dropped his fourth consecutive fight.
Saturday at Beverly Hills, Calif.
Middleweight
Miguel Espino TKO6 Alejandro "Terra" Garcia
Records: Espino, 20-2-1, 9 KOs; Garcia, 26-5-1, 24 KOs

Rafael's remark: Fighting on Azteca America and at the famed Playboy Mansion, Espino, 29, best known for his stint on the first season of "The Contender," knocked former junior middleweight titlist Garcia, 29, of Mexico, down in the fourth and fifth rounds. Espino won when Garcia, now 1-4-1 in his last six fights, retired on his stool after the sixth round with a hand injury. Espino has won 11 in a row since losing to Peter Manfredo on "The Contender" in 2004.
Middleweight
Roman Karmazin TKO7 Antwun Echols
Records: Karmazin, 38-3-1, 24 KOs; Echols, 31-10-4, 27 KOs

Rafael's remark: There had been some questions about whether this bout would take place, but eventually it did. Echols, 37, probably wishes it hadn't. Although Karmazin, 36, a former junior middleweight titlist, was down in the fifth round, he came back to stop Echols two rounds later. Karmazin, who could possibly be an opponent for middleweight titlist Arthur Abraham, won his second in a row following a shocking 10th-round knockout loss to Alex Bunema on the Roy Jones-Felix Trinidad undercard in January 2008. Echols, who has challenged for world titles three times, can't live on that anymore. He shouldn't even be fighting anymore after dropping to 0-5-3 in his last eight bouts. He's had eye injuries and taken extraordinary punishment in recent fights. Someone needs to save him from himself.
Saturday at Cincinnati
Welterweight
Ricardo Williams Jr. KO3 Harrison Cuello
Records: Williams Jr., 15-2, 8 KOs; Cuello, 18-9-2, 14 KOs

Rafael's remark: Williams' comeback continued as the 2000 U.S. Olympic silver medalist won his fifth in a row since being released from prison after serving three years in prison for conspiracy to distribute cocaine. Williams, who signed a huge pro contract after the Olympics only to become a massive bust, is still young enough at 27 to make a run if he can find the discipline to turn around the mess after the first part of his career. Fighting at home for the second fight in a row on a card filled with Cincinnati fighters (which drew an impressive 4,137), Williams dropped Cuello, 31, three times in the third round, the last of which ended the fight at 1:50.
The professional debut of Ron Siler, a 2004 U.S. Olympian whose debut had been delayed by legal problems, was scratched at the last minute.
Friday at Laredo, Texas
Featherweight
Fernando Beltran Jr. W12 Miguel "Mickey" Roman
Scores: 115-113 (twice) Beltran, 117-111 Roman
Records: Beltran, 32-3-1, 18 KOs; Roman, 25-5, 17 KOs

Rafael's remark: In a battle of Mexicans, Beltran, who twice unsuccessfully challenged for versions of the junior featherweight title against Steve Molitor and Joan Guzman, pulled out a debatable split decision in the "Friday Night Fights" main event. The fight was entertaining and certainly could have gone either way with so many tight rounds, but the crowd booed the decision loudly. Roman, 23, had his moments, but so did the quicker Beltran, 27, a southpaw. It was just one of those fights. Promoter Artie Pelullo told ESPN.com that he will try to make a rematch for June.
Junior welterweight
Ruslan Provodnikov W6 Esteban Almaraz
Scores: 60-53 (twice), 59-54
Records: Provodnikov, 11-0, 6 KOs; Almaraz, 9-2, 4 KOs

Rafael's remark: Promoter Artie Pelullo may have found himself a hidden gem in Provodnikov. The 25-year-old Russian (from Siberia) looks like he has a lot of promise and he certainly has a crowd-pleasing style. Fighting in the U.S. for the sixth time -- he trained in Los Angeles for this fight -- as he splits time between here and Russia, Provodnikov, who had a strong amateur background, fought extremely well. Almaraz, 28, was no pushover opponent either, but Provodnikov dropped him the fifth with a right hand to the body and won the clear decision. If you were reminded of Kostya Tszyu (minus the ponytail) watching him fight, you weren't the only one.
Junior middleweight
Demetrius Andrade KO2 Arnulfo Javier Romero
Records: Andrade, 4-0, 4 KOs; Romero, 3-4, 1 KO

Rafael's remark: Former world amateur champion Andrade, the 21-year-old 2008 U.S. Olympian, continues to impress during the early days of a pro career destined for the big time. Although he is more than capable of handling an opponent of a better grade, his handlers are probably being a bit careful with him because they have a big investment in Andrade. Better safe than sorry, right? But make no mistake: Andrade, with size, power and speed, has loads of talent. If you could buy stock in any of the 2008 U.S. Olympians, Andrade would be your first selection. These early fights are designed to gain him experience, confidence and exposure. So there's nothing like a sensational knockout on ESPN2 to take care of that third item. The Providence, R.I., native dominated the first round, in which he knocked down Mexico's Romero, 34, during a flurry in the final 35 seconds of the round. In the second round, Andrade ended matters at 2:53 with a smashing counter left uppercut. The win was Andrade's second nationally televised highlight-reel performance of the month; he also blew out Tom Joseph in the first round March 6. One more quick thought on the knockdown in the first round: Andrade clearly hit Romero while he was already down. The ref didn't say anything about it, but Andrade needs to avoid that kind of behavior because it can come back to haunt him. Just ask Roy Jones.
Friday at Rama, Ontario
Junior featherweight
Heriberto Ruiz W12 Mauricio Martinez
Scores: 117-111, 116-112, 115-113
Records: Ruiz, 41-7-2, 23 KOs; Martinez, 35-9-1, 23 KOs

Rafael's remark: In a messy fight filled with clinches, Ruiz overcame a cut late in the bout and edged former bantamweight titlist Martinez, 33, of Panama. Ruiz, 31, of Mexico, won his second in a row after a decision loss to former flyweight titlist Eric Morel in last August. But both wins have come against solid opponents in Martinez and Rey Bautista, whom Ruiz upset in November on the Ricky Hatton-Paulie Malignaggi undercard. Before the bout had even started, promoter Orion Sports announced that the Ruiz-Martinez winner would get a chance to face former junior featherweight titlist (and Ontario's biggest star fighter) Steve Molitor. Well, Ruiz won the fight and will be rewarded with a match against Molitor in the same ring at Casino Rama on June 26. Molitor will be coming back from his first career loss, a fourth-round knockout to titlist Celestino Caballero in their November unification fight.
Friday at London
Light heavyweight
Edison Miranda TKO5 Joey Vegas
Records: Miranda, 32-3, 28 KOs; Vegas, 11-5-1, 4 KOs

Rafael's remark: With no trash talk before the fight, a staple of Miranda promotions, the Colombian knockout artist took his game to England for the first time and made easy work of Vegas, 27, who was born in Uganda but lives in England. It was the second win in a row for Miranda, 28, since his crushing fourth-round knockout loss to Arthur Abraham in their rematch last June. Miranda used the first two rounds to measure the awkward Vegas before knocking him down twice in the third round. In the fifth, Miranda stopped Vegas with a series of unanswered blows. This was good for Miranda, who is exciting and has a good personality. There's nothing wrong with taking a few smaller fights so he can rebuild his confidence and string together a few wins. He is so much fun and such a good puncher that if he plays his cards right, you know he'll get another opportunity in a meaningful fight. And we'll all watch. If Miranda had his way, he'd get a chance to fight Jermain Taylor, whom he called out after the fight. After the win, Miranda was back to his smack-talking ways: "I've been chasing Taylor for years, but unless I cut off my legs and become a featherweight, he won't fight me," Miranda said. "I'm stunned that he's actually fighting someone his own size in [super middleweight titleholder Carl] Froch, and I'd like to see him win so I can force him to fight me."
Dan Rafael is the boxing writer for ESPN.com.
Boxing
2013 BWAA Nat Fleischer Award winner for excellence in boxing journalism
ESPN.com boxing writer since 2005
Five years at USA Today
MOST SENT STORIES ON ESPN.COM