Commentary
Valero sensational in blasting out Pitalua
Originally Published:
April 6, 2009
By
Dan Rafael
| ESPN.com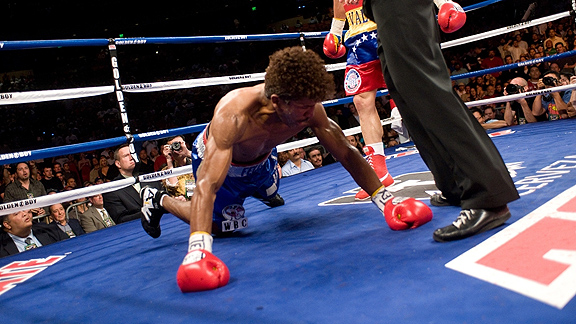 Chris Cozzone/Fightwireimages.comThis is what a night out with Edwin Valero will do to you. Opponents: You've been warned.
A roundup of the past week's notable boxing results from around the world:
Saturday at Austin, Texas
Lightweight
Edwin Valero TKO2 Antonio Pitalua
Wins a vacant lightweight title
Records: Valero, 25-0, 25 KOs; Pitalua, 46-4, 40 KOs

Rafael's remark: To many, Valero has been one giant mystery, seen only in grainy Internet footage or talked about on message boards as something of an urban legend. The reason the 27-year-old Venezuelan had been seen only once previously on U.S. television (and that was on a small pay-per-view that took place in Mexico) was because he was banned from fighting in the United States after New York denied him a license before a planned fight there a few years ago because of a failed MRI. Turned out Valero had suffered a head injury from a non-boxing-related accident years ago. So Valero went off to Japan, won a junior lightweight belt and was making a nice living overseas. But he wanted to fight big fights and make his name in America, which usually means financial gain. Finally, in 2008, Texas granted him a license. After Valero gave up his 130-pound belt, he wound up on Golden Boy's "Lightweight Lightning" PPV card after it won the purse bid for the fight with Pitalua, whom Valero was facing for the 135-pound belt Manny Pacquiao vacated when he moved up in weight.
For those seeing Valero for the first time, it was probably worth the wait, as he blew out the Mexican-based Colombian in stunningly easy fashion. Clearly, Valero, who is now promoted by Top Rank, has brought his power with him in the move up in weight. Pitalua lost his only previous title fight on a decision to Artur Grigorian in 2000, but was well preserved at age 39. He was a very solid, hard-punching and durable opponent, but Valero ripped him apart like a wet paper towel. After a feeling out first round, Valero, who still needs to tuck that up-in-the-air chin, blew him away with three rough knockdowns. The first knockdown, from a flush left, was really what did most of the damage. After Pitalua got up, he stumbled into the ropes and was in bad shape. He was down again seconds later from an onslaught of blows. The fight could certainly have been stopped then, but referee Laurence Cole gave Pitalua the benefit of the doubt. A moment later, Valero was all over him again, and Cole called it off as Pitalua was going down again. It was an electrifying and sensational performance from Valero, who, despite his technical limitations, has rocks in his fists that can do damage to anyone. Top Rank promoter Bob Arum signed Valero in order to build him into a possible opponent for Pacquiao down the road. Wouldn't that be fun while it lasted?
Lightweight
Michael Katsidis TKO7 Jesus Chavez
Records: Katsidis, 25-2, 21 KOs; Chavez, 44-5, 30 KOs

Rafael's remark: Katsidis and Chavez are never in bad fights, so it should not have surprised anyone that this was a highly entertaining slugfest. Australia's Katsidis, 28, however, was too young, too strong and too hungry against Chavez, who took a lot of punishment before retiring in the corner after the seventh round, much to the disappointment of his hometown fans in Austin. It was a grueling fight. Katsidis was bruised under his left eye early in the fight, and Chavez suffered a nasty cut by his hairline from an accidental head butt in the fourth round. The blood flowed freely after the head butt. Chavez simply brushed aside the blood streaming down his face and continued to fight. But Katsidis was doing damage and, finally, after the seventh, Chavez had taken enough. At 36 and after a career filled with ups (world title victories at junior lightweight and lightweight) and downs (the death of opponent Leavander Johnson from a brain injury suffered in their fight, and all kinds of injuries), Chavez announced his retirement at the postfight news conference. Because of his television-friendly style, Katsidis certainly will be back in another meaningful fight, which is good news for fight fans who love action. He won his second in a row after back-to-back losses to Joel Casamayor and Juan Diaz in 2008. Golden Boy Promoter Richard Schaefer told ESPN.com that he was thinking about trying to put together a fight between Katsidis and Vicente Escobedo, who also won on the card.
Lightweight
Vicente Escobedo W10 Carlos Hernandez
Scores: 96-91, 95-91, 94-93
Records: Escobedo, 20-1, 12 KOs; Hernandez, 43-8-1, 24 KOs

Rafael's remark: Five years after his stint with the 2004 U.S. Olympic team, Escobedo, 27, scored the biggest win of his pro career in the best fight on Golden Boy's entertaining "Lightweight Lightning" pay-per-view card with this all-out slugfest with Hernandez, a former junior lightweight titleholder who may retire after this grueling defeat. Although Hernandez, 38, is nowhere near what he once was, as he dropped to 3-5 in his last eight bouts, he remains a tough fighter with a huge heart. He certainly provided Escobedo with everything he could handle, but the youngster had a bit too much strength and stamina for Hernandez. He dropped Hernandez in the first round and again in the second round, and it looked as if his accurate right hand would eventually find the target again for a knockout. But Hernandez would not give in and fought through cuts, bruises and swelling around both eyes. An accidental elbow from Escobedo in the third round opened the worst of the cuts. Hernandez was credited with a sixth-round knockdown, but it was a bad call. Replays clearly showed Hernandez accidentally stepping on Escobedo's foot, causing him to trip. It turned out not to matter, as Escobedo, who took the fight on a few weeks' notice when original opponent Jorge Barrios fell out with a jaw injury, got the well-deserved decision. It should give him confidence the next time he's in with a solid opponent. As for Hernandez, if this is it, a tip of the hat to a good guy who gave us a lot of thrills.
Lightweight
Rolando Reyes TKO5 Julio Diaz
Records: Reyes, 31-4-2, 20 KOs; Diaz, 36-5, 26 KOs

Rafael's remark: Former titleholder Diaz thought he would be facing former world champion Joel Casamayor in the co-featured fight on the card, but Casamayor pulled out 2½ weeks before the fight because of a back injury. That left Diaz to take a pay cut and face substitute Reyes in the opening bout of the pay-per-view card. It turned out to be the stunner of the night, as Reyes, a fringe contender who made no fans in his last fight on a big stage when he ran all night from former champ Jose Luis Castillo and lost a lopsided decision in February 2004, scored the upset. Reyes, 30, has won five in a row since the loss to Castillo after coming from out of nowhere to stop Diaz. It had been a lackluster fight through the early rounds as the crowd voiced its displeasure with the lack of action. But it suddenly changed when Reyes caught Diaz with a combination that cut Diaz under the right eye and knocked him down. Moments later, with Reyes pounding him around the ring, Diaz went down again and referee Gregorio Alvarez immediately stopped the fight. You have to question where Diaz, 29, goes from now. After quitting in the ninth round of his 2007 unification bout with Juan Diaz, he won two in a row against lesser opponents before this disaster against Reyes. Meanwhile, Reyes definitely elevated himself in a quality division.
Saturday at Montreal
Junior welterweight
Timothy Bradley Jr. W12 Kendall Holt
Unifies two junior welterweight titles
Scores: 115-111 (twice), 114-112
Records: Bradley Jr., 24-0, 11 KOs; Holt, 25-3, 13 KOs

Rafael's remark: Although the winner of the May 2 Ricky Hatton-Manny Pacquiao fight will be recognized as the legitimate junior welterweight world champion, Bradley firmly made his case as the division's No. 2 fighter as he unified two alphabet belts with a solid performance against Holt, who, like Bradley, was making the second defense of his title.
Bradley, of Palm Springs, Calif., had some rough moments, however. He was knocked down twice, getting decked by a tremendous left hook in the first round -- it's surprising that he survived and that Holt didn't really press the action afterward -- and then going down again when he touched his glove to the canvas after eating a well-timed uppercut in the 12th round. However, in between the knockdowns, Bradley, 25, applied subtle pressure as he outboxed and outpunched Holt, who refused to press the action. It just seemed as though Bradley wanted to win a whole lot more than Holt. Despite begging from his corner between rounds, Holt wouldn't regularly throw his jab, and it cost him dearly. Had Holt, 27, used it, he could have certainly won the fight. Had Holt showed even an ounce of killer instinct, he would have won. Instead, he gave away a lot of the middle rounds and was left to beg pathetically for a rematch, which he is unlikely to get. Bradley, who credited superb conditioning for his ability to survive the first knockdown, picked Holt, of Paterson, N.J., apart between knockdowns for the quality victory, one that should open plenty of doors for him in a division that has some interesting possibilities. It remains to be seen what Bradley will do next, but the WBC, one of the alphabet organizations that recognizes him as a titleholder, mandated before the fight that the winner must face Devon Alexander in his next fight. If Bradley doesn't, he will be stripped of that belt. Bradley has 15 days to make a decision.
Super middleweight
Librado Andrade W12 Vitali Tsypko
Title eliminator
Scores: 120-106, 117-109 (twice)
Records: Andrade, 28-2, 21 KOs; Tsypko, 22-3, 12 KOs

Rafael's remark: Andrade returned to the Bell Centre, site of his controversial last fight. When the 30-year-old was there in October, he lost a clear decision to Montreal star Lucian Bute in a super middleweight title bout tinged with controversy. After being dominated for most of the fight, Andrade scored a hard knockdown in the final seconds of the fight. However, some believe there was a little home cookin' when referee Marlon Wright delayed the count to move Andrade further into the neutral corner, which may have allowed Bute an extra few seconds to beat the slowish count as the fight was ending.
On this trip, however, Andrade had no problems at all as he thoroughly dominated Ukraine's Tsypko, 32, dropping him twice (in the second and seventh rounds) and cruising to the near-shutout decision. The victory earned Andrade a mandatory rematch with Bute, a fight both boxers have expressed considerable interest in. The fans of Montreal will certainly make it a big event.
Cruiserweight
Adrian Diaconu W8 David Whittom
Scores: 80-72 (twice), 79-73
Records: Diaconu, 26-0, 15 KOs; Whittom, 10-8-1, 6 KOs

Rafael's remark: When light heavyweight titleholder Diaconu's mandatory defense against Silvio Branco, scheduled for April 10, was called off when an injury to one of the main-event fighters caused the whole card to be canceled, Diaconu's handlers moved him onto this undercard in a nontitle bout on just a few days' notice. Fighting at 186 pounds (11 over the light heavyweight limit), Diaconu, a Romanian based in Montreal, won the lopsided decision against Whittom, 30, a Quebec City journeyman who lost his third in a row and fourth of five fights, but accomplished what Diaconu's handlers had in mind -- that he give Diaconu much-needed rounds after a year's layoff. The mandatory with Branco will be delayed at least until the fall, paving the way for a huge fight in Montreal. Diaconu promoter InterBox is in talks with rival Montreal promoter Yvon Michel for a late May or June showdown between Diaconu and Montreal-based super middleweight contender Jean Pascal, who won his fight on a different card Saturday and would move up in weight for the intriguing fight. If Diaconu-Pascal comes off, let's hope there is American television coverage somewhere.
Saturday at Montreal
Super middleweight
Jean Pascal KO5 Pablo Nievas
Records: Pascal, 22-1, 15 KOs; Nievas, 22-6-1, 15 KOs

Rafael's remark: Pascal returned to the ring for the first time since dropping a decision to Carl Froch in an all-action slugfest for a vacant title in England in December. Fighting in front of his hometown crowd, the quicker Pascal, 26, born in Haiti but living in Montreal, dominated the fight. In the fifth, he pressed Argentina's Nievas, 28, into the ropes and eventually hurt him with an uppercut and a left hand that dropped him to the canvas for the full count. Nievas, who unsuccessfully challenged Anthony Mundine for a belt in 2007, had his three-fight winning streak snapped to fall to 3-4 in his last seven. Pascal's victory could lead him right back to a world title bout. Yvon Michel, his promoter, is in talks with rival Montreal promoter InterBox (which Michel used to run before their split in 2004) about a late May or early June showdown between Pascal and Montreal-based light heavyweight titleholder Adrian Diaconu, who won a nontitle bout on another card in Montreal on Saturday. Pascal would move up in weight for the opportunity to face Diaconu in what would be the first fight co-promoted by the Montreal rival promoters and would be a huge event in the city and almost certainly sell out the Bell Centre.
Saturday at Dusseldorf, Germany
Heavyweight
Alexander Povetkin W10 Jason Estrada
Scores: 99-94, 98-92, 97-93
Records: Povetkin, 17-0, 12 KOs; Estrada, 15-2, 3 KOs

Rafael's remark: Povetkin was supposed to fight unified heavyweight titleholder Wladimir Klitschko in December as a mandatory challenger in December. However, Povetkin, 29, the 2004 Russian Olympic super heavyweight gold medalist, injured his foot when he tripped over a tree root while doing a run in preparation for the bout. The fight was called off and cost Povetkin a $4 million payday. With the foot healed and Klitschko's mandatory commitment pushed back until this fall, Povetkin needed to get back in the ring instead of waiting so long until his title shot. His handlers picked Estrada, the underachieving 2004 U.S. Olympian with limited power. So Povetkin shook off the rust of his nine-month layoff and outpointed Estrada in a fight that was competitive for most of the first half before Povetkin found his groove. In the late rounds, Povetkin was wearing Estrada down and almost knocked him down, including when he staggered him in the final 10 seconds of the fight. It was a solid comeback victory for Povetkin, who looms as Klitschko's fall opponent as long he gets by David Haye in a June 20 optional defense.
Saturday at Tamaulipas, Mexico
Junior flyweight
Edgar Sosa TKO4 Porsawan Porpramook
Retains a junior flyweight title
Records: Sosa, 35-5, 19 KOs; Porpramook, 21-3, 16 KOs

Rafael's remark: Sosa just keeps rolling along as one of the busiest titleholders in boxing, as he made his eighth defense since outpointing Brian Viloria for a vacant belt in April 2007. Sosa, 29, of Mexico, was having his way against Thailand's Porpramook when he landed a flurry of punches that hurt the challenger and forced referee Hector Afu to intervene; Porpramook was on the verge of going down. Porpramook, 31, dropped his third fight in his last four. Each defeat came in a title bout, including two cracks at versions of the strawweight title.
Friday at Memphis
Junior welterweight
Randall Bailey KO4 Frankie Figueroa
Title eliminator
Records: Bailey, 39-6, 35 KOs; Figueroa, 20-3, 13 KOs

Rafael's remark: Bailey is one of the best pure punchers in boxing. Period. His right hand is like an atom bomb when it lands, and Figueroa was his latest victim as Bailey erased him with one thunderous blow to the chin in the fourth round. It was spectacular and left Figueroa out cold on his back in the middle of the ring. We're talking about a serious KO of the year candidate. It was just the end of what was a highly entertaining shootout in the "Friday Night Fights" main event. Bailey dropped Figueroa with a right hand in the first round, but it wasn't as clean as the one that ended the fight, and Figueroa, 30, survived. He came back to hurt Bailey and drop him in the second round before Bailey ended matters two rounds later. The victory earned Bailey, 34, a former junior welterweight titlist from 1999 to 2000, another title shot. He had lost a title eliminator on a split decision on Herman Ngoudjo's Montreal turf in June 2007, but has won four in a row, culminating with the knockout of Figueroa to become the mandatory challenger for Juan Urango. However, Urango is slated to challenge welterweight titlist Andre Berto on May 30. If Urango wins, he'll likely stay at welterweight and relinquish his junior welterweight belt, which would leave Bailey to challenge for the vacant title. If Urango loses to Berto, he'll return to junior welterweight and defend against Bailey. Either way, Bailey is getting a title opportunity and whomever he faces will have to be very careful of his right hand.
Middleweight
Shawn Porter TKO1 Eloy Suarez
Records: Porter, 7-0, 6 KOs; Suarez, 10-5, 5 KOs

Rafael's remark: Porter, the 21-year-old 2008 U.S. Olympic alternate, continued to impress in the early stages of his pro career, albeit against a totally overmatched Suarez, who was fighting for only the second time since mid-2004. Nonetheless, Porter showed the kind of quickness and skills that made him a former Golden Gloves and U.S. national champion. He's got fast hands, good power and a pleasing style, all of which were on display as he dominated Suarez until dropping him with a big left hand just before the opening round ended. Suarez made it to his feet but was clearly in no condition to continue. Porter's promoter, Prize Fight, has kept him busy with his seventh fight since he turned pro in October. It's the kind of activity every young fighter needs, especially one with as much potential as Porter.
Friday at Miami
Welterweight
Diobelys Hurtado W12 Arturo Morua
Scores: 114-113 (twice) Hurtado, 114-113 Morua
Records: Hurtado, 41-3-1-25 KOs; Morua, 25-12-1-14 KOs

Rafael's remark: Former junior welterweight titleholder Hurtado, a Cuban defector, has been involved in some memorable fights. Who could forget his dominant 1997 performance against then-welterweight champ Pernell Whitaker before falling to a shocking 11th-round knockout, or his 1998 five-round war for a junior welterweight belt with a prime Kostya Tszyu? Although Hurtado would go on to briefly hold a junior welterweight belt, he has not been a factor for years, at least not since being stopped in the second round and losing his belt to Vivian Harris in 2002. Although Hurtado continued to box regularly until 2004, he left boxing for a years. He had one fight in 2007, one in 2008 and now one in 2009. The years and rust are evident as he struggled to a split decision against Morua, 30, of Mexico, who fought for versions of the title twice in 2007, but lost to Junior Witter and Ricardo Torres during his recent 1-5 downward spiral. Morua dropped Hurtado in the first round of the Telemundo main event, but he rallied to make it a solid fight, despite a nasty cut over his right eye. After how tough this one was, it may be another year until we see Hurtado again.
Dan Rafael is the boxing writer for ESPN.com.
Boxing
2013 BWAA Nat Fleischer Award winner for excellence in boxing journalism
ESPN.com boxing writer since 2005
Five years at USA Today
MOST SENT STORIES ON ESPN.COM