Commentary
Donaire doles out beating to Martinez
Originally Published:
April 20, 2009
By
Dan Rafael
| ESPN.com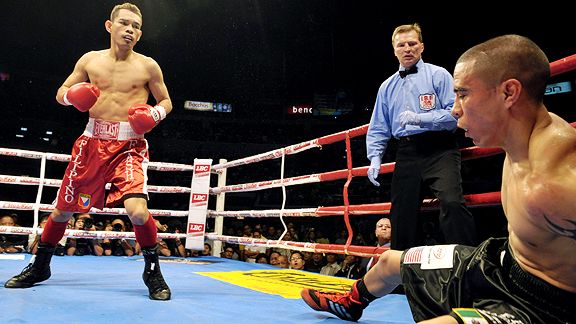 JAY DIRECTO/AFP/Getty ImagesStanding tall: Nonito Donaire, left, proved he's head and shoulders above the flyweight competition.
A roundup of the past week's notable boxing results from around the world:
Saturday at Manila
Flyweight
Nonito Donaire TKO4 Raul Martinez
Retains a flyweight title
Records: Donaire, 21-1, 14 KOs; Martinez, 24-1, 14 KOs

Rafael's remark: Now that was impressive. Headlining Top Rank's "Global Supremacy" pay-per-view card, Donaire returned to his native Philippines -- he was born there but grew up in California -- and looked like a star. He overwhelmed San Antonio's Martinez, a quality opponent many thought would give Donaire a run for his money. But Martinez was never in the fight. Instead, Donaire blew him out with four knockdowns in an easy night of work.
Donaire dropped Martinez twice in the first round with a left hook that couldn't miss. Although not badly hurt on any of the knockdowns, he hit the deck again in the second from another left. In the fourth, Donaire landed a left uppercut and Martinez went sprawling down again on his backside. Referee Pete Podgorski immediately stopped the bout without a count at 2:42 of the round. Although Martinez was obviously being beaten and it looked like he was going to have little chance of climbing out of his hole, it was a weak stoppage. Martinez didn't appear hurt, and Podgorski should have at least given him a count before making up his mind. That said, it was a great performance from Donaire, 26, and a bitter disappointment for Martinez, 27, a decorated U.S. amateur who was getting his first opportunity for a world title.
It was Donaire's third successful defense (all by knockout) since his devastating fifth-round knockout of Vic Darchinyan to win the title in July 2007. The only thing holding back Donaire is his lack of activity. Donaire beat Martinez with new trainer Dodie Boy Penalosa (the brother of Gerry Penalosa), who replaced Donaire's father, Nonito Donaire Sr., in the corner after father and son had a falling-out. Donaire left a ticket for his father to the fight, but he didn't show up. With little left for Donaire to accomplish at flyweight and no obvious opponent, manager Cameron Dunkin told ESPN.com that there is a strong possibility that Donaire will move up to junior bantamweight and target titleholder Jose "Carita" Lopez of Puerto Rico. Regardless of whom Donaire fights, hopefully he'll be more active than he's been.
Junior flyweight
Brian Viloria KO11 Ulises Solis
Wins a junior flyweight title
Records: Viloria, 25-2, 15 KOs; Solis, 28-2-2, 20 KOs

Rafael's remark: The only thing that has held Viloria back during his career has been himself and his unwillingness to let his hands go. When he fires punches, he's an excellent fighter with good power. It's what he showed when he won a world title via impressive first-round knockout against Erick Ortiz in 2005. But when Viloria, 28, is lazy, as he has been in some of his important fights, he's been beaten. It happened in two fights in title bouts with Omar Nino (one of which was changed to a no-contest because Nino flunked a postfight drug test) and it happened again in a title fight against Edgar Sosa. But against Solis, a respected titlist from Mexico who had made eight successful defenses, Viloria let those powerful hands go. The result was a dominant knockout performance in an upset. Viloria, a 2000 U.S. Olympian from Hawaii who has Filipino heritage, was fighting for the first time in the Philippines and looked terrific from the outset. He had faster hands than Solis, 27, and was punching harder. Solis dug himself an early hole by losing a point for a low blow in the third round. In the fifth, Viloria rocked him with combinations and opened a bad cut in his right eyebrow. Another low blow in the fifth cost Solis a second point. Solis, who suffered a cut over his left eye in the seventh, simply could not stand up to Viloria's relentless pressure. Nor could he avoid Viloria's right hand, which found its target virtually at will throughout the bout. Finally, in the 11th, Viloria unleashed yet another huge right to the jaw. Solis crumpled to all fours and finally down to the mat, where he took the full count. It took him a couple of minutes to get up, and he received oxygen just as a precaution. The win was by far the biggest of Viloria's career and opens the door for some lucrative matches. Top Rank may eventually pair him with the real 108-pound champion, Puerto Rico's Ivan "Iron Boy" Calderon. That's the epitome of a great style clash, with Viloria serving as the pressure puncher and Calderon as the smooth boxer.
Saturday at Mafikeng, South Africa
Junior lightweight
Malcolm Klassen TKO7 Cassius Baloyi
Wins a junior lightweight title
Records: Klassen, 24-4-2, 15 KOs; Baloyi, 36-4-1, 19 KOs

Rafael's remark: In a fight between South African countrymen, former titlist Klassen, 28, regained his old belt by putting the 34-year-old Baloyi away. Klassen and Baloyi were both trained by Nick Durandt, who had elected to stay with Baloyi rather than Klassen. Looks like a bad decision now, doesn't it? Klassen had briefly held the belt when he won it from Gairy St. Clair via split decision in November 2006 before losing it via split decision in his first defense against another South African, Mzonke Fana, in April 2007. Fana eventually lost it to Baloyi, who then lost it on this night to Klassen in the second defense of his second reign. Klassen had Baloyi in trouble late in the first round and dominated him before referee Sam Williams intervened at 2:26 of the seventh round with Baloyi taking loads of shots.
Saturday at Montreal
Super middleweight
Peter Manfredo Jr. KO7 Walid Smichet
Records: Manfredo, 32-6, 17 KOs; Smichet, 20-6-3, 14 KOs

Rafael's remark: First-season "Contender" star Manfredo, 28, looked as though he might be all done when third-season "Contender" winner Sakio Bika blew him out in the third round in November. However, Manfredo, who had also suffered a third-round TKO loss to then-champion Joe Calzaghe in April 2007 and a decision loss -- a fight he gave away during the late rounds -- to Jeff Lacy in December 2007, decided to give it another go. The result was a trip to Smichet's Montreal turf for a win that may get Manfredo, who intends to drop to middleweight, back on track. They went at it in a brawl as Manfredo dropped Smichet, 29, in the third round and then landed a left hook in the final few seconds of the seventh round to end the fight. Manfredo is targeting a fight with popular John Duddy, who edged Smichet via a controversial 10-round majority decision in February 2008. Manfredo plans to be ringside for Duddy's fight Friday against Billy Lyell in Newark, N.J., to try to drum up a match.
Friday at Primm, Nev.
Featherweight
Yuriorkis Gamboa TKO10 Jose "Cheo" Rojas
Wins a vacant interim featherweight title
Records: Gamboa, 15-0, 13 KOs; Rojas, 25-7-1, 17 KOs

Rafael's remark: First, let's be clear about the title Gamboa, 27, claimed: It's pure lunacy. It's the WBA, after all, which means it was a belt created for no other reason than for the organization to collect its fee. Chris John is the undefeated WBA titleholder and the best featherweight in the world. He is uninjured and just fought Feb. 28. Creating an interim title is pure nonsense.
OK, with that out of the way, the electrifying Gamboa, a 2004 Cuban Olympic gold medalist who later defected, looked excellent, totally shutting down a solid fighter with a lot of experience, including a technical draw and decision loss to John in title bouts. In the "ShoBox" main event, he cut Venezuela's Rojas, 37, over the right eye in the first round and dropped him in the fifth. Finally, referee Russell Mora called off the one-sided beating (Gamboa was ahead 90-80, 90-81 and 89-81) midway through the 10th round with Rojas' eye nearly closed. Gamboa, whose speed is ridiculous, showed better defense than he has in recent fights and more discipline. If he can continue improving in those areas, he'll be even scarier than he already is. Rojas, who failed in his fifth attempt at a version of a world title, lost for the second time in three fights, the other defeat being in his March 2007 rematch with John.
Welterweight
Selcuk Aydin W12 Said Ouali
scores: 116-111, 115-112 Aydin, 114-113 Ouali
Records: Aydin, 18-0, 14 KOs; Ouali, 25-3, 17 KOs

Rafael's remark: Making his American debut, Aydin, 25, of Turkey pulled out the split decision against Ouali, 29, in a rough and tough fight that opened the "ShoBox" telecast. Aydin, a 2004 Olympian, carried the nickname "Mini-Tyson," which is more hype than reality, but he's a rugged fighter, and this was an entertaining bout with a good amount of two-way action. Although Ouali's 11-fight winning streak ended, the native of Morocco living in Las Vegas certainly gave Aydin his toughest test. Aydin, the more aggressive fighter, lost a point for a low blow in the sixth round, but overall seemed to do just enough to edge Ouali, who closed strong by stunning Aydin in the final round.
Thursday at Highland, Calif.
Junior welterweight
Mike Anchondo W6 Hector Alatorre
Scores: 60-54 (three times)
Records: Anchondo, 28-2, 19 KOs; Alatorre, 15-7, 5 KOs

Rafael's remark: Almost two years to the day since his last fight, former junior lightweight beltholder Anchondo, 27, returned to the ring for a shutout decision against durable Alatorre. Anchondo had won a vacant title against Julio Pablo Chacon in 2004 and looked like a potential rising force. However, he failed to make weight for his first defense against Jorge Barrios in April 2005, was stripped of the title and then knocked out the next night in the fourth round as Barrios claimed the vacant belt. After two wins and a lot of time off between fights on the comeback trail, Anchondo was knocked out in three rounds by Darling Jimenez in April 2007, leading to the latest sabbatical. Anchondo intends to campaign at lightweight and hopes to fight at least four more times in 2009. Alatorre, 27, lost his fifth consecutive bout and seventh of eight, all by decision.
Dan Rafael is the boxing writer for ESPN.com.
Boxing
2013 BWAA Nat Fleischer Award winner for excellence in boxing journalism
ESPN.com boxing writer since 2005
Five years at USA Today
SPONSORED HEADLINES
MORE BOXING HEADLINES
MOST SENT STORIES ON ESPN.COM
EDITORS' PICKS
Mike Alvarado, Brandon Rios ready for chapter three.
Dan Rafael »

Gilberto Ramirez wins decision over Maxim Vlasov.
Dan Rafael »

Alvarez-Kirkland bout tentatively set for May 2.
Dan Rafael »