Commentary
Froch takes out Taylor in final minute
Originally Published:
April 27, 2009
By
Dan Rafael
| ESPN.com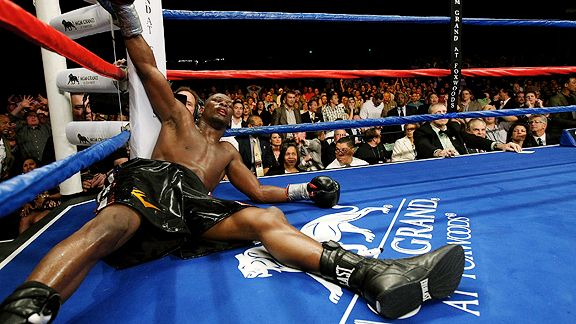 Nick Laham/Getty ImagesSweet dreams: An all-out blitz by Carl Froch left Jermain Taylor down and out.
A roundup of the past week's notable boxing results from around the world:
Saturday at Mashantucket, Conn.
Super middleweight
Carl Froch TKO12 Jermain Taylor
Retains a super middleweight title
Records: Froch, 25-0, 20 KOs; Taylor, (28-3-1, 17 KOs

Rafael's remark: A baseball player can't hit a five-run home run to win a game, nor can a basketball player sink a five-point basket for a comeback victory. But in boxing, no matter how far a fighter trails on the scorecards, he still has hope even if he has lost every single round. That's what separates boxing from all other sports -- hope, no matter how hopeless a situation might look.
Well, Froch scored the equivalent of a five-run homer when he rallied for an ultradramatic knockout with just 14 seconds left in a fight he trailed 106-102 on two scorecards (and ludicrously led 106-102 on the third) going into the final round.
Taylor, the former undisputed middleweight champ, needed only to make it to the final bell to earn a title in a second division. But Froch, 31, who had been hurt and down for the first time as a pro or amateur in the third round and was being outboxed and outpunched, never wilted. Taylor, however, was fading late in the fight, and his corner made a serious blunder by telling him he was trailing going into the 12th round and that he needed to win it to win the fight. Froch's corner gave him proper instructions by telling him he was losing heading into the last round. Both listened to their corners, and Taylor tried to fight instead of playing defense. It cost him dearly. Froch dropped the aggressive Taylor hard with about 90 seconds to go -- all credit to him for even getting up -- and was battering a near-defenseless Taylor on the ropes during the follow-up attack when referee Michael Ortega properly intervened to give England's Froch the unlikely victory in his first defense of the vacant belt he claimed from Jean Pascal in December. Taylor, 30, will never be able to hear the number 14 again for the rest of his life without thinking of what might have been.
How rare is what Froch did? Very. Thanks to the crack research of Showtime's Steve Farhood, only about 10 times in the history of boxing has a fighter trailing on the cards in a world title fight rallied for a last-round knockout. Perhaps the most famous example was Julio Cesar Chavez's knockout of Meldrick Taylor with two seconds left in their 1990 junior welterweight unification bout.
It was an excellent fight and completed Froch's mission of making a name for himself among boxing fans in America. After the fight, there was talk of an eventual rematch, but Froch was more interested in calling out the retired Joe Calzaghe, whom Froch has been chasing for a couple of years.
In England, fight fans had to wait a day to see the fight because none of the TV networks there elected to buy live rights to the fight. What a terrible decision. Only at the last minute did over-the-air network ITV pick up the delayed rights. In the U.S., HBO, which had televised all of Taylor's previous notable fights, had a chance to buy the fight and surprised many when it passed. Doesn't that look like the bad call now? The big winner was Showtime, which wanted the fight from the outset, got a great show and looks pretty smart now.
Super middleweight
Allan Green TKO2 Carlos De Leon Jr.
Records: Green, 28-1, 20 KOs; De Leon Jr., 21-3-2, 14 KOs

Rafael's remark: Green's worst enemy has been himself, but when he's right and focused, he's very dangerous. He was off for most of 2008 after pulling out of an ESPN2 fight without notifying the promoters and being suspended in Louisiana. When the suspension was lifted, he returned for an easy, low-key win over long-faded former junior middleweight titlist Carl Daniels on the Jermain Taylor-Jeff Lacy undercard in November. Now, back in the spotlight on Showtime, Green looked terrific against De Leon, the son of former cruiserweight titleholder Carlos De Leon Sr. Green, 29, dropped Puerto Rico's De Leon, 29, four times in the second round in a violent display before the bout was called off. Green obviously has excellent power, and De Leon showed that the rap on his chin has legitimacy. Super middleweight titlist Lucian Bute and his handlers were ringside for the fight to scout Green, who may get the opportunity to challenge Bute in the summer in Quebec City. With the way Green punches and the way Bute went down like a sack of rocks in his fight with Librado Andrade, that match looks interesting if it comes off.
Junior welterweight
Paulie Malignaggi W8 Chris Fernandez
Scores: 79-73 (three times)
Records: Malignaggi, 26-2, 5 KOs; Fernandez, 16-7-1, 9 KOs

Rafael's remark: In November, former titleholder Malignaggi was dominated by division champion Ricky Hatton and had to stop after 11 one-sided rounds when trainer Buddy McGirt threw in the towel. Although Malignaggi was way behind, he was enraged by the stoppage and at McGirt for not letting him finish on his feet. That's why, as Malignaggi embarked on his comeback, McGirt was gone from the corner and replaced by Sherif Younan.
In any event, Malignaggi looked pretty good considering the rough nature of his previous fight. He was quicker and more polished than Fernandez, 33, a respectable journeyman who lost his second in a row and third in four fights. Malignaggi, 28, did have one rocky moment at the end of the sixth round when Fernandez staggered him with a left hand. A better finisher might have knocked out Malignaggi. With the win in the bank, Malignaggi will look to see whether undefeated rising contender Michael Alvarado can win his fight on Saturday's Hatton-Manny Pacquiao undercard. If he does, there's a strong chance we'll see Malignaggi fight Alvarado June 27 on the Top Rank PPV card headlined by middleweight champ Kelly Pavlik against Sergio Mora.
Heavyweight
Dominic Guinn TKO1 Johnnie White
Records: Guinn, 31-6, 21 KOs; White, 21-1, 18 KOs

Rafael's remark: After he beat Michael Grant and Duncan Dokiwari in consecutive fights in 2003, Guinn was regarded as a serious contender. But then the wheels fell off, and he went into a 2-4-1 tailspin. He rebounded for two consecutive wins but then lost two more in a row to be relegated to journeyman status. But the 34-year-old still believes in himself, even if few others do. Now promoted by Lou DiBella, Guinn destroyed the pathetic White in less than a round for his third consecutive victory. Guinn knocked him down twice, hurt him very badly and was teeing off on him again when the referee finally stepped in. White's 21-0 mark coming into the fight was nothing but smoke and mirrors built against hobos, and Guinn thoroughly exposed him. After another win or two (if he even needs that many), don't be surprised to see Guinn tapped as an opponent for Cris Arreola on HBO.
Saturday at Bayamon, Puerto Rico
Junior featherweight
Juan Manuel Lopez TKO9 Gerry Penalosa
Retains a junior featherweight title
Records: Lopez, 25-0, 23 KOs; Penalosa, 54-7-2, 36 KOs

Rafael's remark: Puerto Rico's exciting Lopez entered the fight having stopped his past three opponents in the first round, Daniel Ponce De Leon to win the title followed by two defenses. The prospect of stopping Penalosa, a bantamweight titlist from the Philippines who moved up in weight for the shot, was virtually zero. Penalosa had never been stopped in his 20-year pro career. But there is a first time for everything, and on this night, Lopez, 25, became the first to stop him, even though it took a lot longer than one round. Although Lopez, who drew a near-sellout crowd of about 10,000, got tagged with a few solid right hooks, he dominated and punished Penalosa, a game fighter who was just too small. Round after round, Lopez bashed him with his own right hook and left hands, leaving bruises on the side of his face. By the end of the ninth, Lopez had landed 444 of 1,020 blows for a sick 44 percent connect rate, and he set a variety of CompuBox records for a junior featherweight. It was enough for compassionate trainer Freddie Roach, who had warned Penalosa before the start of the ninth that if he didn't knock out Lopez, Roach was going to stop the fight. After the ninth, Roach did just that. It was a good call from Roach because Penalosa, 36 and with a ton of mileage, has too much heart for his own good. It could be the end of Penalosa's excellent career in which he has won titles at junior bantamweight and bantamweight. Lopez, however, is on the ascent as one of boxing's most exciting young stars. The sky is the limit for the man they call Juanma.
Junior welterweight
Lamont Peterson TKO7 Willy Blain
Wins a vacant interim junior welterweight title
Records: Peterson, 27-0, 13 KOs; Blain, 20-1, 3 KOs

Rafael's remark: In 2003, Peterson, of Washington, D.C., took an 8-5 decision against France's Blain (a two-time Olympian) in an amateur dual meet between the U.S. and France. In the pros, Peterson, 25, dominated Blain, 31, for the stoppage victory in a clinical dissection. He cut Blain over the left eye in the first round with an accidental head butt. It didn't seem to have much impact on Blain, who was just a tad slower and more defensive than Peterson, who was shutting Blain out in the sixth round when Peterson should have been awarded a TKO win. That was because Blain recoiled after landing a punch because of a thumb injury on his right hand. He turned his back on Peterson and walked away from the fight, causing referee Robert Ramirez to throw his hands up and stop the fight.
After Blain protested and the doctor examined Blain, the bout was allowed to continue. Huh? There are no timeouts in boxing, and this absolutely should have been a sixth-round TKO win for Peterson. Nevertheless, the match continued. But in the seventh, Blain hurt the thumb again, and Ramirez finally did what he should have done a round earlier: stop the fight. As an interim titleholder, Peterson is a mandatory challenger for Timothy Bradley. If that fight happens, it figures to be quite competitive.
Saturday at Krefeld, Germany
Middleweight
Felix Sturm TKO7 Koji Sato
Retains a middleweight title
Records: Sturm, 32-2-1, 13 KOs; Sato, 14-1, 13 KOs

Rafael's remark: Chalk up another easy victory for Germany's Sturm, who defended his paper title for the sixth time of his third reign with an alphabet trinket. Sturm's best weapon is his left jab, and he put it to good use against the overmatched Sato, 28, of Japan. Sturm dominated the fight with the jab while mixing in hard right hands and hooks. Sato's eyes were both swollen, but his right eye was in particularly bad shape when Sturm, 30, was more or less landing at will in the seventh. Finally, with 14 seconds remaining in the round, referee Luis Pabon stopped the fight when Sato's corner threw in the towel. Maybe someday Sturm and his handlers at Universum will put him in a serious fight. OK, probably not.
Super middleweight
Karoly Balzsay KO11 Maselino Masoe
Retains a super middleweight title
Records: Balzsay, 21-0, 15 KOs; Masoe, 29-6, 27 KOs

Rafael's remark: In January, Hungary's Balzsay, 29, claimed a belt from Denis Inkin, so naturally his first defense was a relatively soft touch. That's why he fought New Zealand's Masoe, who is only 42 but seems 87, as an opponent in his first defense. Masoe has been irrelevant for years. He won a spurious vacant middleweight belt in 2004 by knocking out Evans Ashira, then lost it to Felix Sturm in his first defense almost two years later. Including the Sturm fight, Masoe is 3-4 with none of the wins being worth a crap. So, naturally, the WBO approved him as a title challenger. Balzsay finished the deal with a left-right combination that floored Masoe, and referee Mark Nelson counted him out at 2:07.
Saturday at Cozumel, Mexico
Featherweight
Daniel Ponce De Leon W12 Marlon Aguilar
Scores: 119-109 (three times)
Records: Ponce De Leon, 36-2, 31 KOs; Aguilar, 19-7-1, 14 KOs

Rafael's remark: Mexico's Ponce De Leon lost his junior featherweight belt via surprising first-round knockout to Juan Manuel Lopez in June 2008. Now, he's on the comeback trail, as he picked up his second victory since then in a move up to featherweight. Ponce De Leon, 28, scored a knockdown against Nicaragua's Aguilar, 21, in the eighth round and cruised to the lopsided decision win to claim a regional belt.
Saturday at Tunica, Miss.
Cruiserweight
Adam "The Swamp Donkey" Richards TKO4 Gustavo Enriquez
Records: Richards, 22-2, 15 KOs; Enriquez, 15-9, 12 KOs

Rafael's remark: In his first fight since being stopped in the eighth round by Chazz Witherspoon in a sensational heavyweight fight in November, Richards, who had weighed 217 pounds, returned to action by dropping down to cruiserweight and coming in at 200 pounds. The result was a dominant victory against Enriquez, who went down in every round and didn't come for the fifth round. Richards isn't a world-beater but is entertaining, so can somebody please get him a little television time?
Friday at St. Louis
Junior middleweight
Cory Spinks W12 Deandre Latimore
Wins a vacant junior middleweight title
Scores: 115-112, 114-113 Spinks, Latimore 115-112
Records: Spinks, 37-5, 11 KOs; Latimore, 19-2, 16 KOs

Rafael's remark: With youth and power on his side, Latimore, who idolized Spinks before turning pro, came out strong and knocked Spinks down with a straight left hand midway through the first round of the "ShoBox" main event. It looked as though it was going to be a quick night. But Spinks, 31, is a veteran former two-division champion who has forgotten more boxing than Latimore, 23, has ever known, and he used all his tricks to survive and climb back into the fight.
By the time it was over, Spinks, despite a cut over his left eye from the fourth round on, had done enough to pull out the split decision against his fellow St. Louis native to reclaim the belt he lost to Vernon Phillips in the same Scottrade Center ring in March 2008. The victory ended Spinks' two-fight losing streak; he also had lost a middleweight championship challenge to Jermain Taylor in May 2007.
Latimore hadn't fought since June 2008 when he scored an upset seventh-round knockout of Sechew Powell, but the layoff didn't seem to hurt him early on. Yet he seemed to tire as the bout went on and Spinks, reunited with trainer Kevin Cunningham, was outboxing Latimore and making him miss with his wild shots. Latimore also was cut over his left eye. It wasn't the sharpest performance from the usually slick Spinks, but he did enough to earn the deserved close decision in a fight that was more entertaining than Spinks' usual sleep-inducing fights.
Junior welterweight
Devon Alexander KO9 Jesus "Chuy" Rodriguez
Records: Alexander, 18-0, 11 KOs; Rodriguez, 19-4, 5 KOs

Rafael's remark: Fighting in front of a hometown crowd, Alexander, 22, picked up a solid win in the "ShoBox" opener. Although he preserved his status as a mandatory title challenger with a workmanlike victory, he's really still a prospect rather than a bona fide contender. But those are the sanctioning organizations for you.
Alexander dominated something of a ragged fight. His speed and elusiveness were too much for Rodriguez. In the eighth round, Alexander dropped Rodriguez, 29, to a knee with a left hand. Cut under the right eye and way behind, Rodriguez sure looked discouraged when he stood up. Nonetheless, he continued. But not for long. In the ninth round, Rodriguez took a couple of shots from Alexander and elected to take a knee, and he took the full count without any interest in continuing. Solid, if unspectacular, victory for Alexander.
Friday at Chicago
Junior featherweight
Antonio Escalante TKO3 Gary Stark Jr.
Records: Escalante, 19-2, 13 KOs; Stark Jr., 22-3, 8 KOs

Rafael's remark: Whenever Escalante, 23, fights, you know it will entertaining. This bout was no different. It was shaping up as another good Escalante fight when he cracked Stark, 29, with a sweeping left hand on the chin. Stark went down hard in a corner, barely surviving. Moments later, Escalante finished him in style, destroying him with a left-right combination. Escalante was a blossoming prospect when Mauricio Pastrana upset him in January 2007, but Escalante has put that loss well behind him, bouncing back to win his sixth in a row. He's such a fun fighter to watch and has an outgoing personality. It would be great to see him in a bigger fight.
Super middleweight
Daniel Jacobs KO2 Jose Varela
Records: Jacobs, 15-0, 14 KOs; Varela, 23-6, 16 KOs

Rafael's remark: Taking a solid step up in competition after facing woefully poor competition, Jacobs, 22, destroyed Varela in highlight-reel fashion. The blue chip prospect erased Varela with a flush right hand out of nowhere that sent Varela, 31, falling to the canvas as his right leg rolled up under him. It was Varela's fourth consecutive loss, but they've all come against good competition: Jacobs, Saul Roman, Joel "Love Child" Julio and Richard Gutierrez. With Jacobs winning so quickly and easily, he likely will be back in the ring on Saturday against Michael Walker on the undercard of Ricky Hatton-Manny Pacquiao taking the place of James Kirkland, who was supposed to face Walker but instead is in a Texas jail charged with possessing a firearm as a convicted felon. Kirkland's stupidity is Jacobs' open door.
Heavyweight
Deontay Wilder KO1 Joseph Rabotte
Records: Wilder, 4-0, 4 KOs; Rabotte, 3-6, 1 KO

Rafael's remark: Wilder, 23, made his pro television debut short and sweet. Opening the "Friday Night Fights" card on ESPN2, the 2008 U.S. Olympic bronze medalist and lone boxing medalist for America in Beijing blew away Rabotte in exactly the fashion his handlers had hoped for. Wilder, 6-foot-7 but just 215 pounds, decked Rabotte with a powerful right hand (his money punch) 30 seconds into the fight. It wasn't long before Rabotte went down again from a left hook-right hand combination, then knocked dead with another brutal right hand that left him lying like a discarded towel on the mat, partially tangled in the ropes. Wilder is raw, raw, raw, but with regular activity (he'll be back May 23 on an untelevised card in Cincinnati), a weight program and constant work with trainers Mark Breland and Jay Deas, he might develop into that rare species: the American heavyweight contender.
Friday at Newark
Middleweight
Billy Lyell W10 John Duddy
scores: 98-92, 96-94 Lyell, 97-93 Duddy
Records: Lyell, 19-7, 3 KOs; Duddy, 26-1, 17 KOs

Rafael's remark: Come on, you knew it would happen eventually. The carefully manufactured record of New York-based Irishman Duddy went up in smoke when he dropped the split decision to a journeyman. Duddy, 29, often had been talked about as a possible opponent for middleweight champion Kelly Pavlik and other money fights because even though he wasn't much of a serious contender, he makes good fights and attracts fans, especially from New York's Irish community. But now that Lyell, 24, has exposed him, don't bank on a big Duddy fight any time soon.
The irony is that Lyell is trained by Pavlik trainer Jack Loew, who by training Lyell to the victory perhaps killed a big, easy payday for his star pupil. Ahhh, irony. Duddy's losing was only a matter of time. He looked terrible against Walid Smichet in February 2008. He was lucky to earn the decision in a life-and-death battle with Yory Boy Campas in 2006. But you had to figure if Duddy was going to lose, his handlers would have had him lose for big money, not screw up so badly and have him get bumped off for chump change on this smaller show.
Junior middleweight
Gabriel Rosado W10 Kassim Ouma
Scores: 97-93, 96-94 Rosado, 96-94 Ouma
Records: Rosado, 11-3, 6 KOs; Ouma, 26-6-1, 16 KOs

Rafael's remark: In his second fight of the month, Rosado scored his biggest win by taking the split decision from Ouma, a former junior middleweight titleholder whose career is circling the toilet. While Rosado, 23, won his second in a row since dropping an eight-round decision to highly touted prospect Fernando Guerrero in February, Ouma, 30, looks just about done, having lost for the fourth time in five fights. Where in the world will he go now?
Friday at Bangkok
Flyweight
Pongsaklek Wonjongkam W12 Julio Cesar Miranda
Wins a vacant interim flyweight title
Scores: 120-109, 119-110, 117-111
Records: Wonjongkam, 72-3-1, 38 KOs; Miranda, 29-4-1, 22 KOs

Rafael's remark: Wonjongkam, the former longtime titleholder from Thailand, lost his belt to Daisuke Naito via decision in 2007 in their third fight. Then they drew in a fourth fight last year as Naito retained the belt. Now, by claiming the interim belt (available for no other reason than that the WBC loves to grab a few extra bucks when it can by having multiple titles in the same division), Wonjongkam, 31, is in position for a possible fifth fight with his Japanese rival, who first will defend against China's Xiong Zhao Zhong on May 26 in Shanghai. Mexico's Miranda, 28, suffered a cut from an accidental head clash in the second round on his way to losing the lopsided decision, his first defeat since 2004.
Dan Rafael is the boxing writer for ESPN.com.
Boxing
2013 BWAA Nat Fleischer Award winner for excellence in boxing journalism
ESPN.com boxing writer since 2005
Five years at USA Today
EDITORS' PICKS
Fury took a big step toward a crack at the heavyweight title.
Scorecard »

Carl Frampton dominates, stops Chris Avalos.
Dan Rafael »

Tyson Fury stops Christian Hammer in eight rounds.
ESPN UK »
MOST SENT STORIES ON ESPN.COM