Commentary
Ortiz falls apart against Maidana
Originally Published:
June 29, 2009
By
Dan Rafael
| ESPN.com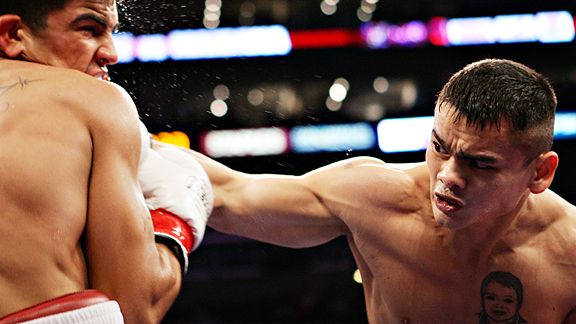 Alexis Cuarezma/fightwireimages.comWhen things got tough for Marcos Maidana, the hard-nosed Argentinian got tougher on Victor Ortiz.

A roundup of the past week's notable boxing results from around the world:

Saturday at Los Angeles
Junior welterweight
Marcos Maidana TKO6 Victor Ortiz
Wins a vacant interim junior welterweight title

Records: Maidana, 26-1, 25 KOs; Ortiz, 24-2-1, 19 KOs

Rafael's remark: Everything was in place for Ortiz, the 2008 ESPN.com prospect of the year, to launch himself to stardom. The 22-year-old has a big smile, big power, bilingual ability, an exciting style and a made-for-TV movie backstory of being abandoned by his parents as a child but still making something of himself. He also had the big stage of an HBO main event at the Staples Center, one of the nation's great arenas, where nearly all of the 8,600 fans in attendance were cheering for him. Endorsing Ortiz's bid for stardom and sitting in the front row were such luminaries as Oscar De La Hoya and Shane Mosley, two of the faces of Golden Boy Promotions who have talked up Ortiz as a fighter who could become the next great star of boxing.
Then Ortiz fought Maidana, and all the hopes and dreams crashed, because inside the ring is where we find out the truth. And the truth is that Ortiz quit at the end of what was a wildly entertaining slugfest and an obvious honorable mention for fight of the year.
Ortiz knocked Maidana down with a right hand in the first round but went down himself a moment later on a straight right hand from Maidana. Ortiz was clearly more worse for the wear after, but he collected himself and scored two more knockdowns in the second round. But the Argentine Maidana, 25, who is more experienced than Ortiz and had lost a controversial split decision to titlist Andreas Kotelnik in February, showed a lot of heart and kept going.
In the fifth, Maidana dished out some brutal punishment as he landed huge right hands on Ortiz, who was cut over his right eye and had bad swelling under his left eye. Maidana also regularly punched Ortiz behind the head, which is illegal. Perhaps sensing that Ortiz was fading, he attacked him early in the sixth and knocked him down again under a hail of punches. Ortiz got up but didn't look very interested in continuing as he shook his hand and shook his head. At that moment, referee Raul Caiz asked for the doctor to check the cut, and the fight was called off at 46 seconds without Ortiz making a peep. Ortiz had a look of resignation on his face and all but admitted that he quit in his stunning postfight interview with HBO's Max Kellerman.
Although he did quit, there's no reason to vilify the young man. Yes, he seemed to commit one of boxing's cardinal sins, but he may still go on to have a good career. He certainly has the ability to be a champion, and youth is on his side. But it is fair to question whether he can become that megastar so many believed he could be because he doesn't appear to have that special something inside him, the intestinal fortitude great fighters have.
And now a quick word about the bogus title at stake. Naturally, it was a WBA interim belt because the WBA apparently won't be content until it gives out at least two belts in every division. Kotelnik, who beat Maidana in February, owns the title. He'll defend it again July 18 against Amir Khan. But that didn't stop the WBA from sanctioning this for an interim title after a little sweet-talking from Ortiz promoter Golden Boy. The funny thing is that Maidana, as the winner, isn't even next in line to fight the Kotelnik-Khan winner as interim titlists are supposed to be. That so-called honor goes to Dmitriy Salita, a great kid but a bogus No. 1 contender.
Junior lightweight
Adrien Broner KO6 William Kickett
Records: Broner, 10-0, 7 KOs; Kickett, 15-2, 5 KOs

Rafael's remark: Broner is a precocious 19-year-old prospect from Cincinnati with fast hands, swagger and all the energy in the world. He continued his pro development by knocking out Kickett, an Australian who was fighting in the United States for the first time. Broner knocked Kickett down in the fourth and then again for good at 2 minutes, 58 seconds of the sixth.
Saturday at Atlantic City, N.J.
Junior featherweight
Juan Manuel Lopez TKO9 Olivier Lontchi
Retains a junior featherweight title
Records: Lopez, 26-0, 24 KOs; Lontchi, 18-1-2, 8 KOs

Rafael's remark: Lopez gave himself an early birthday present with his dominant victory against the game Lontchi in the main event of Top Rank's "Latin Fury 9" pay-per-view card. The rising Puerto Rican star and 2004 Olympian, who will turn 26 on Tuesday, was headlining a card in the United States for the first time. He turned in a strong performance in his return to the building where he knocked out Daniel Ponce De Leon in the first round to win the 122-pound belt in June 2008.
Lopez, a left-hander, was faced with a tricky opponent, so it took him some time to break Lontchi down. In his first two defenses, Lopez had scored quick first-round knockouts. In his third defense, he had pulverized veteran former bantamweight titlist Gerry Penalosa in 10 one-sided rounds. Although Lontchi won only one round -- all three judges gave him the fifth -- he had a few moments and didn't go down without a fight. Lopez knocked him down in the second round and again in the ninth before Lontchi retired on his stool at the end of the ninth because of a rib injury. Lontchi, 26, a native of Cameroon who lives in Montreal, said Lopez had hurt his rib badly in the fourth round and that by the end of the ninth, enough was enough. Lopez did work Lontchi over with good body shots throughout the fight, not to mention hard right hooks and straight left hands.
The victory was the first step in Top Rank's master plan for Lopez. The next step will come July 25, when promoter Bob Arum hopes interim featherweight titlist Yuriorkis Gamboa, the 2004 Olympic gold medalist from Cuba, wins his first defense on "Latin Fury 10." If Gamboa wins, he and Lopez will defend their titles on a card in late September or October at the WaMu Theater at Madison Square Garden in New York. The ultimate plan is for Lopez to move up in weight next year for a showdown with Gamboa in what would be a terrific fight between exciting, skilled punchers.
Junior bantamweight
Jorge Arce KO3 Fernando Lumacad
Records: Arce, 52-5-1, 40 KOs; Lumacad, 19-2-2, 7 KOs

Rafael's remark: If you like guys who give their all every time out and look to be having fun doing it, you have to love Arce. No matter what, the Lollipop Cowboy from Mexico makes things exciting. Arce, working with legendary Mexican trainer Nacho Beristain for the first time, was looking to get back on the winning track after a lopsided destruction in February at the hands of junior bantamweight champ Vic Darchinyan. At age 29 and after many bruising slugfests, Arce looked close to being done.
Whatever happens in the future, however, he bounced back nicely with this one-punch knockout of Lumacad, 23, who was fighting outside his home country of the Philippines for only the second time. (He had one fight in Thailand.) The first two rounds were competitive, and Arce was cut over his left eye from an accidental head butt in the second. In the third round, though, Arce dropped the hammer. He drilled Lumacad with a flush right hand that knocked him down hard. Lumacad got to a knee but had no intention of continuing. He simply shook his head and let referee Wayne Hedgepeth count to 10. It was an out-of-nowhere punch and put Arce in a good spot.
Fernando Beltran, Arce's co-promoter with Top Rank, said Arce would fight next on Sept. 15 in Mexico in honor of their country's Independence Day. He said Arce probably would challenge for a belt that will be vacated when Darchinyan moves up in weight July 11. Arce probably will face South African contender Simphiwe Nongqayi in what figures to be a good grudge match. The reason? In February, Nongqayi outpointed Arce's brother, Francisco Arce, in a title eliminator.
Junior middleweight
Yuri Foreman No decision 3 Cornelius "K9" Bundrage
Title eliminator
Records: Foreman, 27-0, 8 KOs; Bundrage, 29-4, 17 KOs

Rafael's remark: Nooooooooooo! The no decision means that Foreman, 25, and Bundrage, 36, might actually have to fight again, which is the last thing on Earth anyone would want to see.
Going into the fight, it figured to stink out loud. It did. Thankfully, it ended before the fans and pay-per-view buyers had to sit through any more. The bad part, however, was that Foreman couldn't continue because an accidental head butt opened a deep and wide cut in his right eyebrow in the third round. Because they hadn't completed four rounds, the fight was declared a no-decision.
The winner was supposed to earn a title shot against Cory Spinks. Who would have thought that Spinks would be the exciting fighter going into a match against either of them? The fans were booing moments into the fight. Watching referee Eddie Cotton move around the ring was more interesting than watching these two guys stare at each other.
Foreman bounced around and moved from side to side. Bundrage, on shaky legs, could barely move at all. Foreman seemed to buzz Bundrage in the third round, but he didn't realize how bad Bundrage reacted to the shot. So Foreman, a Belarus native living in New York (and about 18 months shy of finishing his studies to become a rabbi), let the former participant on "The Contender" off the hook. Then came the head butt, and then the end of the waltz. Please, if there is a higher being, don't let there be a rematch.
Junior middleweight
Vanes Martirosyan TKO6 Andrey Tsurkan
Records: Martirosyan, 25-0, 16 KOs; Tsurkan, 26-5, 17 KOs

Rafael's remark: Martirosyan, 23, has been brought along expertly since turning pro with Top Rank and manager Shelly Finkel after representing the United States in the 2004 Olympics. Now, they all agree that it is time for Martirosyan to make a move. So Top Rank, expecting Martirosyan to make a statement, stepped him up in competition against Tsurkan, a sturdy brawler who always gives an honest effort and has loads of experience. Martirosyan, nicknamed "The Nightmare," probably gave one to Tsurkan, 31, a New York-based Ukrainian.
With far superior skill, speed and defense, Martirosyan made his statement. He had his way with Tsurkan in a dominant performance. Martirosyan could barely miss with his punches as he battered Tsurkan and swelled his left eye until the ringside doctor recommended the bout be stopped after the sixth round. It was an excellent performance for Martirosyan, who is ready for another step up in competition. For Tsurkan, it was his second loss in a row after being stopped by prospect Alfredo Angulo in the 10th round in October.
Middleweight
Matvey Korobov KO1 Benjamin Diaz
Records: Korobov, 7-0, 6 KOs; Diaz, 9-3-2, 6 KOs

Rafael's remark: Two weeks after going the four-round distance for the first time as a pro against Loren Myers on the Miguel Cotto-Joshua Clottey undercard, Korobov was in the ring again. This time, it was a far shorter performance. He thumped Diaz in a mere 82 seconds. Korobov, 26, a 2008 Russian Olympian, two-time amateur world champion and perhaps Top Rank's brightest prospect with fewer than 10 fights, scored two knockdowns before the fight was called off. First, he dropped Diaz, 38, with a right jab moments into the fight. A body shot finished him. Korobov was supposed to fight his first scheduled six-rounder, but it was cut to four at the last minute because of the show's timing. Obviously, it didn't matter.
Featherweight
Mario Santiago W8 Gilberto Sanchez Leon
scores: 79-71, 78-74, 77-74
Records: Santiago, 20-1-1, 14 KOs; Leon, 19-6-2, 7 KOs

Rafael's remark: Welcome back, Mario! One day short of a year out of the ring, Santiago, a top featherweight contender of Puerto Rico, returned to the ring. In June 2008, the left-hander fought to a draw in a terrific fight with titleholder Steven Luevano. But the long layoff (for no particular reason) certainly slowed any momentum he gained from that strong performance. Yet even after such a long layoff, Santiago, 30, looked pretty sharp in his return. Although Sanchez Leon lost a point in the final few seconds of the fight for hitting Santiago behind the head, it didn't impact the outcome.
The match might have been a bit of a letdown for Santiago because a few days before the fight, there was the possibility that he might fight Rocky Juarez in Los Angeles in an HBO opening bout as a substitute for titleholder Chris John, who was ill and withdrew from his defense against Juarez. Santiago accepted the fight with Juarez without even knowing his purse. Alas, Juarez declined the fight because he didn't want to fight a lefty on such little notice. In any case, Santiago seems like a lock to earn another title opportunity.
Saturday at Berlin
Middleweight
Arthur Abraham TKO10 Mahir Oral
Retains a middleweight title

Records: Abraham, 30-0, 24 KOs; Oral, 25-2-2, 10 KOs

Rafael's remark: Abraham continued his unblemished title reign by dropping Oral, his former sparring partner, five times and stopping him in impressive fashion in a fight that Showtime televised on tape delay. Thank you, Showtime. Fighting in his hometown, Abraham, 29, made his 10th defense against his countryman with a powerful display.
After his typical slow start, Abraham got his engine going and couldn't be stopped. He took over in the fourth round, scoring his first knockdown late in the round with a left hook during an onslaught. In the sixth, Abraham connected with a right hand that dropped the off-balance Oral, 29, for the second time. By the time the 10th round started, Oral was fading, and he went down to a knee after eating a left hook. After two more knockdowns on body shots, Oral's corner threw in the towel in what was an exciting, albeit somewhat lopsided fight.
The big question now is, what will be next for Abraham? He'll have a mandatory due in the fall against Giovanni Lorenzo. There is also the big fight at middleweight the world wants to see -- champion Kelly Pavlik against Abraham. Abraham, who is struggling to keep making 160 pounds, may go up to super middleweight, where there are many appealing fights. Abraham says he wants to fight Pavlik, and Pavlik's side has talked about fighting Abraham. But the sides have been teasing all of us with that fight for the past couple of years, and it's getting old. Either make it or don't, but stop playing with us.
Middleweight
Sebastian Sylvester W12 Lajuan Simon
Title eliminator
Scores: 117-111, 116-112, 115-113
Records: Sylvester, 31-3, 15 KOs; Simon, 21-2-2, 12 KOs

Rafael's remark: Sylvester, 28, of Germany, moved closer to a mandatory title bout by beating Simon, who lives in Philadelphia. If middleweight titlist Arthur Abraham relinquishes his title, which he may do before the end of the year, Sylvester would meet Giovanni Lorenzo, Abraham's current mandatory challenger, for the vacant belt. Sylvester, a former European champion, displayed sound defense and enough effective punching to claim the decision. It was Sylvester's second win in a row since losing a decision to middleweight titlist and countryman Felix Sturm in November. Simon, 30, was fighting in Germany for the second consecutive bout. He dropped a decision to Abraham in March.
Saturday at Nuevo Laredo, Mexico
Junior lightweight
Jorge Linares TKO8 Josafat Perez
Retains a junior lightweight title
Records: Linares, 27-0, 18 KOs; Perez, 12-2, 7 KOs

Rafael's remark: After several postponements for everything from injuries to Mexico's swine flu outbreak, Linares and Perez finally got together. Linares made the first defense of the vacant belt he won against Whyber Garcia in November.
Linares, 23, is a special talent but has been so inactive. He made a huge splash in July 2007 by destroying Oscar Larios to win a vacant featherweight belt on an HBO PPV undercard. But since then, Linares has fought only three times. What a shame. Linares at least took care of business in a one-sided beatdown of Perez, 25, of Mexico, winning when referee Luis Pabon called it off at one minute, 40 seconds of the eighth. Perez lost his second fight in a row, which begs the question: How in the world does a guy coming off a loss with no credentials whatsoever qualify for a title match? It was the WBA, silly goose. What do you expect?
Friday at Tucson, Ariz.
Middleweight
Daniel Jacobs TKO8 George Walton
Records: Jacobs, 17-0, 15 KOs; Walton, 20-4, 12 KOs

Rafael's remark: Headlining on ESPN2's "Friday Night Fights," Jacobs, 22, rolled past Walton with no resistance in a strong performance. Walton takes a good shot and is a good amateur with solid pro credentials, but he was no match at all for the talented Jacobs, who is putting himself in the driver's seat for prospect of the year honors.
In May, Jacobs, of Brooklyn, N.Y., was pushed the eight-round distance against rugged Michael Walker on the Manny Pacquiao-Ricky Hatton undercard. On Friday, in his first scheduled 10-rounder, Jacobs made it look as though a stoppage victory was inevitable from the outset. He was tagging Walton with ease. He used a solid jab and a good right hand to work Walton over. He knocked Walton down in the second round and laid a beating on him as the rounds wore on. He snapped Walton's head back and forced him to cover up against the ropes while taking very little return fire. Finally, when Jacobs was hammering Walton in the eighth, referee Bobby Ferrara stepped in at one minute, 59 seconds. The victory paved the way for Jacobs to move onto the HBO stage. He'll likely land a slot on an Aug. 22 tripleheader in Houston that will be headlined by Juan Diaz against Paulie Malignaggi.
Heavyweight
Deontay Wilder KO1 Kelsey Arnold
Records: Wilder, 6-0, 6 KOs; Arnold, 1-3-2

Rafael's remark: Wilder, 23, continued his monthly schedule of fighting and scored another easy knockout (73 seconds) against a soft opponent. Arnold's only previous knockout loss had occurred in the third round. Sure, Wilder is fighting woeful opponents, but that's OK because he's so inexperienced. Wilder was a 2008 Olympic bronze medalist and the only boxing medalist for the United States in Beijing, but he had very little amateur experience. He is learning on the job. He has pop in his right hand, which he used to smoke Arnold, 25, but the rest of his game is raw. He's a four-year project, and manager Shelly Finkel and Golden Boy Promotions say they are in it for the long haul. So don't worry about whether Wilder is fighting nobodies. Let him develop at his own pace and enjoy the slow build. Maybe, just maybe, it will be worth it in the long run.
Junior middleweight
Jermell Charlo TKO8 Frederico Flores Jr.
Records: Charlo, 8-0, 4 KOs; Flores Jr., 6-3, 2 KOs

Rafael's remark: Charlo, 19, found himself in the ESPN2 "Friday Night Fights" spotlight on short notice. Originally, the Houston resident's bout wasn't scheduled to appear on TV, but when junior middleweight prospect Erislandy Lara fell out of his bout at the last minute, Charlo was bumped up to co-feature status.
Charlo, who was an outstanding amateur, got in good work against Flores, who appeared to tire as the fight went on. Eventually, Flores was pretty much a sitting duck for Charlo, who cracked him with an assortment of punches in the seventh round. In the eighth, Charlo rocked Flores with a combination that also knocked out his mouthpiece. Flores didn't appear on the verge of going down, but referee Nico Perez nonetheless stepped in to stop the fight 42 seconds into the final round. It was a quick stoppage, but Flores didn't appear to have a chance to win, so it was probably for the best.
Incidentally, Lara (6-0, 4 KOs), a Cuban defector and former world amateur champion, was supposed to open the telecast against Willie Lee (16-5, 11 KOs). However, the fight was canceled Thursday because Lara, who defected in Germany and has a German passport, did not have the proper visa paperwork in order.
Friday at Buenos Aires, Argentina
Flyweight
Omar Narvaez KO11 Omar Soto
Retains a flyweight title
Records: Narvaez, 30-0-2, 19 KOs; Soto, 17-5-1, 11 KOs

Rafael's remark: Narvaez made his 16th title defense, the most of any titleholder in Argentine history. Narvaez, who has held his belt since July 2002, dominated Soto, who lost a point for head butting in the eighth round. In the 11th round, Narvaez unloaded several shots that landed flush, including a straight left hand to the middle of Soto's face that knocked him to his backside. Soto got up, but it was just as referee Roberto Ramirez Jr. was reaching 10. It was the second world title bout for Soto, 29, of Mexico. In 2006, he was knocked out in the sixth round challenging then-strawweight beltholder Muhammad Rachman in Indonesia.
Friday at Rama, Ontario
Junior featherweight
Steve Molitor W12 Heriberto Ruiz
Title eliminator
Records: Molitor, 29-1, 11 KOs; Ruiz, 41-8-2, 23 KOs

Rafael's remark: Fighting in front of his hometown crowd, Molitor fought for the seventh consecutive time at Casino Rama, and the 29-year-old former junior featherweight titleholder rebounded from his first career defeat. After five defenses, Molitor met Celestino Caballero in a unification bout in November and was blown out in four rounds. Making his comeback, Molitor met tough but awkward Mexican veteran Ruiz. Ruiz was introduced to the Ontario fans in March, when he outpointed former bantamweight titlist Mauricio Martinez at Casino Rama with Molitor ringside.
By winning the split decision and gaining the No. 2 position in the IBF's weak rankings, Molitor may earn a chance to reclaim his old belt in the fall because Caballero is expected to move up in weight, leaving Molitor a chance to fight for the vacant title perhaps as soon as September. Molitor staggered Ruiz in the sixth round with a left hand. But from the seventh round on, Molitor fought with a cut on his hairline above his left eye after an accidental head butt.
Friday at Chicago
Heavyweight
Fres Oquendo TKO3 Mark Brown
Records: Oquendo, 30-5, 19 KOs; Brown, 15-2, 7 KOs

Rafael's remark: Two-time heavyweight title challenger Oquendo, 36, was coming off a controversial split decision loss to James Toney in December in a fight many believed Oquendo should have won. Fighting in his hometown, Oquendo, who was born in Puerto Rico but lived in Chicago for many years, hurt Brown, 40, near the end of the second round and finished him in the third, when referee Geno Rodriguez stopped the bout at 2 minutes, 38 seconds as Brown was being smacked around.
Wednesday at Pittsburgh
Junior welterweight
Paul Spadafora TKO6 Ivan Bustos
Records: Spadafora, 42-0-1, 17 KOs; Bustos, 25-13-3, 8 KOs

Rafael's remark: From 1999 to 2003, Spadafora was one of the top lightweights in the world and made eight defenses. But then came an onslaught of personal problems. Spadafora struggled with alcohol, went to jail for shooting the mother of his child (she was OK) and had long stretches between the few fights he did have, boxing only three times since 2006. Making yet another comeback, Spadafora, 33, who is now being trained by Hall of Famer Pernell Whitaker, eased his way back into things with his first fight in 14 months. Fighting in his hometown, Spadafora scored a rare knockout when Bustos' corner threw in the towel at 2 minutes, 26 seconds of the sixth round of a scheduled eight-rounder. Spadafora, a left-hander, relied heavily on his jab against Bustos, 30, of Argentina, and bloodied his nose with a right hook in the third round. Spadafora also did damage to the body. Maybe this comeback is for real?
Dan Rafael is the boxing writer for ESPN.com.
Boxing
2013 BWAA Nat Fleischer Award winner for excellence in boxing journalism
ESPN.com boxing writer since 2005
Five years at USA Today
EDITORS' PICKS
Moonves, Roach and a restaurant waiter play key roles.
Dan Rafael »

Molina has a plan for Saturday: Test Broner's chin.
Brian Campbell »

Fury took a big step toward a crack at the heavyweight title.
Scorecard »
MOST SENT STORIES ON ESPN.COM