Commentary
Tua makes return by taming Cameron
Originally Published:
October 5, 2009
By
Dan Rafael
| ESPN.com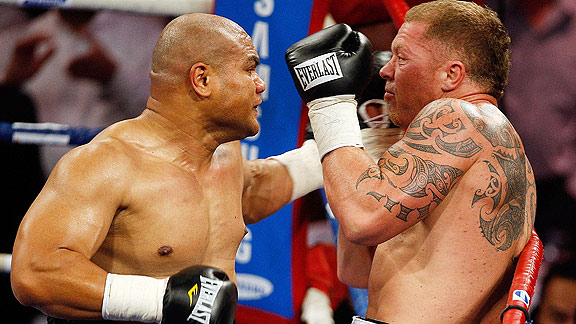 Hannah Johnston/Getty ImagesDavid Tua looked like his old self in blasting out Shane Cameron in two rounds.

A roundup of the past week's notable boxing results from around the world:

Saturday at Hamilton, New Zealand
Heavyweight
David Tua TKO2 Shane Cameron
Records: Tua, 50-3-1, 43 KOs; Cameron, 23-2, 20 KOs

Rafael's remark: It's nice to have Tua back, especially after this devastating performance against New Zealand countryman Cameron. Out of action for 25 months -- his second two-year layoff since 2003 -- Tua returned in smashing fashion. Although Tua is now 36, this performance harkened back to the days in the mid- and late 1990s, when he was destroying good fighters such as John Ruiz, Oleg Maskaev, Darroll Wilson and Hasim Rahman with big knockouts. Nobody is going to mistake the 31-year-old Cameron for a top contender, but in New Zealand this was a massive showdown dubbed the fight of the century. Tua, however, made it a mismatch.
Looking in solid shape at 237 pounds, Tua dropped Cameron twice in the opening round. Tua's left hand is still his money punch and he used it. He hurt Cameron with a left hook, continued to fire away and then dumped him into the ropes with a left uppercut. When the fight resumed, Tua dropped Cameron to all fours during an immediate onslaught near the end of the round. For unknown reasons, referee Bruce McTavish gave Cameron extra time to recover and the round ended without Tua having a chance to throw another punch. Frankly, the fight should have been over in the first round. Alas, they went to the second and it didn't last long. Seven seconds into the round, Tua obliterated Cameron with combinations, crushing him with a right hand and a fight-ending left hook that knocked the now-bloody Cameron down again near the ropes.
Tua, who amazingly only fought for a world title once when he was dominated by then-champion Lennox Lewis in a lopsided decision loss in 2001 -- has had multiple long layoffs in recent years for various reasons, including a severe falling out with his previous management and an ensuing court case. Maybe the time off will put him back into a fighting frame of mind, which would be great for the division. With Tua you know what you're going to get. He's a one-dimensional pressure fighter, but when he lands his left hand, he can knock any man on Earth out cold. That's what we like to see in heavyweights. Hopefully, it won't be another two years until Tua is back in the ring.
Saturday at Lincoln, R.I.
Junior middleweight
Demetrius Andrade W6 Chris Chatman
Scores: 60-54, 60-55, 59-55
Records: Andrade, 8-0, 6 KOs; Chatman, 4-1, 2 KOs

Rafael's remark: Andrade, 21, was a 2008 U.S. Olympian and 2007 world amateur champion. He's one of the best prospects in boxing, but he's young and needs experience. So even though he went the distance for only the second time in his career (and first time going a full six rounds), he got in much-needed rounds. He's from Providence, R.I., so he had the home crowd behind him as he outgunned Chatman, a fellow southpaw who did his best to pressure the quicker, slicker Andrade and drag him into a brawl. The fighters had words with each other at Friday's weigh-in, with Andrade promising to punish Chatman.
Saturday at Donetsk, Ukraine
Welterweight
Vyacheslav Senchenko W12 Motoki Sasaki
Retains a welterweight title
Scores: 119-107 (three times)
Records: Senchenko, 30-0, 20 KOs; Sasaki, 32-8-1, 20 KOs

Rafael's remark: Bet you didn't know Ukraine's Senchenko holds the WBA welterweight title. You probably thought that belt belonged to Shane Mosley, who won it when he destroyed Antonio Margarito in January. So silly. This is the WBA, folks. That's the organization that would give you a belt for a buck or two if you asked nicely. Mosley is the WBA's so-called "super champion." Senchenko, 31, claimed the "regular" title via unanimous decision against equally obscure Yuriy Nuzhnenko in April. Making his first defense, Senchenko faced Japan's Sasaki, 33, who is as laughable as a title challenger as the fact that the WBA recognizes Senchenko as a titlist. Since this is a WBA title bout, it should come as no surprise that Sasaki, fighting outside of Japan for the first time, has a résumé devoid of a single remotely recognizable opponent. Senchenko rolled to the lopsided decision, winning 11 out of 12 rounds on the scorecards. Sasaki opened a cut over Senchenko's eye in the sixth round courtesy of an intentional head butt, which cost him two points. Senchenko likely will stay put in the comfort of Ukraine facing hobos for the time being as his handlers milk his absurd title.
Friday at Newkirk, Okla.
Super middleweight
Allan Green W10 Tarvis Simms
Scores: 99-91, 98-92, 97-93

Records: Green, 29-1, 20 KOs; Simms, 25-1-1, 11 KOs

Rafael's remark: Most of the super middleweight action in the coming weeks and months will take place on Showtime in major fights as the network's Super Six World Boxing Classic kicks off with two significant fights on Oct. 17: Arthur Abraham against Jermain Taylor and Carl Froch defending his belt against Andre Dirrell. The other participants in the six-man tournament are titlist Mikkel Kessler and Andre Ward, who fight on Nov. 21. Green, 30, was one of the odd men out and wasn't happy about it. Instead of a series of major fights in the tournament, Green wound up fighting on Showtime's B series, "ShoBox," in a tent outside a casino in rural Oklahoma (his home state) against Simms, 38, who took the fight on six days' notice when original opponent Victor Oganov suffered a shoulder injury in training and withdrew. For all the barking Green does about deserving to be in the tournament, he sure wasn't all that impressive in taking the decision from Simms, the twin brother of former junior middleweight titlist Travis Simms. But Green did win relatively easily and had to change opponents on short notice. Not only did the opponent change, so did the style. Oganov is a straight-ahead right-handed brawler. Simms is a left-hander (who often switches to right-handed) who boxes at a deliberate pace. He frustrated Green and had success boxing as a lefty, but for some reason Simms fought too often as a right-hander, which is when Green took it to him. Simms had to lose close to 10 pounds in the final days before the fight just to make weight on short notice, so he was nowhere near his best, but he was a credible opponent who helped save the show. Green, who said he fought with an injured right shoulder, is probably just happy to get through the fight because he knows that if anyone falls out of the tournament, he's the first alternate up to take their place.
Welterweight
Antwone Smith TKO9 Henry Crawford
Records: Smith, 17-1-1, 9 KOs; Crawford, 22-1, 9 KOs

Rafael's remark: Smith, 22, could be one of those hidden gems. The unheralded Miami fighter was thrown in as an opponent against several solid fighters and wound up winning. And winning. And winning. He has fought on ESPN2's "Friday Night Fights" several times, including excellent wins against Richard Gutierrez and Norberto Gonzalez. Promoter Lou DiBella liked what he saw and swooped in and signed Smith a few months ago. DiBella didn't put him in easy in their first fight together, a "ShoBox" co-feature on Showtime. Instead, Smith faced fellow prospect Henry Crawford, 28, a quick-handed fighter from Paterson, N.J., with good technical skills but a guy not nearly as tested as Smith. Smith looked terrible for the first two rounds as Crawford easily outboxed him. But then something changed. Smith came alive. By the fifth round, Crawford looked tired and was already getting a motivational speech from trainer Mikey Skowronski after the round. Smith looked like he'd end it in the massively one-sided sixth round. He battered Crawford around the ring and knocked him down with a right and left. Crawford survived but was dead tired and could barely stand up. Smith battered him for the rest of the round and it was surprising that referee Gerald Ritter allowed it to continue. More surprising was that no doctor checked on Crawford between rounds. Crawford showed a lot of heart but was being punished. Late in the ninth round, Smith knocked him down to his backside with a right hand, and although Crawford was wobbly when he got to his feet, Ritter still allowed the bout to continue. Finally, Skowronski --- who knows a thing or two about giving a fighter every chance to continue, considering he was one of Arturo Gatti's best friends and in his corner as an assistant for many years -- stopped the fight after the ninth round. It was a terrific victory for Smith, who is a good TV fighter and has gained valuable experience despite being so young. An ideal fight for Showtime or HBO's "Boxing After Dark" would be a fight between Smith and fellow rising welterweight prospect Mike Jones. That would be tremendous. DiBella said Smith likely would return (along with super middleweight prospect Marcus Johnson) to "ShoBox" in January.
Super middleweight
Marcus Johnson W8 Victor Villereal
Scores: 80-71 (three times)

Records: Johnson, 18-0, 14 KOs; Villereal, 8-4-2, 4 KOs

Rafael's remark: Houston's Johnson was an elite amateur who won national titles but just missed making the 2004 U.S. Olympic team when he lost to eventual Olympic gold medalist Andre Ward in the finals of the Olympic trials. Johnson turned professional with tons of potential and was promptly buried by promoter Don King, whose track record at developing young fighters is abysmal. Johnson was like a forgotten man. Realizing signing with King was a disaster, he sat out the rest of his contract and didn't fight for 11 months. When it expired, he bolted King and signed a co-promotional deal with Lou DiBella and Antonio Leonard. DiBella got him a tune-up fight in August and then did what King didn't/wouldn't/couldn't do for the first 16 fights and four years of his career -- got him some publicity and a fight on national television. Johnson, 23, opened the "ShoBox" card and looked very good dominating Villereal, 29, of Longmont, Colo., a tough guy with heart and a good chin who has been the distance in each of his defeats. Johnson displayed a wide variety of punches and scored a knockdown in the sixth round with a left-right combination. Although Johnson didn't get the knockout, maybe it was because he injured his right hand, which DiBella said would be examined by a doctor.
Wednesday at Osaka, Japan
Junior bantamweight
Nobuo Nashiro D12 Hugo Cazares
Retains a junior bantamweight title
Scores: 116-112 Nashiro, 116-112 Cazares, 114-114
Records: Nashiro, 13-1-1, 8 KOs; Cazares, 30-6-2, 22 KOs

Rafael's remark: By settling for a draw, Japan's Nashiro hung on to his title -- the WBA's laughable "regular" belt in a division that boasts three so-called WBA titleholders. There's "super" champion Vic Darchinyan (the rightful titleholder), Nashiro (with his bogus title) and Nonito Donaire (who was pointlessly crowned interim titlist in August). Anyway, Nashiro, 27, made the second defense of his second reign with the belt but was given a hard time by Mexico's Cazares, 31, the former junior flyweight champion, in a grueling fight that went back and forth for most of the rounds. Nashiro closed very strong. He cracked Cazares with some very hard, clean shots in the final round, including a right hand that staggered him and cut his eyelid. Cazares was held up by the ropes, so a knockdown could have been ruled by the referee. Nashiro eked out the draw by winning three of the last four rounds on one judge's scorecard and sweeping the final four on another.
Wednesday at Pittsburgh
Welterweight
Paul Spadafora W8 Jermain White
Scores: 79-72, 78-73 (twice)
Records: Spadafora, 43-0-1, 17 KOs; White, 17-4, 9 KOs

Rafael's remark: The big news here is that Spadafora, a former lightweight titlist, fought for the second time in three months as he rolled to the lopsided decision. From 1999 to 2003, he was one of the top 135-pounders in the world and defended his title eight times. However, a litany of personal problems ensued and sidetracked his career big time. Alcohol trouble and shooting (not fatally) the mother of your child will do that. Spadafora, 34, served time and is on the comeback trail with Hall of Famer Pernell Whitaker now training him. Fighting for the fifth time since mid-2004, Spadafora outclassed White, 27, of Las Vegas, who dropped to 4-4 in his last eight fights. Spadafora had his hometown fans behind him as he opened a cut on White's left eye in the second round of a fight that had a lot of rough tactics, including Spadafora losing a point for an intentional head butt. Spadafora hopes to continue his active schedule with yet another fight before the end of the year.
Dan Rafael is the boxing writer for ESPN.com.
Boxing
2013 BWAA Nat Fleischer Award winner for excellence in boxing journalism
ESPN.com boxing writer since 2005
Five years at USA Today